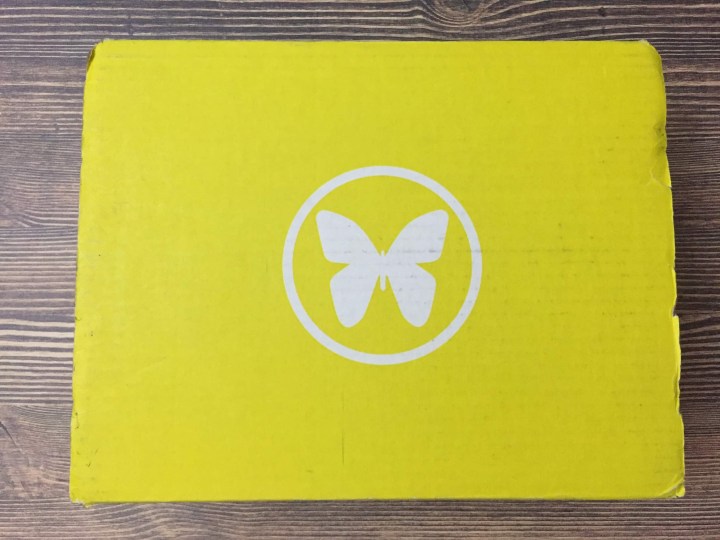 EsianMall appeared last summer with snack and beauty boxes. Since I last reviewed their debut box, they have completely restructured. They now have three boxes – Tasty Snacks + Geek Gear, Cosmetics + Geek Fashion, and a T-shirt of The Month Box. The snack box has three sizes, the beauty box has two, and the shirt box is just one. My review is of the large snack box ($34.95 per month)! I clicked through the website to learn more – you actually do a quiz when you subscribe so there is some level of customisation available in terms of some treats being included or not.
The yellow is so cheerful!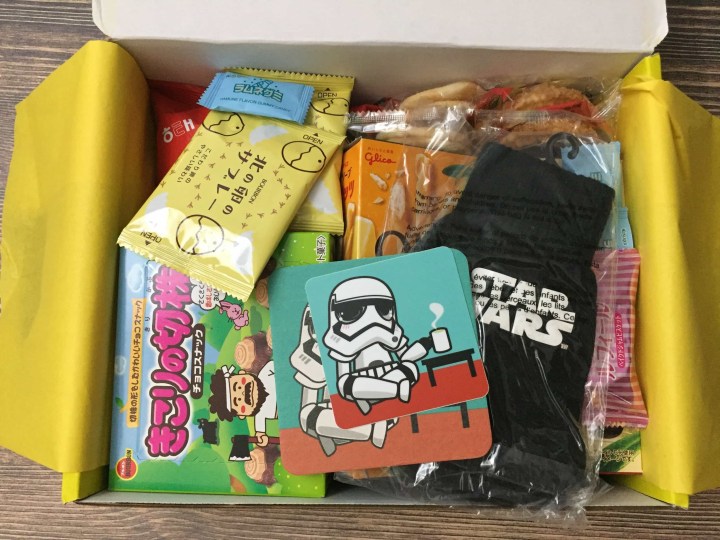 Here's the first look! I see Star Wars!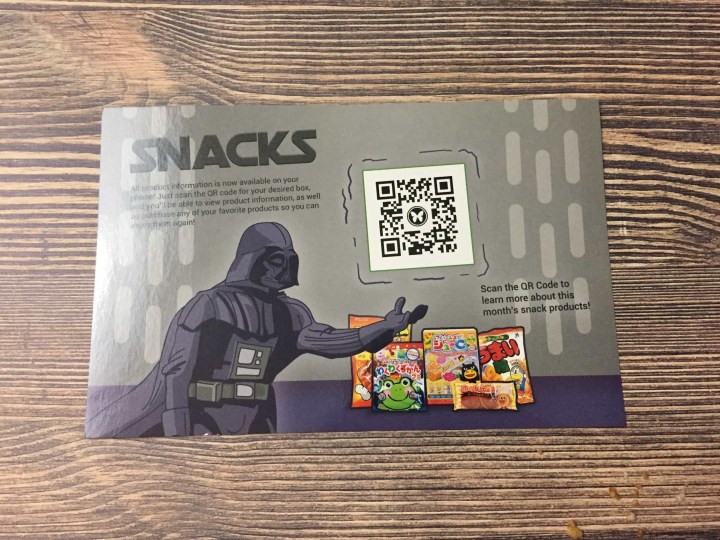 There's no detailed product card anymore. Scan the QR code to get a list. I find this method very frustrating and prefer something like Love With Food – they don't have a product info card, but have a website printed on the card instead of making it a hunting game. The reverse of the card has the QR code for the Beauty box.
Olive Pretz in Basil and Cheese WOW, these are amazing! Pretz is a Glico product and a savoury version of Pocky. These take it to a whole new level – twisted breadsticks with olive oil and flavouring. They are much thicker than normal Pretz and as such the packages only have about 6 pieces in them, so 12 to a box. I love both and couldn't choose my favourite.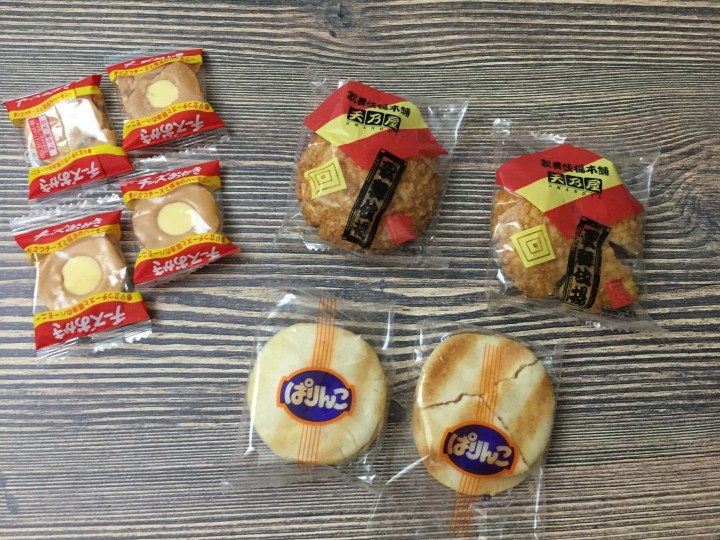 SENBEI!~ So many senbei! Senbei are rice crackers and my favourite treat.
Bourbon Cheese Okaki Soy glazed senbei sandwiched around cheese filling. Salty and sweet, these are amazing.
Amanoya Kabuki Age These are my favourite kind of rice cracker – they have a puffy "dome" sort of shape and the glaze is savoury and sweet at the same time.
Sanko Parinko At the bottom are the parinko – these are a softer, puffier cracker with a sweet glaze.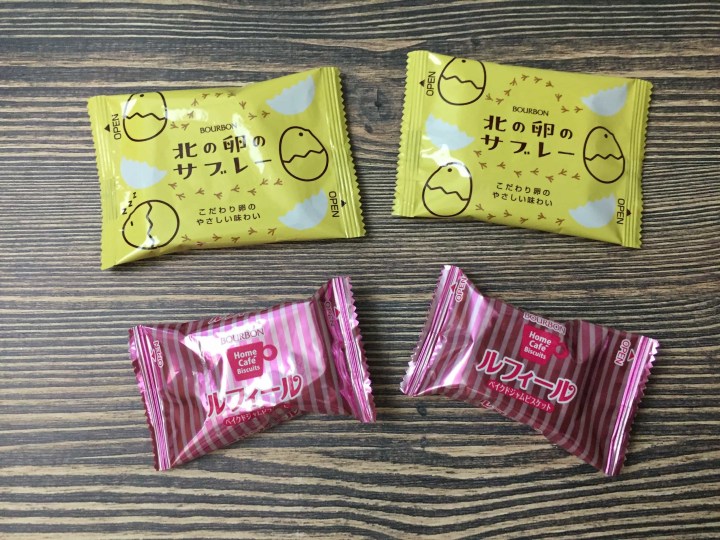 We were sent some treats by Bourbon as well.
Egg Sable Cookies Egg-shaped butter cookies.
Rufeel Biscuit These have jam in them!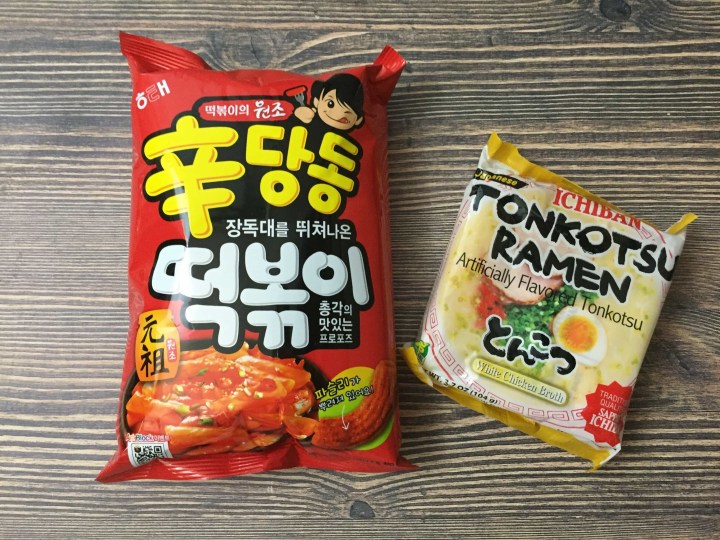 Spicy Rice Cake Sticks From Korea! I find Korean spice is too much for me, so these will be given to a friend of mine who loves spicy Korean food. I think she'll like these!
Sapporo Ichiban Tonkotsu Ramen A big pack of ramen! I love Ichiban ramen, especially adding green onions and an egg to it. I'm excited to try this.
Bourbon Kikori No Kirikabu These remind me of a similar product by Meiji – tiny biscuits covered in chocolate in cute shapes!
Ramune Gummies I love ramune flavoured anything, so these were right up my alley. Ramune is citrus/lemonade flavoured soda.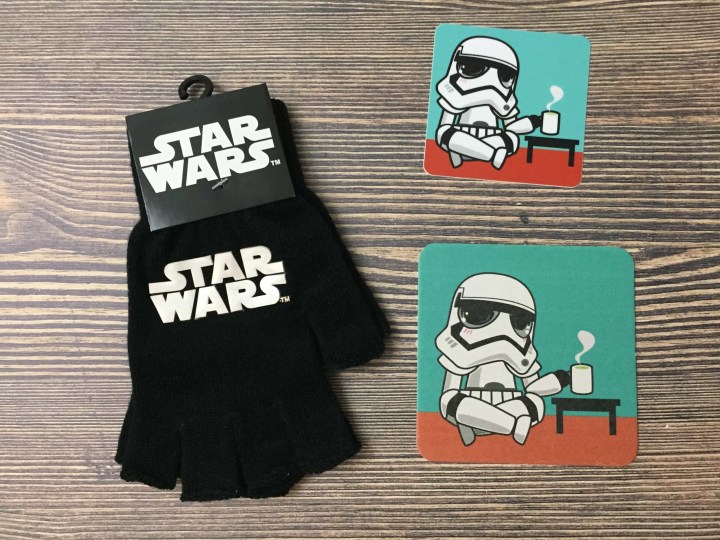 And here we have the geeky part of the box! Licensed Star Wars gloves as well as a cute matching sticker and coaster featuring a Stormtrooper enjoying some downtime with a cup of coffee.
I don't think the box as a whole is necessarily a "geeky" snack box aside from the Star Wars item, but I still like it. It arrived at a perfect time for me, as a new video game came out this week that I have been obsessively playing. Have a box of snacks to munch on while I play is essential, and this box is definitely helping!