Blueberry Cove Beads is a monthly bead subscription box. Each month, you'll receive between 9 and 13 different items. It can be a mix of loose beads, bead strings, findings, and pendants. You can share your creation on their social media for the chance to win a free box. Boxes are $22 per month plus $5 shipping in the US & Canada and their website features projects you can create with your beads.
Inside the box, there's always a nice black satin pouch with a postcard showing the theme of the month. Inside the bag, everything is packed in self-sealing plastic bags, except the bead strands and some unique pieces.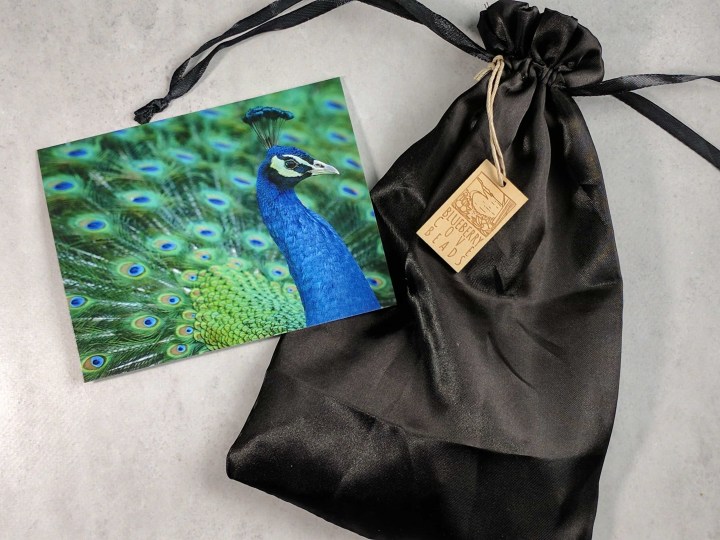 Each month has a different theme. This month's theme was a colour-themed one: Peacock! (BIRD!!!!!) I imagine a lot of bright blues and greens!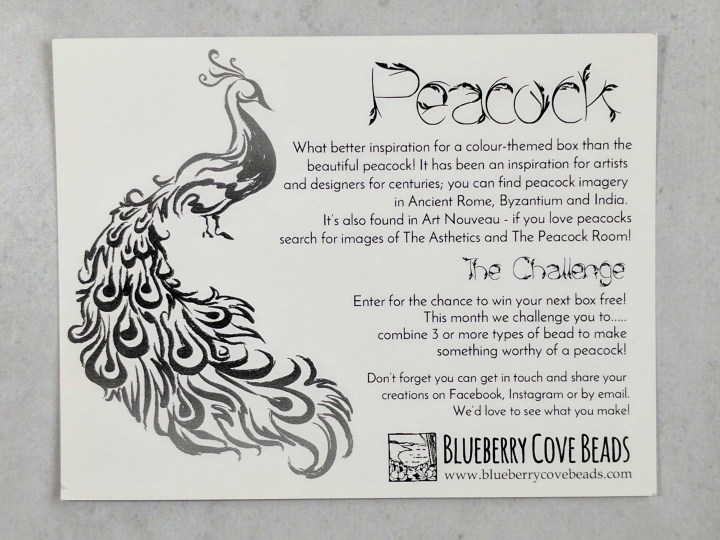 There is no info about the content of the box. Instead, we get a card explaining the challenge (optional) for the month. We can share our creation on their social media to enter a draw for a free box. Also, it's really neat to see what everyone else creates with the same set of beads! This month's challenge is to make something combining 3 or more types of beads to make something worthy of a peacock! Go Big or Go Home, is that it? Challenge accepted!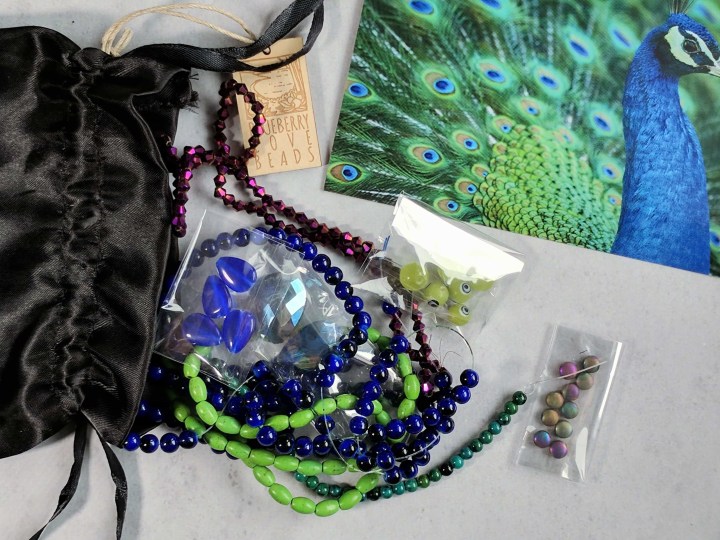 So much colours! It's a nice contrast to the more subtle colours from last month's box!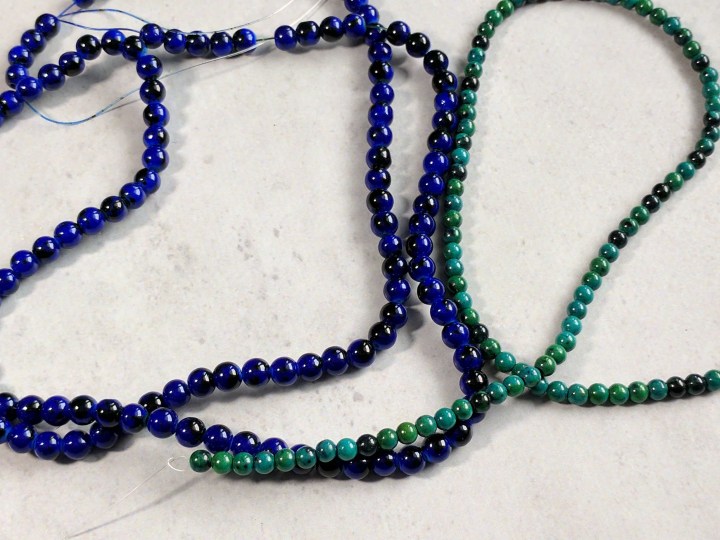 6mm Blue Glass Beads strand. The beads have different shades of blues, making them quite interesting. Weird thing though, a lot of the beads were stuck together, making them double beads. I'm sure I can find something to do with them. I love love love the colour, it reminds me of Lapis Lazuli.
4mm Chrysocolla Round Beads. I'm not sure if they are genuine gemstones, but they look like chrisocolla to me! I absolutely love the combination of blue, turquoise and green on the beads! At first, I was thinking of making a leather bracelet, but I changed my mind once all the beads were on my bead mat.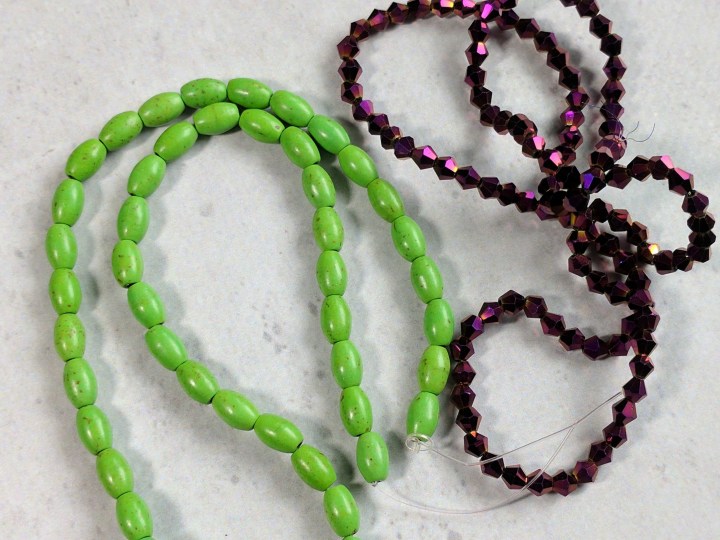 4mm Violet Metallic coated bicones. Once again, the colour is amazing and goes so well with the rest of the beads.
8mm Rice shaped green beads. I'm not exactly sure of the type of beads, they might be corals or simply glass beads. By themselves, I thought they were too brightly green, almost neon, but with the blue glass beads and the chrisocolla one, they are perfect.
Mixed green glass beads with "tiger eye" effect. I like the smaller beads with their "eye", a reminder of the eye on the peacock tail! I'm thinking they would make great earrings on top of a "tail" tassel!
Golden Daisy Spacer Beads (8mm). I was surprised to not see more metal item in this box, and I was at first disappointed about the golden colour (I prefer working with antique brass), but after playing around with the beads, gold was the right choice to go with Peacock's colours! I ended up not using them (they were just too big for the beads I've used), but they inspired me colour-wise.
Iris Metal Coated Coin Beads. I love the coating! It captures all the right Peacock's colours, with the shimmering effect you can see on bright coloured feathers.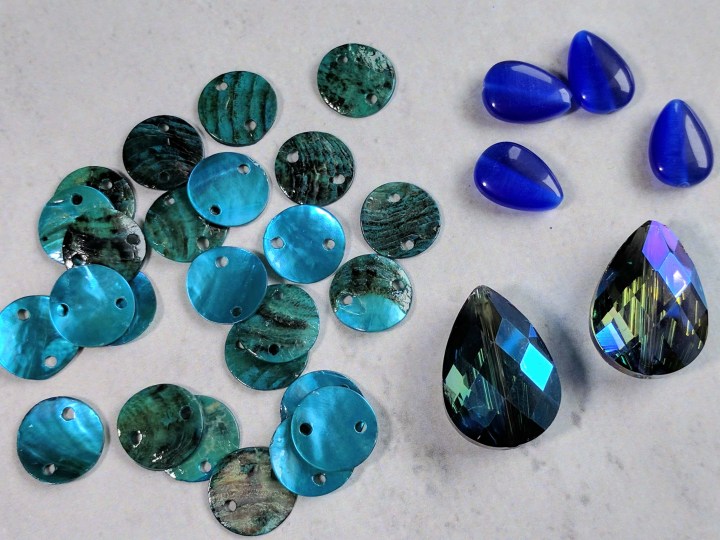 Blue-Green Abalone Shell Coin Beads. Look at those feathers, I mean, shell coin beads! As soon as I saw them, I knew they would be perfect for layers to recreate the Peacock tail! I'm sure I'm not the only one!
Blue Glass Tear Drops. Once again, I love the colour and it would be great for a pair of earrings or as a small necklace focal.
Faceted Tear Drops Glass. Sooo big, but the colour is gorgeous! It has some blue, some green, some purple and some yellow. I don't usually do things with bigger beads like these, but I'll use them in the future. Maybe for that sun catcher I want to make at some point in the future!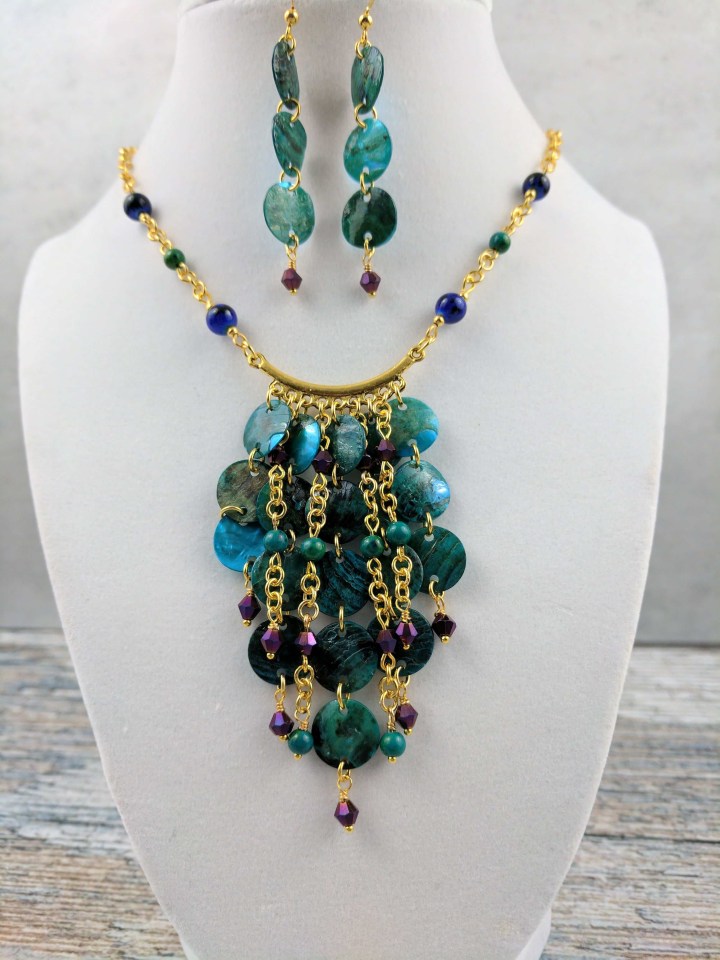 For me, the most obvious thing to do this month was a peacock tail necklace with the lovely shell coin beads. I've added some chrysocolla and bicones for fun! The earrings are longer that I was expecting, but they are so light that I'll keep them like that.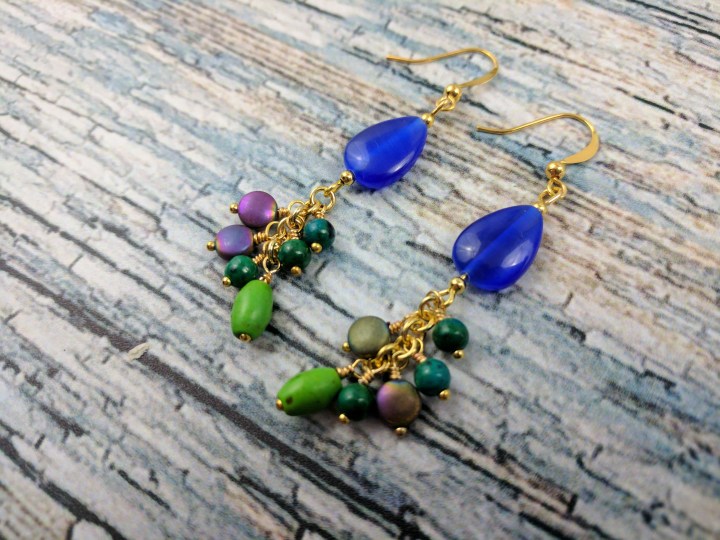 Talking about earrings, I've decided to make a second pair. The blue teardrop glass beads were tempting me since I opened the box, so I gave them a go. The "tail" is made with a mix of different beads from this month's box.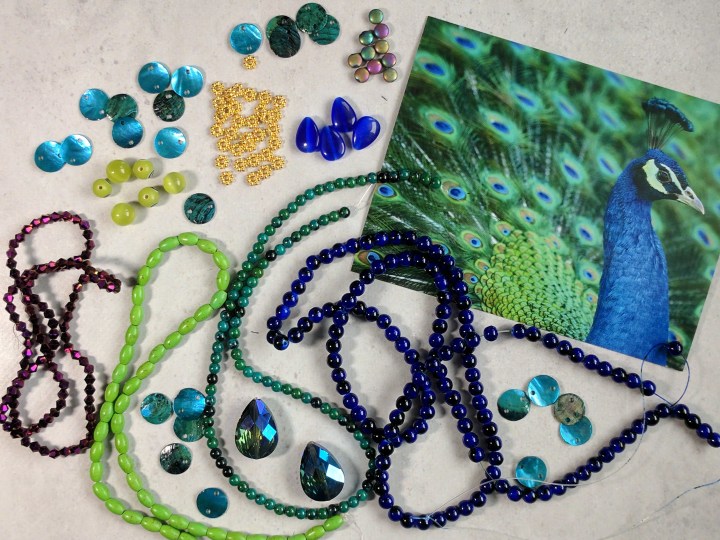 This month's Peacock coloured theme box was great! It was a mix of my favourite colours (blue, purple and green) and followed a theme that is clearly in my taste (hello, Crazy Bird Lady!). It was a fun box to play with and perfect to add some colours to this winter that will not end! Now, I have to go and shovel the 3″ of snow we received today.
What did you think of this month's Blueberry Cove Beads?