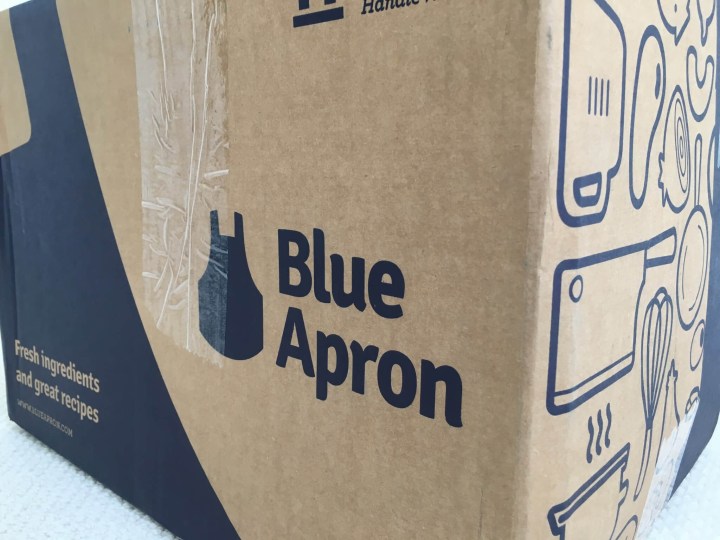 Blue Apron is a subscription box for making great meals at home. If you're like me, you periodically find yourself in a serious cooking rut. You make the same things every week, but the thought of researching a recipe and acquiring all of the ingredients is just too much work. Blue Apron is the solution! Each week, Blue Apron sends you a refrigerated box with all the fresh ingredients you need to make the included recipes. You can select the 2-person plan – 3 meals a week of 2 portions each – or the family plan – 2 to 4 meals a week of 4 portions each. The menus are set, but you can ask Blue Apron to avoid ingredients you don't eat – shellfish and lamb, in my case.
We got the Family Plan for 2 meals. I set the delivery date and it arrived right on time, securely packaged in a heavy-duty box. All of the ingredients are wrapped in an adorable insulated blanket and cooled with ice packs. Mine took a day to arrive and sat on my porch for 3 hours, and everything was perfectly cool inside.
Pricing: 2-Person Plan – $59.94 for 3 recipes. Family Plan (serves 4) – $69.92 for 2 recipes, $139.84 for 4 recipes.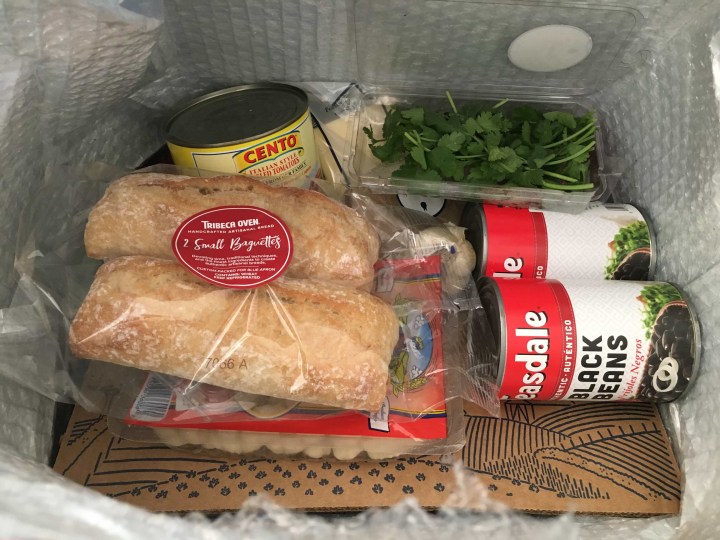 DEAL: Save $30 on your first order! Use this link – no coupon code required!
The meat is at the bottom, surrounded by still-frozen gel ice packs. The pork was double-bagged in an extra ziptop bag, so no concerns about leakage. The produce was all in good shape this month. The beans, however, came in a dented can.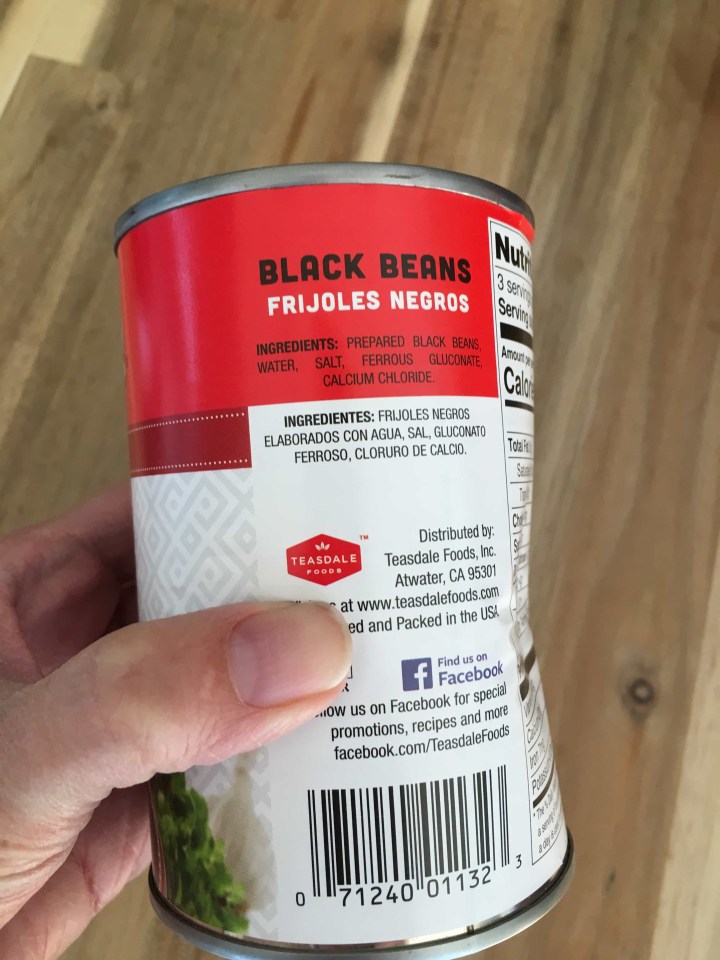 This happened in January, too. I freely admit that I am excessively concerned with the possibility of getting Botulism poisoning, but dented cans are a great way to get it. And why do I have dented cans in my $70 box of food?!? As usual, had I not received this box for review, I would have complained, and I trust that the box would have been comped. As it was, I simply used beans from my pantry and carried on.
The weekend got away from us this month, so we got the opportunity to make our Blue Apron meals during the week, when we do not have the luxury of leisurely cooking, glass of wine in hand. It's Monday, people, and bedtime is looming. Let's cook.
Our first meal Spiced Pork with Red Onions and Black Beans, adapted from the winning recipe on Top Chef.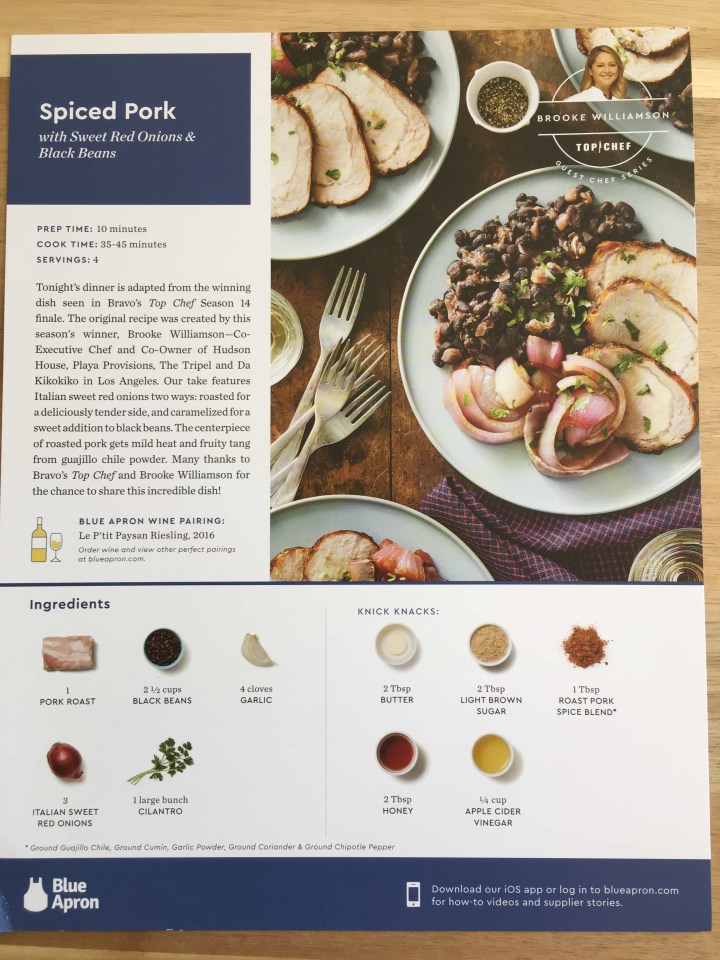 On my box delivery day, I received an email from BA that they had subbed out the single 24oz pork roast for 2 12oz roasts, I think in response to online complaints that the non-waste meat on the 24oz roast was insufficient.  I definitely got the sense that this recipe had not gotten the full BA-troubleshooting-test-kitchen treatment.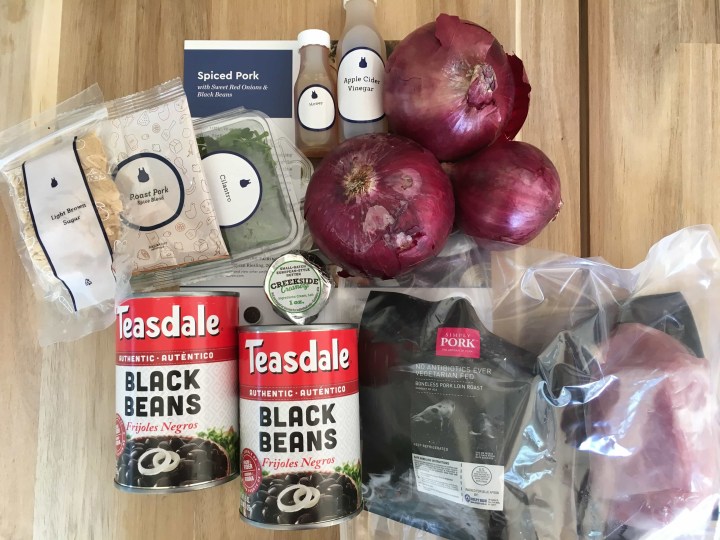 As usual, all of the ingredients were included, even a wee pat of butter. The honey and vinegar came in teeny bottles that must have been delightful to fill. Blue Apron does a great job of sending you just the amount you need for the recipe, so you don't waste anything; nor do you have to think about how much to add to the recipe (Usually! See below).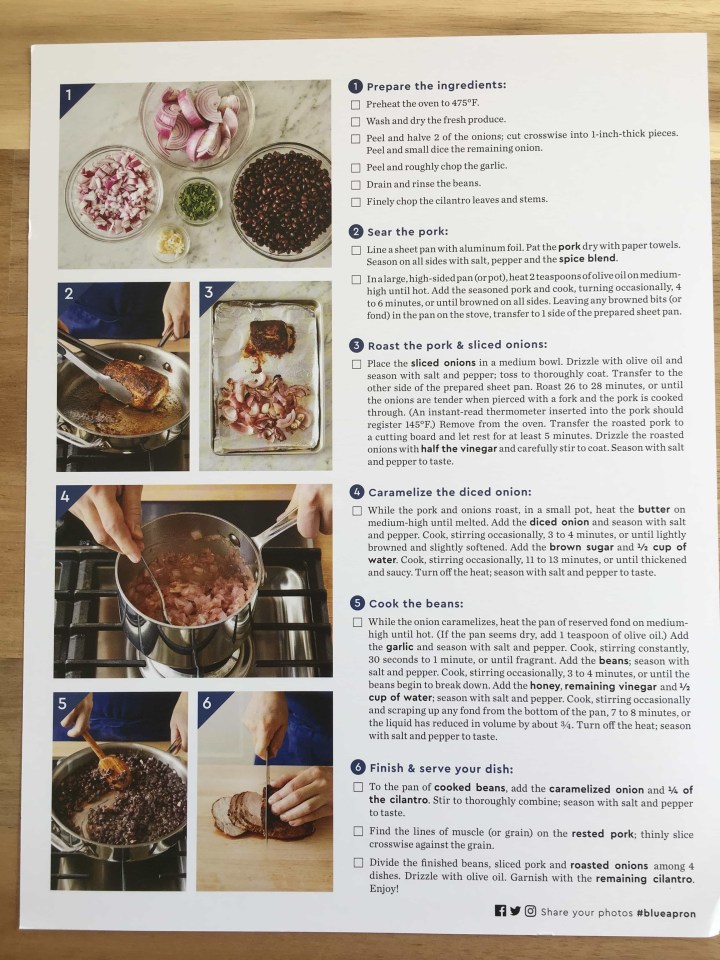 Each recipe comes with these easy-to-follow instructions. Even if you are new to knife skills, you will be able to do everything on this list. The prep time on this one was about right – it's really just chopping onions. The instructions were not quite as streamlined as they usually are, however – lots of dishes being used (a separate bowl just to put olive oil on onions going on a sheet pan?) that weren't needed. I suppose our new Top Chef has someone washing her dishes for her. Easy enough to work around this, though.
Now included in the box is the meal's nutrition facts. I think it's nice to have a ballpark idea of how this meal fits into my daily nutrition. Thumbs up.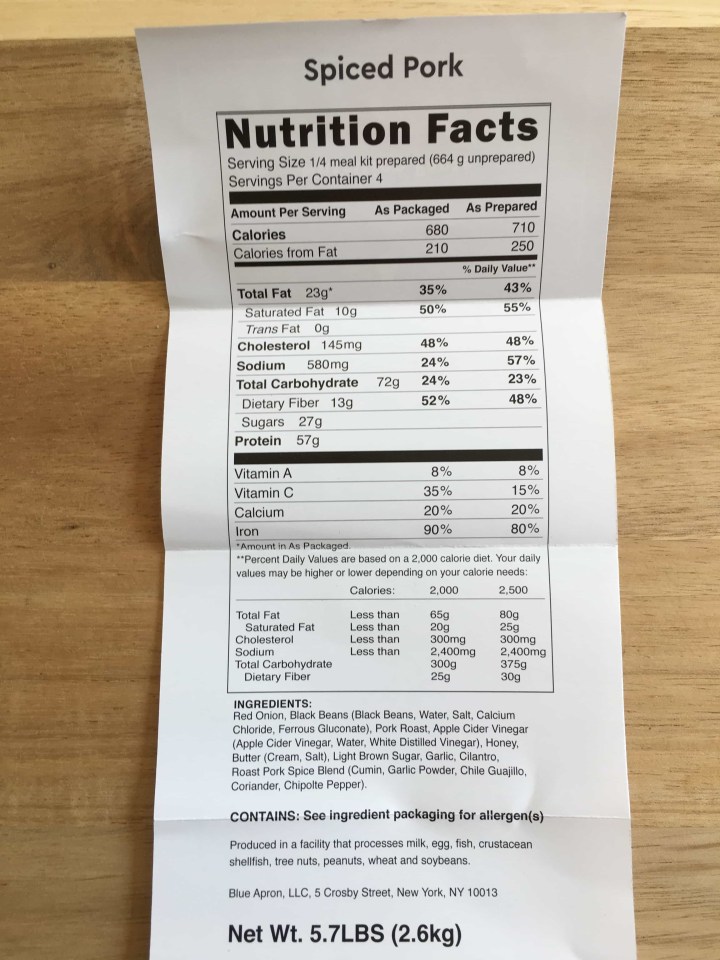 This meal was straightforward to make. 475 is too hot for roasting in my oven; I went for 425 and probably could have done 400. As always with meat, and particularly with pork, you should use a meat thermometer to tell you when it's done. That's 145 degrees for a pork roast, which means you should pull it out at 137 and allow the carry-over heat to get you to 145. I get that BA doesn't want you to get food poisoning, but trust this paranoid cook that your pork will be dry and overdone if you leave it in the oven until it hits 145.
This was pretty straightforward – just roasted meat and stovetop beans. Given the weeknightedness, there was no need to caramelize the onions in a separate pot and then gently stir them into the beans. Cook the onions, add the beans, stir. A note of caution that these beans are not Cubano – they are sweet, like traditional baked beans. There is a LOT of sugar in the box, and you should taste as you go rather than just dumping it in. I used about half of the brown sugar and honey and it was really very sweet. The kids sure liked it, of course, because sugar. The pork was flavorful, but I should have pulled it out at 137 like you did. The roasted onions were an unexpected side and went really nicely with the meat.
Next up was the Spinach & Mozzarella Gnocchi with Cheesy Garlic Bread. There is nothing not to like about that title.
My 7-year-old who loves veggies and plain pasta has been slowly expanding from plain to buttered to butter AND parmesan to cheese ravioli, and gnocchi seemed like a logical next step.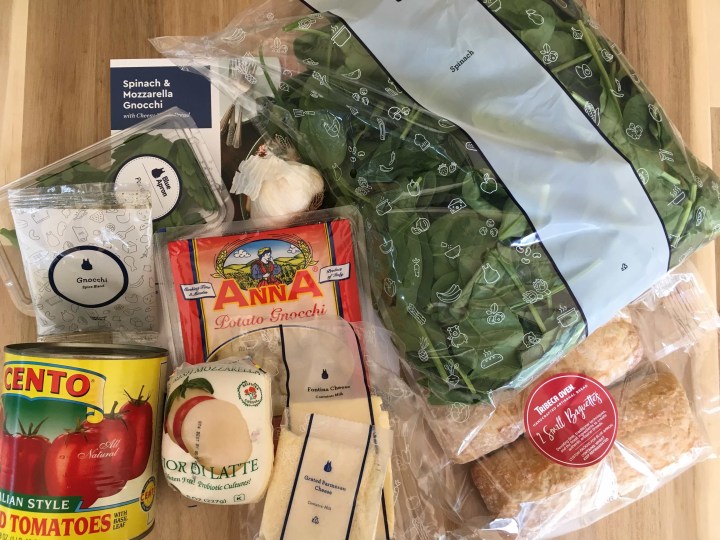 The recipe card has straightforward instructions that were easy to follow. This recipe is really just refrigerated pasta with a quick sauce, so there's nothing hard to do here.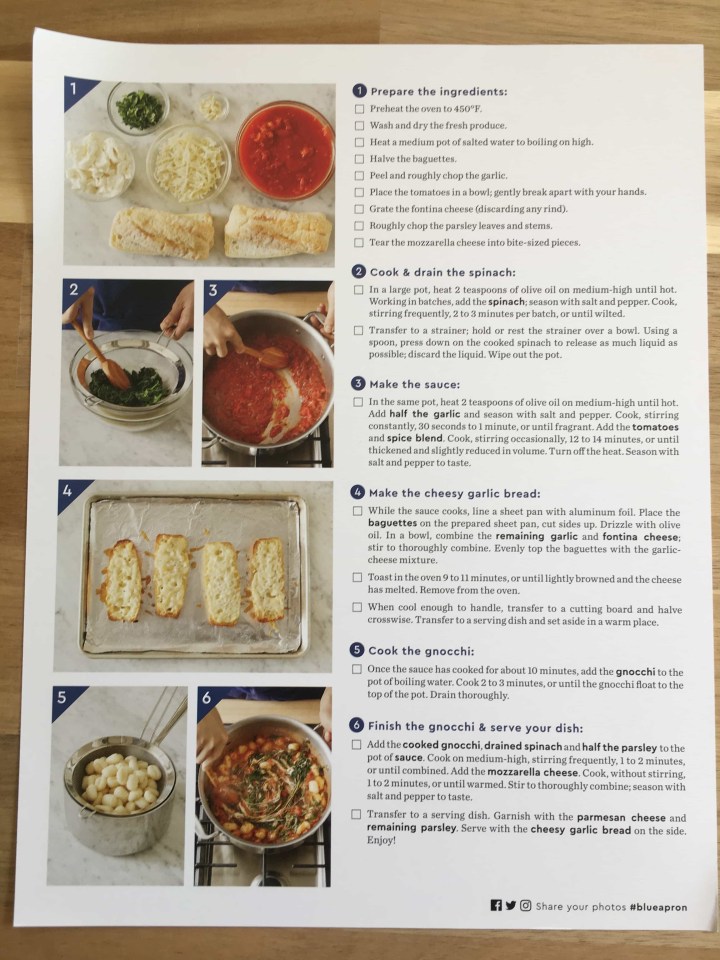 This recipe also included the nutrition facts.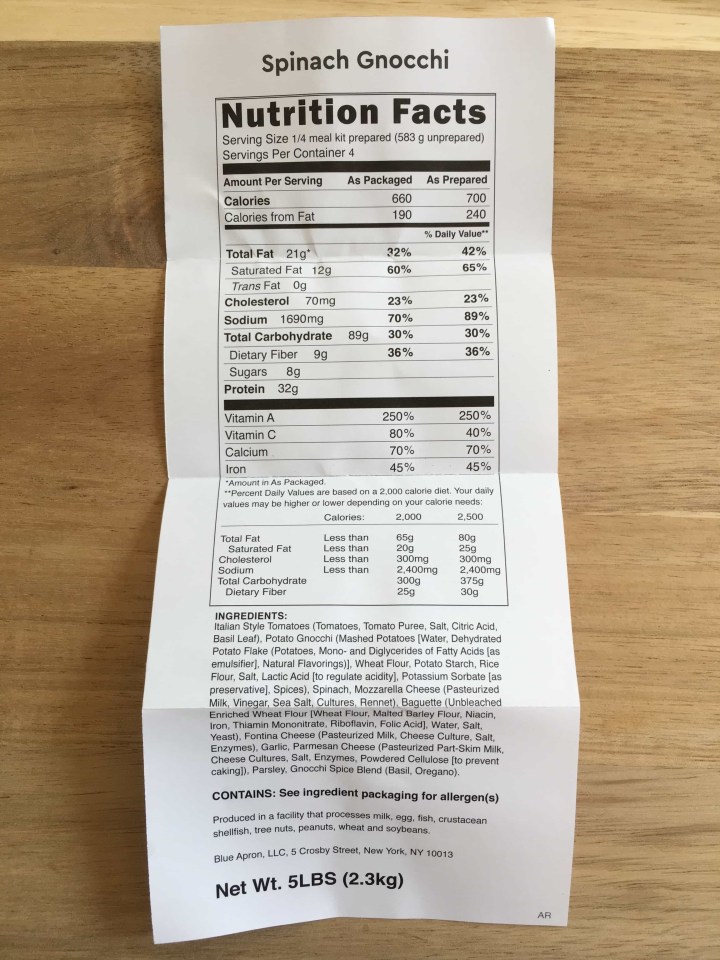 I'm not personally gnocchi's biggest fan, but the rest of my family thought it all was great. I do support delicious garlic bread, however. Satisfying weeknight meal.
Pretty good month. It's nice to not have to decide "what's for dinner" all the time. Overall, Blue Apron has been enjoyable and gets us out of our boring dinner routine. Honestly, you can forget how fun cooking can be. Interesting ingredients, easy recipes, and delicious food. We can't wait to see what we get next time!