So Bakeable is a monthly subscription box that sends baking lessons to your door. I like to think of it as a combination baking meal kit and craft box. Each month, you'll receive attractive, easy-to-follow directions along with all of the baking supplies you'll need (minus eggs, butter and milk). The results are gorgeous and absolutely delicious! Although So Bakeable's boxes are certainly suitable for experienced bakers, they're so well done that even beginners can make Pinterest-worthy desserts on their very first tries! Boxes cost $29.95 each plus shipping, and discounts are available with longer-term prepaid subscriptions.
All supplies arrive each month wrapped inside an attractive box. Our eclair kit and cookie kit were wrapped individually in brown paper.
DEAL:
  Save $5 on your first box! Use coupon code 
BAKINGTIME
.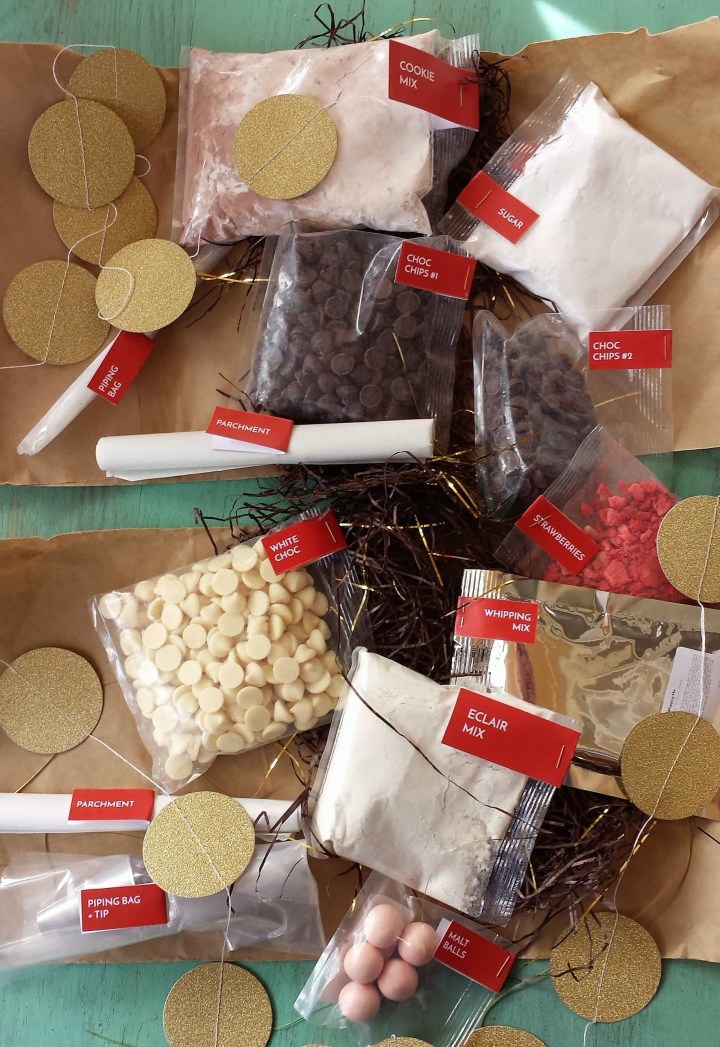 Here are all the yummies in the box.

This decorative bling was in the box, because every Pinterest worthy dessert needs some bling.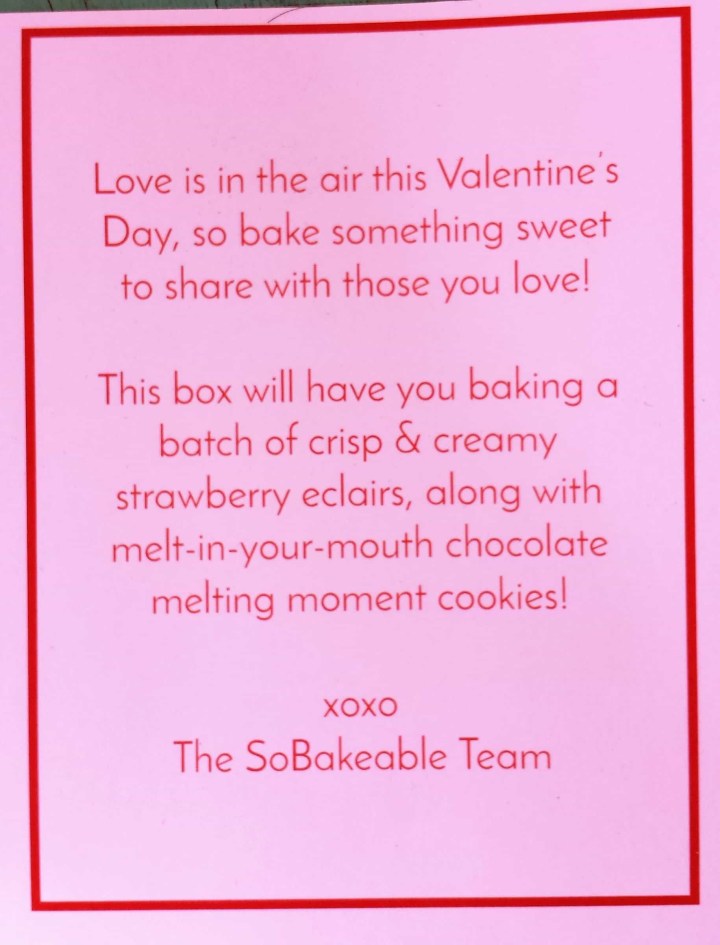 This card welcomed us to the box.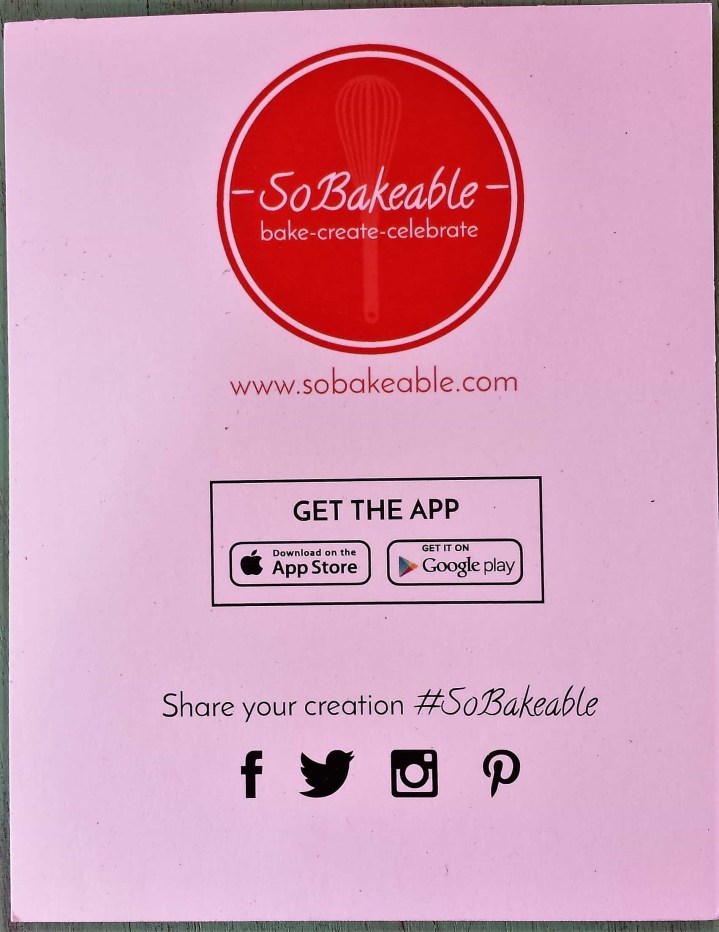 The back side of the card had social media and website information. They even have an app! Make sure you search on sobakeable, it won't show up if you separate the words.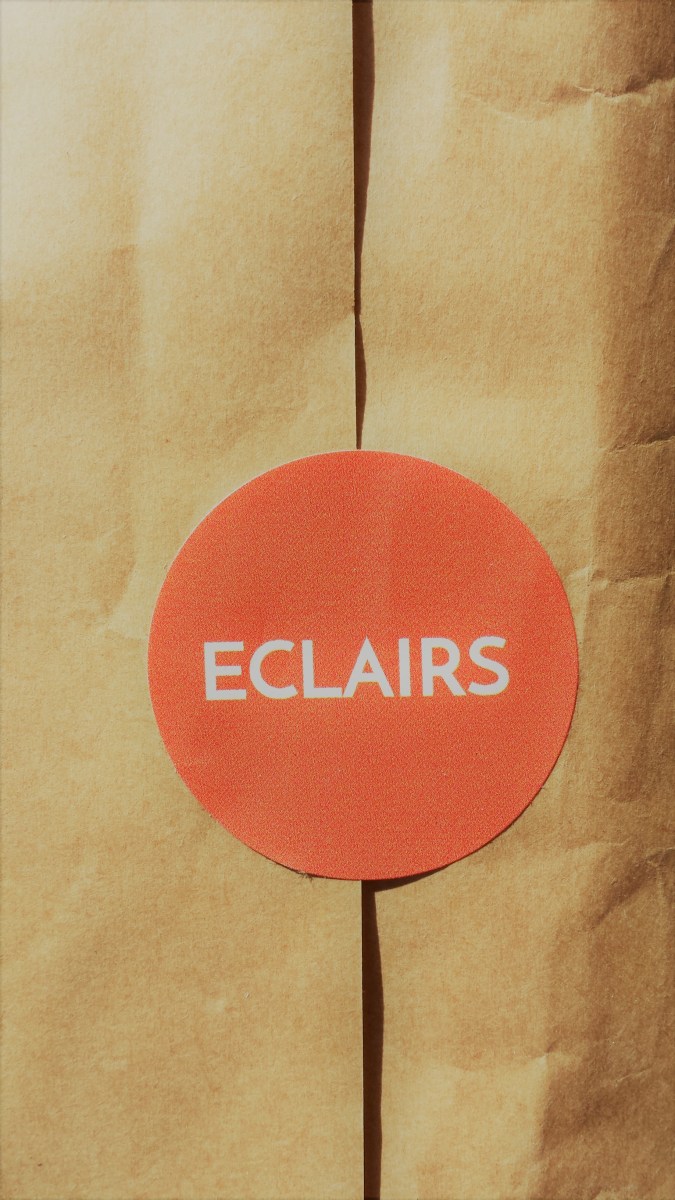 We dove into the eclairs first. Because elcairs.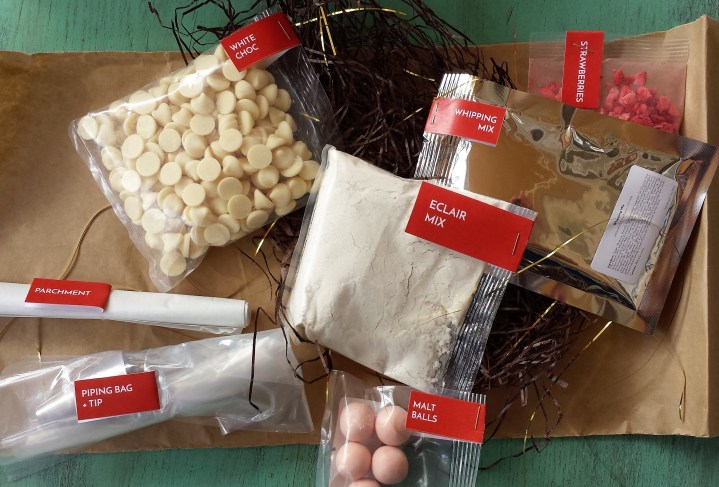 Everything was neatly sealed in little labeled bags. This is very helpful! I have received baking boxes where you had to read the ingredients to figure out if it was the icing mix or the cookie mix. Labels are good.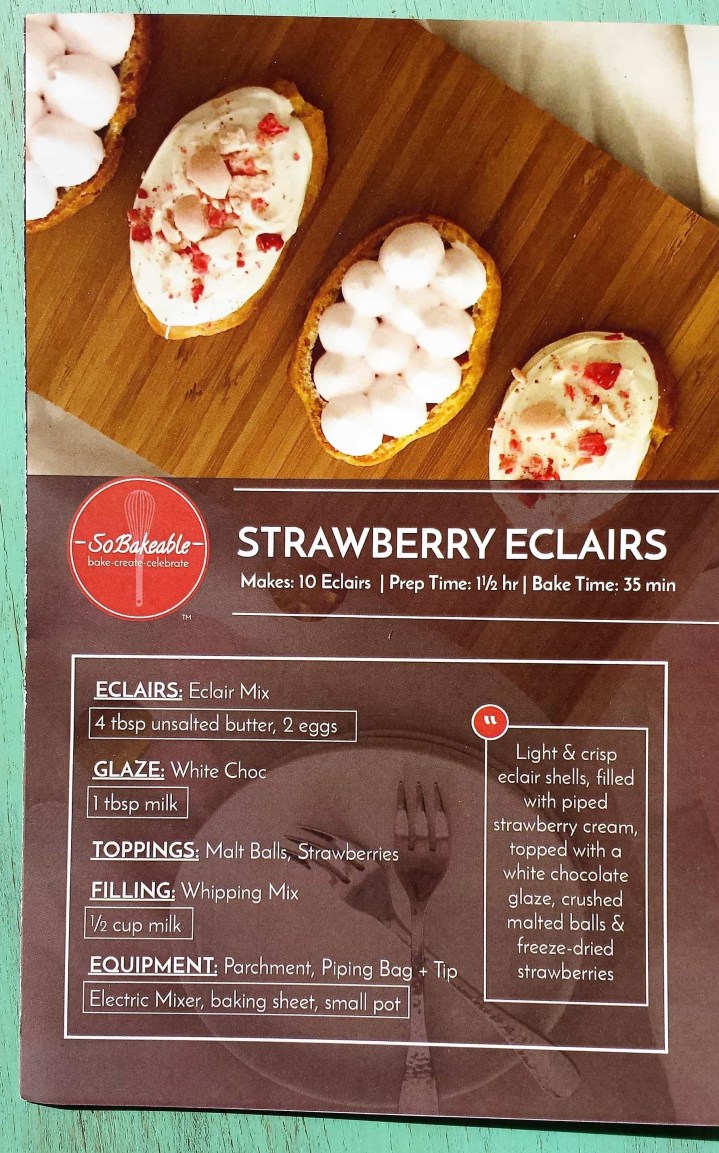 The recipes are clearly written and easy to follow.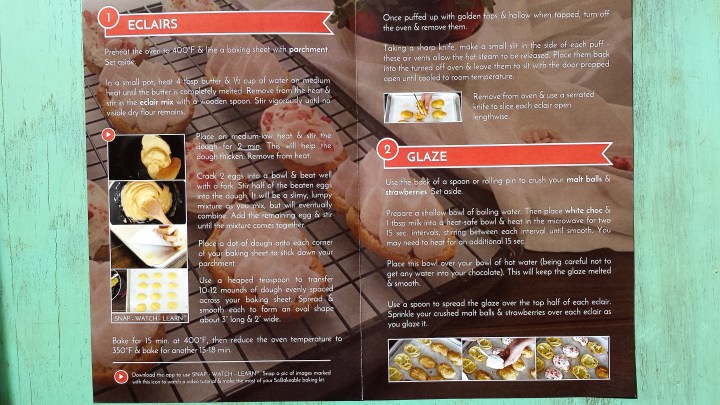 There are even pictures to illustrate the steps.
The size of the eclair mix seemed small, but don't be disheartened. A little goes a long way. This little pack made about 25 eclairs.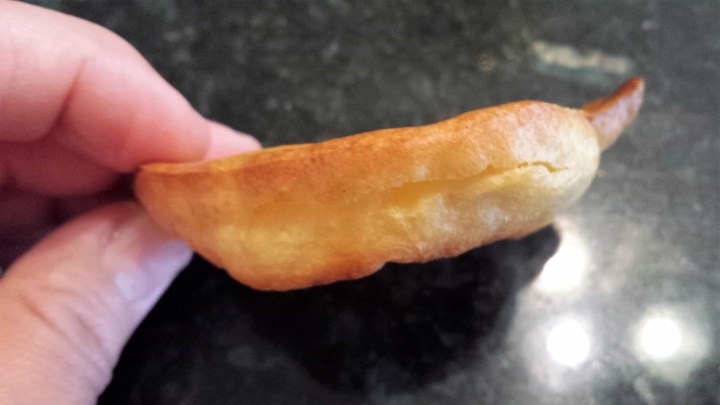 I mixed the eclair mix with melted butter, water and eggs. A word of caution, use medium eggs. I used some ginormous free range eggs and my dough was a little too runny. It still worked. And it was delicious. But, I think they would have been closer to perfect with a little less egg. Live and learn.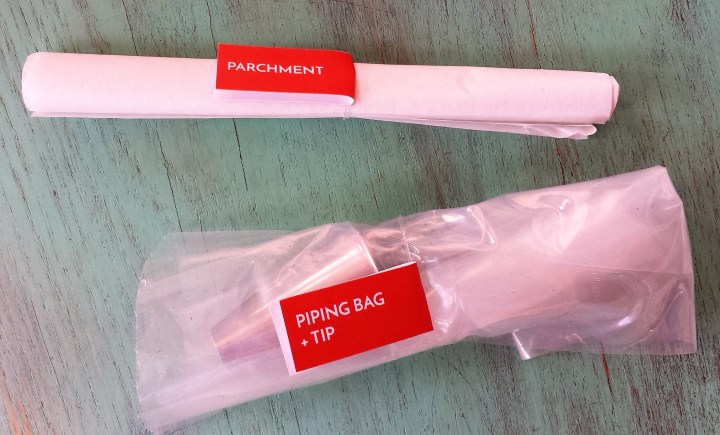 They included the parchment for baking the shells on and the piping bag and tip for the filling.
You melt the white chocolate chips to make a glaze for the tops of the eclairs. Delicious.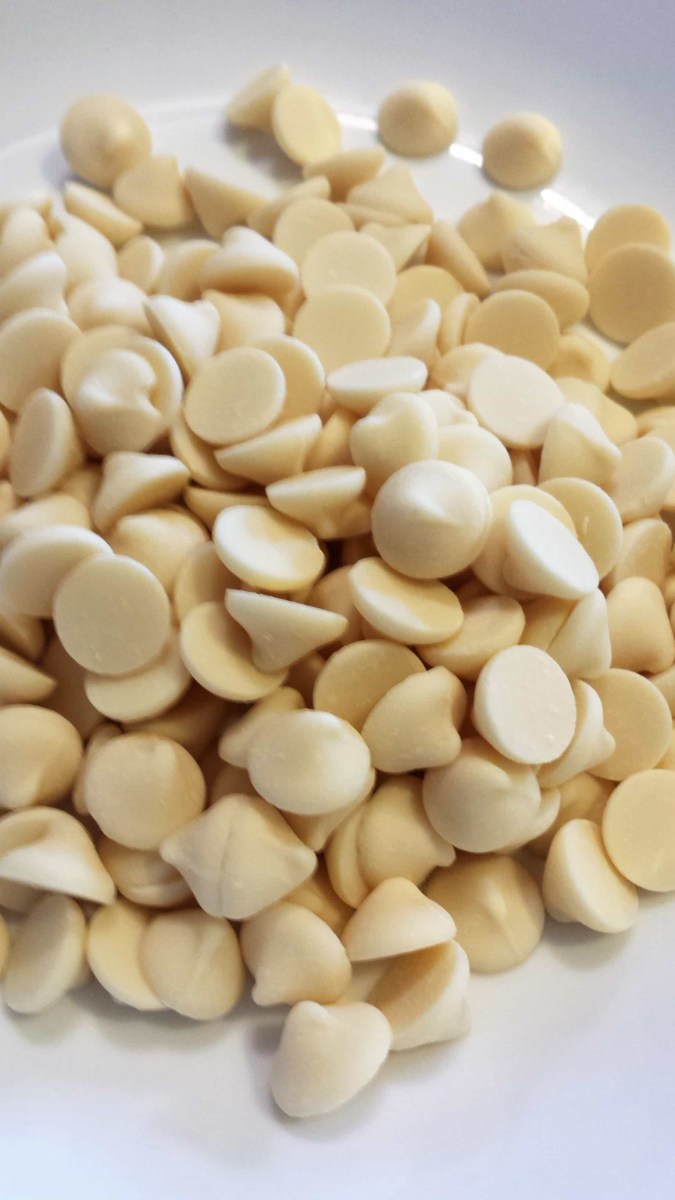 You dump the chips in a microwave safe bowl and heat for just two 15 second intervals and stir until melted.
It worked beautifully and it spread easily. (I kept it over a bowl of hot water to keep it melty, per instructions.)
Again, I was thinking, "Five malt balls?!  How's that enough?" But, I was wrong…
You crack them up (which was very mentally satisfying) and there was more than enough to top all of the eclairs.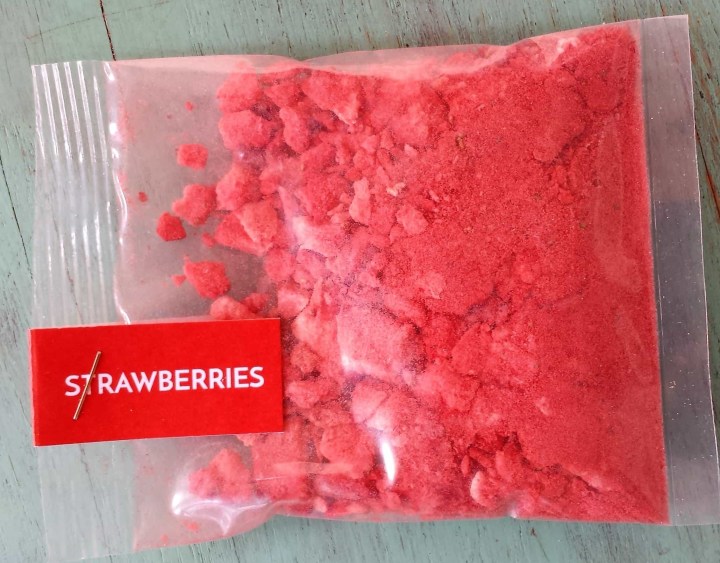 There were also dried strawberries to top some of the eclairs.
These were airy and light and made for a pretty topping.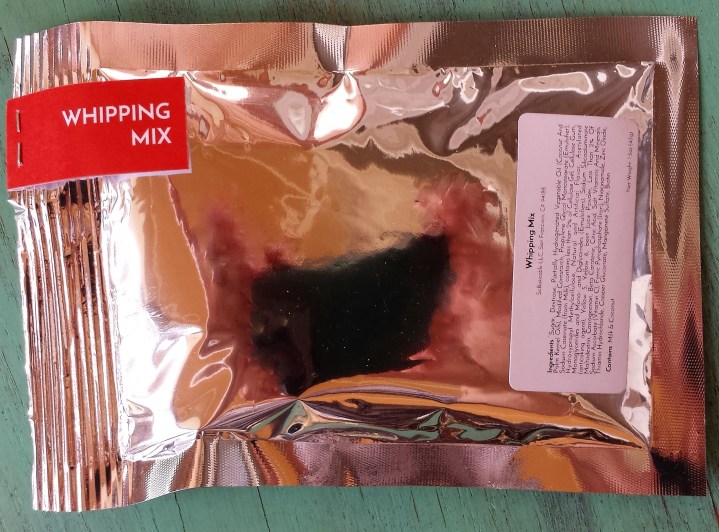 The whipping mix came in this foil pack. I dumped it in my mixing bowl with a little milk.
The milk and mix combined to make an oh so smooth cream filling with a light strawberry flavor.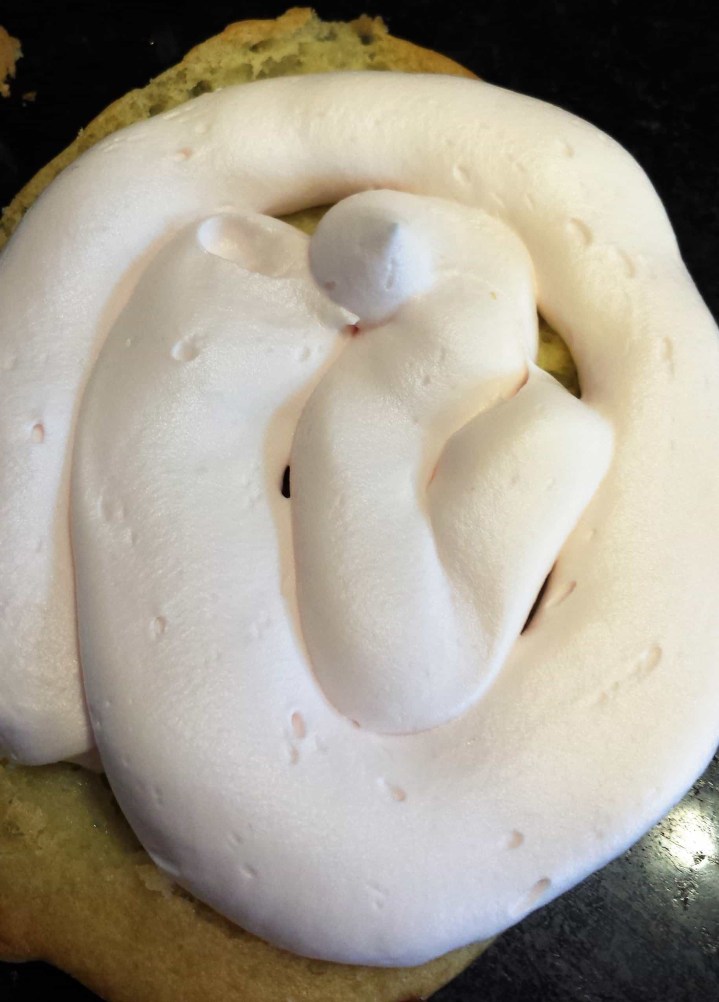 I put the mix into the piping bag and went to town. I didn't know that something so light and fluffy could come from a mix.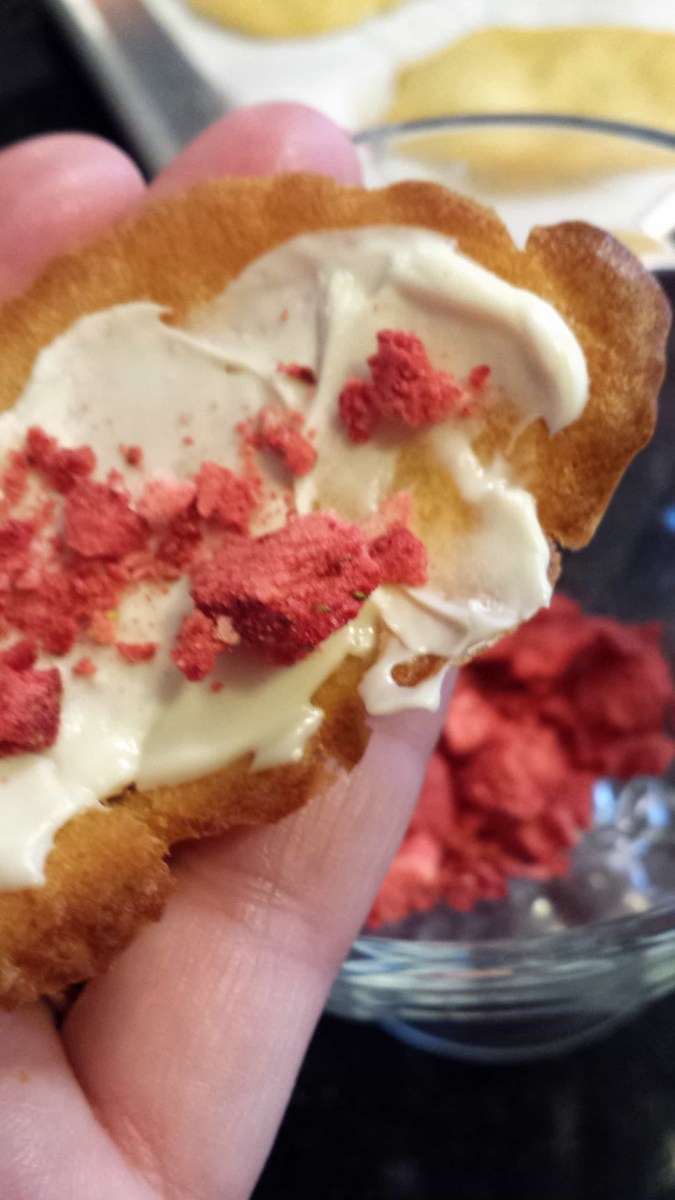 Here is one all finished with the strawberries on top.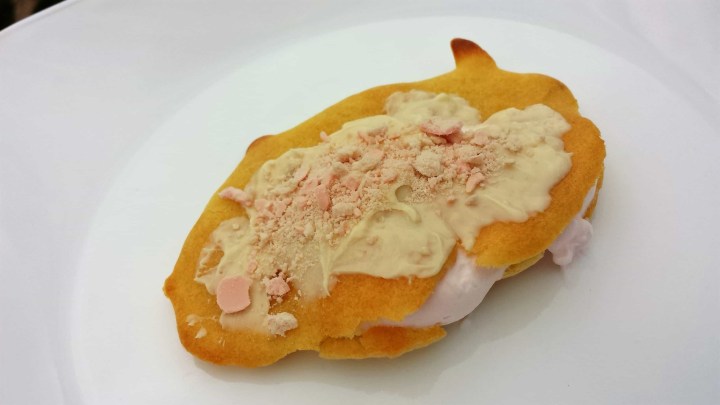 I think the malt ball topping was our favorite though.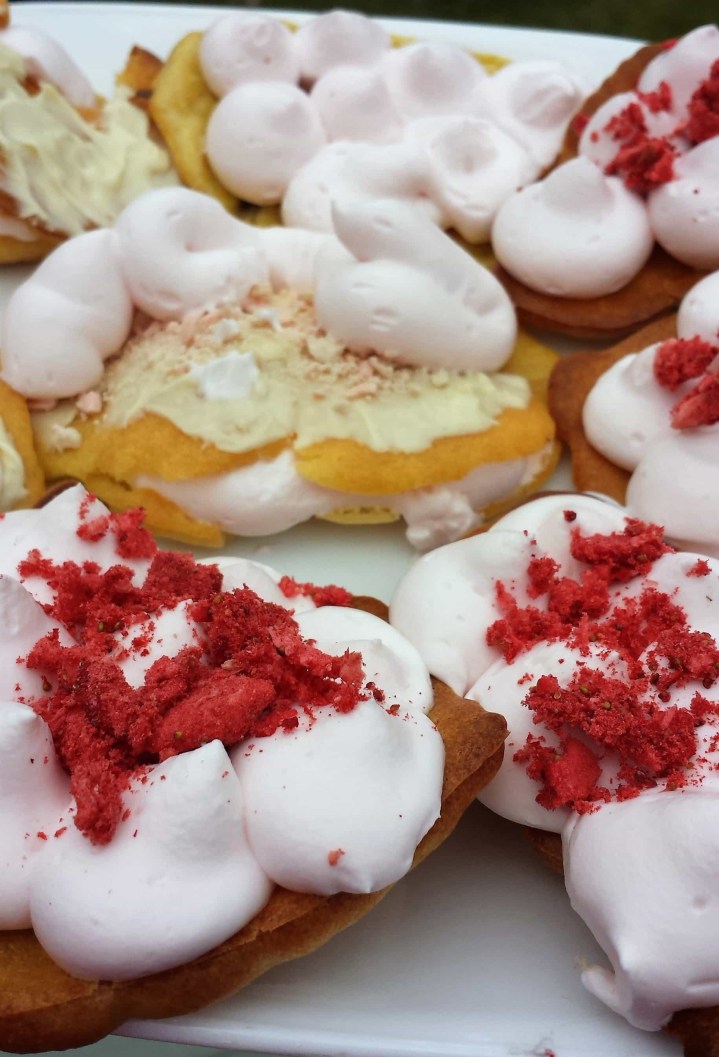 I had a few shells that didn't puff up enough (I think it was because my eggs were too big.) But, I just put the filling on top and went with it. They were still pretty and delicious!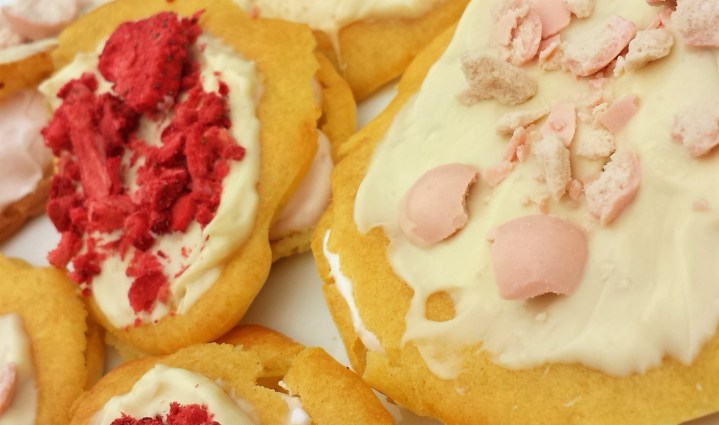 Here are some of the ones that puffed up perfectly.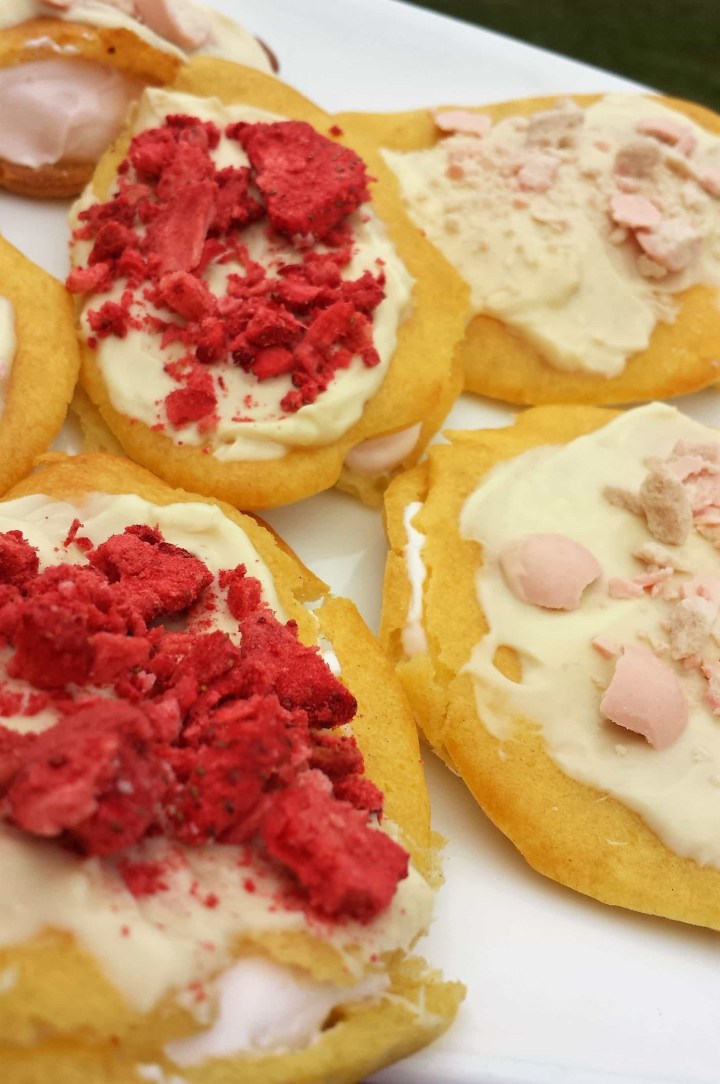 They were light, airy and dreamy. A delight to the palate.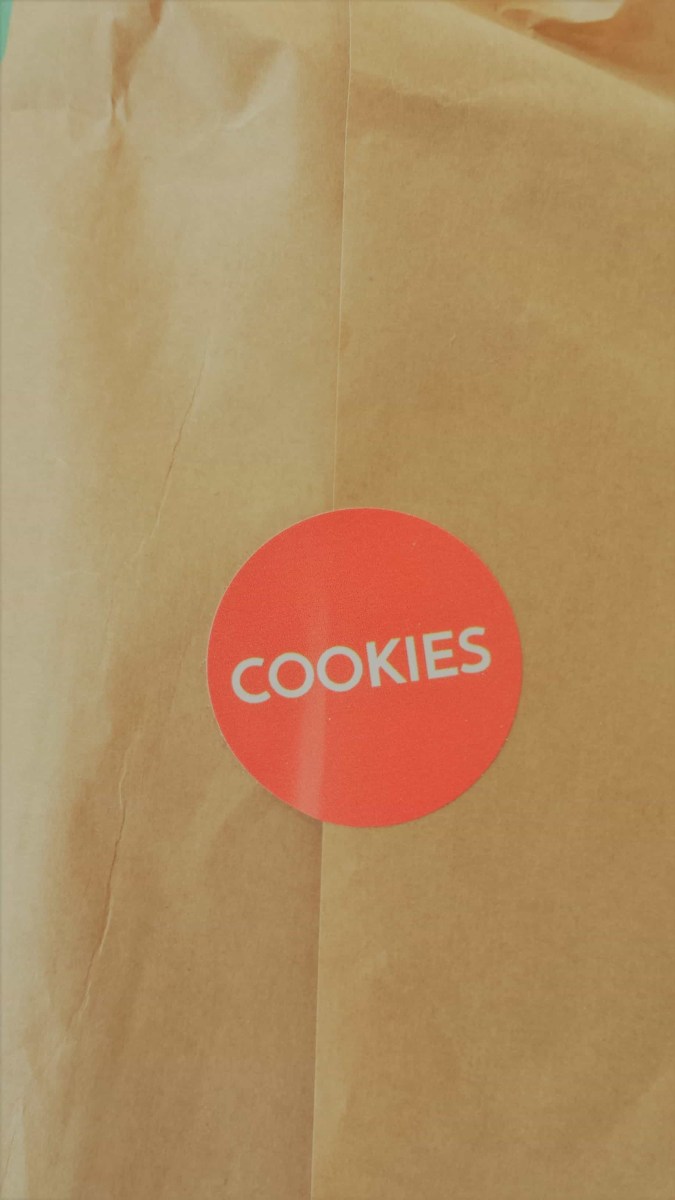 The second mix in the So Bakeable box was for Melting Moment Cookies.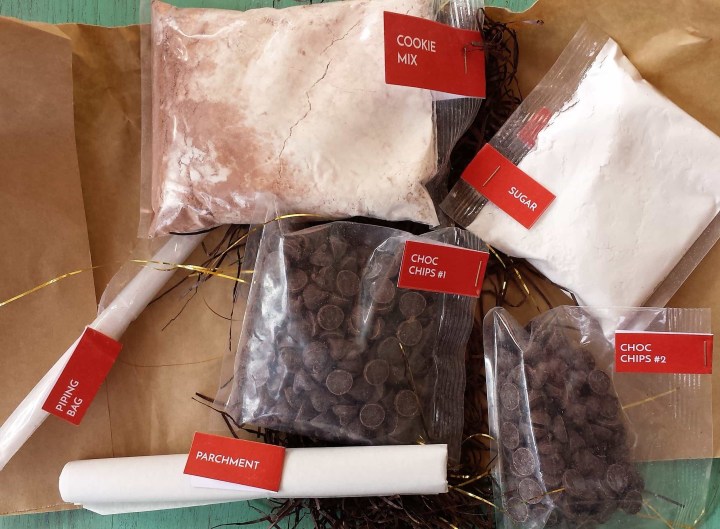 Again, all of the ingredients were well packaged and labeled.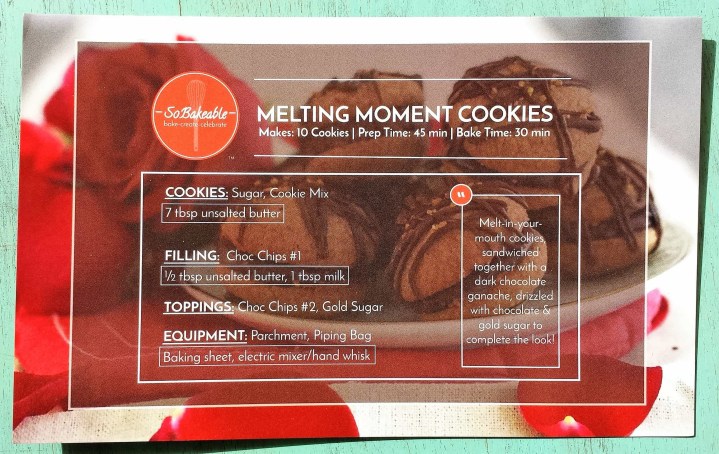 Everything is provided except the butter and milk.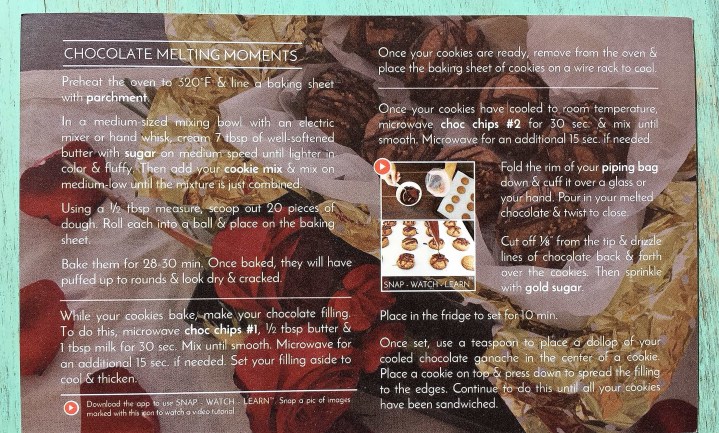 These didn't require a whole booklet, the recipe was printed on the front and back of a card.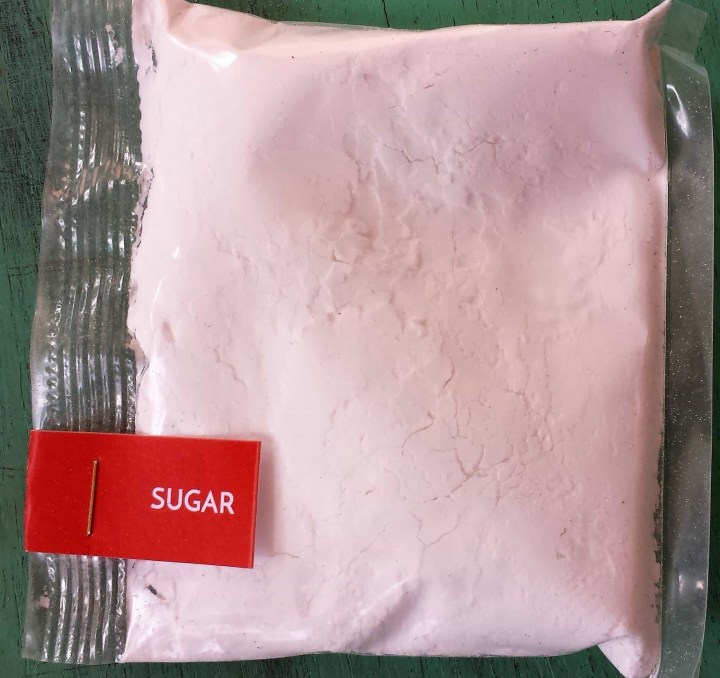 First, you mix the sugar pack with butter until it is light and fluffy.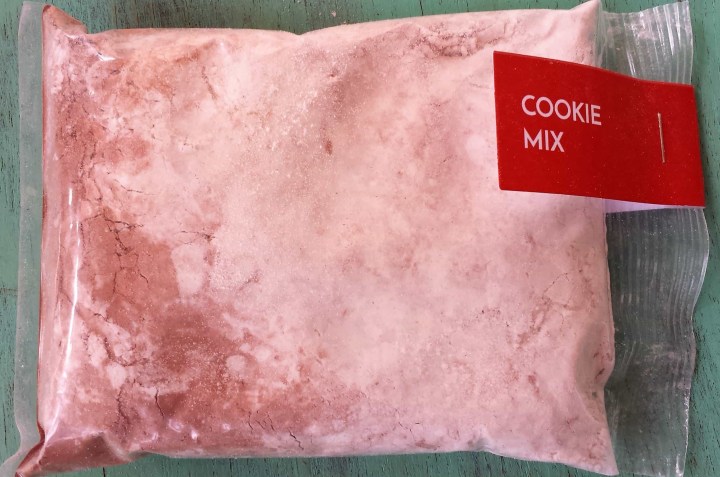 Then you add in the cookie mix. Once the dough is combined you roll it into 20, 1/2 tbsp. balls and bake.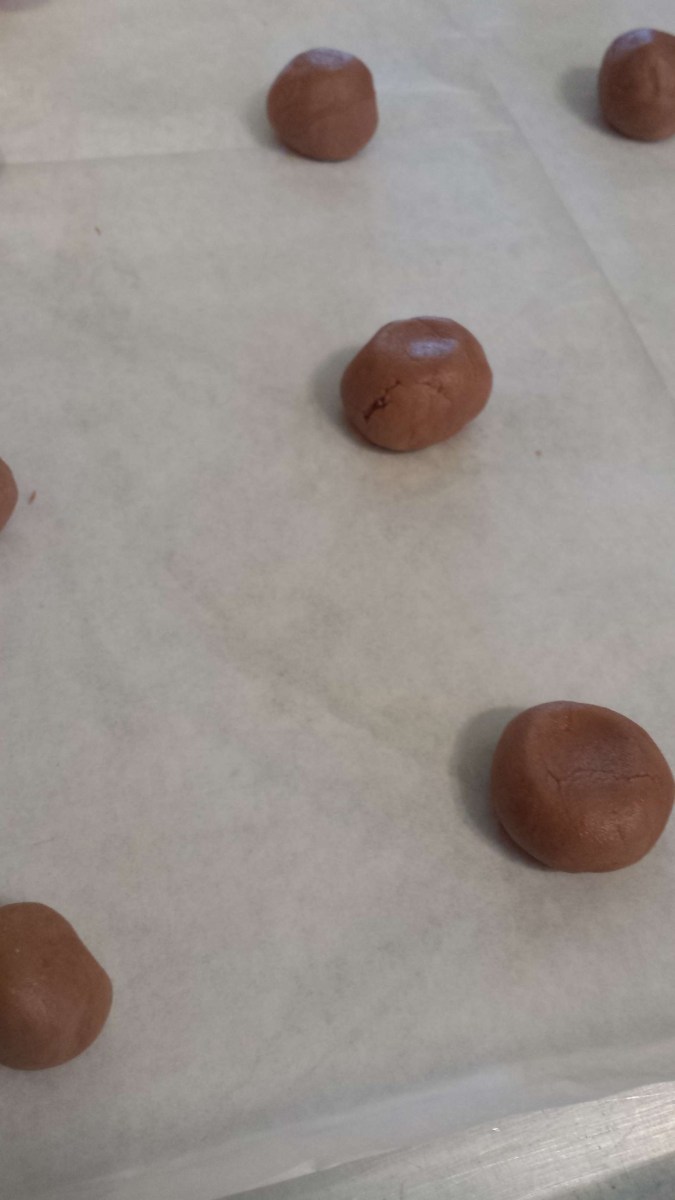 Once the cookies are done you drizzle them with chocolate and fill them with chocolate! Because chocolate.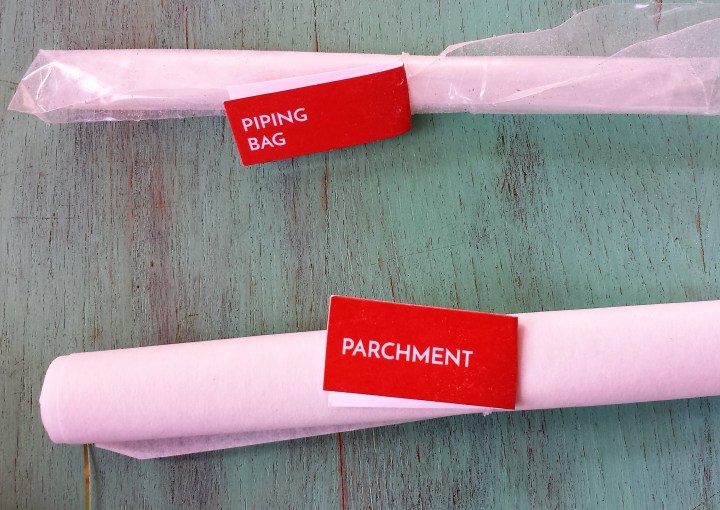 They included parchment paper for baking the cookies on and a piping bag for drizzling the chocolate. But, I didn't feel like dealing with a piping bag, so I just used a spoon to drizzle the chocolate and it worked great.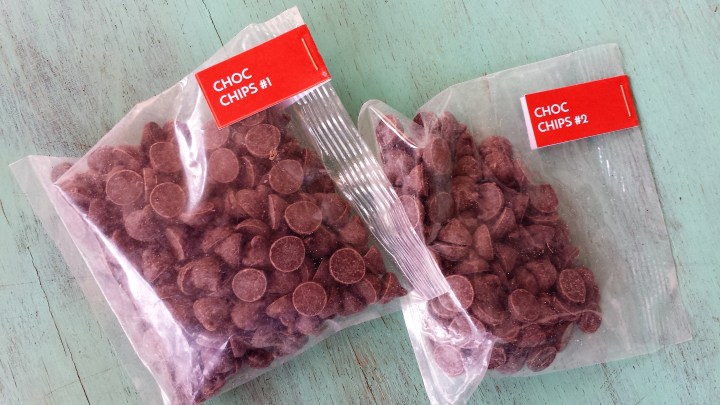 One of the bags of chocolate chips was for the drizzle topping and the other you used to make a chocolate filling for the cookies.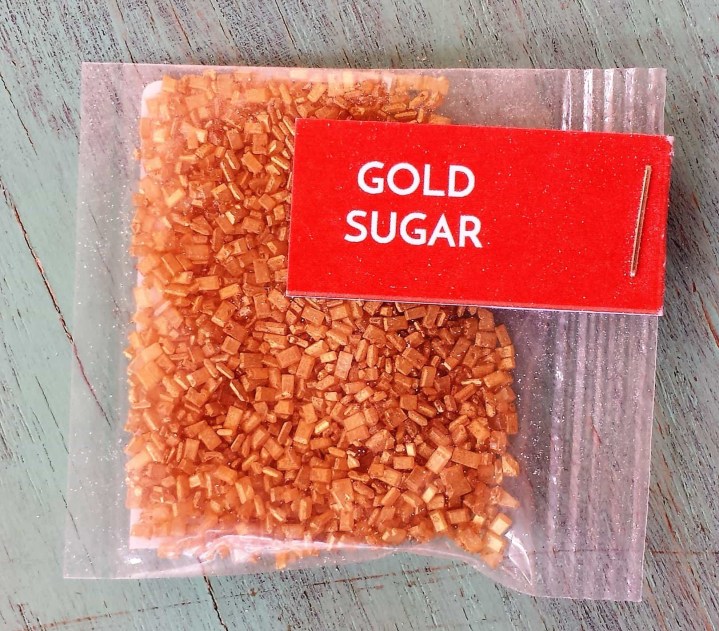 There were even gold sprinkles to add some bling to your cookies.
They turned out very pretty. The gold sprinkles were gorgeous!
I enjoyed the So Bakeable box. The recipes are very detailed and did require quite a lot of work. The eclairs were our favorite and totally worth the effort! The recipes didn't turn out absolutely perfect, but they did turn out good enough to eat! (Which is what my mama always said is what really mattered.) I think the recipes require a bit of preexisting cooking skill, but are well enough written and illustrated that anyone could achieve a yummy result.