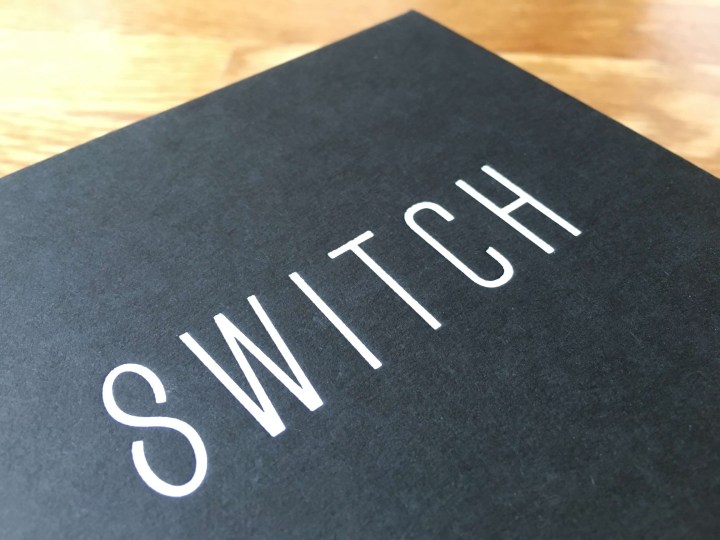 Switch is a jewelry subscription that lets you rent designer jewelry starting at $29 a month. You can wear the pieces for as long as you like, or switch them out for new piece(s) whenever you want. Shipping is always free. The jewelry, which includes pieces by Hermes, Alexander McQueen, and Celine, among others, averages $500 and includes necklaces, bracelets, and earrings. Jewelry is cleaned between wearers.
I have always admired fun statement jewelry on other women, but I can never bring myself to commit to a piece.  Who wants to spend $500 on a piece of jewelry that you may wear only a few times before it goes out of fashion? But who wouldn't like having an amazing new piece whenever you go out? Not being an heiress or a tech entrepreneur, and having a firm frugality-is-golden Midwestern upbringing, I figured this kind of jewelry was out of reach for me.  Enter Switch, which lets you have fun without the commitment. It's like internet dating for jewelry!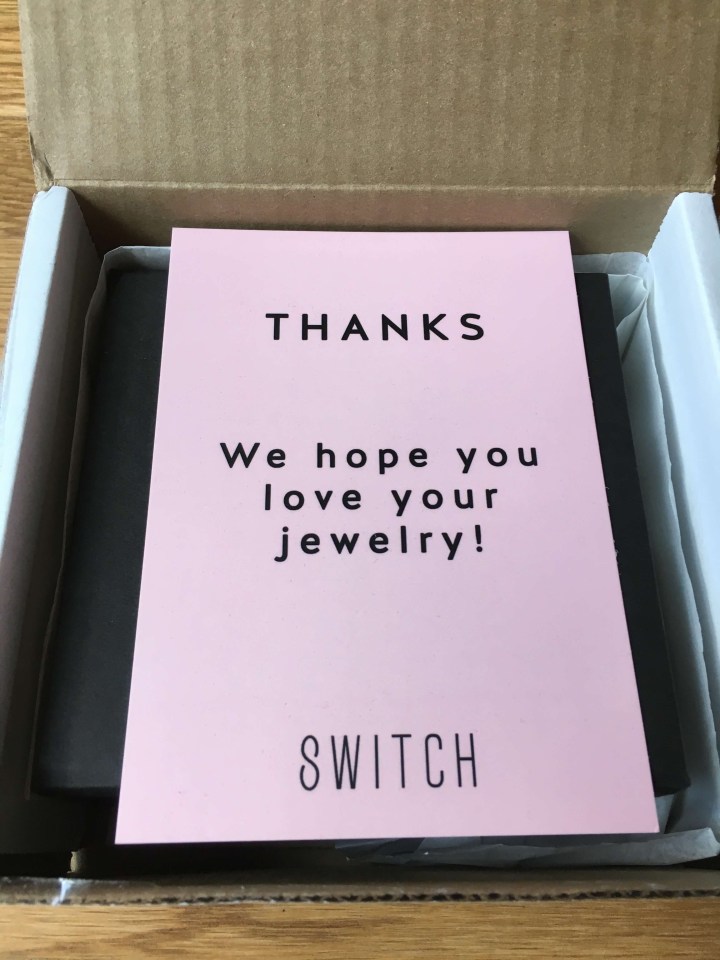 DEAL: Get half off your first month on any plan. Use coupon code HELLOHALF.
Sign-up is simple. You look through the collection and pick the pieces you like, ranking them in preferred order.  Switch sends you your top-ranked piece that's available. Wear it as long as you like, and send it back when you're ready for something new. I have the platinum plan, which allows me to have two pieces at any one time for $39 a month. My jewelry came in the mail in just a couple of days.
Everything was all snugged up in secure packaging. Can I just tell you how exciting it is to open tiny velvet pouches containing gorgeous jewelry that costs less than my monthly Starbucks habit?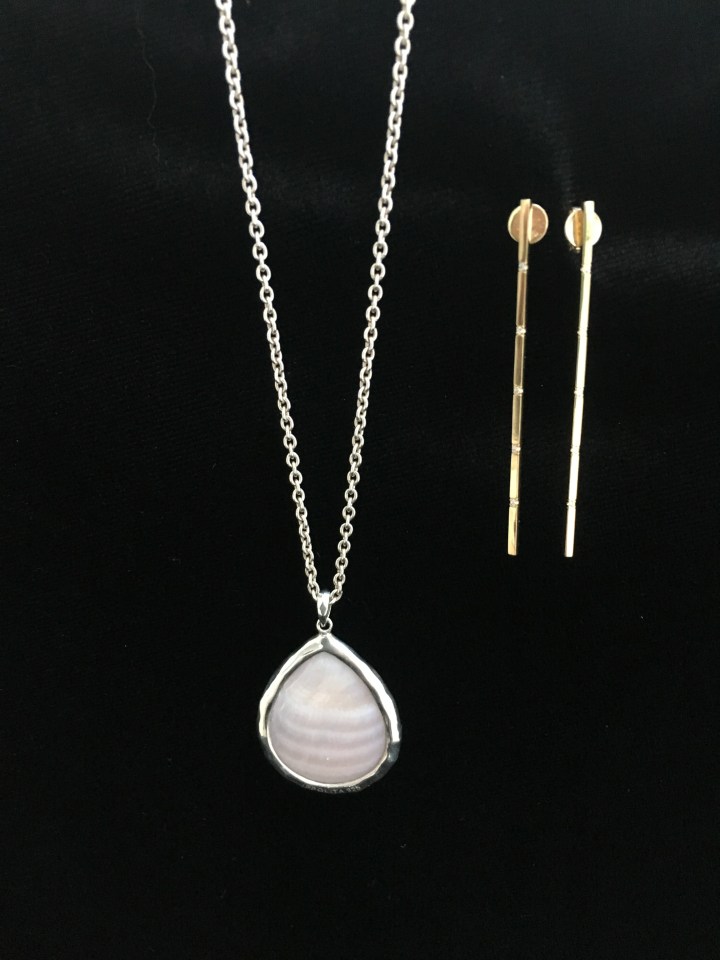 Fun stuff from my wish list this month! I got the Ippolita Wonderland Teardrop Necklace in Blush ($495 retail value, though we found it elsewhere for $195) and the Switch Simple Long Bar Earrings ($600 retail value; somewhat arbitrarily set).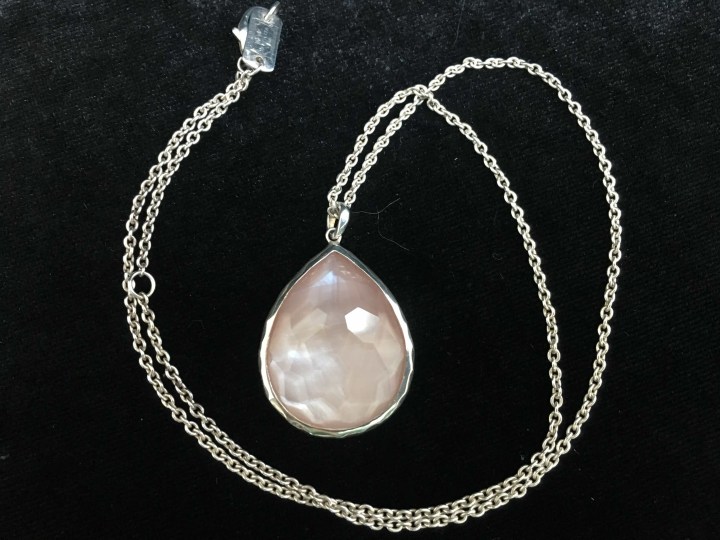 The Ippolita Wonderland necklace is really pretty in person; my 7-year-old declared that it was "like something a princess would have." The stone is faceted quartz with a mother of pearl backing and is a beautiful pale pink color.  Its simplicity draws the eye and the piece stands out against even light skin tones.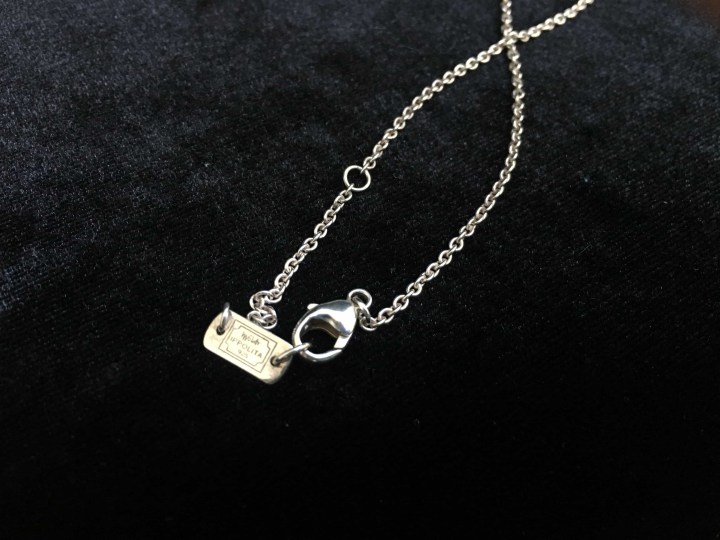 The crab-claw clasp is big enough to handle easily behind your head. The sterling silver chain is 16″, though you can see the secondary hoop to make it about 14″ instead. You can see the Ippolita logo on the tag.
I really like this necklace; it makes a statement while remaining timeless in its simplicity. It's romantic in a Game of Thrones/Neverending Story way, but you could pull this off under a button-down blouse at work or with a navy or black dress. I see myself wearing this one a lot this month!
The next piece is the Switch brand Simple Long Bar Earrings.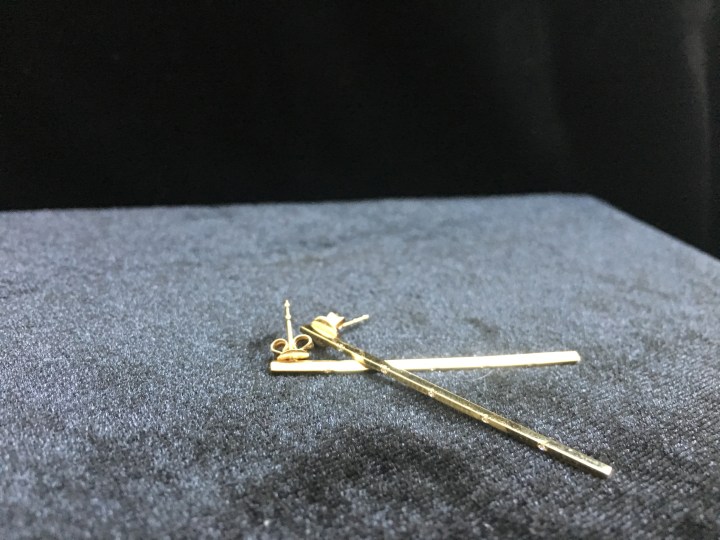 These earrings are 4.4cm in length and claim to be "recycled" 18K gold. I assume "recycled" means these used to be Grandma's rings or something. The butterfly clasps have "585" printed on them, which is 14K, not 18K. Now, if these were indeed melted down and reformed from something else, the clasps could have come from a different set of earrings. Still, I don't love the vagueness here, along with the stated $600 "retail" value, which seems pulled out of the air. Each bar has 5 tiny flecks of diamond; 1/25 of a karat each. The diamond quality is stated to be Sl1, which means flaws would be visible to a jeweler at 10x magnification. At this tiny size, it doesn't matter to the piece.
[(ed:) Read Switch's comment below for clarification!]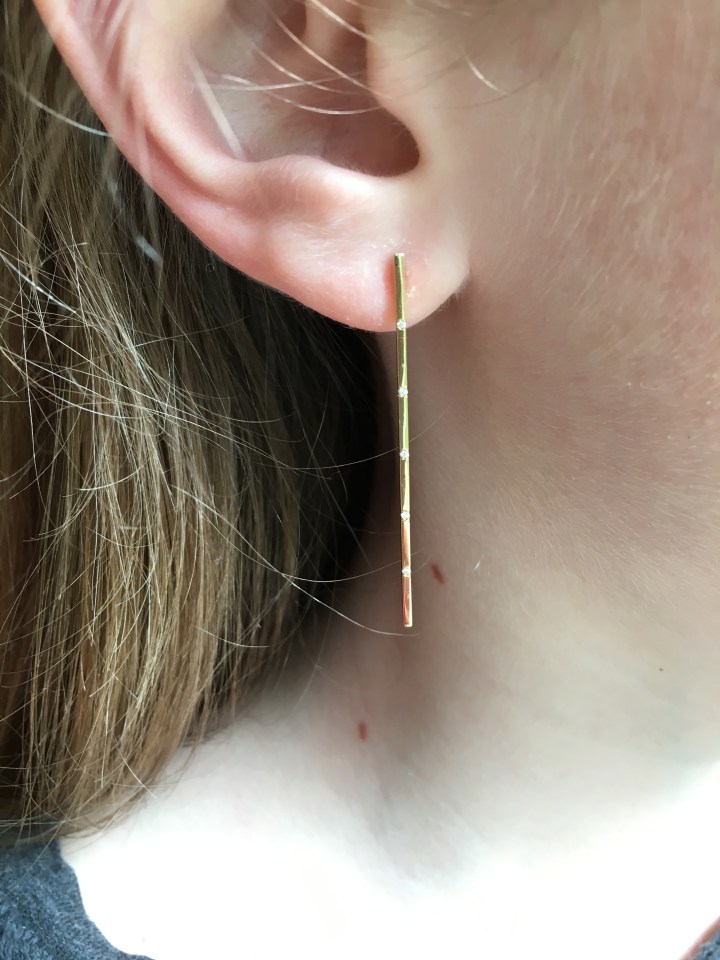 In spite of my slight grouchiness with the above, the earrings are quite good-looking on. The straight drop is attention-getting and slightly edgy, but the gold and diamond keeps it on the classy side. These probably aren't right in the courtroom, but they'd look great on anyone in a creative field, or in the evening. They'd work with jeans and flats for a weekend date, too.
Overall, Switch is a really fun experience. I really like the variety of pieces available. I love the idea that I can go "shopping" for new jewelry anytime I want. Given the retail prices of the pieces (stated to be over $1000 total in this shipment), the $39/month is very reasonable value. With that money, I can either buy a new piece of jewelry every 1-2 years, or I can have a new piece whenever I want. For this kind of statement jewelry that may have a shelf life of your interest or that of the fashion world's, the economics really do weigh in favor of renting. I can't wait to get my next Switch!
Have you tried Switch? Which piece is next in your queue? Let us know in the comments below!