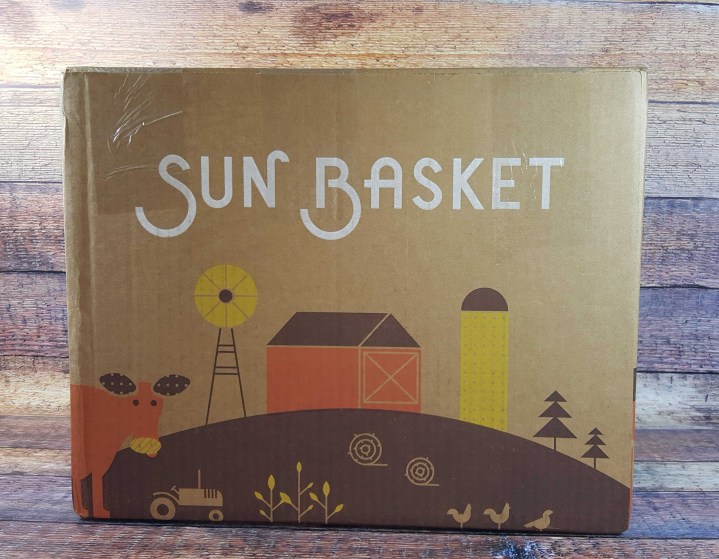 Sun Basket provides chef-developed and nutritionist-approved recipes focused on helping people create delicious, healthy meals using quality ingredients and globally-inspired flavors. Recipes are created by Chef Justine Kelly, formerly of The Slanted Door. Meals are between 500–800 calories per serving and use certified organic produce and responsibly sourced meats and seafood (free from antibiotics and added hormones). Pick and choose 3 recipes between the following meal plan menus for your weekly selections: Chef's choice, Paleo, Gluten-free, and Vegetarian. You can also opt for the Rise & Shine menu which consists of two dinner recipes and two 5-minute breakfast recipes. Sun Basket is now providing 20-minute meals as part of the weekly selection for those short on time.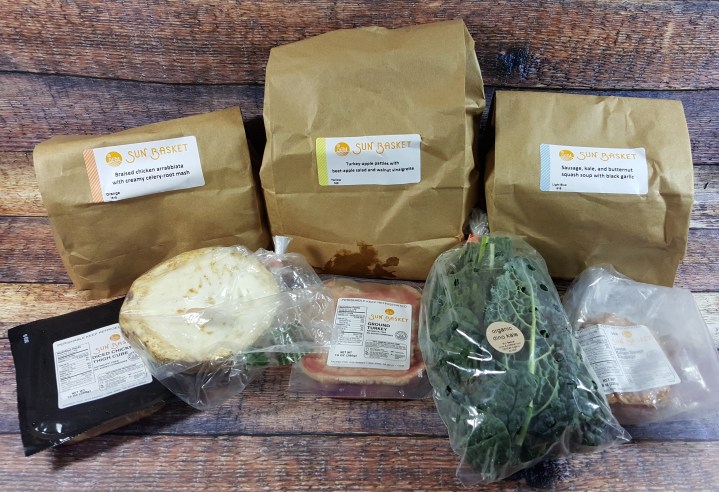 DEAL: Get 3 meals free! Deal applies automatically, just visit and subscribe.
Sun Basket includes this label on the outside of the box. It is color coordinated to match a meal in the box, making it easy to be specific on which recipe and ingredient is being targeted. This information is useful if you have concerns about where your food is sourced.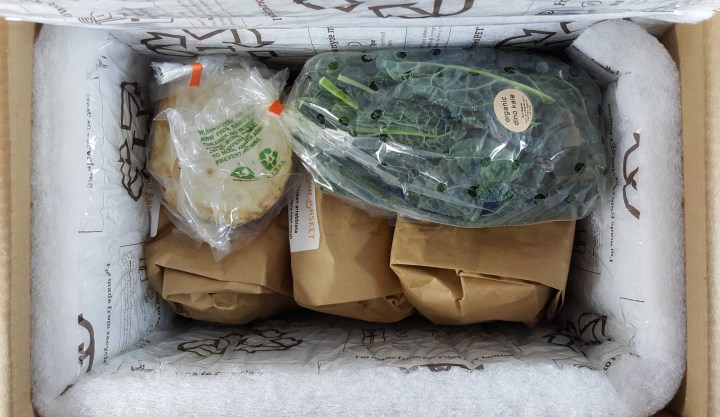 Food is well insulated, and recipes are separated into individual bags (with color coded labels). Meals are packaged to stay fresh in the box for up to 8 hours after delivery. Note from Sun Basket: recipes with delicate greens and fresh mushrooms are best used within 4 days of delivery. Sun Basket provides most of the ingredients needed for your recipes, but there are a few pantry staples that you'll be asked to add such as olive oil, grapeseed or sunflower oil, plus salt and freshly-ground pepper. Occasionally, you'll be asked for wine or butter as an optional recipe item. All Sun Basket packing materials are either recyclable or compostable.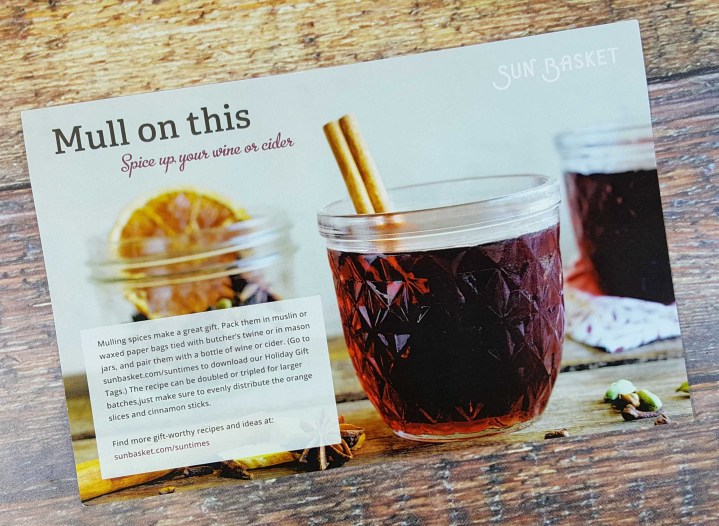 Each week Sun Basket provides information on a featured food item or preparation method. This week, we learned about mulling spices. Make your own winter spiced wines and ciders.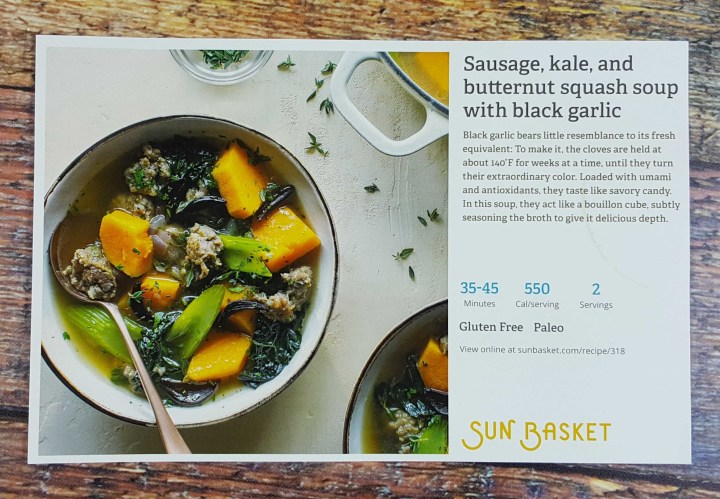 Each recipe card features a full color picture of the final dish on the front, and step-by-step directions with ingredients/quantities on the back.
Sausage, Kale, and Butternut Squash Soup with Black Garlic: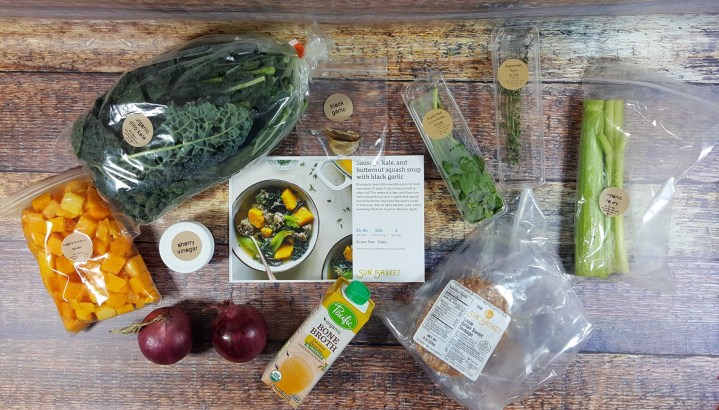 Ingredients and recipe card.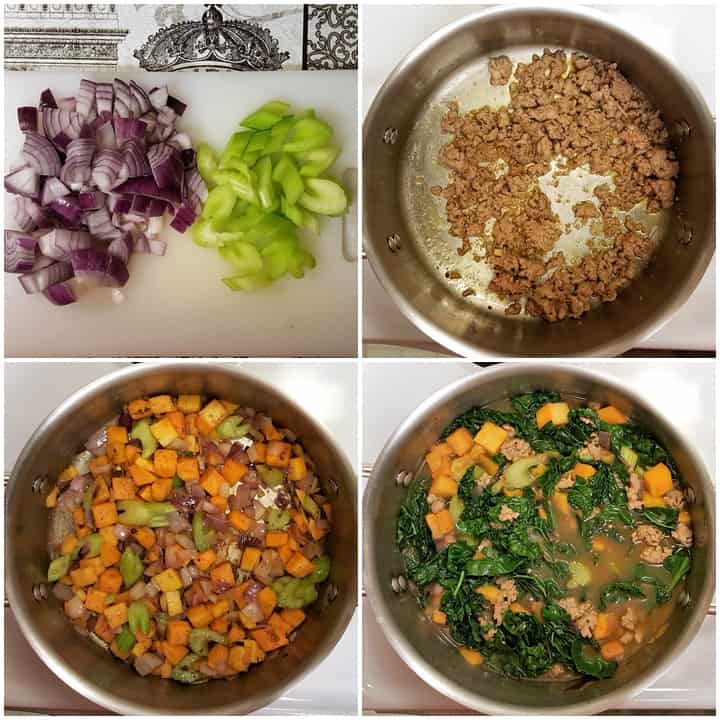 Making the meal: Prep the sausage, onion, and celery; cook the sausage; start the soup; and finish the soup.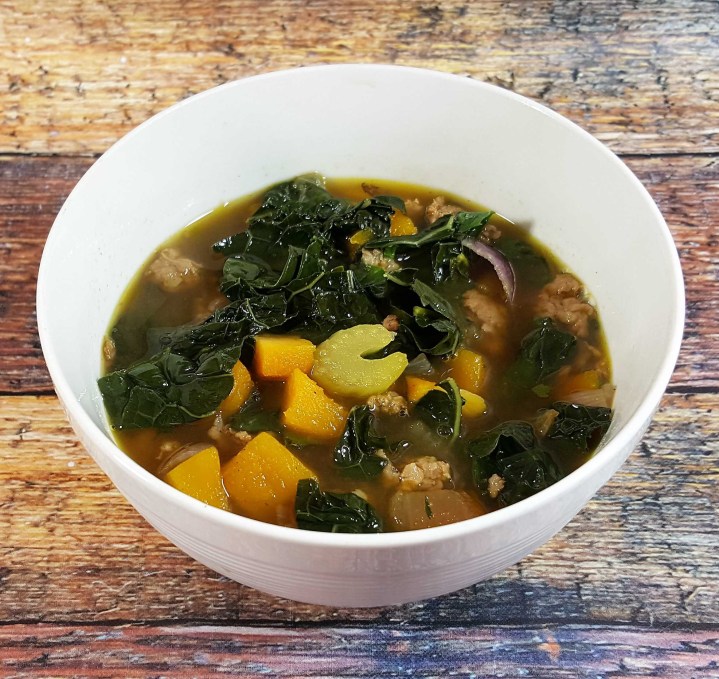 This soup was very surprising. I wasn't sure what kind of flavor to expect from the black garlic, but it was very mild and pleasing. The squash held up to cooking and still maintained some toothiness. This hearty soup is great for a cold day.
Braised Chicken Arrabbiata with Creamy Celery-Root Mash: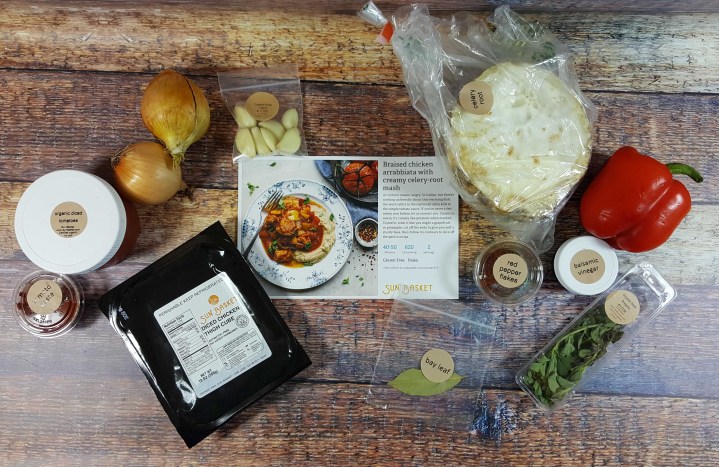 Ingredients and recipe card.

Making the meal: Prep and cook the celery root, prep and brown the chicken, and finish the chicken.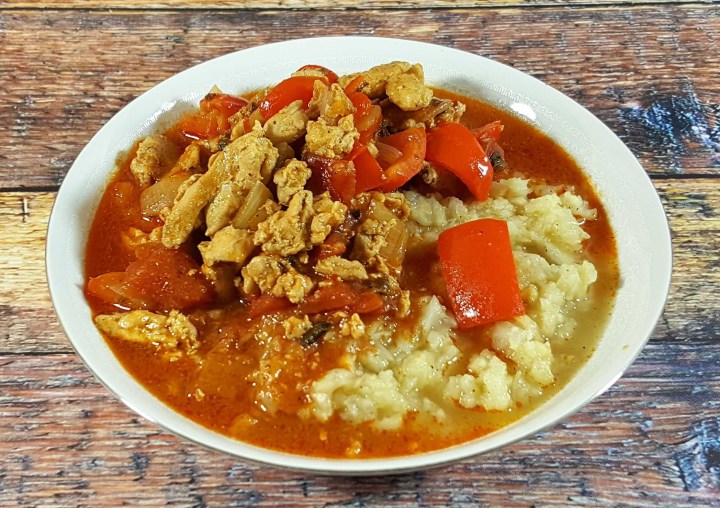 This came out more soupy than I expected, but the flavors were still good. I thought this was going to be very spicy since it was an Arrabbiata, but it was fairly mild. And I love celery root mash; it's such a great substitute for mashed potatoes or rice.
Turkey-Apple Patties with Beet-Apple Salad and Walnut Vinaigrette: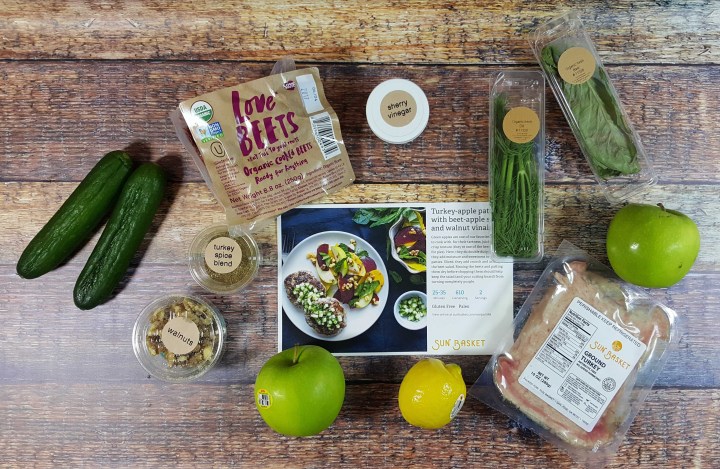 Ingredients and recipe card.

Making the meal: Prep the apple for the patties, assemble and cook the patties, make the salsa and salad.
You had me at beets. Apparently, I'm the only one in the house that feels that way. The salad was not overly sweet and balanced out the turkey patties nicely. So you may be wondering where the cucumbers ended up at. They were supposed to be combined with the dill for a quick salsa. However, my cukes arrived bruised and limp, so I tossed them out. I thought I had one in the fridge, but it had gone bad as well. Oh well, it didn't hurt the overall flavor of the dish.
This basket had a nice mix of recipes, and it wasn't until now that I realized I was on a root vegetable kick when I ordered (celeriac and beets). I like the subscription because I've been able to try some flavors that I didn't even know of, like the black garlic. I also know that I'm making healthier meals at least 3 times a week when my box arrives. For quality issues, like my bad cucumbers, Sun Basket has been very pleasant and worked quickly to resolve the issue for me – I got a credit.
Sun Basket meals breakdown to $11.49 per person, which is similar to eating out at a casual restaurant. There is also a $5.99 weekly delivery fee. You can choose between the 2-person or 4-person plans (weekly $74.93 and $143.87, respectively). Skip or cancel at any time. Sun Basket has an expanded delivery area. However, they do not deliver to the following states: AK, HI, IA, KS, LA, MN, MO, MT, NE, NM, ND, OK, SD, TX, and WI. They only deliver to parts of AR.
Have you tried Sun Basket yet or any other meal service?

Visit Sun Basket to subscribe or find out more!