SheroBox is a quarterly box for women made up of products from all women entrepreneurs and/or women-owned or operated businesses. This is their first quarter 2017 box which is taking us through April showers. The new quarterly boxes are $49.99 each and will ship in February, May, August, and November.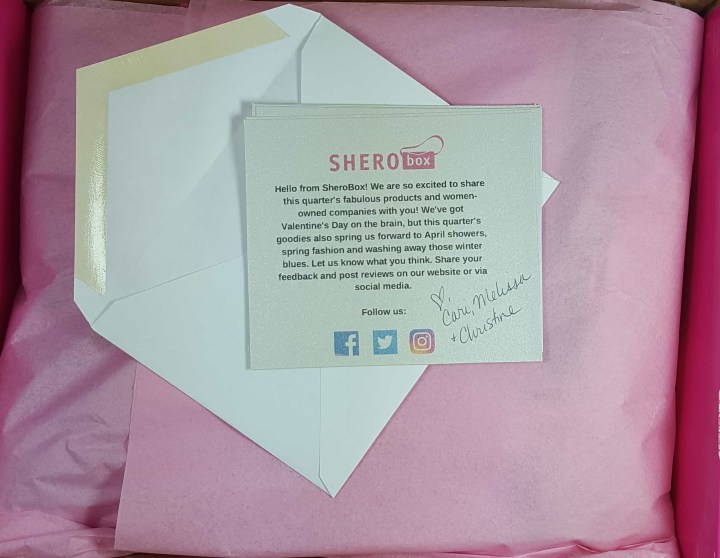 First look into my box and all of the items are wrapped in pink tissue to keep them nice and compact. With the quarterly boxes, we get a nice note and then all of the included items are on their own little card.
DEAL: Save $15 on your first box when you sign up for a quarterly subscription (including non-renewing gift subscriptions) with the coupon code HELLOSUB at checkout.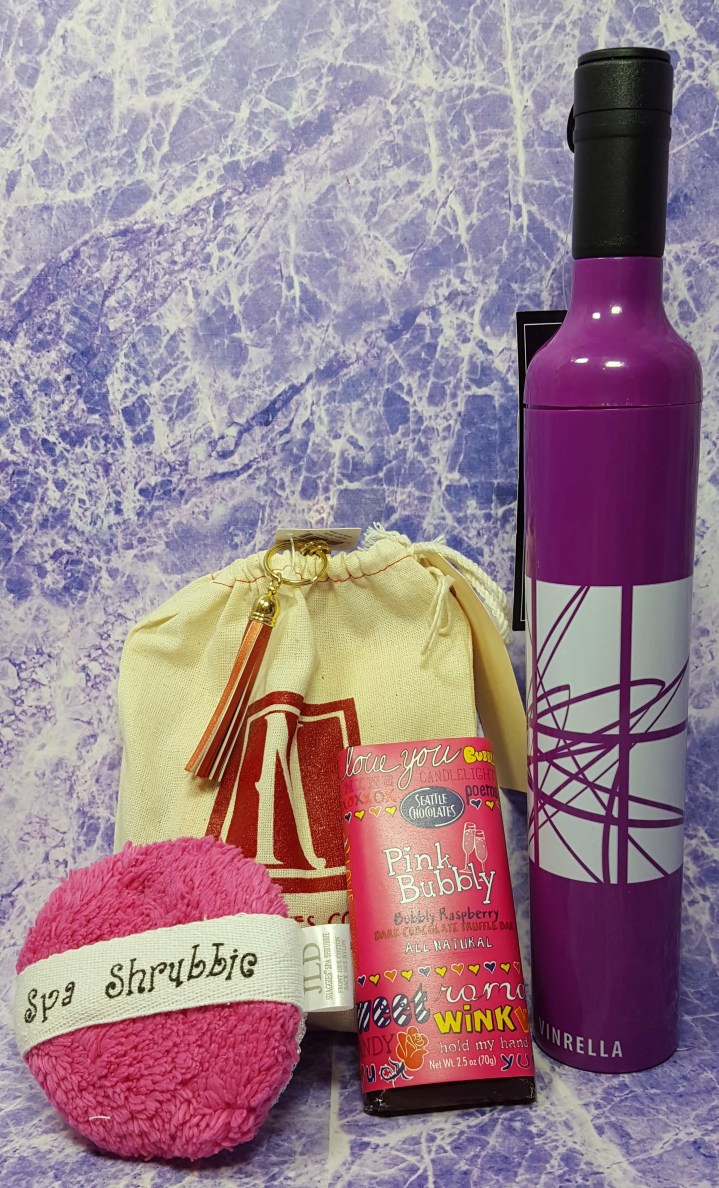 Everything in my box!
Spa Shrubbie by Janey Lynn Designs – This is so soft and such a great idea. Two friends started this company when they decided to upcycle a chenille robe into a cleaning cloth. The thought took off from there and they have lots of different possibilities all based on the same shruggie.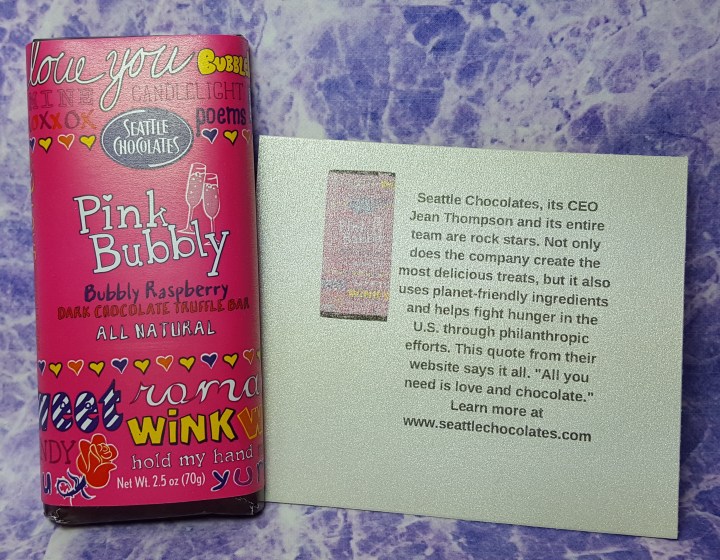 Pink Bubbly Dark Chocolate Truffle Bar ($3.75) – Seattle Chocolates makes delicious chocolates and they also use planet-friendly ingredients.  This bar is very girlie and is a made using freeze dried raspberries in white chocolate with all natural popping candy pieces that tickle the palate like champagne bubbles. It was really rich but oh so tasty.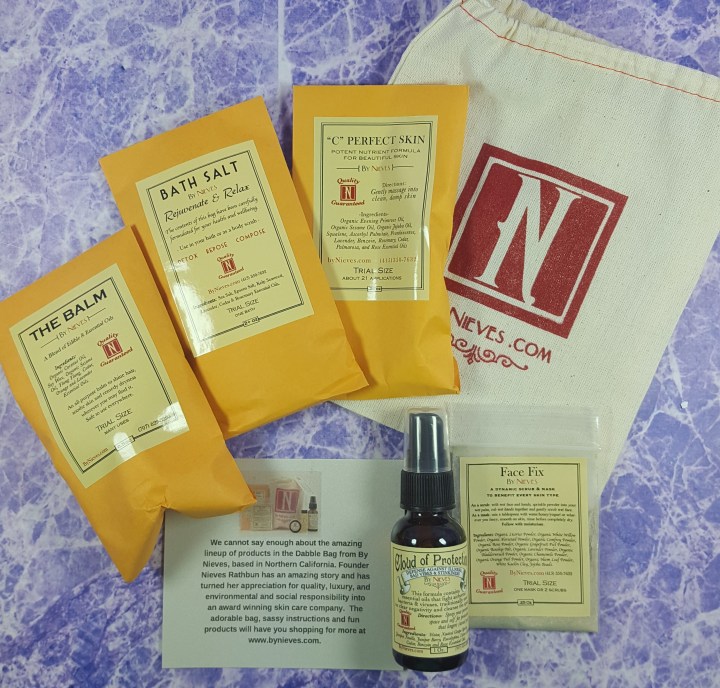 Dabble Bag by Nieves ($20) – I love getting sample sizes of products to try out and take with me when I'm traveling.  This one is a bag of goodies all in a cute screen printed cotton bag including a travel size Cloud of Protection and trial sizes of The Balm, Bath Salt, Face Fix and "C" Perfect Skin.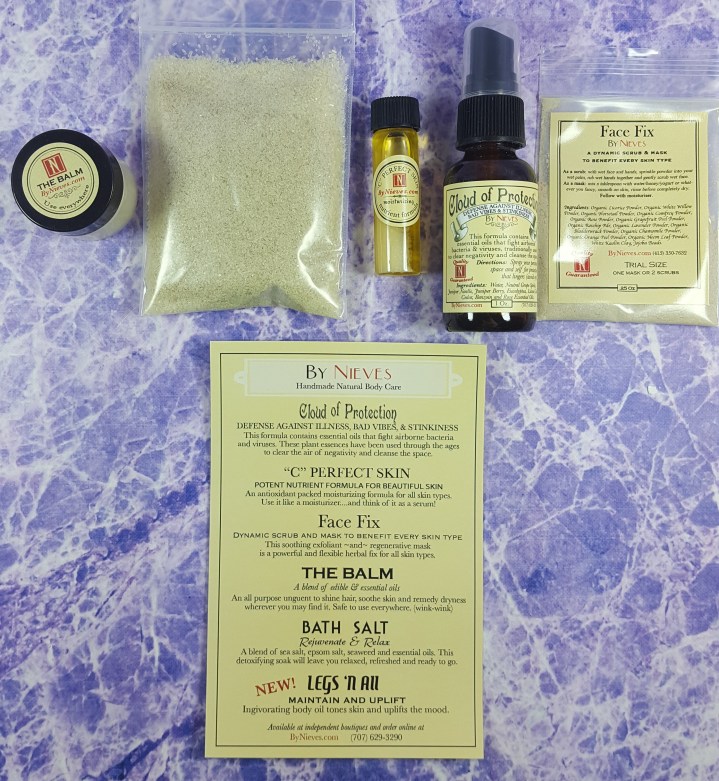 Each of the items is listed on the info list and I'm already spraying the Cloud of Protection. There is so much sickness going around right now I don't want it in my house. We are also traveling soon for my grandmother-in-law's 90th birthday up north and I'm taking my goodies to go for a bit of pampering in between all the festivities.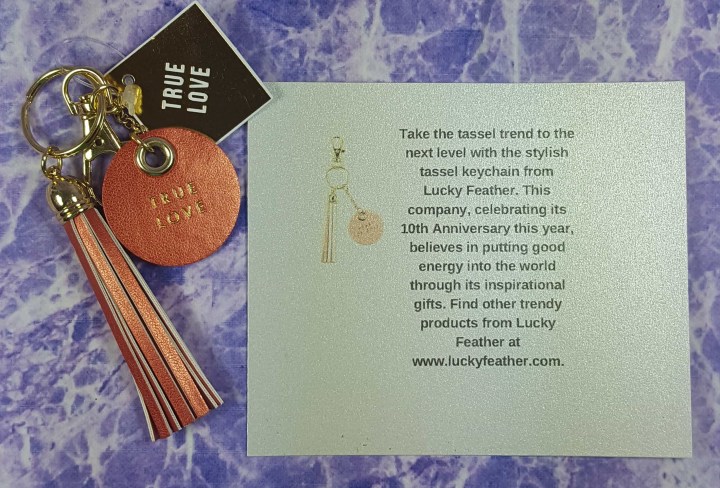 True Love Tassel Keychain from Lucky Feather ($12.00) – I LOVE this and it is stunning in color. You can see it a bit but it has a great sparkle to it. I'm getting ready to switch out my purse to a more springy one and I'm going to add this as a purse charm to it. I'm all about the purse charm right now and this will be stunning hanging from my bag.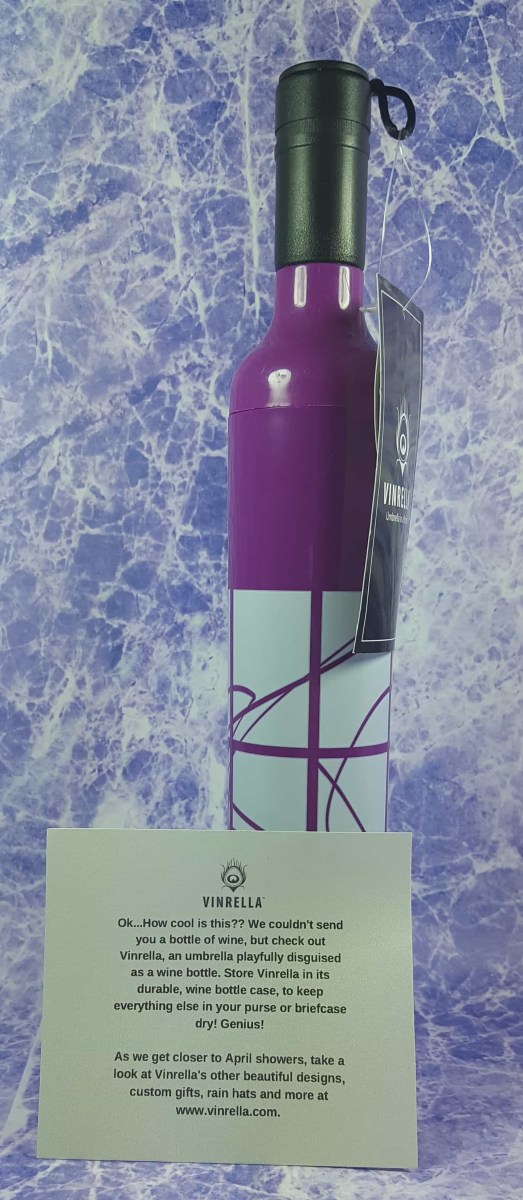 Vinrella Artistic Purple Bottle Umbrella ($23.00) – File this under the item I never knew I needed but I can quickly see how I won't be able to live without. I had no idea what it was when I saw the bottle in my box and when I opened it I was so excited I called my hubby right over. Who knew I needed such a thing but it is so fun and timely. We are expecting rain here the next couple of days and I'm going to give this a good trial.
Here is the umbrella all opened up. It carries the same artistic design on the umbrella as is on the bottle. It is a decent size umbrella and will come in so handy to be able to stow away when not using.
This quarters SheroBox is so great for the start of the year.  It will give a bit of polish to wash away all the winter blues away. I love getting new products from female owned or run businesses and being able to support them. Sherobox always sends such fun items that I would not have known about without the box and they make my smile.  Is it odd to say I'm hoping for some rain? I really want to use my umbrella and since I'm in the south I'll be getting rain when my northern friends are all getting snow later this week.  I'm so excited.