Roost Crate by Eat Picks is a monthly themed "Farmer's Market" in a box filled with items from Upstate New York and the surrounding area. Every month, you'll receive a crate of handmade, artisan-crafted goodies perfect for bath, body, & home.
Roost Crate is $39.95 a month or you can save a bit by signing up for a 3 or 6-month term. All terms, including gifts, will automatically renew until canceled. Boxes will have a value of $40-60.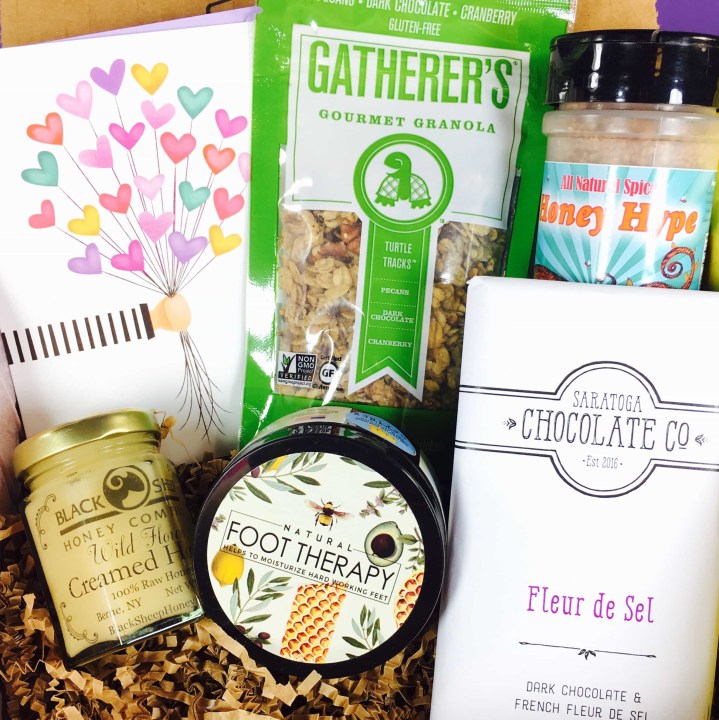 DEAL: Get 10% off on any subscription. Use coupon code HELLO10.
Roost Crate gives back to their community by partnering with Capital Roots to give a portion of their proceeds to local farmers and vendors. They included a card that shows how you can win a free box by sharing your photos on social media.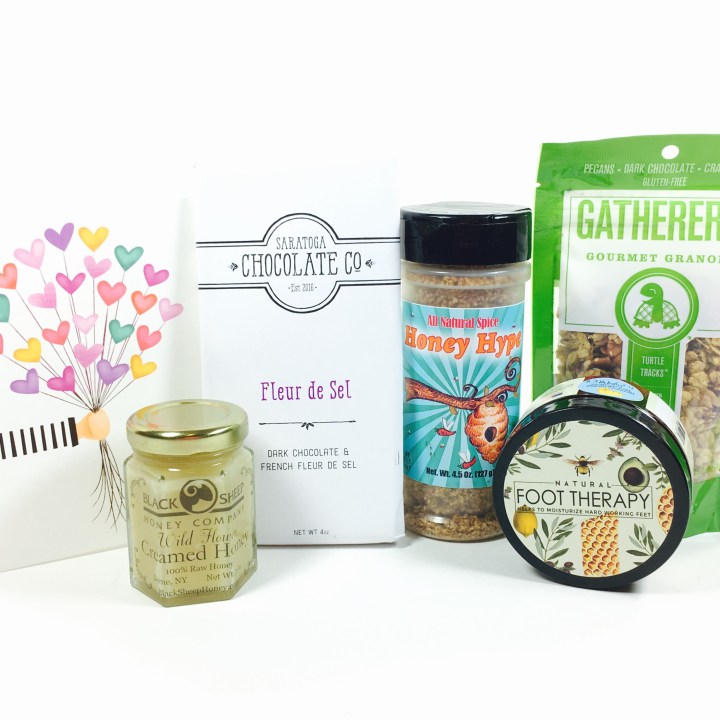 Roost Crate sends 4-6 items each month such as jams, honey, sauces, snacks, candles, soaps & scrubs, unique home & kitchen items, and coffee & teas. I loved the variety of items that were included in this box and couldn't wait to give them a try!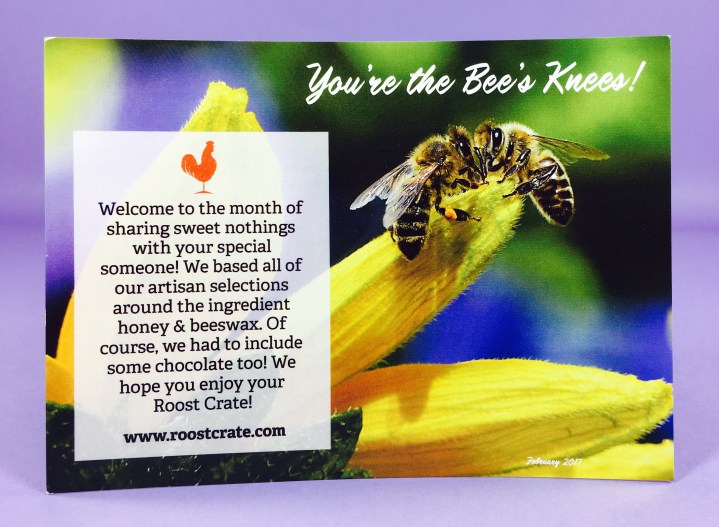 There was a card introducing the monthly theme, which was "You're the Bee's Knees." Most of the products this month have either honey or beeswax as an ingredient.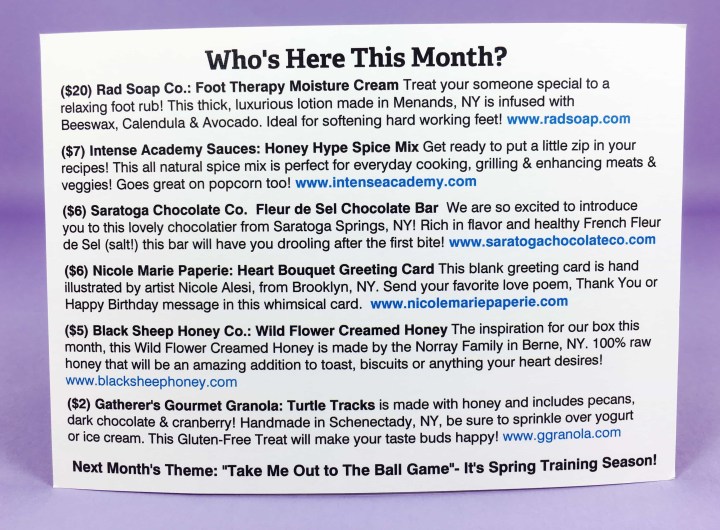 The flip side of the card had the product information, value, and a short bio about each company featured, and announced the next month's theme.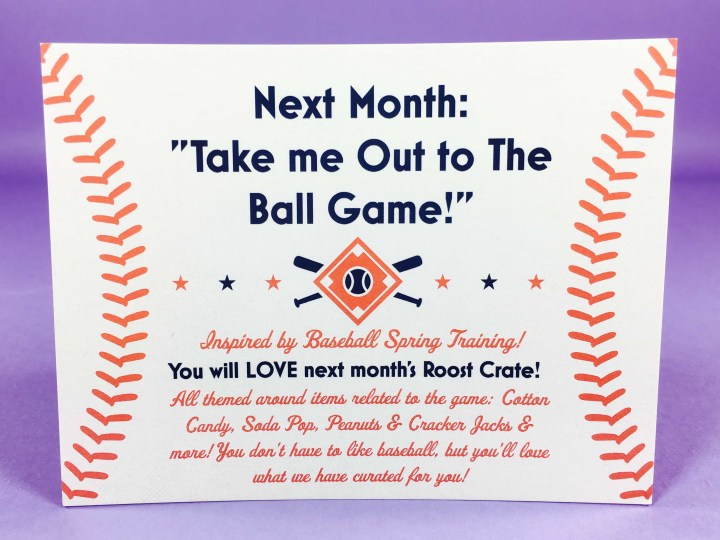 There was another card with next month's theme, which is "Take Me Out to the Ball Game!"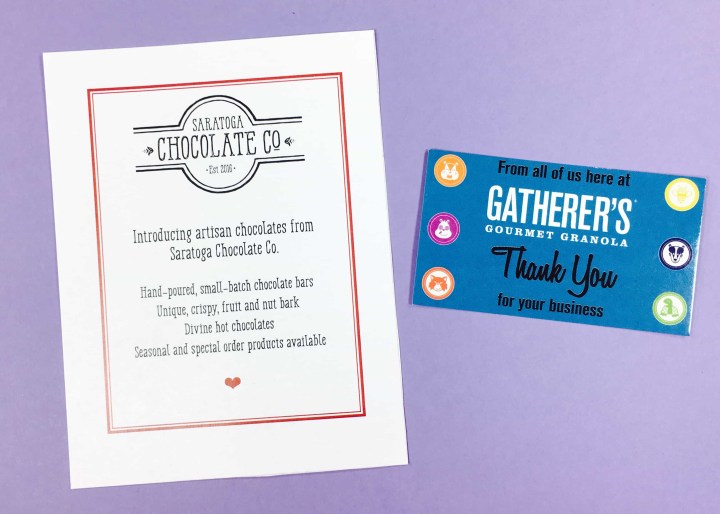 There were a couple of cards from the vendors and one featured a coupon code on the back.
I love granola and Gatherer's Turtle Tracks Gourmet Granola (no size given, $2?) was perfect straight from the bag but would also be good in a yogurt parfait. This gluten-free snack features oats, wildflower honey, dark chocolate chips, cranberries, and pecans. If you don't live in the Schenectady area, then you can order a monthly subscription on their website and try the flavor of your choice!
We're going to take a little dip down to Tampa, Florida, home of Intensity Academy Honey Hype Spice Mix ($7.50).
Use this sweet and spicy blend to amp up flavor for grilled meats or veggies, or try it sprinkled on popcorn!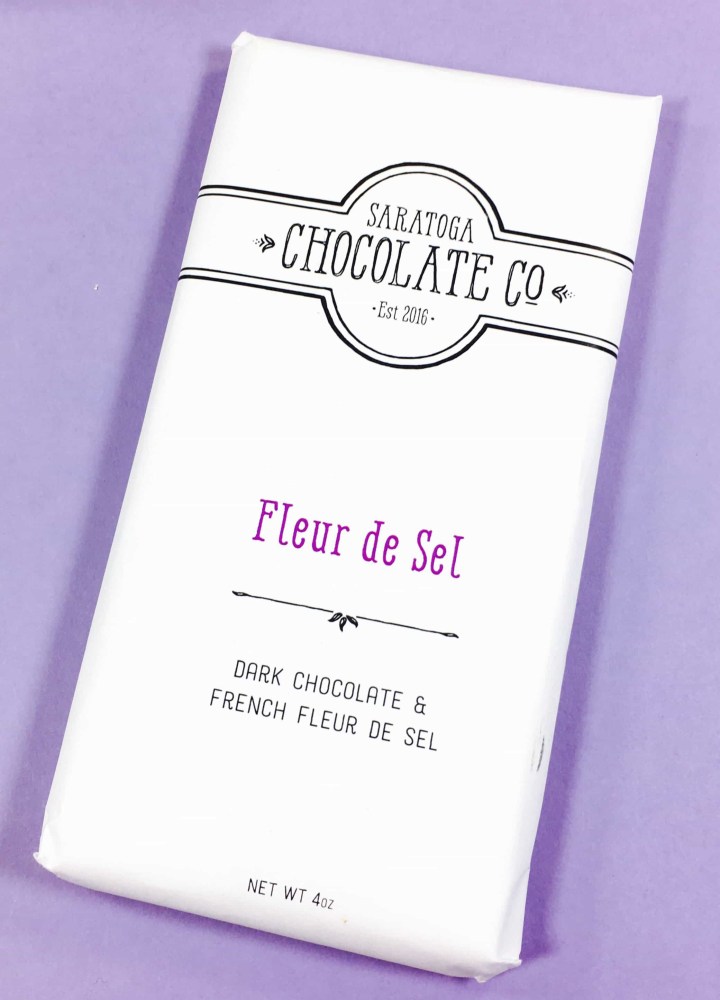 I've had my fill of salted caramel fill-in-the-blank, but Saratoga Chocolate Co. Fleur de Sel Dark Chocolate ($6) will never get old. This super smooth bar is hand-poured and made in small batches and a little goes a long way.
I have eaten it square by lovely square each evening and still have tons of it left over since I'm hoarding it from my family.
I put a lot of miles on my feet every day so I started applying RAD Soap Co. Natural Foot Therapy ($20) to my feet before work and I love the minty scent. This lovely lotion contains calendula, shea butter, beeswax, plus olive & coconut oils, and is free from nasty parabens and chemicals. Also, my feet are looking much lovelier than usual.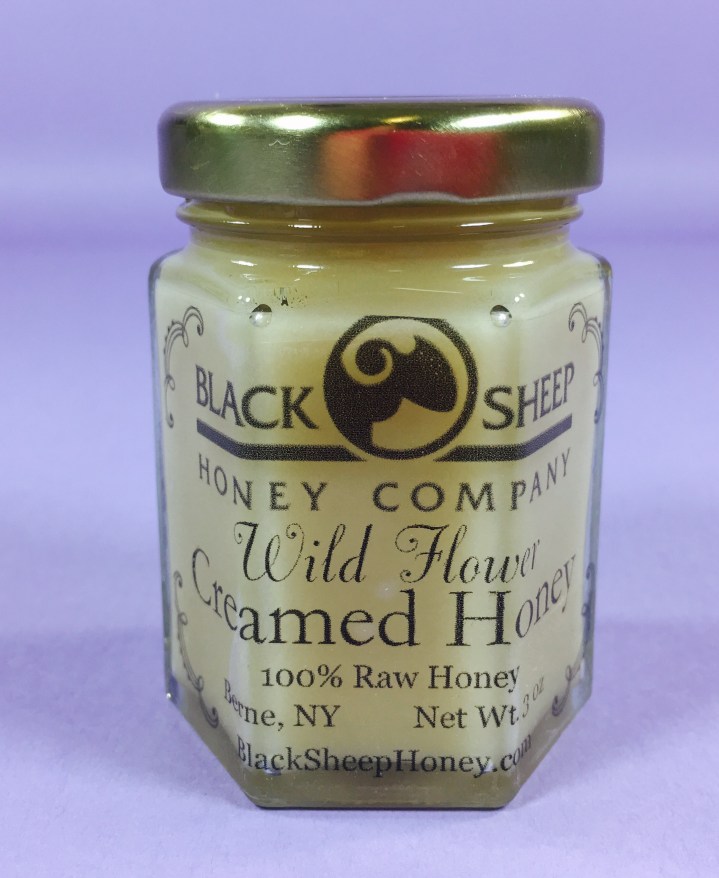 What in the world makes Black Sheep Honey Company 100% Raw Wild Flower Creamed Honey ($5?) so dang good? Is it because it's aged in bourbon barrels? I'm not sure, but this is best eaten by the spoonful.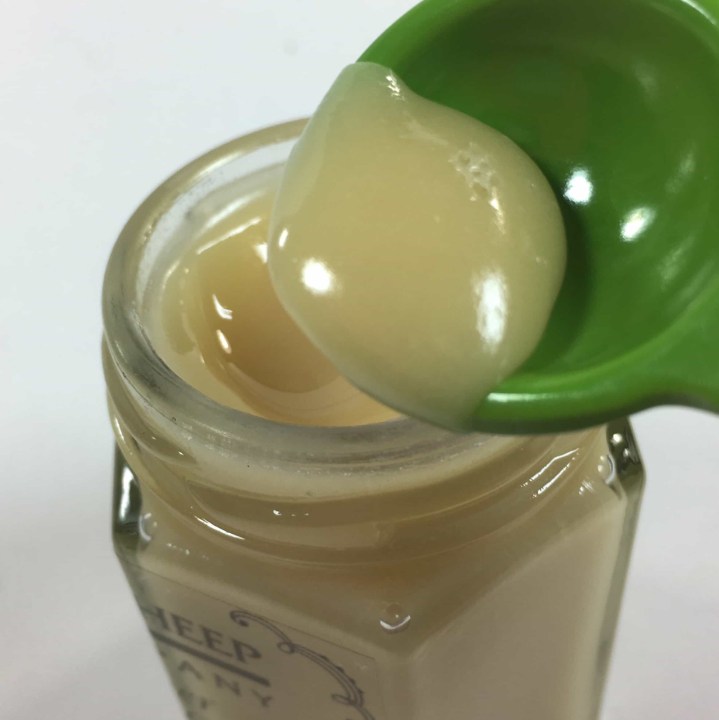 I guess it might be good on cornbread or in a peanut butter and honey sandwich, too. But I'm just going to savor it one bliss-inducing mouthful at a time.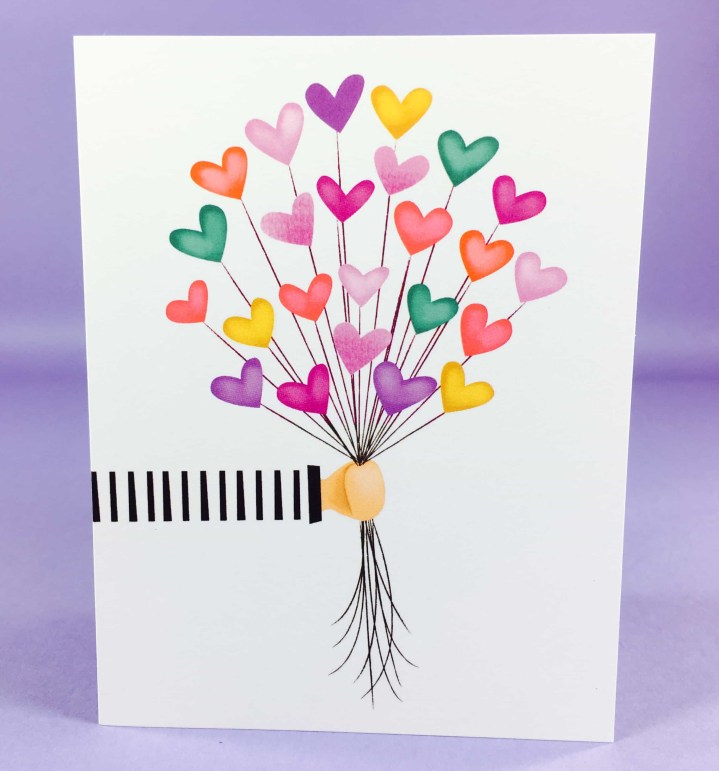 Finally, there was a Nicole Marie Paperie Heart Bouquet Greeting Card ($4.50). This card came with a pretty purple envelope and was blank on the inside and would be perfect for Valentine's Day, as a thank you card, or just because. Check out her Etsy site for more of her beautiful, whimsical designs!
My Roost Crate was totally awesome this month. You could even say it was the bee's knees! I loved the theme as my name means honey bee so I am especially fond of these lovely little industrious insects and their liquid gold output. The February box had a value of $45, which means it hit their promised target value, too. Some of these items can be ordered online, but others are only available in the NY area. If you like natural and delicious products that you might discover while wandering the farmer's market, then give Roost Crate a try and let me know what you think of this box in the comments!