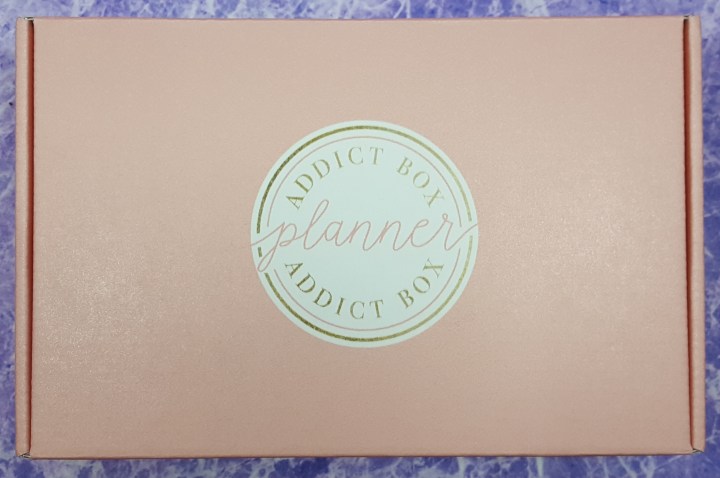 The Planner Addict Box is a monthly subscription box for planner nerds. The box is filled with planner products you can use for any type of planner. You can expect products from well-known designers, Etsy shops, and Planner Addict Box exclusives. Planner addict has had a lot of exclusives recently and then things created just for them from Etsy shops. There are lots of new to me things in this box and aren't the normal things you see at the big box stores which is fantastic for planner decorators. I love the variety.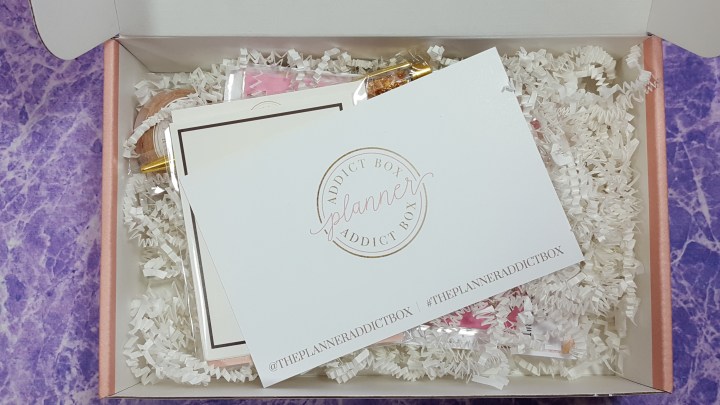 The boxes are full of squiggles to hold all the goodies inside without too much moving around during transit.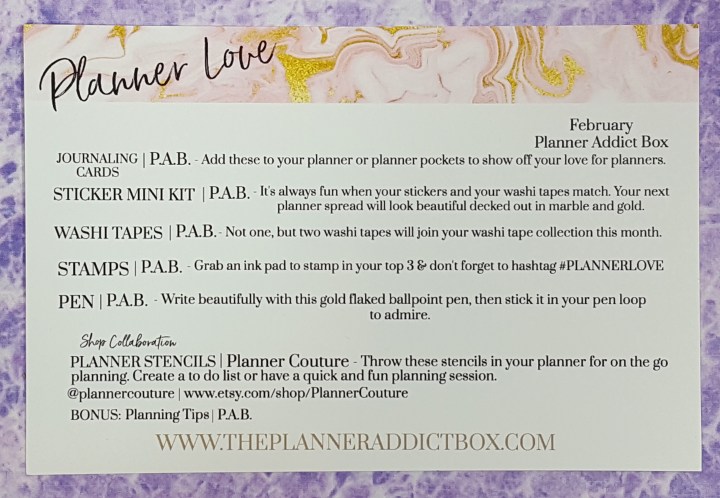 The theme for my February box is "Planner Love." The info card tells you a bit about the items in the box and then any links for collaboration stores.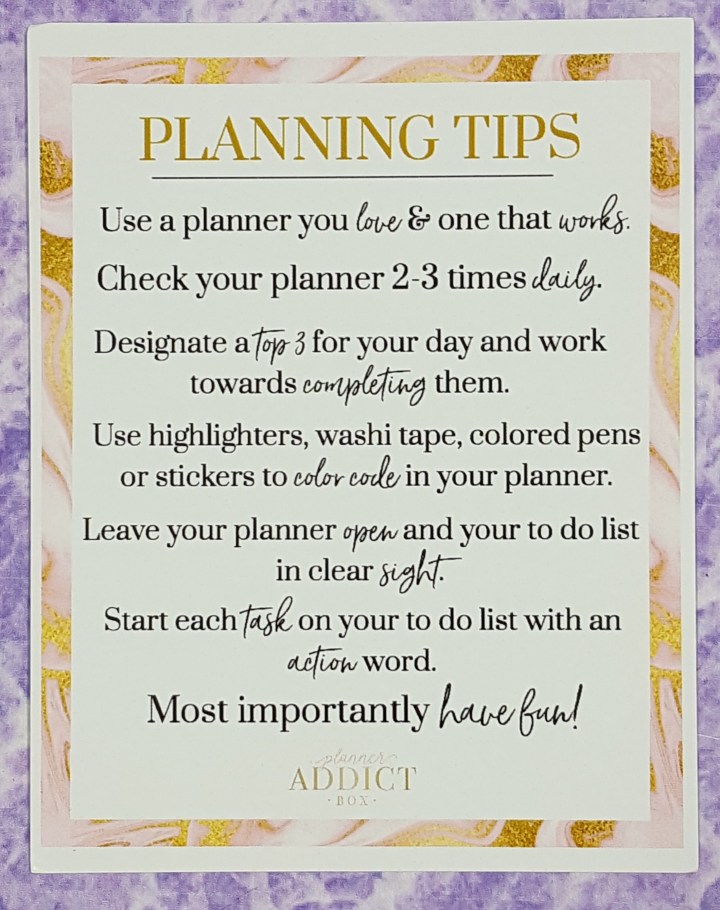 There was a bonus notecard in the box with some great planner tips. Do you follow these? I need to work on the top 3 of the day. That is a great idea. I do leave mine open sitting next to my computer and look at it throughout the day while working and surfing.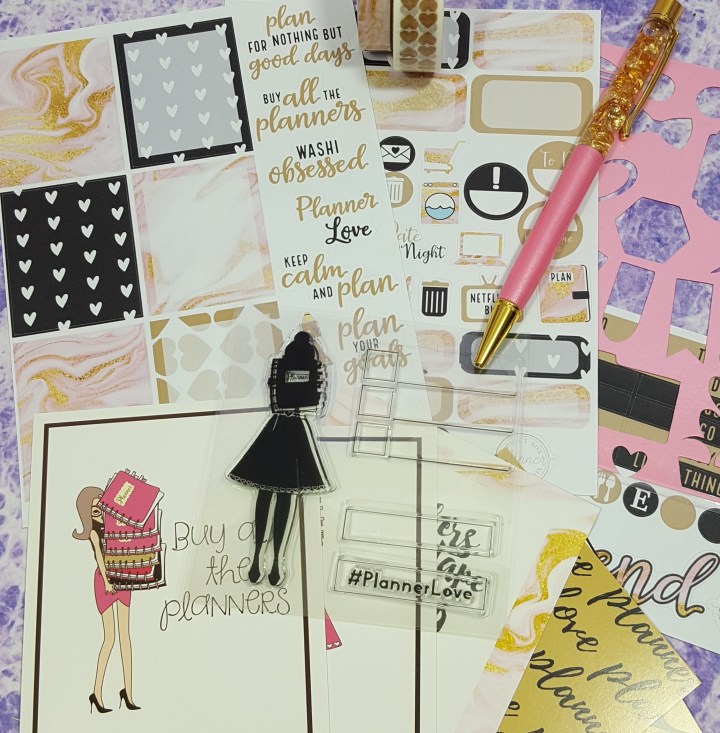 Everything included in my February box.
Journaling Cards (Planner Addict exclusive) – This are on a thick cardstock and the info sheet says to add them to your planner to show your love of all things planner. I'm not sure how I will use them but my hubby did get me some binder adders that you can adhere to the sides of cards and insert in your planner. I'm thinking these would be cute to do that with and add in with a note or a picture added to them.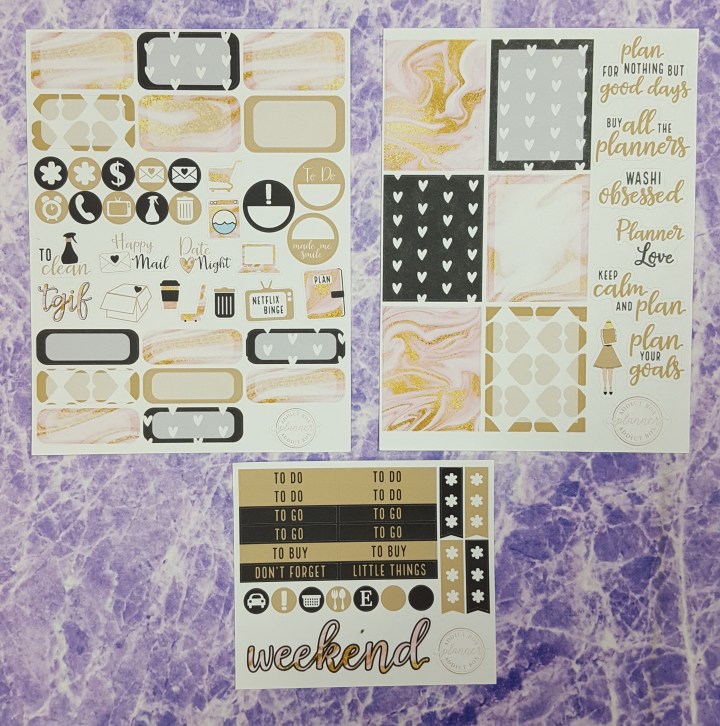 Sticker Mini Kit (Planner Addict exclusive) – I am in love with the pink/gold marble that seems to be a theme in this month's box. You really can't see it in the pictures but it is gorgeous and so perfect. I love these colors this month and while being Valentines they don't scream valentine's to me which considering it just came is great. I already have stickers for next week but I'm thinking this will be the set for the week after. Oh and that Washi obsessed sticker is totally going on my washi bin. You can never have too much washi!!!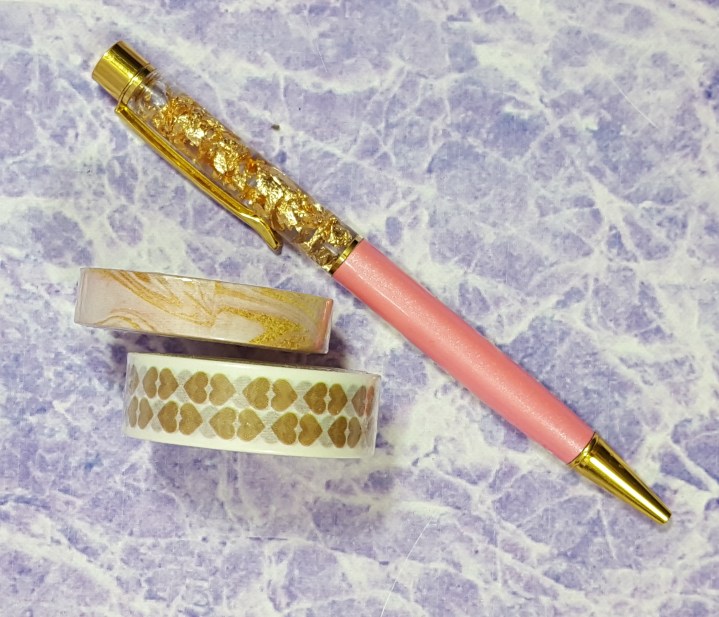 Washi Tape and pen (Planner Addict exclusives) – As I said above you can never have too much WASHI!!! I'm obsessed with it and my boys are too. We have actually not done my boys Valentine's yet and my youngest wants to use the heart washi to seal his bags and I, of course, said yes. The marble I'm loving is also in here and I can't wait to use that one. Each month the box includes a pen which is perfect since you are always writing in your planner. This one has that fun gold and pink as the rest of the collection.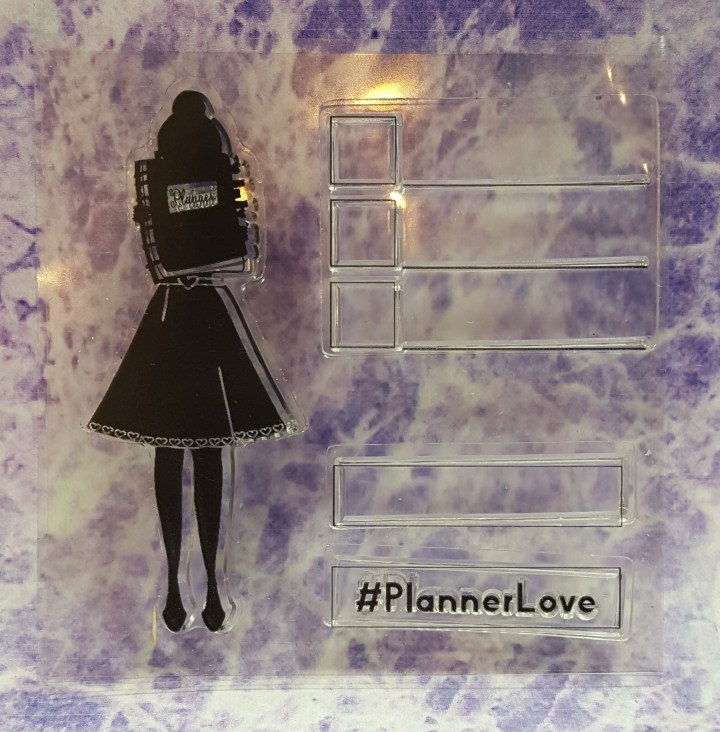 Planner stamps – I'm a stamper/cardmaker/scrapbooker and I'm in love with this stamp. The planner girl is so fun and since I'm also an avid reader I'm thinking I could stamp her and then cut out a title of a book and pop it up over the planner words to use as a girl reading. Wouldn't that be great for a Beauty & the Beast layout for the upcoming movie? It makes me so excited and now I need to get to working on that. Check boxes and lists are always fun in a planner. I went back to a vertical planner this year and there are no lines in the boxes so this will be great for me to mark things off. #plannerlove
Planner Stencils by Planner Couture (I don't see this set but other sets go for $3.50) – I have never used a stencil in my planner before but I think its a fun idea. You can take this one and then just use a pen and added little extras to your pages.  My stencil was a bit cut off on the bottom but its still usable and looks fun.
Another fun box from Planner Addict Box. I'm obsessed with the gold/pink marble pattern that shows up throughout the items. The colors will be great for later into February before we get into full on spring mode in March. Well, March is also my birthday month so I tend to do a lot of birthday stuff then.  Including a stamp is new for the box and while I'm a huge stamper I have an acrylic block and ink but if the user is not a stamper they may  not have the products so I was hoping to have ink and block included when sending stamps but I get that they are assuming most people have basic supplies.  The washi tape is gorgeous and is so fun to add not only to my planner but also to about every other project that comes up. Do you use stamps and washi in your planner?
Have you tried Planner Addict Box? Do you like the new boxes?