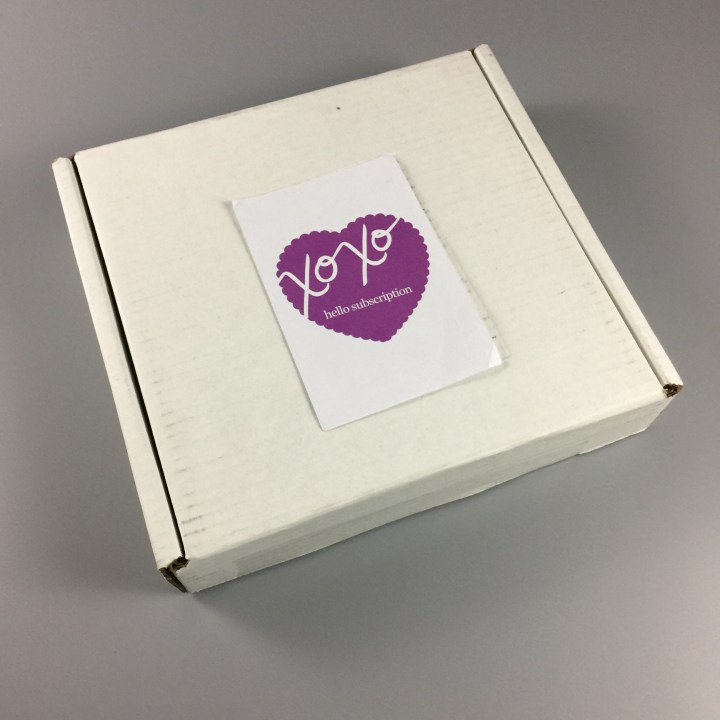 Lucha Loot is a monthly subscription box devoted to all things Lucha Libre! Lucha Loot is committed to officially licensed 100% items with lucha libre collectibles including DVDs, magazines, posters, art and more, plus lucha masks, all with royalties paid to or purchased directly from luchadores.
T-shirt, autographed picture, DVD and more. There is a lot of loot packed into this treasure box. There are two sizes of Lucha Loot – the Lucha Loot Standard Chest ($19.95 + $8 shipping), and the Lucha Loot Deluxe Booty Chest ($29.95 + $8 shipping). I subscribed to the Deluxe Booty chest!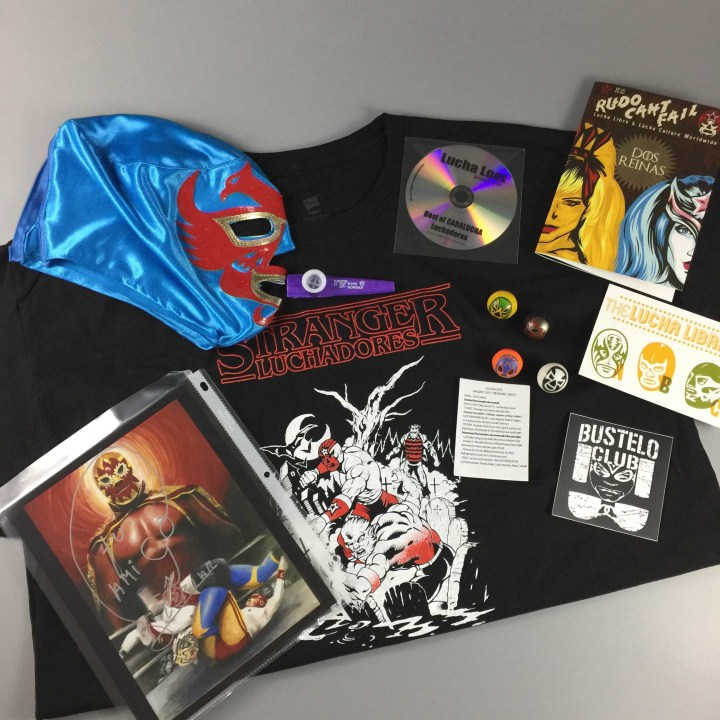 DEAL: Save 10% on your first box! Use coupon code TRYLL.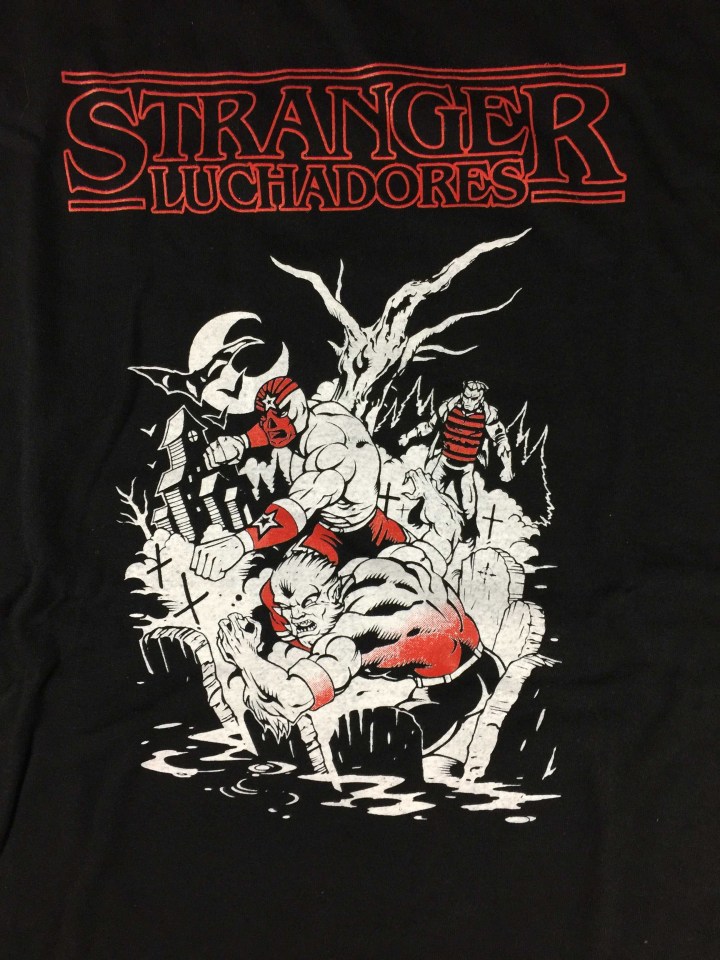 Stranger Luchadores T-Shirt. I enjoy a good parody and I like it even more when you can combine awesome pieces of pop culture like Lucha Libre and the 2016 Netflix hit "Stranger Things." This is one of the best looking t-shirts I've received from Lucha Loot.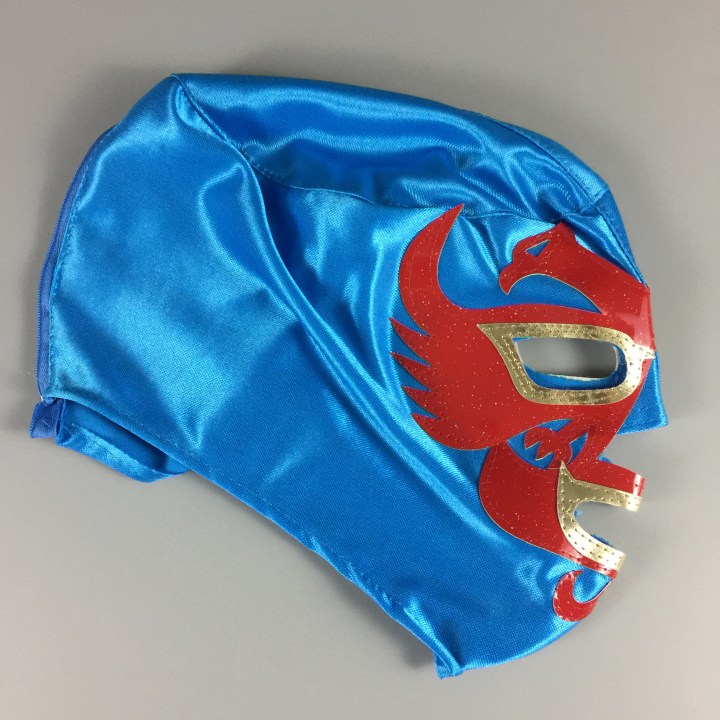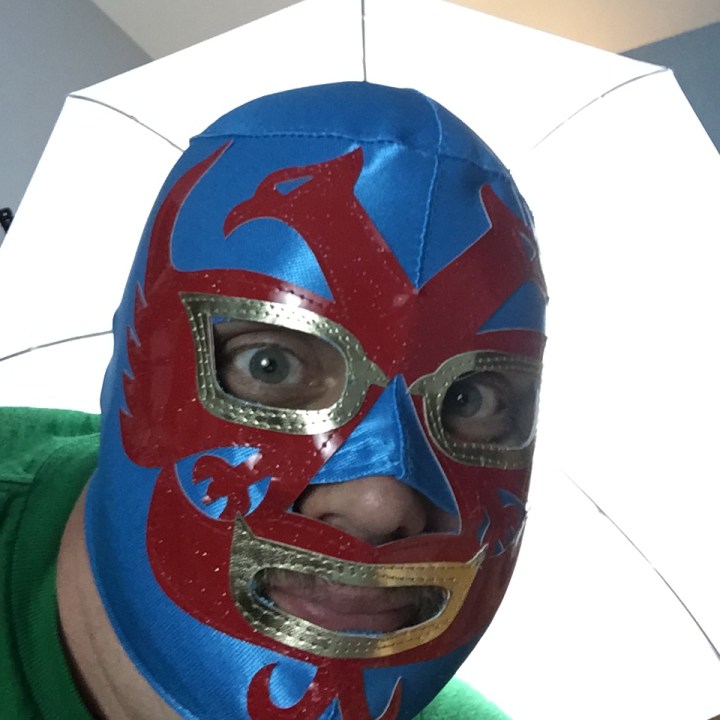 Dos Caras Mask. The mask uses a zipper as opposed to being tied in back. The colors of this mask look absolutely stunning. A lighter blue base with red design and gold trim makes this mask truly stand out.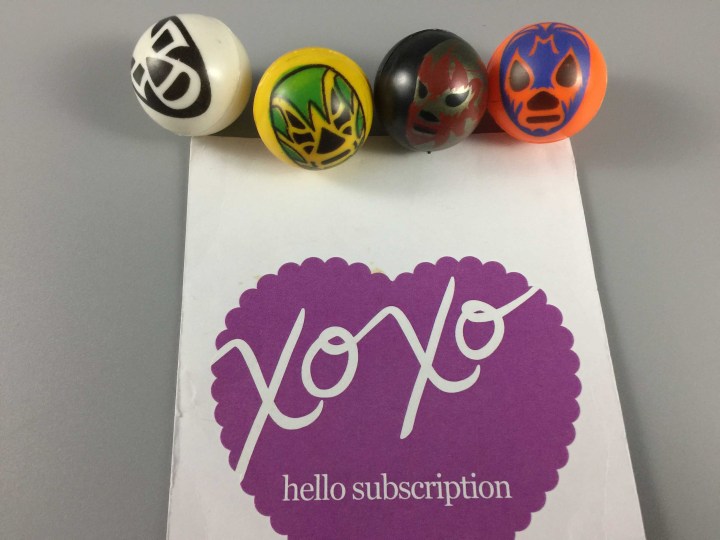 Luchador Ping Pong Balls. The weight seemed a bit off to be actual ping pong balls but they sure do look wonderful. These would be fun to bring out for a particular game involving cervezas and plastic cups.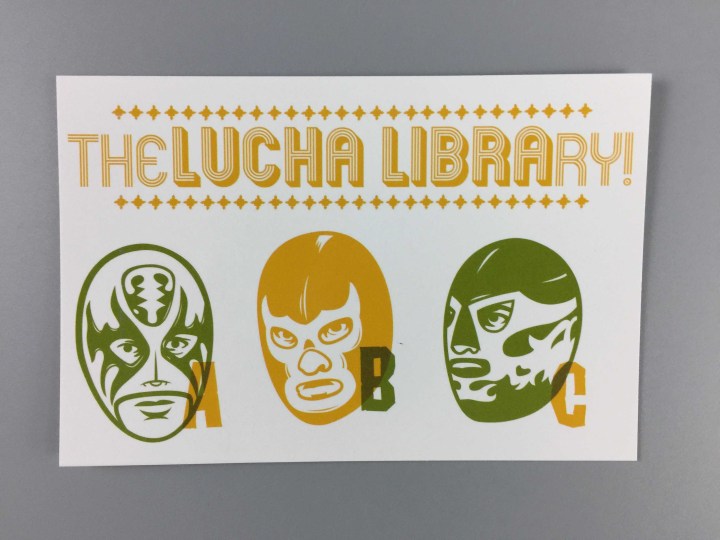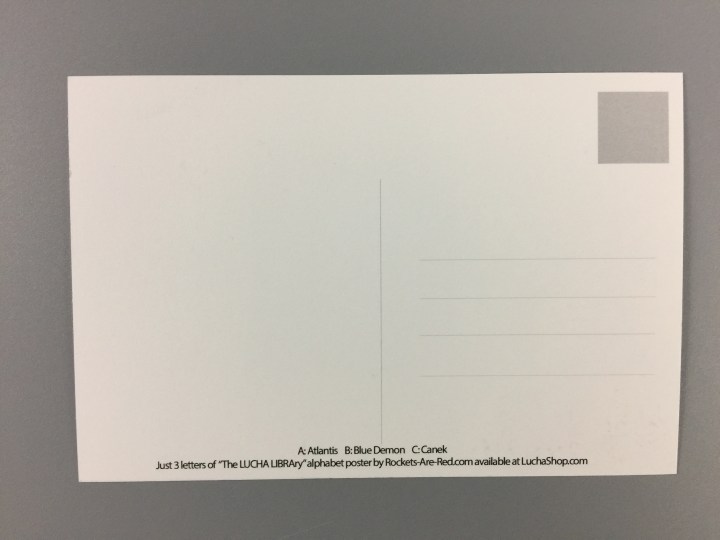 "Lucha LIBRAry" Postcard. We get A, B and C to get started on the Luch Libre Alphabet. Atlantis, Blue Demon and Canek. The remaining letters are on a poster by Rockets-Are-Red.com and can be found at LuchaShop.com.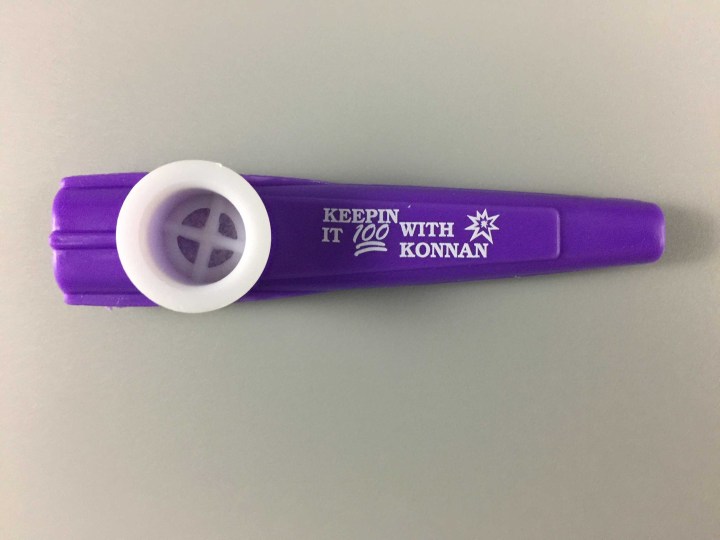 Keepin' It 100 with Konnan Kazoo. Oddly enough, this was one of my favorite items in the box this month. Yeah, it's really a kazoo.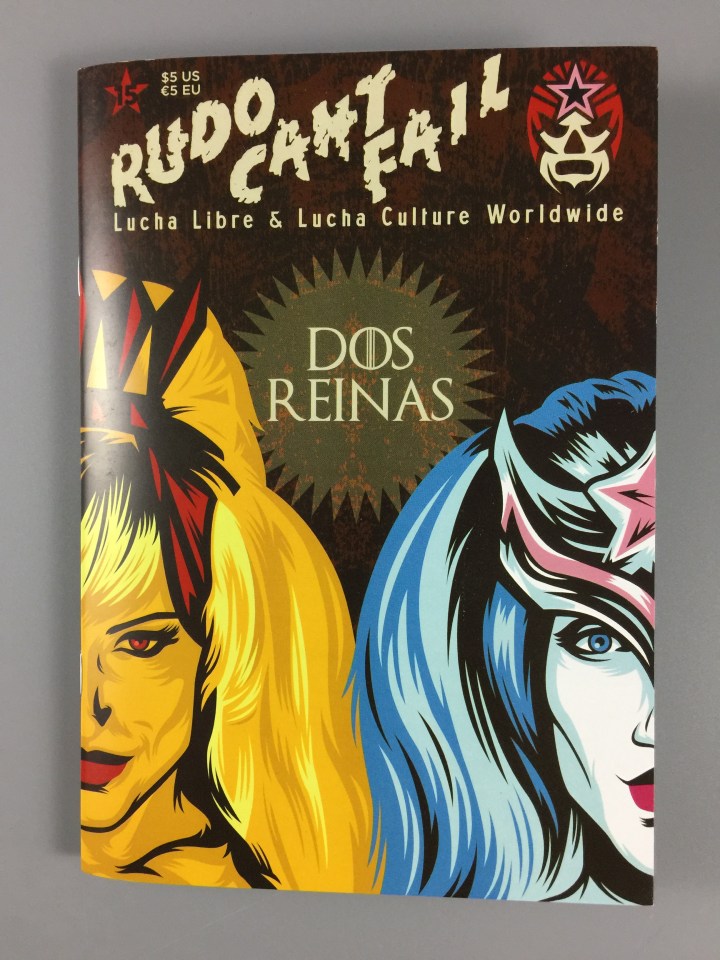 Rudo Can't Fail Magazine. Issue #15 has tons of news and photos from the world of Lucha Libre. I just wish I was able to get my hands on issue #1.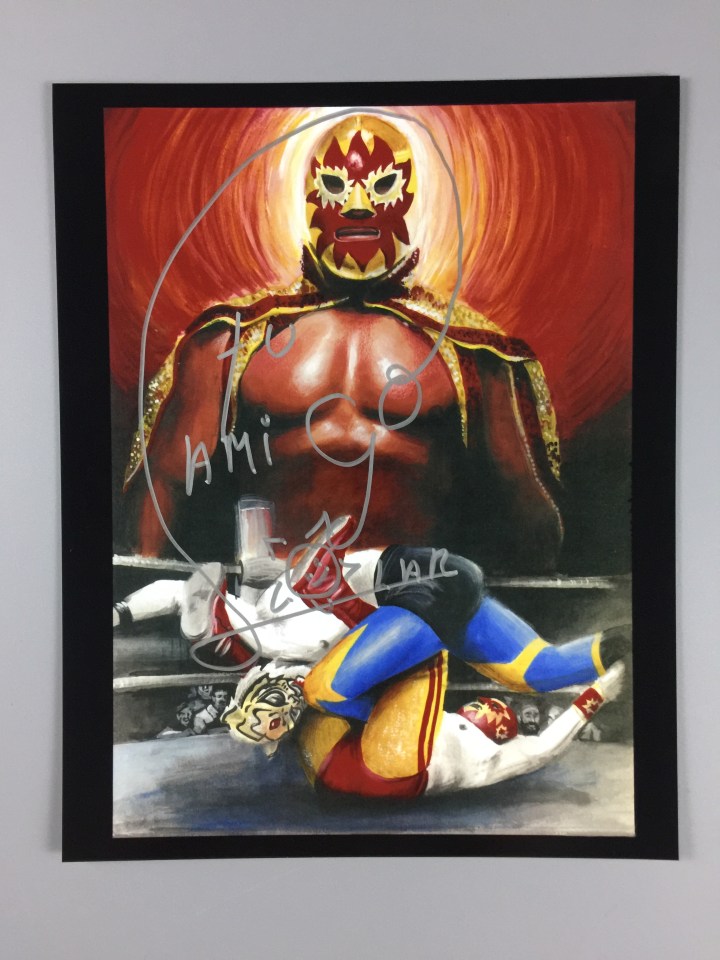 Solar Autographed 8×10 photo. Lucha Loot is amazing with the way they include autographed items from some of the greatest in lucha libre today.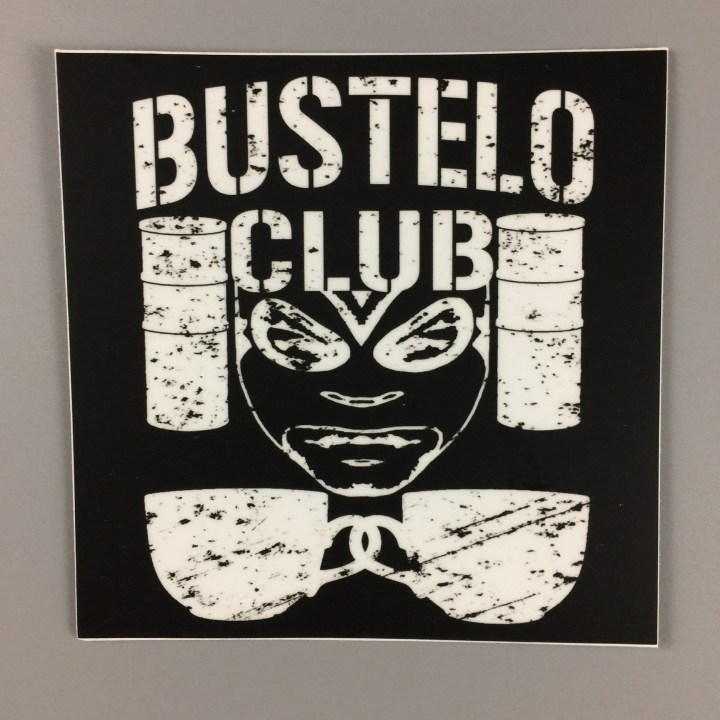 Bustelo Club Sticker. This is another item inspired by the Keepin' It 100 with Konnan Podcast. If you don't understand, start downloading his podcast!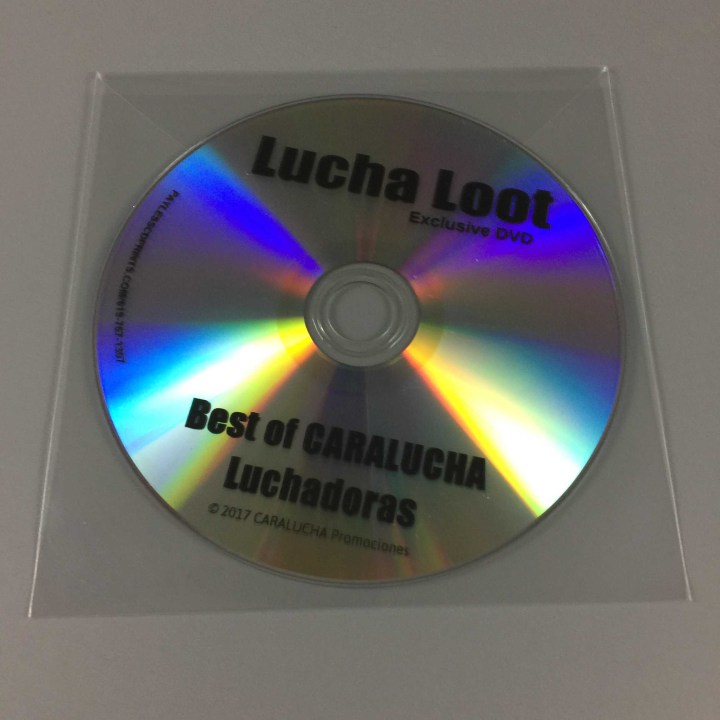 Best of CARALUCHA DVD. This is exclusive to Lucha Loot features Zeuxis, Dalys, Lady Apache, Keira and Ludark. Lucha Loot is extraordinary about giving deluxe subscribers items you cannot get anywhere else.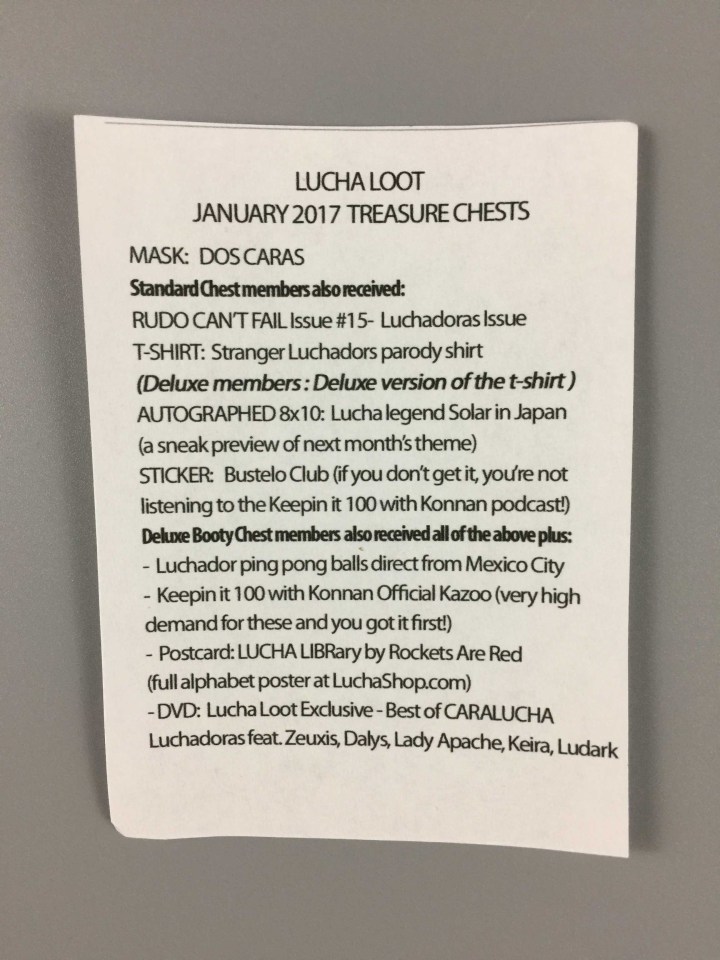 Lucha Loot Description List. A nice and concise list of everything packed inside this extraordinary subscription box. You can see which items come in the Standard and Deluxe boxes.
This is easily one of my favorite subscription boxes. There is a nice variety of items which is something I definitely love about this box. I'm looking forward to seeing what Lucha Loot has in store for the upcoming months!