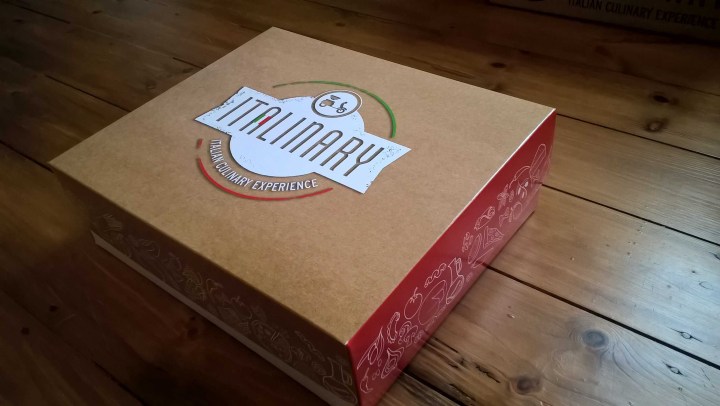 ITALINARY is designed to take you on a culinary tour of Italy. Each box contains 7-8 ingredients to make a starter, first course, and dessert, all sourced from artisan Italian suppliers. Italinary ships to Europe (if you're looking for similar boxes that ship to the US check those out here).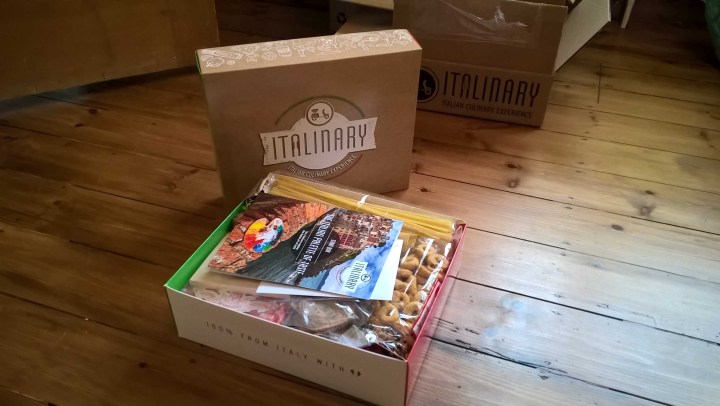 There is no mistaking the Italian theme of this subscription box! Everything arrived tightly-packed in a very smart little green, white and red box, covered with little drawings of classic Italian ingredients. Colorful, squiggly packing material continues the theme inside and keeps all the products safe.
DEAL:  Save 15% off any subscription + get a free bonus product with your first box when you use the coupon code 15ITA. You also get a FREE "Pizza Napoli" box when you check out with a 6 or 12 month subscription. Deal applies automatically, just visit and subscribe.
Everything in the box!
The Start Box also comes with a 'What's In Your Box' guide.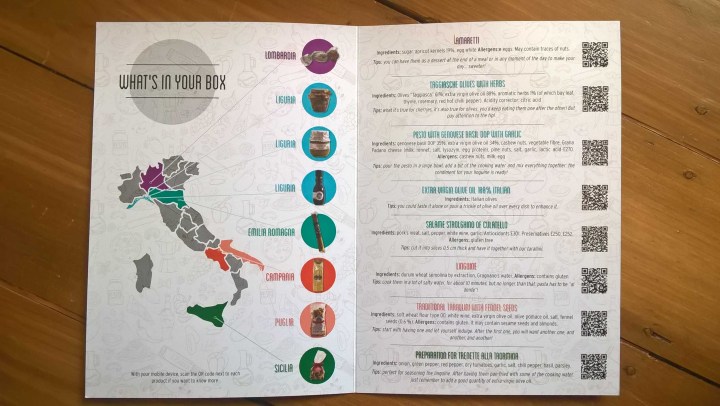 This includes details for each product, including a list of ingredients and any allergies, the region from which it was sourced, and cooking or serving tips. A very handy guide indeed!
The box comes with a nice wooden cutting board for serving the appetizer: the traditional Italian cocktail bar of salami, taralline, and 'Taggiasca' olives.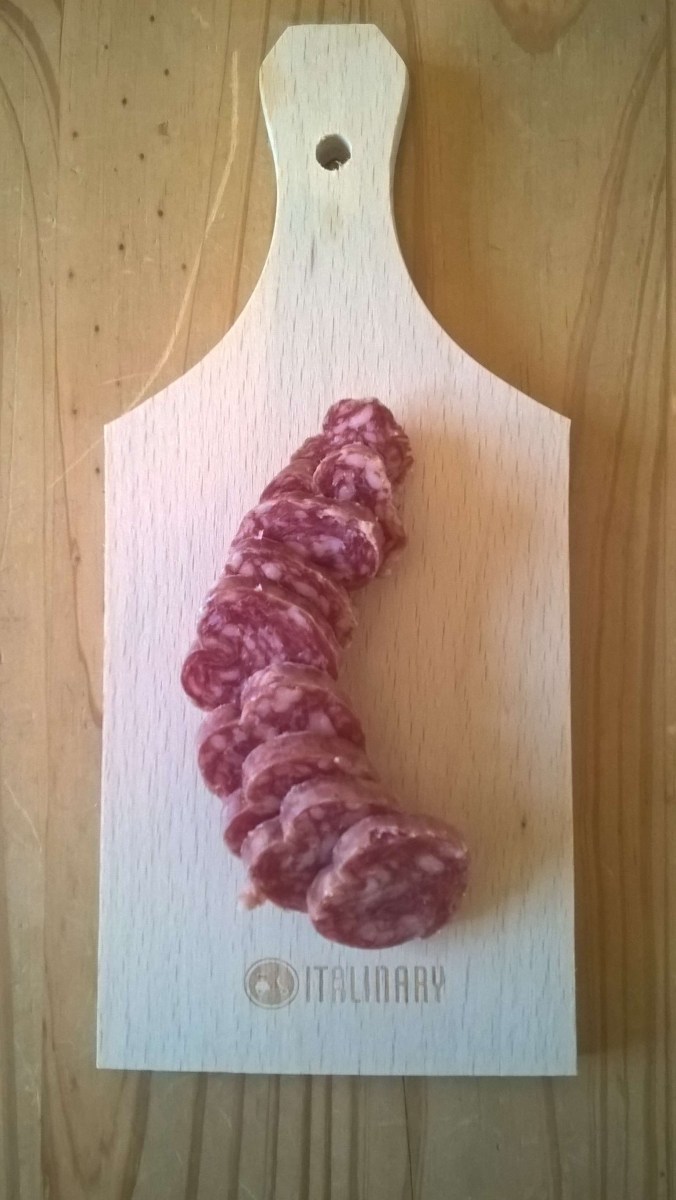 The Salame Strolghino of Culatello is delicious, very rich and with the delicate flavour of pork, white wine and garlic.  The texture is perfectly tender, without the unwelcome chewiness you often find in a lower quality product.
Traditional Tarallini with Fennel Seeds are tasty little olive oil biscuits. Though somewhat crumbly in texture, they are not dry and taste rich from the olive oil. They are totally moreish and nearly impossible to stop eating!  They pair well with the salami.
Try as I might, I am just not an olive person. Still, the Taggiasche Olives with Herbs are clearly a high-quality product and full of flavor.
Now on to the main dish of linguine…
The Extra Virgin Olive Oil 100% Italian is a brilliant olive oil perfect for cooking with or dressing a dish. The flavor is so fresh and bright!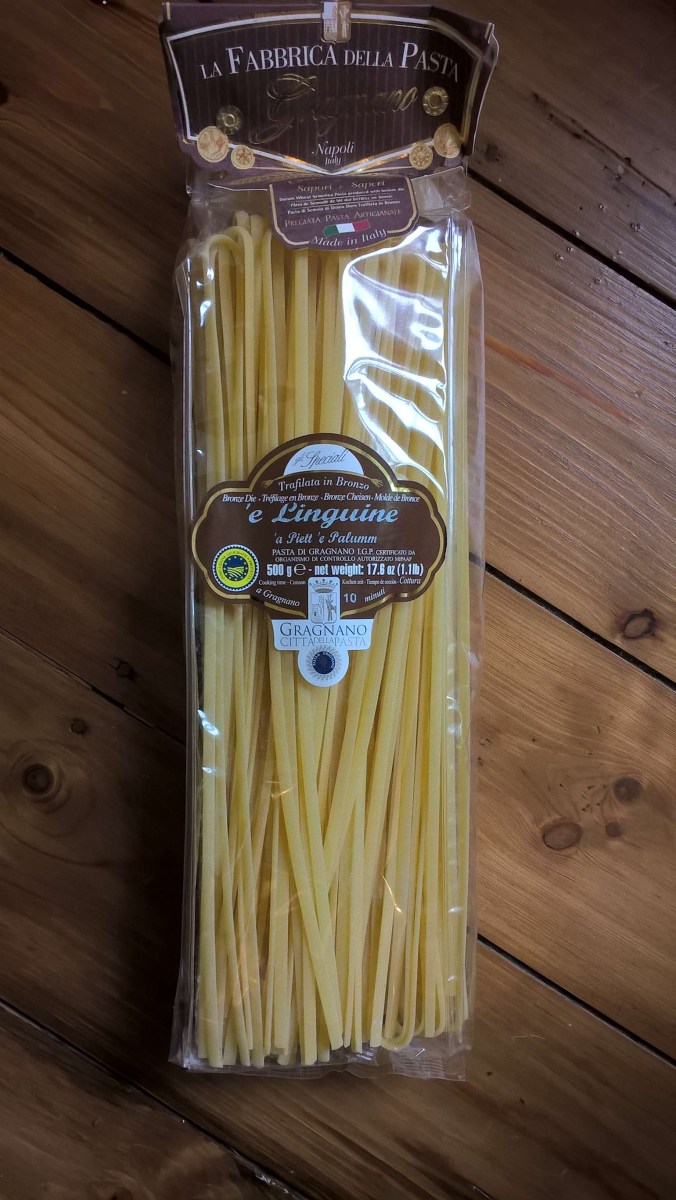 I cooked the linguine pasta just to al dente in salty water as directed. It had a great texture and bite. I also loved how long each strand of pasta was – this somehow made it way more fun to eat.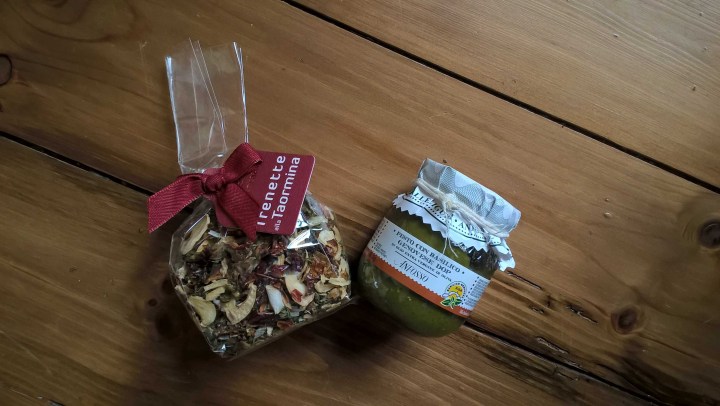 The box included two different options for serving the linguine. Trenette Alla Taormina and Pesto with Genovese Basil DOP with Garlic.
For one meal, I tossed the linguine in a bowl with the pesto just after cooking.  This was a nice pesto, with good flavor but perhaps not as memorable as many of the other products in the box.
The Trenette Alla Taormina was something new to me. It is a mixture of dried onion, green pepper, red pepper, dried tomatoes, garlic, salt, chili pepper, basil, and parsley. The little baggy was intriguing and looked like edible potpourri.  I was excited to try it because I could just tell it would be full of flavor. I pan-fried the seasoning in olive oil, sauteed some spinach and prawns, then tossed with the linguine. Wow. So delicious! I loved this stuff, it was herby with hints of bright tomato and heat from the peppers. It made a wonderful seasoning for the pasta along with the olive oil, and it also went really well with prawns.
Last but not least, dessert was lovely little individually-sealed Amaretti Biscuits. Super crunchy, sweet and almondy.  The packaging is also very pretty.
I can't really say enough good things about the ITALINARY box. Everything about it – from the box itself, with its cheerful colors and detailed design, to the range of super-high quality products inside and the informative little guide with serving instructions – was flawless. I love that this box mixed the great standards of Italian cuisine with some less familiar items. It was a pleasure to try everything, and I would highly recommend this box to anyone who enjoys Italian food, or just good food period.
Visit ITALINARY to subscribe or find out more!