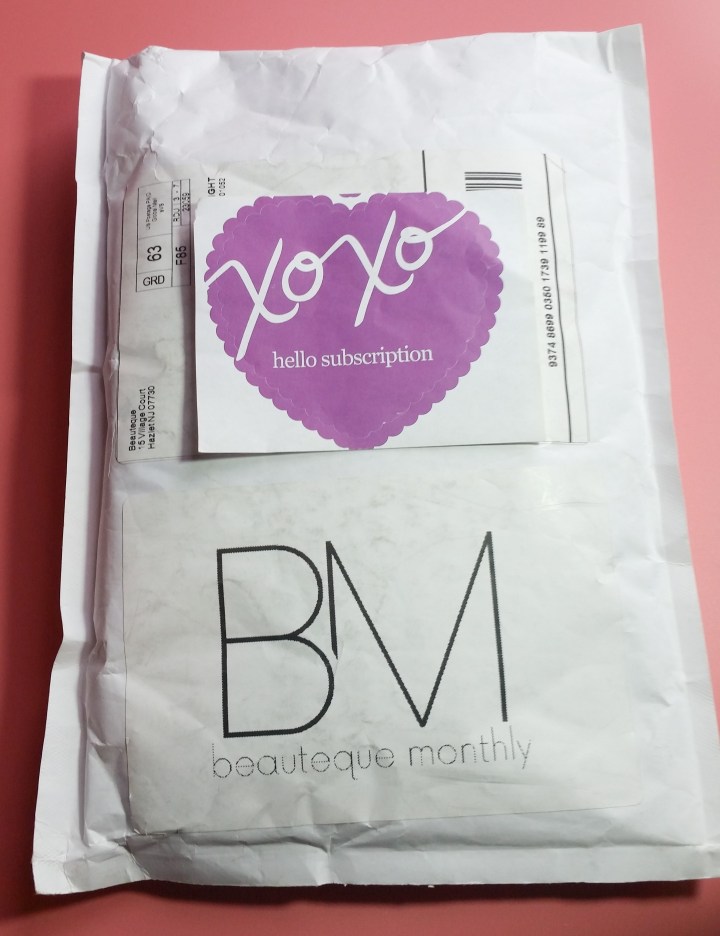 Beauteque offers two ways to get your fill of (mostly) Korean beauty products each month: BB Bag contains 6-8 full-sized products such as makeup, skin care, body care, and more for $24 per month; Mask Maven brings you 9 different masks for $15. Both subscriptions are offered in 1, 3, 6, or 12-month terms that will automatically renew until canceled.
I am such a big fan of Mask Maven. I was not super familiar with beauty masks when I started receiving this subscription, but I am completely sold now. These masks make skin care so super easy – and Mask Maven provides a great variety of different masks. Not surprising, January's theme is "Beauty Resolutions."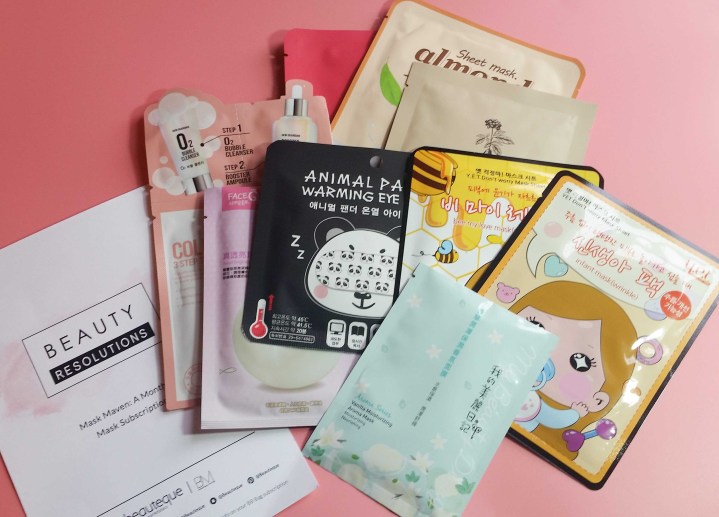 All of the masks came in a cute tulle bag, along with two information cards. I received nine different masks this month. So much fun!
DEAL: Save 10% on the BB bag or Mask Maven with coupon code CRATEJOY10.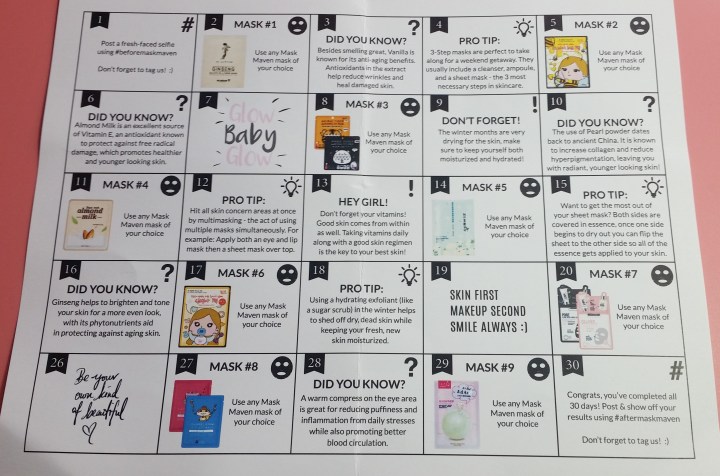 One of the information cards opened into a full page calendar. The calendar is a super nice reminder to regularly use the masks. It also has some funny notes and helpful skin care tips.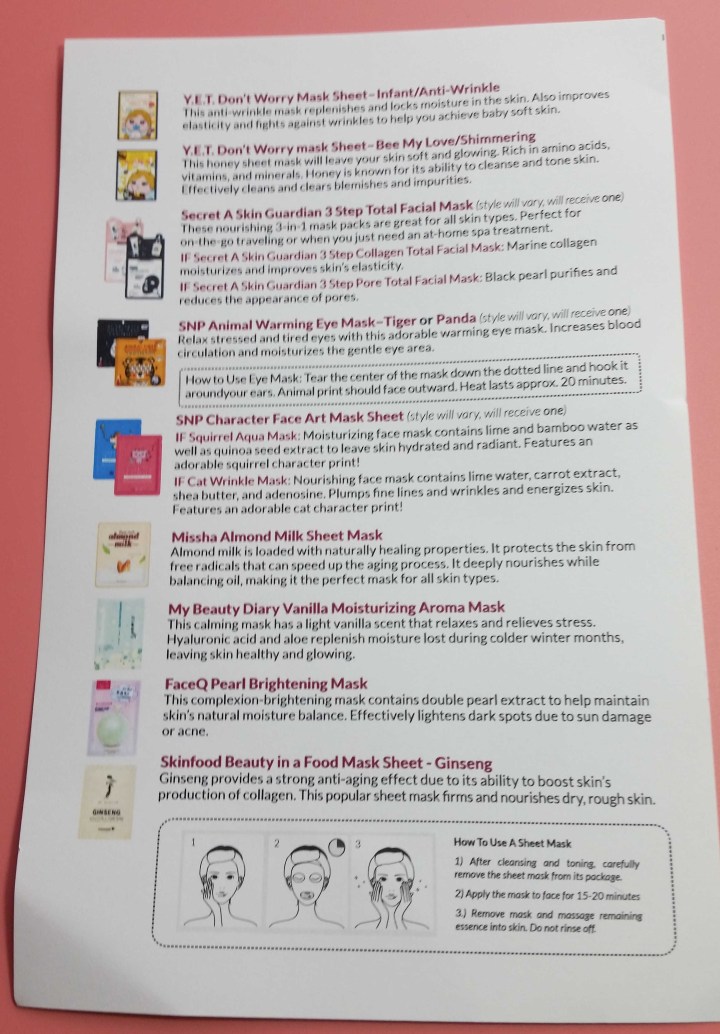 The second information card includes a detailed list of masks, as well as instructions how to use them. This is particularly helpful, as many of the mask's packages do not include instructions in English – and this was my first experience with eye masks!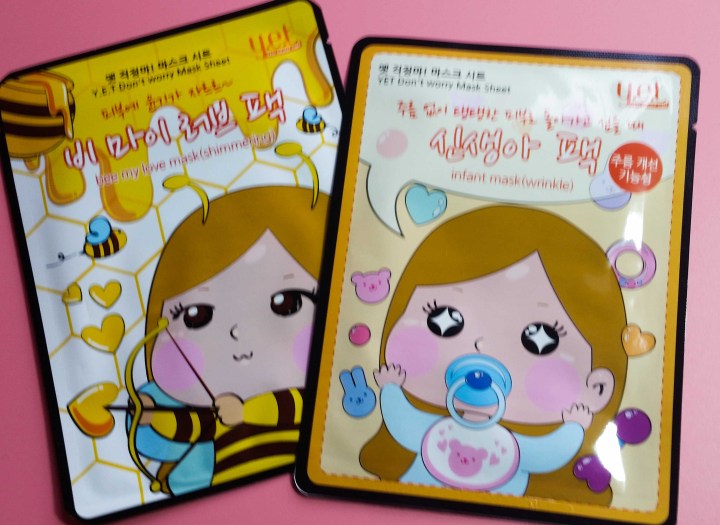 Y.E.T. Don't Worry Mask – Infant/Anti-Wrinkle ($1.99): I love the adorable drawings on these mask packages, but I was a little hesitant to try the infant mask. Then again, I was the kid that used to joke "if olive oil is made of olives, what is baby oil made of?" Never fear, the infant mask is designed to give you baby soft skin, which is definitely something I want!
Y.E.T. Don't Worry Mask – Bee My Love ($1.99): Not surprisingly, this mask is made with honey, known for cleansing and toning skin. Plus it smells pretty nice!
Next up, two fun animal masks!
SNP Cat Wrinkle Face Art Mask ($3.25): This mask has lime water, carrot extract, shea butter, and adenosine to energize skin and smooth out wrinkles. Better than that, the mask itself has the cutest cat print. Fun to wear and good for your skin!
SNP Panda Eye Warming Mask ($3.25, not currently available on Beauteque site): This mask also has a sweet print – panda heads! I hadn't used a warming eye mask before – the experience was very spa like! Warming eye masks relax stressed and tired eyes by increasing circulation and moisturizing skin around the eyes. I really liked this mask a lot!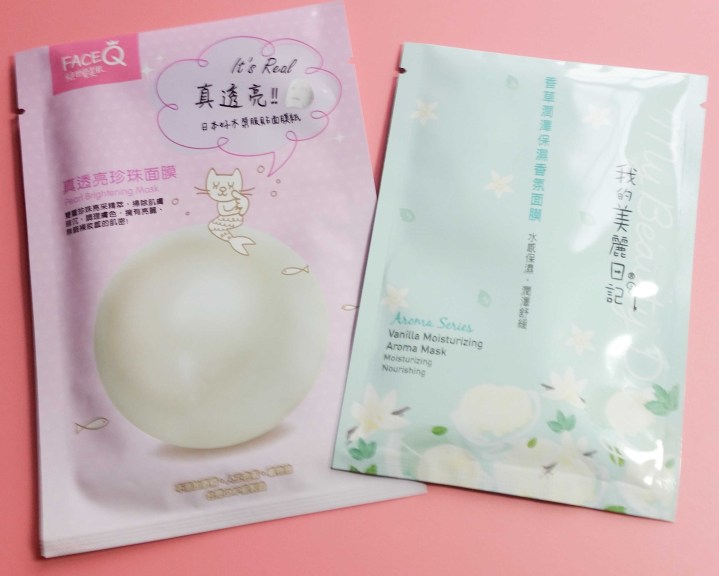 FaceQ Pearl Brightening Mask ($1.90): Made with pearl extract to maintain moisture balance, this mask is also designed to lighten dark spots due to sun damage.
My Beauty Diary Vanilla Moisturizing Aroma Mask ($1.99): Can I just say yummmmm! This mask smells amazing! The vanilla scent is so relaxing and the mask left my skin feeling nourished and soft.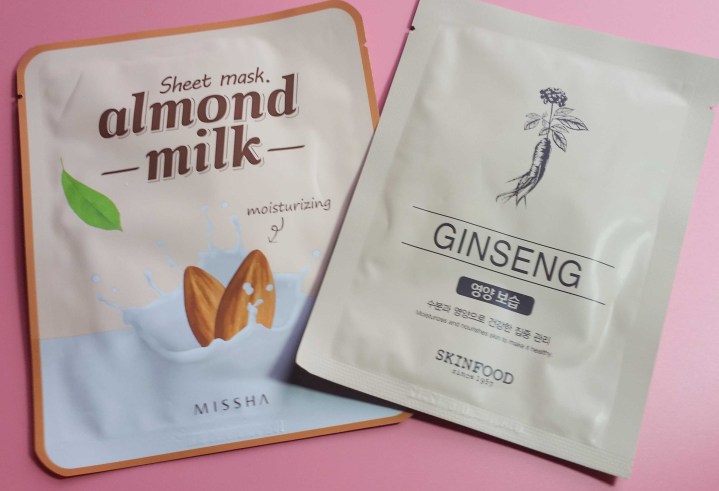 Missha Almond Milk Sheet Mask ($3.25): Almond milk is said to have natural healing properties. This mask, made with almond milk, deeply nourishes your skin while balancing oil.
Skinfood Beauty in a Food Mask – Ginseng ($1.99): I really liked this mask. Ginseng has anti-aging properties as it boosts collagen production. This skin firms and nourishes dry skin. I loved how smooth and firm nice my face felt after using it.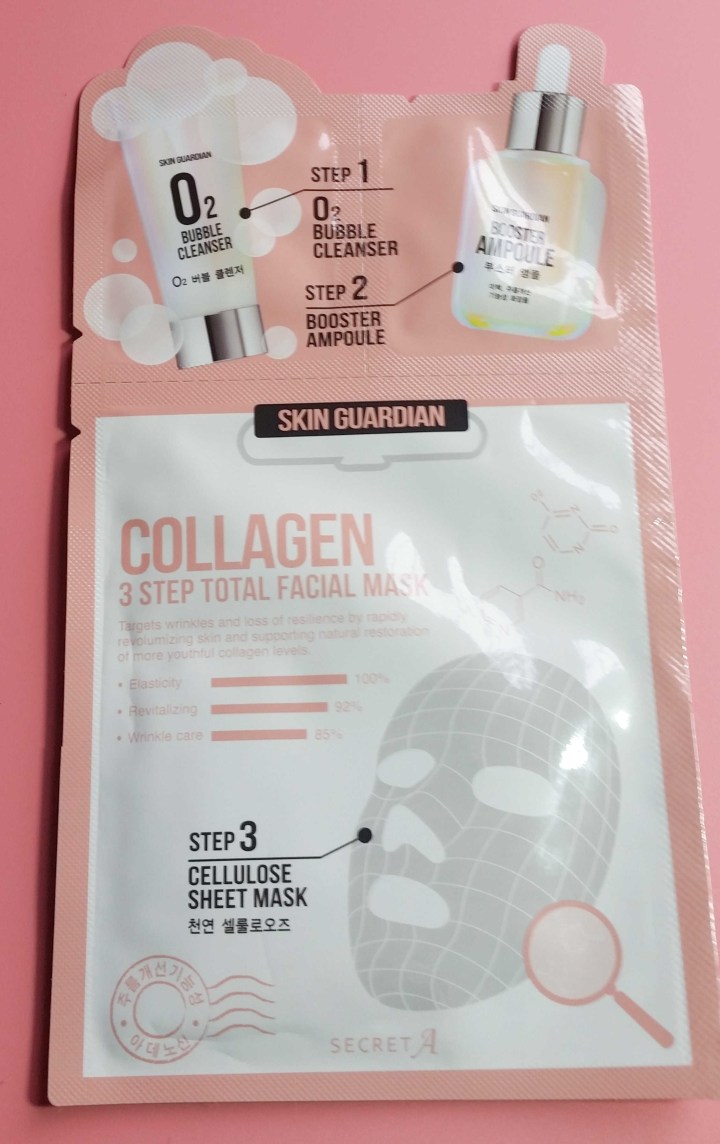 Secret A Skin Guardian 3-Step Total Facial ($3.25, not currently available on Beauteque site): This mask was a lot of fun because, like the name says, it's a total facial! There is a cleanser, an ampoule booster (basically a super-charged serum), and then mask. The focus of this mask is collagen, known for improving elasticity. Using this facial system felt super decadent at home and afterward, my skin was noticeably firmer and healthy looking.
The value of masks in this month's box is well above the subscription price. Not only that, but there is additional value in getting to try out new masks, like the eye warming and 3-step facial. I really enjoyed this month's included masks and am definitely becoming a sheet mask junky! I love these skin care tools – they make life so easy… and they're fun!
What did you think about this month's Mask Maven?