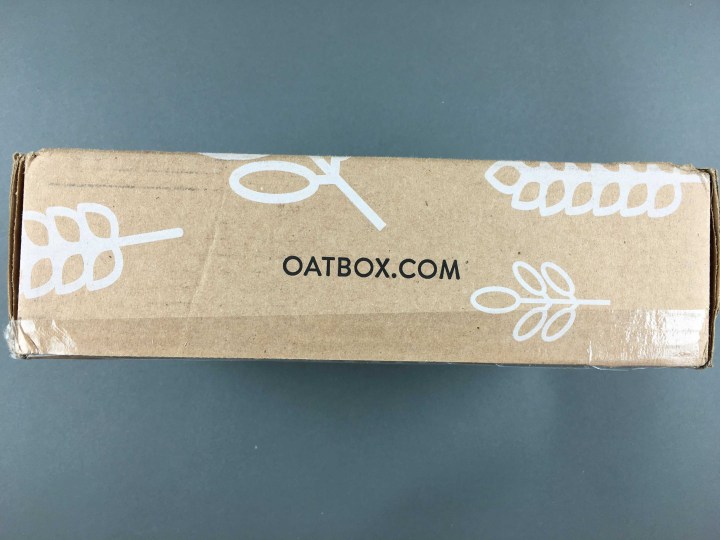 Oat Box is a subscription service that delivers healthy, tasty, all natural breakfast cereals to your home each month. Each cereal is handmade in Montreal, Canada by Oat Box's in-house team of chefs. Each month, you'll receive eight servings each of two different cereals, each of which reflects the current season. You can opt out without charge if the offerings don't appeal to you. If you have food allergies, just get in touch with Oat Box, and they'll be happy to substitute another cereal for you. Along with your cereals, your first month's order will also contain a glass jar that you can use to snack on your cereals on the go. Each bag should last for approximately 3 months from the date of receipt. Shipping is free in both Canada and the United States. For every box shipped, Oat Box has teamed up with the Breakfast Club of Canada to provide one meal to a child at school.
DEAL: You can save $5 on your first box – no coupon code required, just use this link to sign up!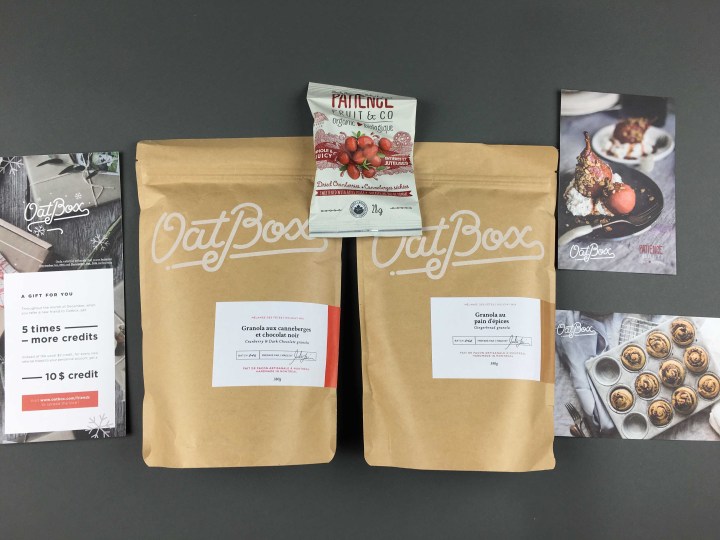 December 2016's box included Gingerbread Granola and Cranberry & Dark Chocolate Granola.
Oat Box's Gingerbread Granola tastes just like Christmas in a bag! The cinnamon, ginger and nutmeg remind me of holidays at home relaxing with my parents, drinking mulled wine and hot apple cider.
Of the two mixes this month, this is the one that I would most enjoy with milk for breakfast.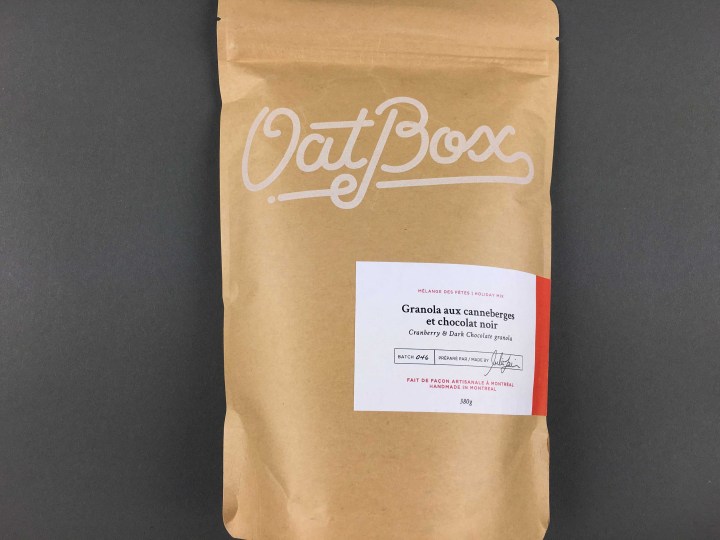 Oat Box's Cranberry & Dark Chocolate Granola reminded me of dessert more than breakfast.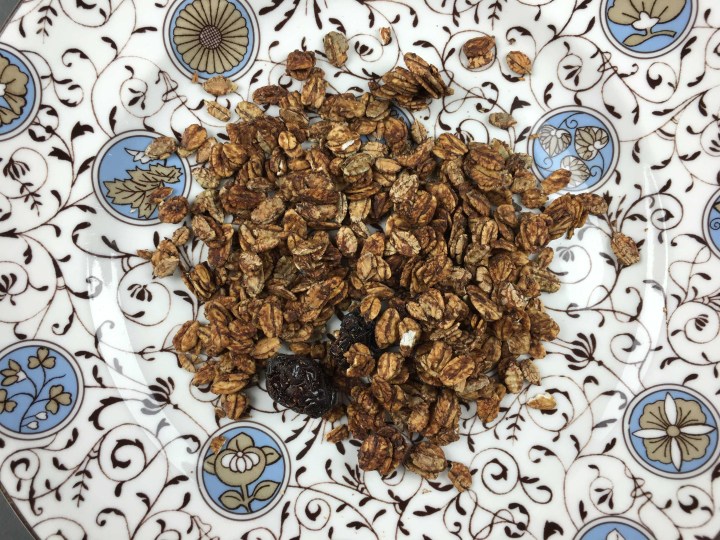 The dark chocolate wasn't sweet. The dried cranberries were only slightly sweet, allowing their natural bitterness to shine through (in a good way!). For me, anyway, this would do well paired with ice cream for a decadent treat.
This month, Oat Box included an extra packet of dried cranberries from Patience Fruit & Co. They were wonderful. Plump, juicy and not overly sweetened, these are easily my favorite dried cranberries of all time.
This month, Oat Box included notecards encouraging subscribers to look online for recipes that incorporate this month's granola selections.
While I'll enjoy looking at the poached pears recipe later this month, I probably won't try to make the cinnamon rolls. Due to climate differences between Texas and Montreal and my own ignorance, I've had difficulty recreating many of Oat Box's delicious-looking baked goods in the past. Honestly, it's just as well since we LOVE having Oat Box cereals on hand for breakfast every morning.
My family literally counts down the days until this box arrives each month. As soon as this month's box came, I couldn't wait to tear it open. Given how good the cereal is and how quickly my family has been finishing it off, I switched to a biweekly subscription and not a monthly subscription!