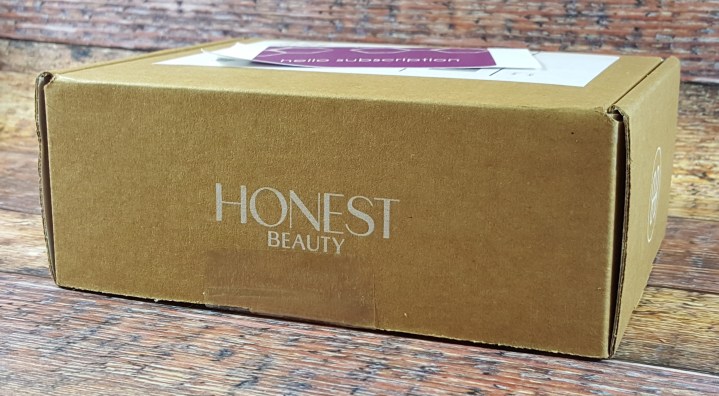 Honest Beauty is a beauty subscription box from the Honest Company.  They offer a comprehensive line of skincare and makeup that has been formulated to match the standards of The Honest Company.  Honest Beauty Bundles are $50/month for 3 products of your choice.  Plus, you can add on up to 5 items at a 25% discount!  You can also take the quiz and get matched with skincare products and pick up a free trial ($5.95 shipping charge).  The free trial will roll into a subscription 7 days after receipt.  Check out Brandy's Honest Beauty review for how to get the most savings on your orders as well as details on the free trial.  
DEAL: Get a Free trial from Honest Beauty – no code required, just use the link + $5.95 shipping.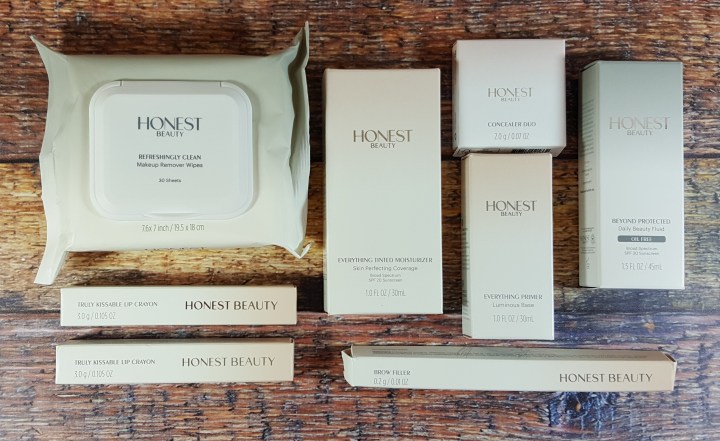 Everything in my box.  I received the Honest Beauty Bundle, plus 5 add-ons.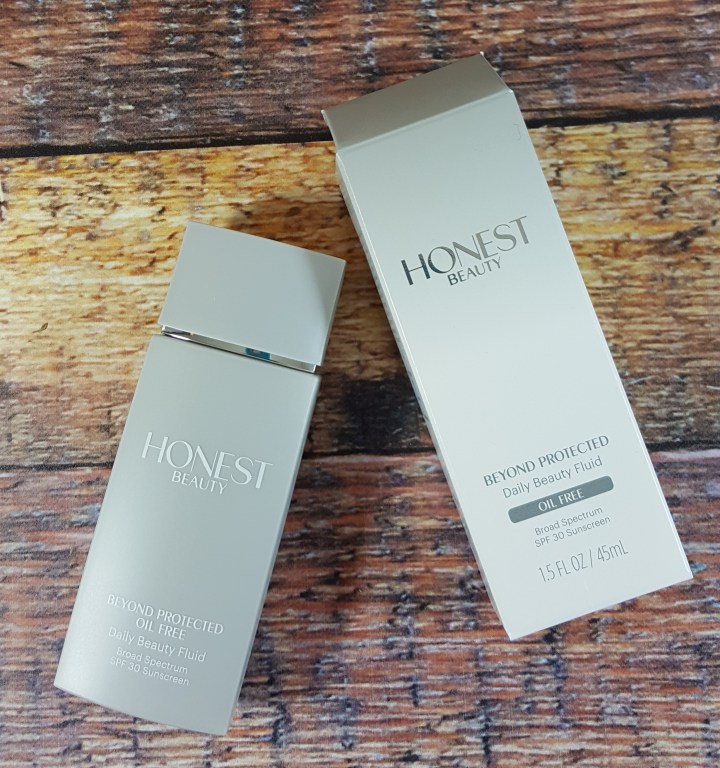 Beyond Protected Daily Beauty Fluid – Oil Free ($28):  The last time I got this, I didn't choose the oil-free formula and felt that this was heavy on my combination/oily skin. I decided to try this again, but sans oil. This formula has the same heavy feeling, and I use more of this to cover my face than my regular beauty fluid. I'm going to call this a bust for me.  Side note, all 3 formulas of Honest Beyond Protected Daily Beauty Fluid are currently sold out – it appears that they will have either a new formulation or a totally new product to replace it.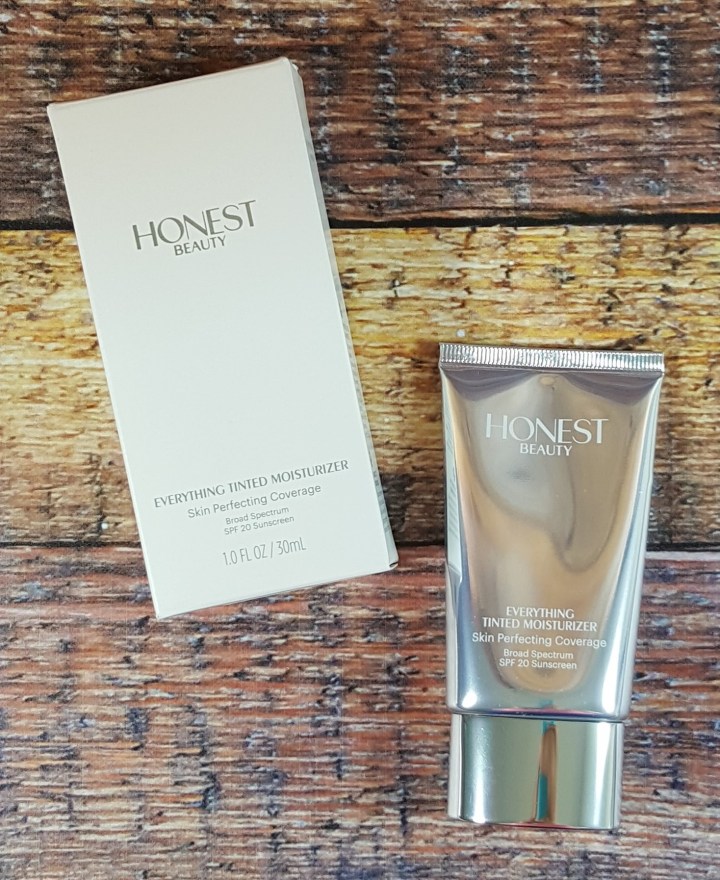 Everything Tinted Moisturizer ($28) shown in Honestly Cinnamon:  I love this BB cream! It is a full coverage cream, and perfect for the cooler weather because it keeps my skin moisturized. Even with the SPF 20 protection, it doesn't feel nearly as heavy as the beauty fluid.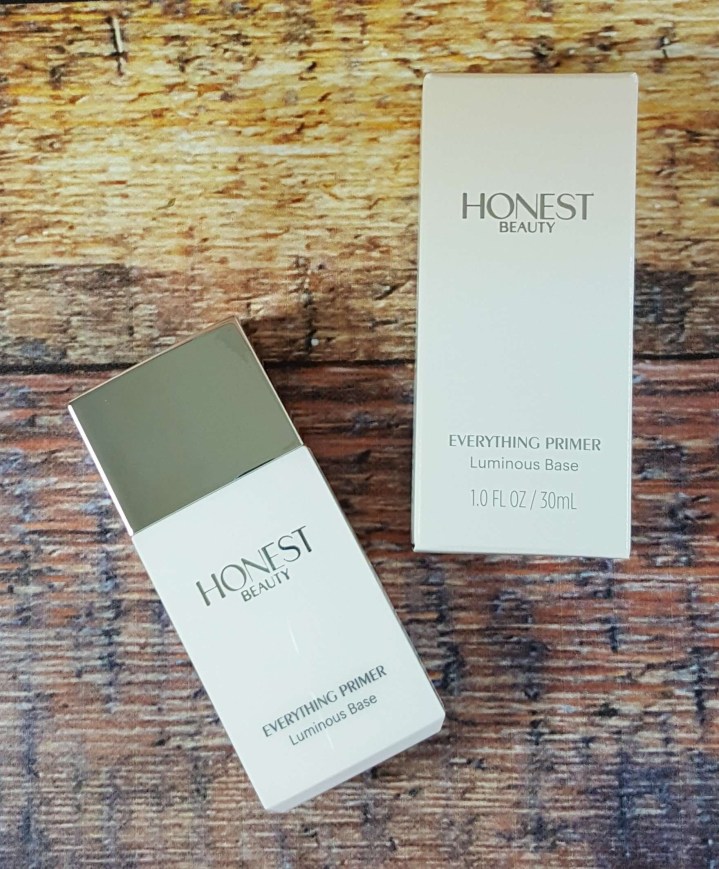 Everything Primer ($27):  This primer is great under my pressed powder when I want a lighter makeup look. It does not give a matte finish. The luminous base give s a nice glow to my skin and helps minimize pores.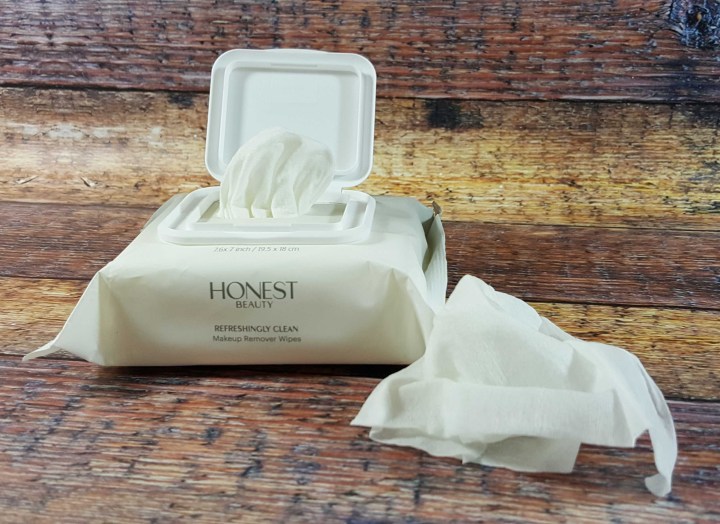 Refreshingly Clean Makeup Remover Wipes ($10):  First of all, these wipes have the best scent.  Secondly, they are super soft and feel like they glide over skin. These make short work of even the most stubborn of my waterproof mascaras and lipsticks. Ingredients such as chamomile, calendula, and aloe work to calm and soothe skin.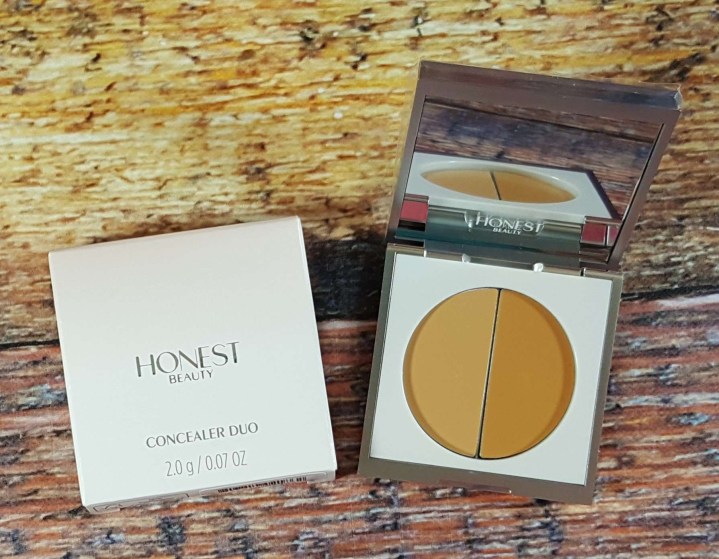 Concealer Duo ($20) shown in Disappearing Dune:  I couldn't remember which palette I ordered last time (btw, it was smooth sable). This set is one shade lighter, but that's fine. With winter here, I won't be as tan. I like that this comes with two shades, allowing you to blend your perfect match.  I know that my coloring changes with the seasons – definitely more tan/golden in the summer.  This duo allows me to adjust without having to buy another concealer.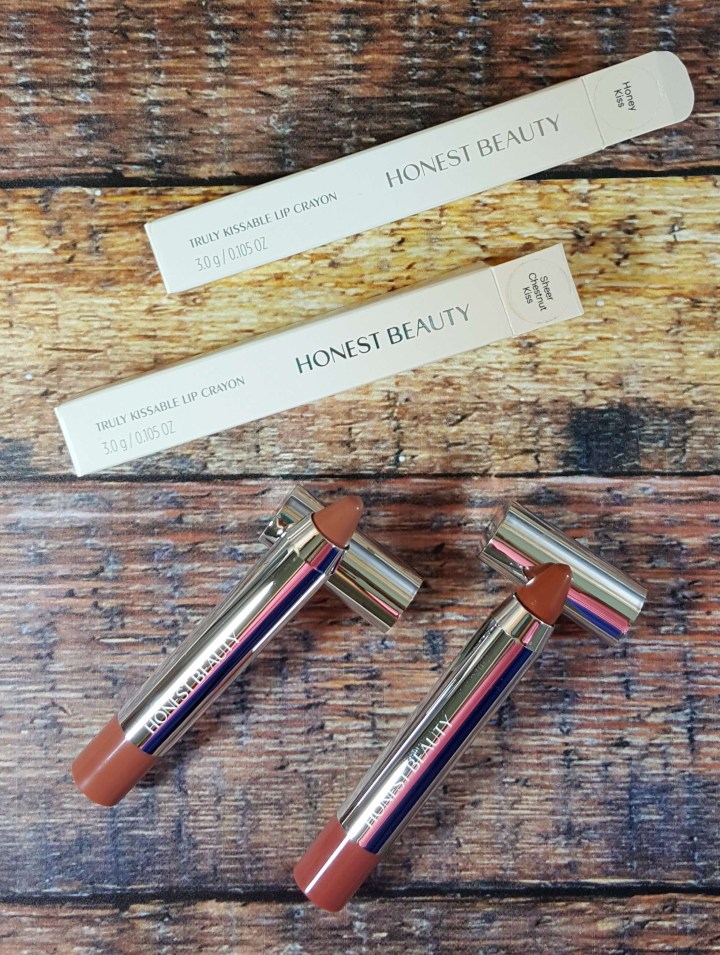 Truly Kissable Lip Crayon – Demi Matte ($18) shown in Honey Kiss:  It applied smoothly and was easy to build up the color.  The swatch below is after several passes.  Also, no sharpener needed for this.  Simply twist the base when the tip runs low.
Truly Kissable Lip Crayon – Sheer ($18) shown in Chestnut Kiss:  Like the demi-matte lip crayon, this has a smooth application. The sheer formula provides a hint of color and shine to enhance your natural look.
Brow Filler ($15) shown in Rich Brunette:  I have odd brows. They look full, but it's an illusion. This is the first brow pencil that didn't make me look like I had cartoon brows. The color can be built up for a more dramatic look, and the brush does a nice job of distributing product and creating a more natural appearance.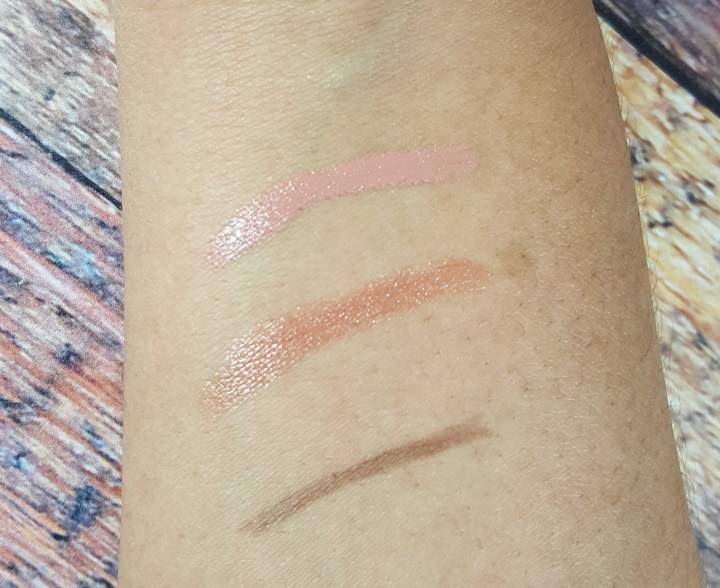 From top to bottom:  Demi-matte lip crayon, Sheer lip crayon, and brow filler.
I continue to be happy with the make up and cleansing items from Honest Beauty. Looking at my haul, if each item was purchased individually, I would have spent $164.  However, by using the Honest Beauty Bundle and add-on discount, I got a 32.5% savings off that price!!! 
If you're not a subscriber you can get a free trial from Honest Beauty!