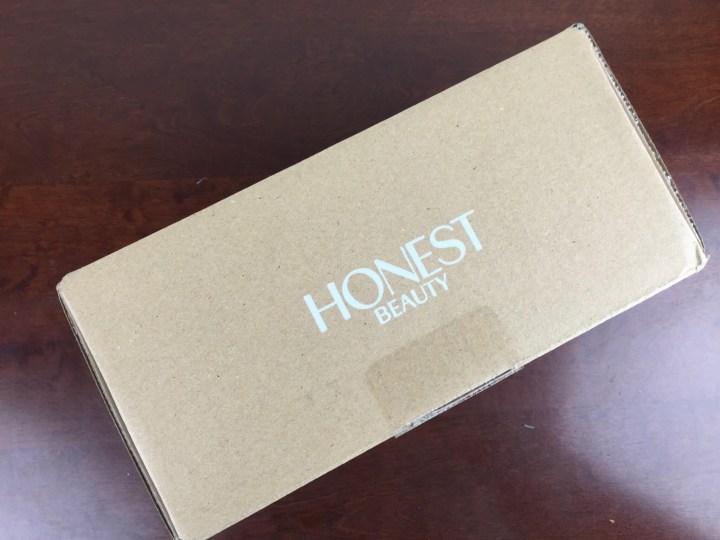 Honest Beauty is a beauty subscription box from the Honest Company. Honest Beauty offers a comprehensive line of skincare and makeup that has been formulated to match the standards of The Honest Company. Honest Beauty Bundles are set at $50 per month for 3 products of your choice – add on up to five items at a 25% savings! Plus you can take the quiz and get matched with skincare products and pick up a free trial (pay $5.95 shipping).  The free trial will roll into a subscription 7 days after you receive the trial.  Read my review of the Honest Beauty Skincare Free Trial Kit to find out more about the trial and the products in it.
Here's my too long didn't read from both all reviews so far (including this one):

Get (if you're interested, although you may also be interested in some Natural Beauty Subscriptions!)

Honest Beauty Everything Tinted Moisturizer SPF 20 ($28)

Luminous Base Everything Primer ($27)

Eyeshadow (Trio $25, Palette $35)

True Velvet Eyeliner  ($16)

Luminizing Powder ($25)

Honest Beauty Beyond Protected Daily Beauty Fluid Sheer Tint SPF 30 ($28)

And remember… you may want to go a shade lighter than they suggest (based on my experience).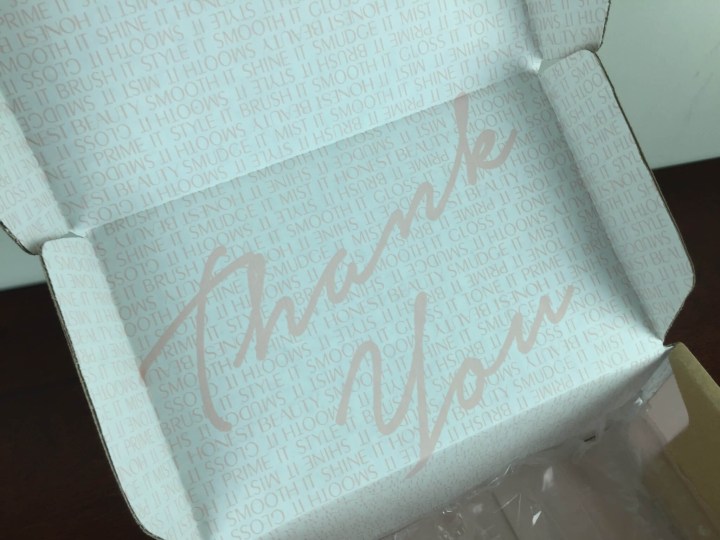 For packaging geeks, the trial and the bundle come with recyclable air cushions.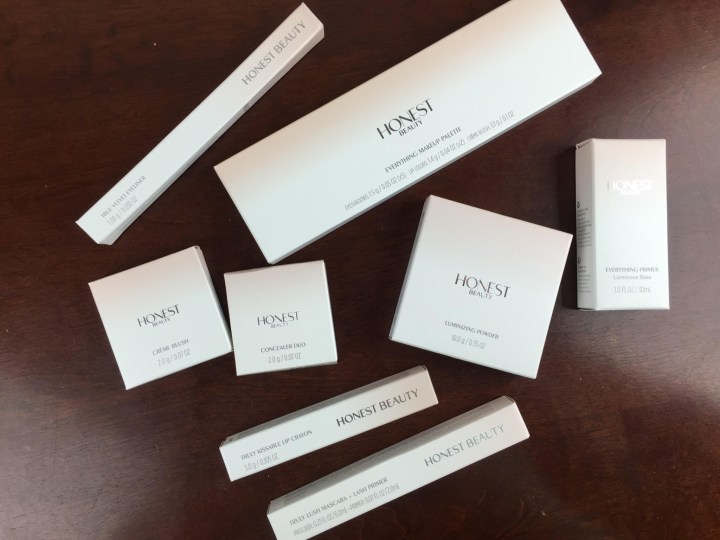 Their Honestly Free Guarantee:
We're guided by transparency and the strictest (self-imposed) standards to ensure our products perform safely and beautifully. We're thoughtful about the pure, raw ingredients we use and the hundreds of harsh chemicals we don't. Our products are made without any questionable ingredients, such as parabens, phthalates, formaldehyde carriers, PEGs, MCI/MI, steareth-n, synthetic fragrances, propylene glycol, butylene glycol, petrolatum, mineral oil, SLS, SLES, sulfates and chemical sunscreens.
How to save the most money on Honest Beauty: because bundle items work out to be $16.67 each, items $22.22 and above should go in your bundle part – any item with a retail value of less than that should go in your add-on section (you'll pay 75% of the retail price on those), if you want to maximize what you get for your money. I wouldn't worry too much about putting a $22 product in the Bundle part if you have lower value products for your add-on part, but your bundle will not sort itself for you to get the best deal possible.
You can push out your bundle ship date and switch from an every 4 week bundle to 6 or 8 weeks. I would recommend – if you want to try out a lot of the products – to do a big bundle less frequently, because you'll probably want to try some of the less expensive items. If you order a trial and a bundle at the same time, they don't combine into one bundle.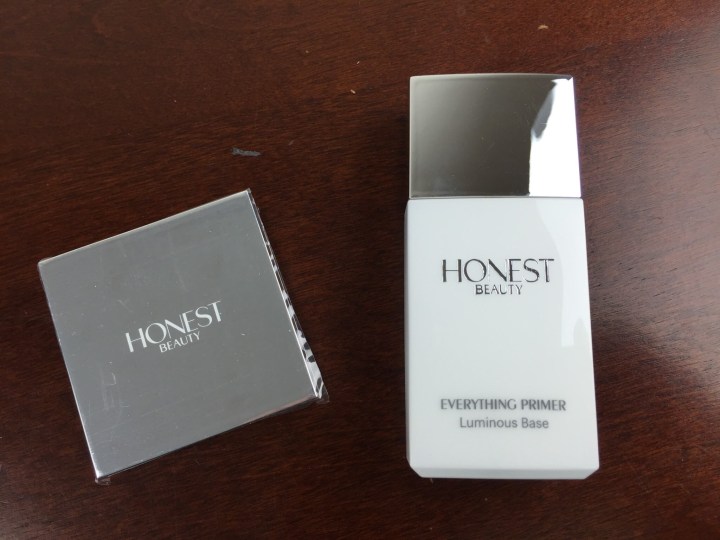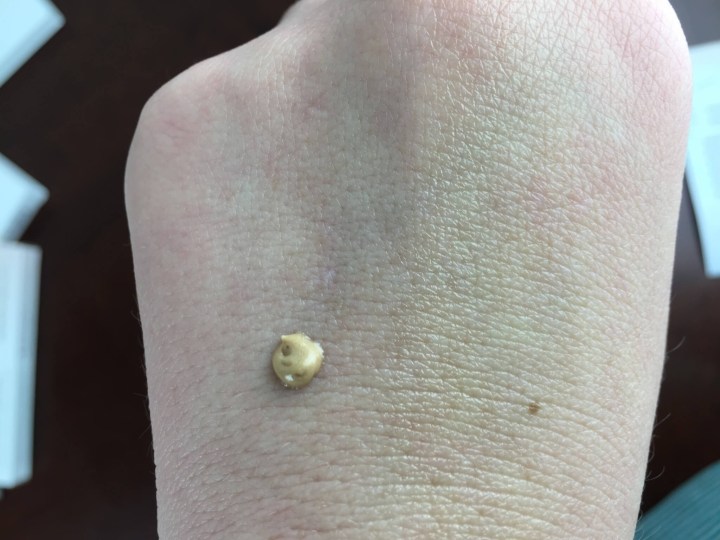 Luminous Base Everything Primer ($27) This is a lightweight primer that acts almost like a makeup because it gives just a tiny bit of coverage, color, and sheen. I really liked this product and a little goes a long way. I love how versatile it is that you can use it with or without makeup.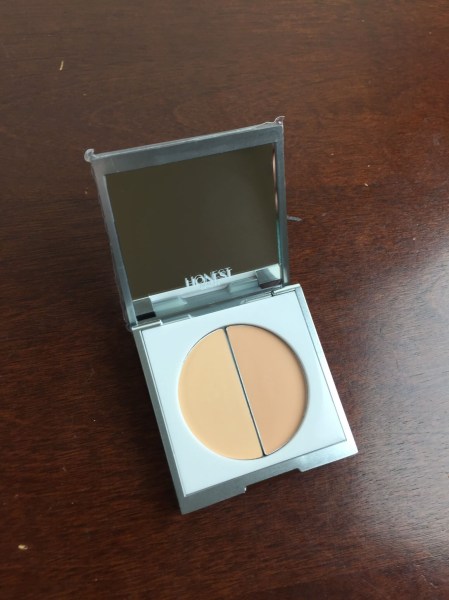 Honest Company Concealer in Vanishing Vanilla ($20) if you read my original Honest Beauty review you might remember that I thought the concealer was a bit too dark. I will enjoy having multiple shades to customize with, but I really needed the lighter shades for my under eye area. I still prefer a liquid concealer over this type (It Cosmetics Bye Bye Undereye is my favorite), especially as the coverage can be uneven with a cream concealer – and to be honest, I just don't like tugging on my skin.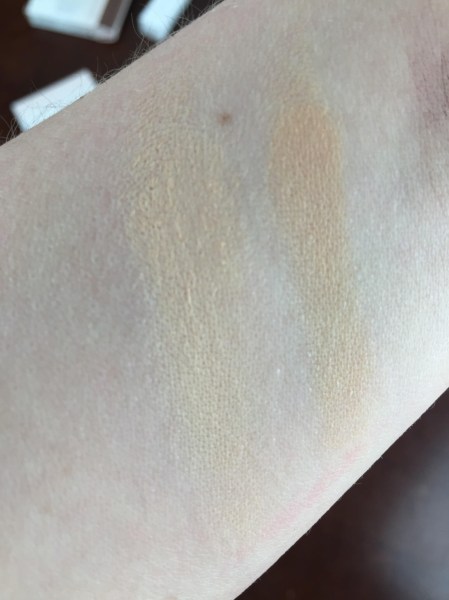 A concealer swatch in my wrist is somewhat meaningless, but there it is!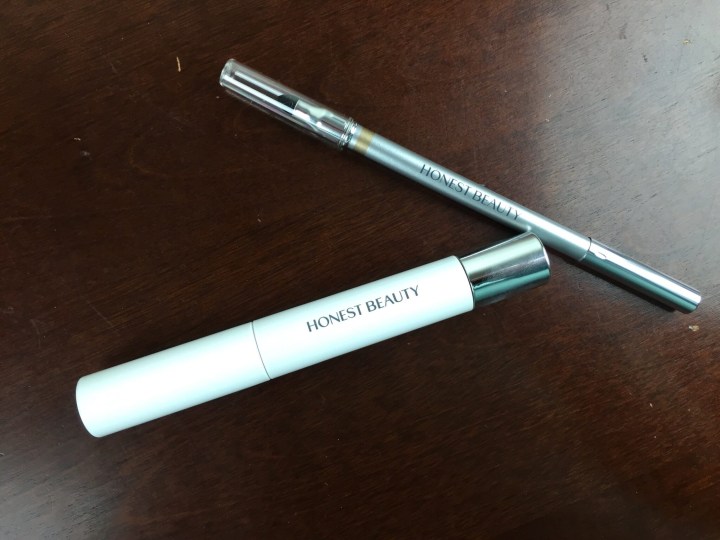 True Velvet Eyeliner – Truly Gold ($16)
Truly Lush Mascara & Primer ($22)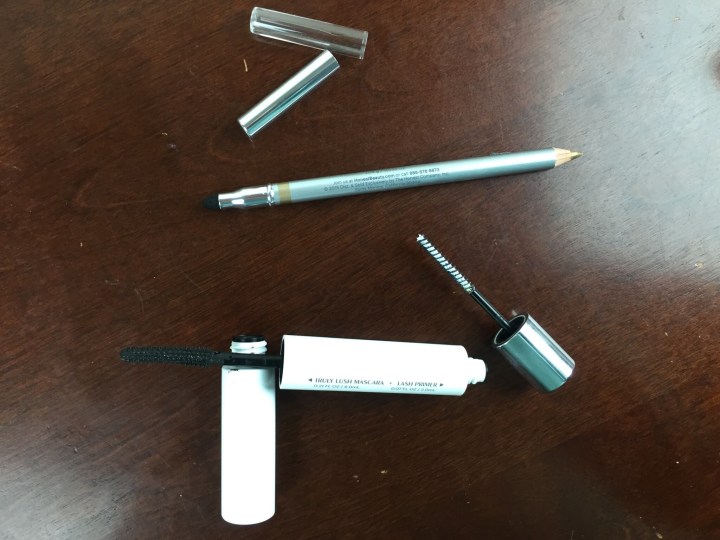 I loved the first eyeliner I picked up and this one didn't disappoint – it had the same fantastic formula as the first. Swatch below.
I am not a big fan of the mascara but the primer idea is neat – and I haven't run across very many natural lash primer formulas!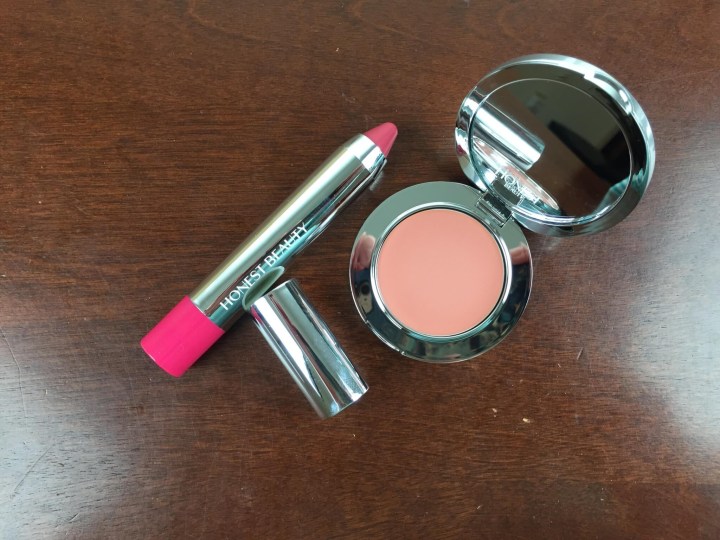 Truly Kissable Lip Crayon – Sheer Raspberry Kiss ($18)
Crème Blush – Truly Exciting ($22)
I was super pleased with my color selections on these. Despite the cap color this pink is super wearable and dark enough to not look weird on my lips. I love the peachy rose color of the blush, but I will probably apply it with some sort of sponge applicator and not fingers! A little goes a really long way, and this will last a long while. It does sort of make me scratch my head at the subscription concept for this line – because you just don't need most of these products very often.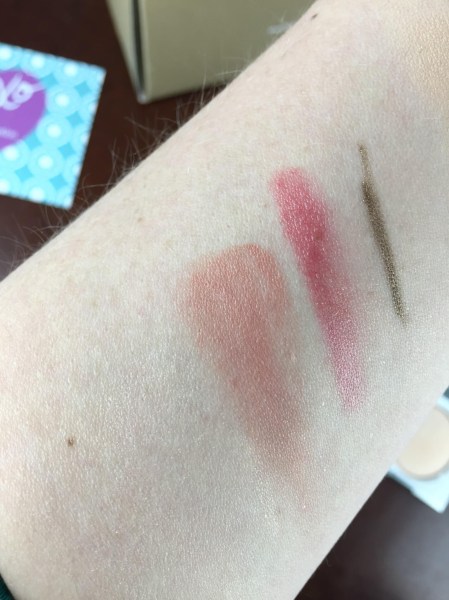 Blush, Lip Crayon, and Eyeliner swatches.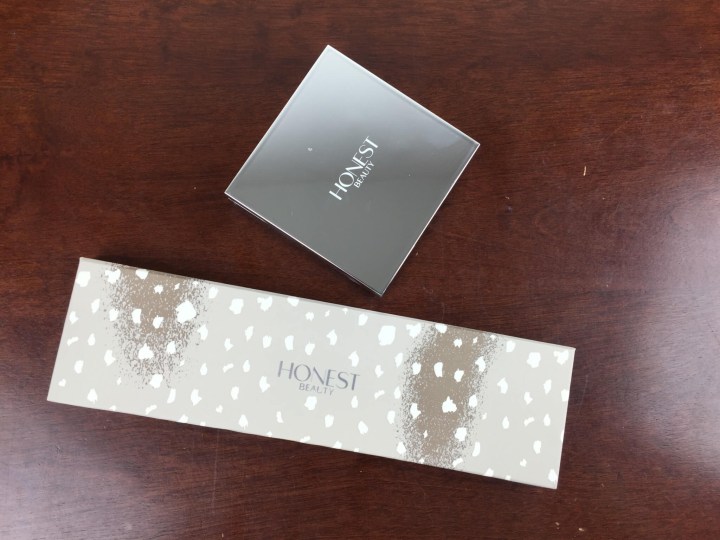 I couldn't let this bundle ship without the palette!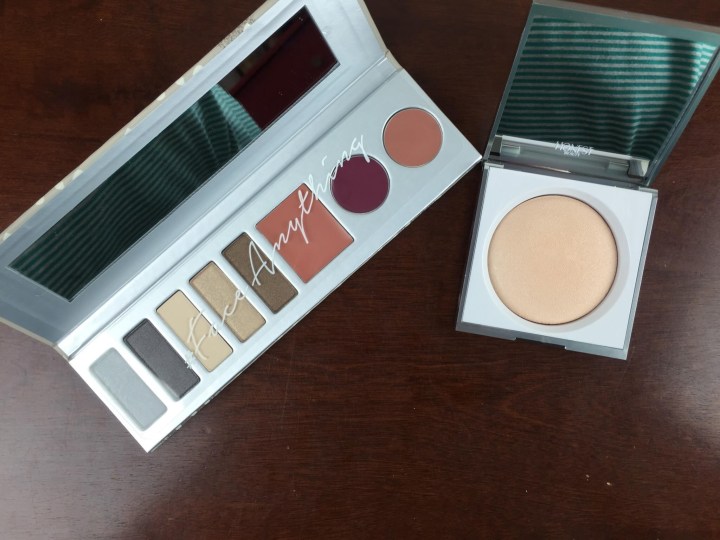 Everything Makeup Palette ($35) This is a great palette and the price is right. I felt that the size of the items for the shadows were nice and large, and there wasn't too much blush. For anyone that loves makeup you feel like that sometimes you want to actually "complete" a palette, right? I thought that was doable with this one.
Eyeshadows: Charcoal Shimmer, Pewter Shimmer, Everyday Canvas, Champagne Shimmer, Bronze Shimmer
Crème Blush: Truly Thrilling
Lip Colors: Mulberry Kiss, Honey Kiss
Luminizing Powder – Midnight Reflection ($25) This is an excellent powder with luminizing particles – and I absolutely love that they offer three different tones. I'm surprised they don't offer this in a palette as well. That being said, if I had to choose what to buy, I'd buy Hourglass in a heartbeat.
I was relatively happy with the products I purchased and would totally re-purchase the ones I listed at the start of the review. Next up for me is definitely their new eye serum, but first Summer is going to also do an Honest Beauty review! She has a different skin type and a darker skintone than me – I can't wait to see what she thinks (I honestly have no idea yet!). Remember to read my first Honest Beauty review (with most of the basics) as well as the Honest Beauty Skincare review
One more thing – Honest Beauty doesn't ship to Canada (yet). You can return colors and have them swapped out for new ones. They will send you a FedEx label for exchange. I think the lack of a trial product for the face makeup shades is really problematic and this is especially wasteful.
The Subscription
:
Honest Beauty
The Description
: Honest Beauty is a comprehensive line of skincare and makeup that has been formulated to match the standards of The Honest Company. Their Honestly Free Guarantee means the products perform safely and beautifully with no questionable ingredients! Line consists of face, lip, eye, and cheek products for makeup, as well as enhance, protect, cleanse, and hydrate products for skincare!
The Price
: $50 for 3 products – add on up to 5 additional ones at 25% off.