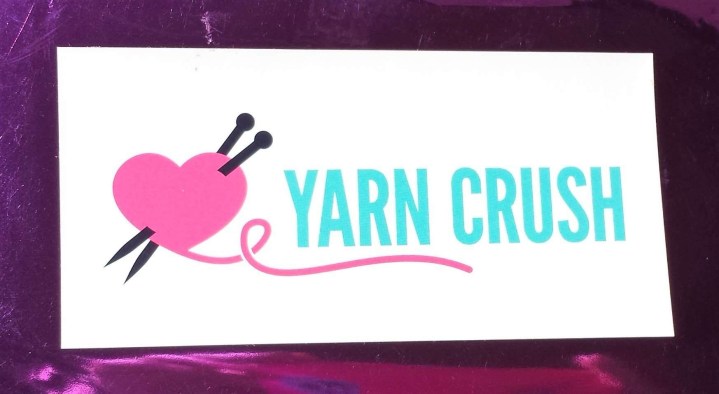 Yarn Crush is a monthly subscription box for the yarn enthusiast. It includes at least 100g of premium yarn (either one large skein or several coordinating mini skeins), a knit and a crochet pattern,  any notions necessary to complete your project, and most months will also include a bonus gift.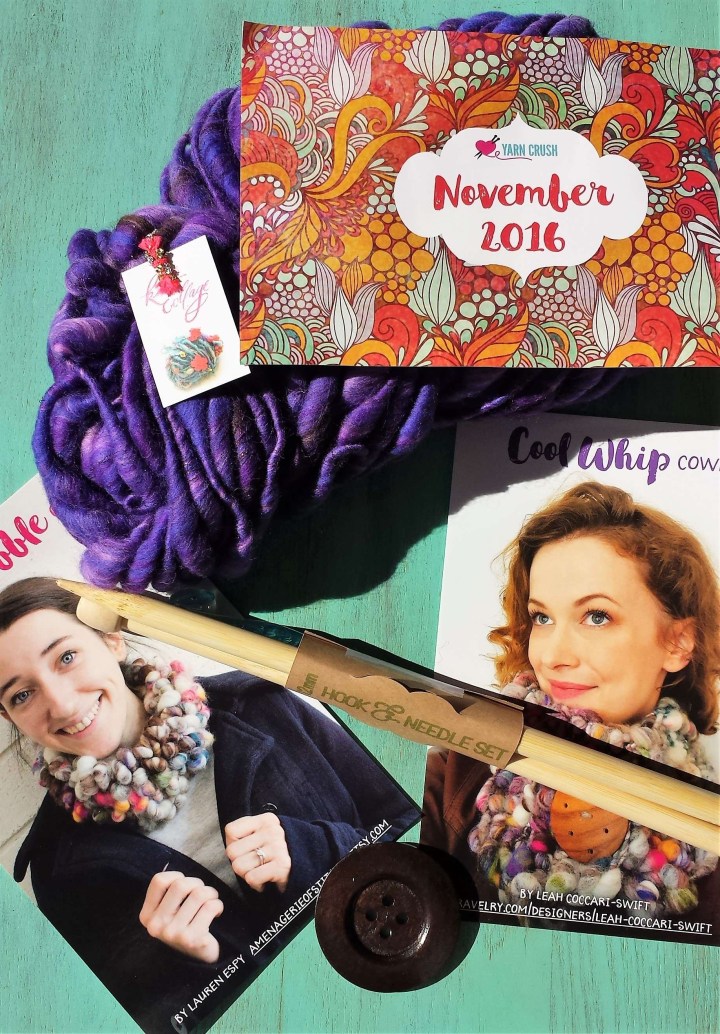 DEAL: If you'd like to give Yarn Crush a try, use coupon code HELLO to save $5 on your first box!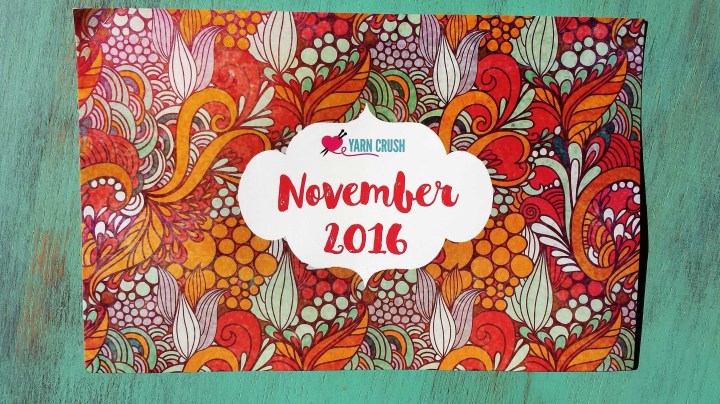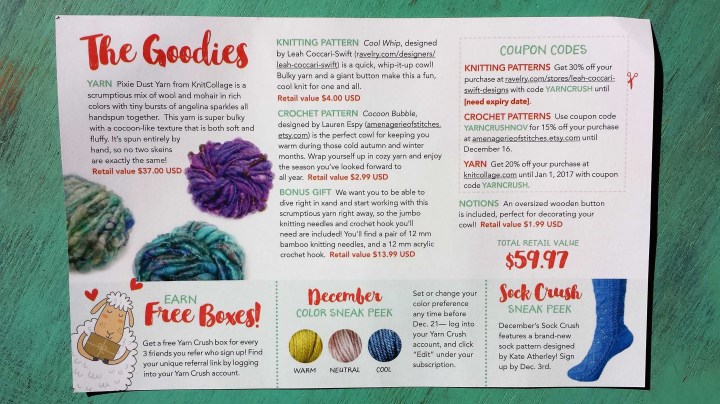 If you choose to subscribe to Yarn Crush month to month, the price is $32.99 per month. If you prepay for 3 months, the price is $32.00 per month and you get a free gift. If you prepay for 6 months, the price is $31.66 a month and you get the free gift. And, if you are totally committed to this box of swoon-worthy yarn, you can prepay for a full year and the price drops to $31.25 a month (you get the free gift of course). Shipping to the U.S. is $5 per box.
You also get to have some input to the colors that you get. You can choose between Warm, Cool, Neutral, and Surprise Me.
The flip side of the Yarn Crush card gives all kind of useful information about the included products including their retail price. There are also coupon codes for patterns and a referral offer from yarn crush. For every three friends that sign up using your referral link, you get a free box. Cha-ching! (You have to subscribe first and then log into your account to get your referral link).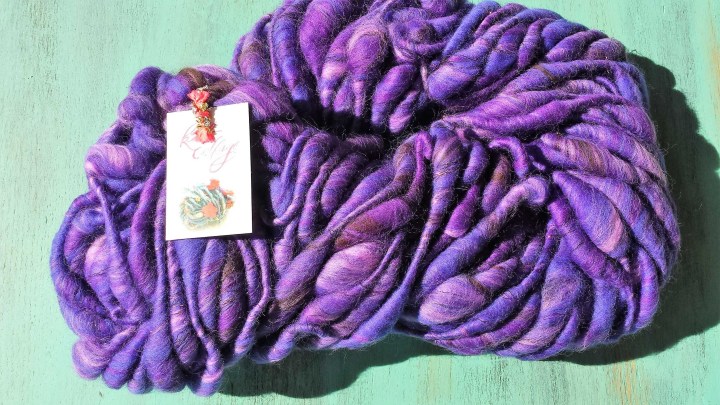 The yarn this month was this loopy bubbly bit of purple loveliness by Pixie Dust Yarn from Knit Collage ($37). "It is a scrumptious mix of wool and mohair in rich colors with tiny bursts of angelina sparkles all handspun together. This yarn is super bulky with a cocoon-like texture that is both soft and fluffy. It's spun entirely by hand, so no two skeins are exactly the same!"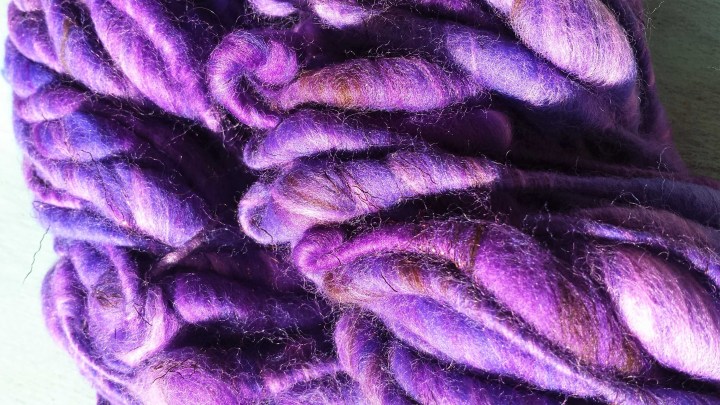 The fiber has incredible texture and depth. And, the purple color is magnificent!

The bonus gift in this month's box was a Hook & Needle Set. The Hook (there is a better picture of it further down) is a 12mm acrylic crochet hook (Size P). The knitting needles are also 12mm and are carved out of bamboo. (There's another picture of them further down too.)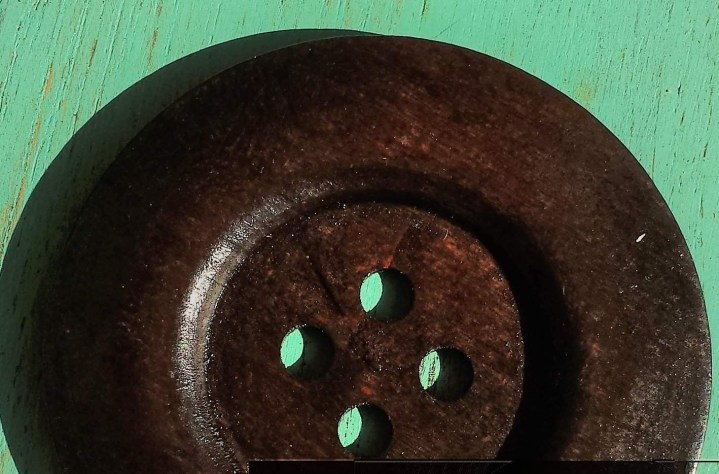 This ginormous button ($1.99) was the notion included in this month's box. It is seriously huge, like 3 inches across. I decided not to add it to my scarf/cowl, but I have a capulet pattern in mind for one of my girls that it would be perfect for.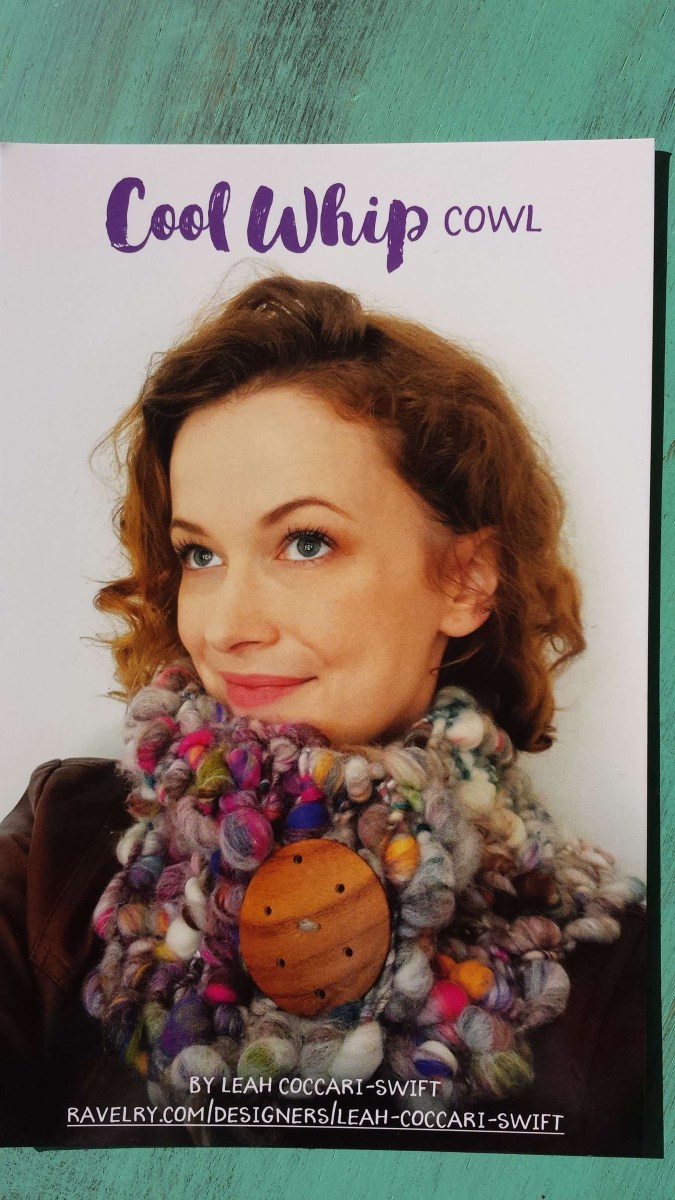 The knitting pattern is called Cool Whip and was designed by Leah Coccari-Swift ($4). The pattern is quick and fun work up with a beautiful cowl result.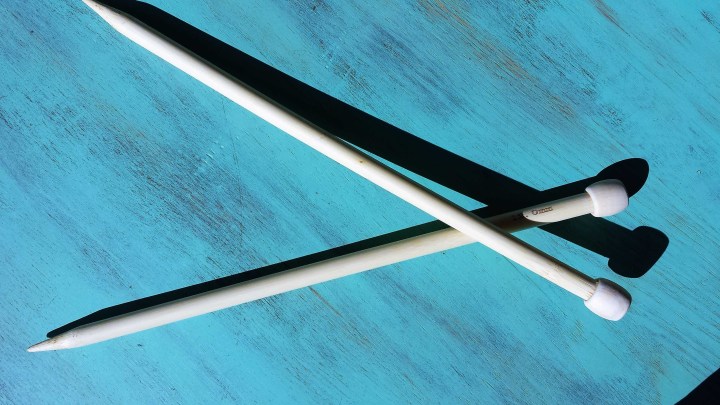 The included knitting needles are the perfect size for the project. I don't knit much, but the light weight and smoothness of these bamboo needles are very tempting. They are lovely.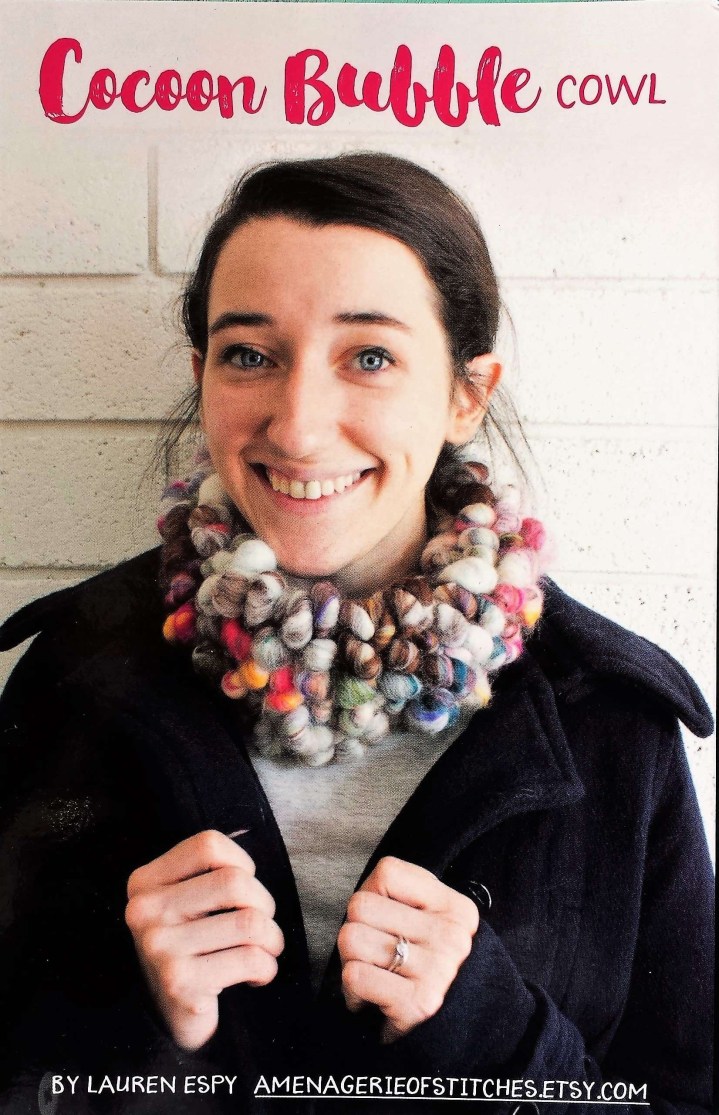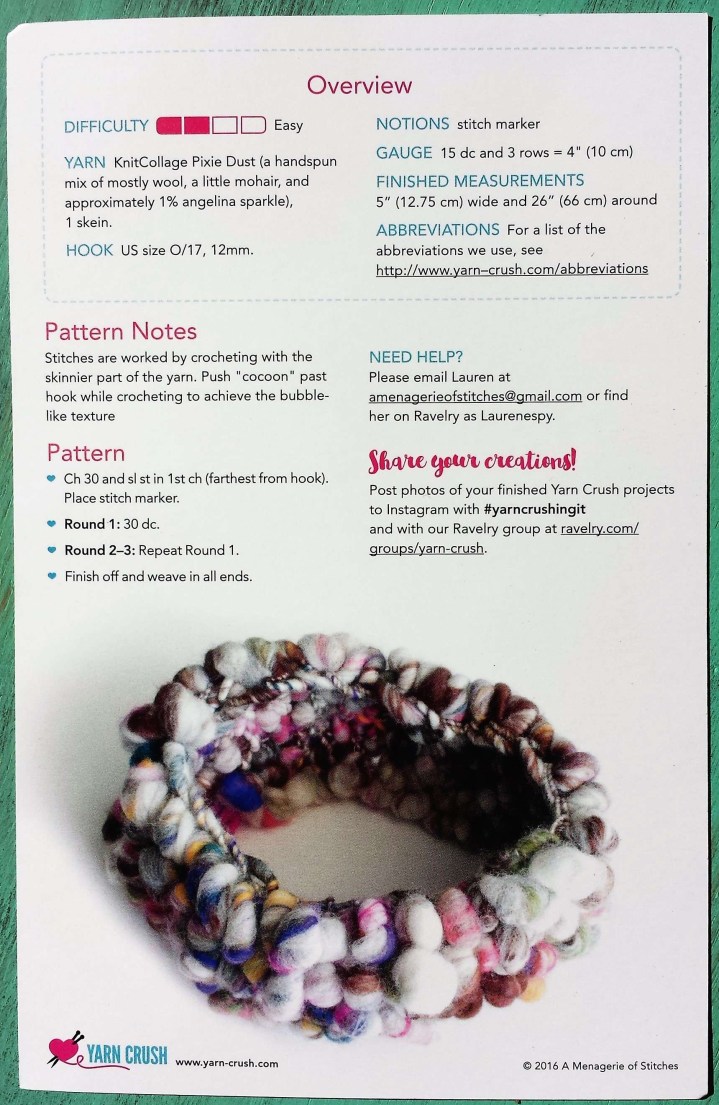 The crochet pattern in this month's box is called Cocoon Bubble by Lauren Espy ($2.99). This pattern was very easy to work up and resulted in a cozy cowl. You push the bubbles in this bulky yarn out between your stitches for a bubble look all the way around your project.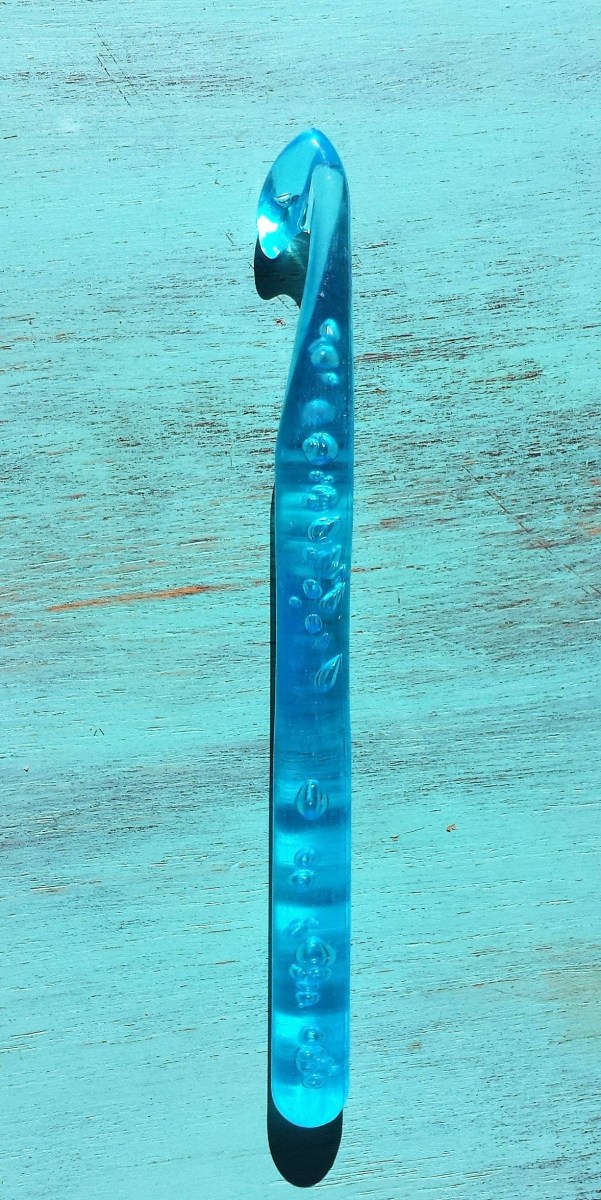 The crochet hook was made of a clear blue acrylic with bubbles trapped in it. It is a larger hook at 12mm (P in American sizing) and perfect for working up bulkier yarns or projects that call for two strands of yarn at a time. I love that it is different and pretty. I am a sucker for a pretty hook!
I made the cowl a little longer than called for, making it more of a scarf really. I can't stand anything very close/tight around my neck. I like the way it turned out, all bumpy and beautiful.
Yarn Crush monthly subscription box is a great value (the total retail value of this month's box was $59.97). And, a great way to try out those high-end yarns that you drool over, but never buy because you aren't sure what you would make out of them. I love that everything is in the box to make something beautiful!
Did you order the Yarn Crush subscription box? Did you choose the Warm, Cool, Neutral or Surprise Me box? What color yarn did you get in your box?