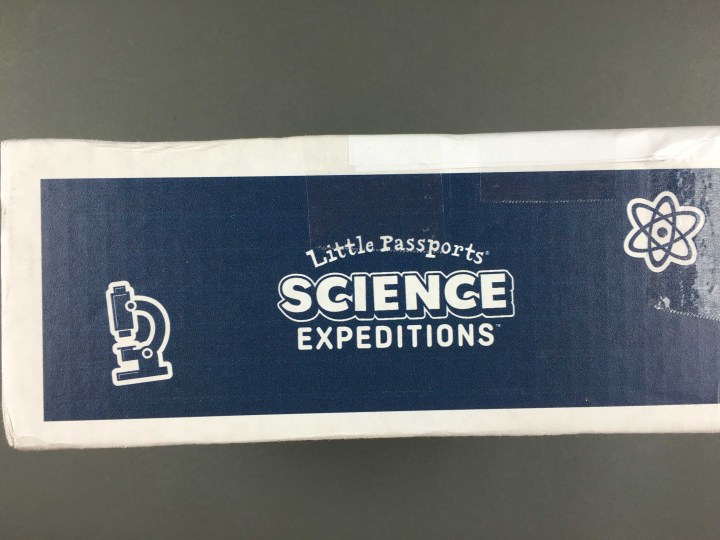 Little Passports Science Expeditions is a new subscription that brings the magic of hands-on science experiments and problem-solving to your home each month. Subscriptions cost $20.95 plus shipping each month with discounts available for longer term subscriptions. Shipping costs $3 to the USA, $4.50 to Canada, £3.95 to the UK and $5.50 to a number of other countries worldwide.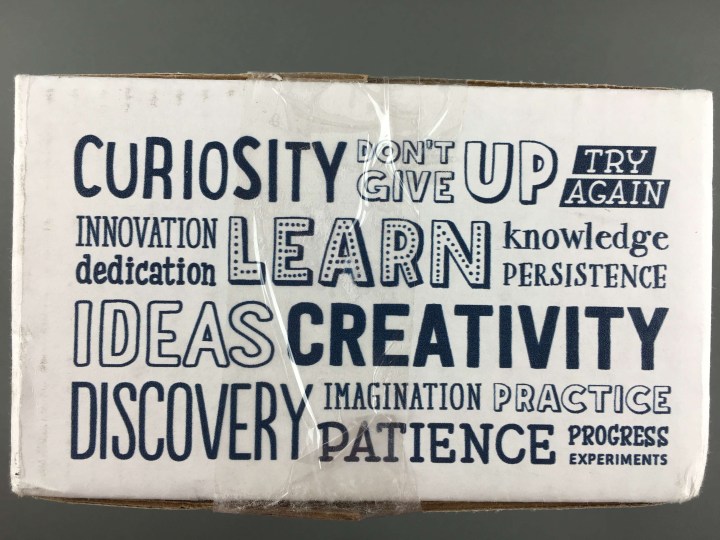 Intended to engage children 9 years old and up, this subscription does not shy away from using accurate terminology, which is great. Yet, the experiments are accessible to a younger crowd as well. My four-year-old and I both had a great time learning about this month's theme together, Forensic Science.
The Forensic Science box included a number of items that made my son feel like a real scientist, including a test tube, pipette, and lab notebook. I loved that it included a large zippered bag for storing all of our supplies.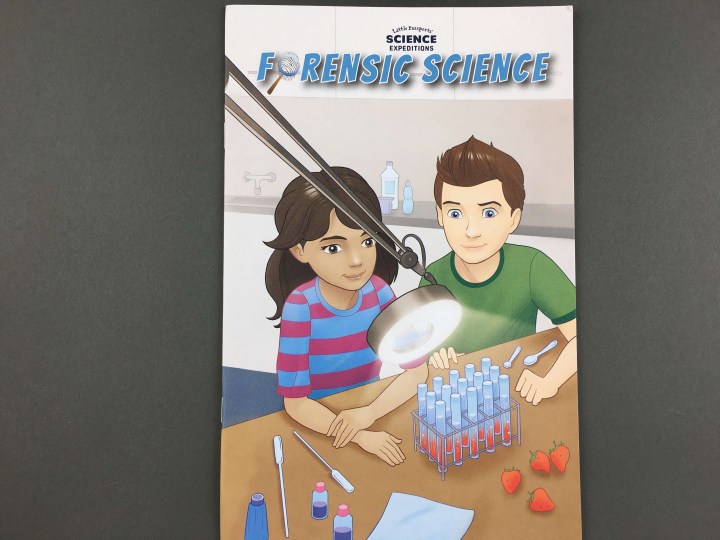 To get started, your kiddo will want to read through the enclosed magazine, "Little Passports Science Expeditions: Forensic Science."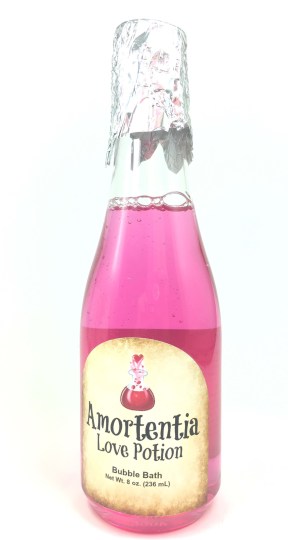 It does a great job at introducing Forensic Science and provides an engaging comic strip story that brings Forensic Science to life for kids.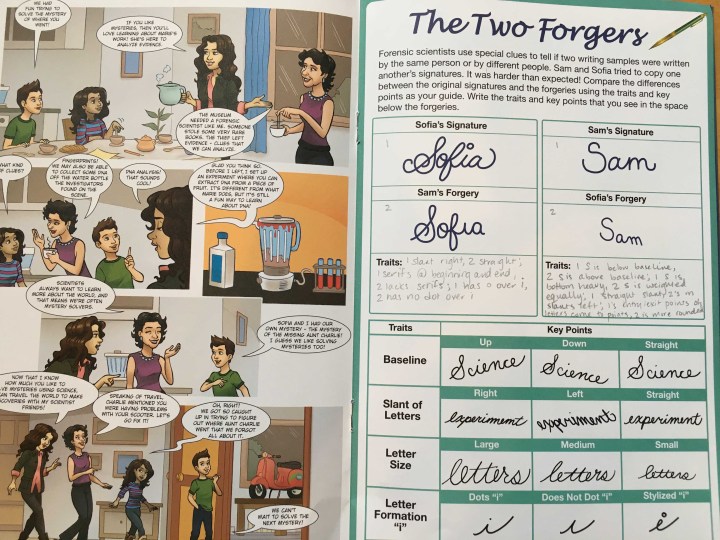 After reading through the story, kids can take a crack at Forensic Science themselves. First, they get to analyze signatures along with forgeries of signatures. In this activity, my son analyzed the signatures as I recorded his findings.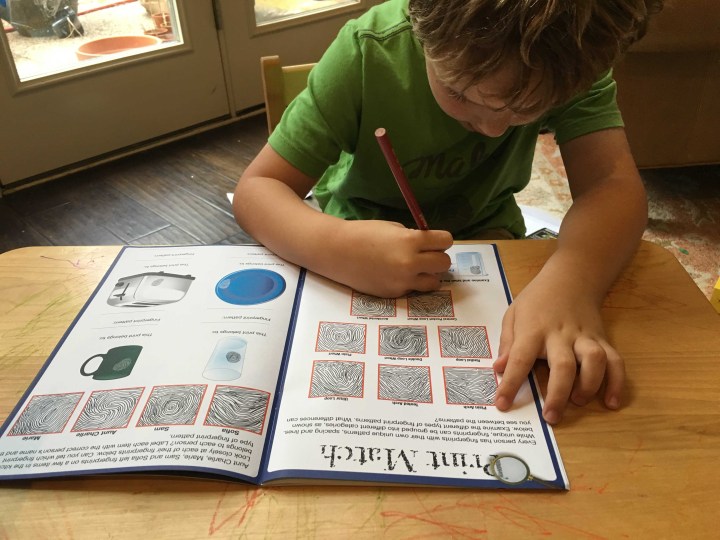 Next, he learned about characteristics of fingerprints and analyzed whose fingerprints were left on various items around the house.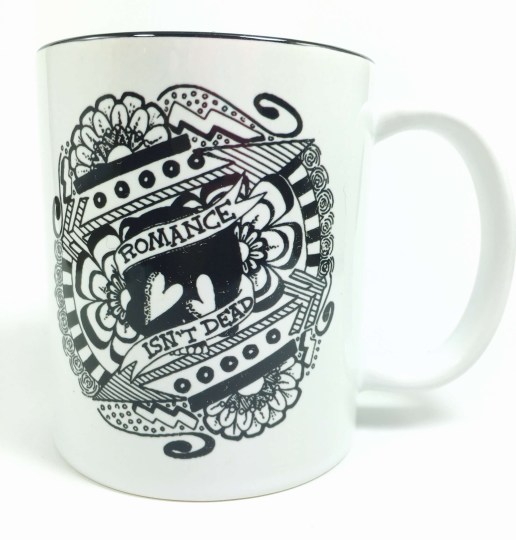 He enjoyed the next set of activities very much.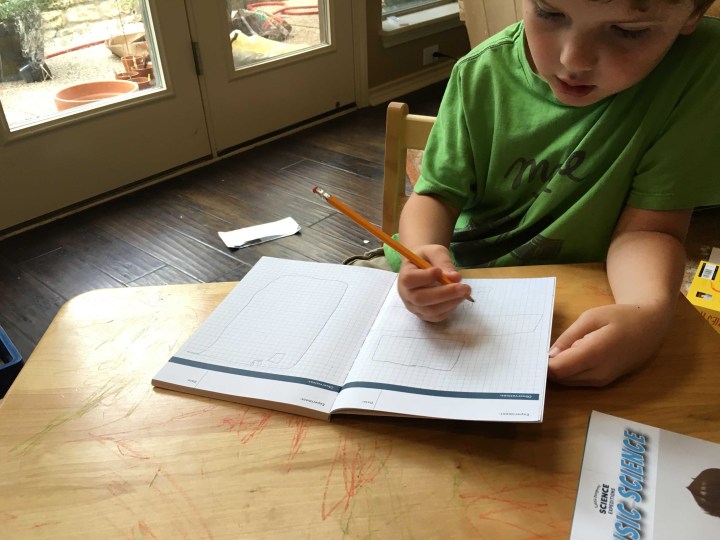 He used his lab notebook to create a map of our living room. Then, he found Sofia's and Sam's DNA fingerprint matches. Fun!
Finally, he learned different strategies for surveying a crime scene.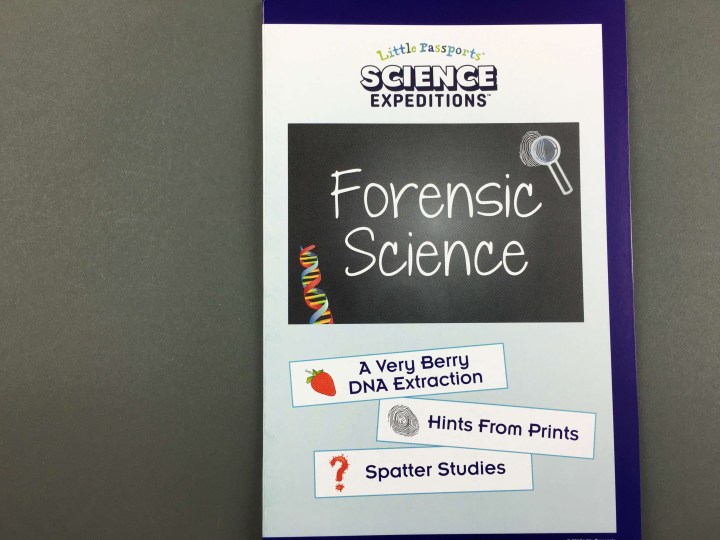 After reading and working through the enclosed Forensic Science packet, my son was excited to get to work on experiments of his own.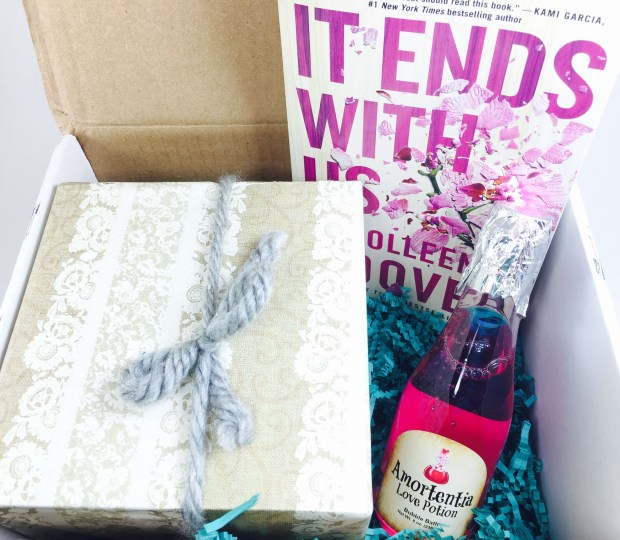 First up: extracting DNA from a strawberry. How cool!
The directions were clear and straightforward.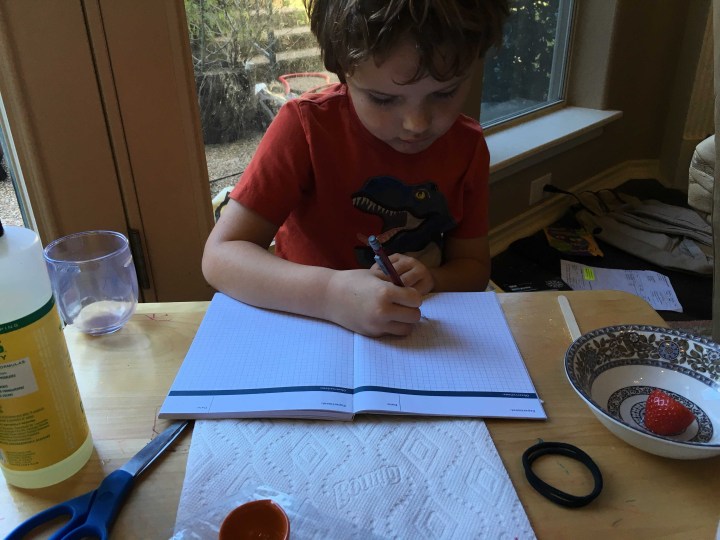 My son drew pictures in his lab notebook that depicted each step so that he could recreate his experiment later.
He started by combining dish soap and water in a cup.
Next, he smashed up a strawberry with his hands.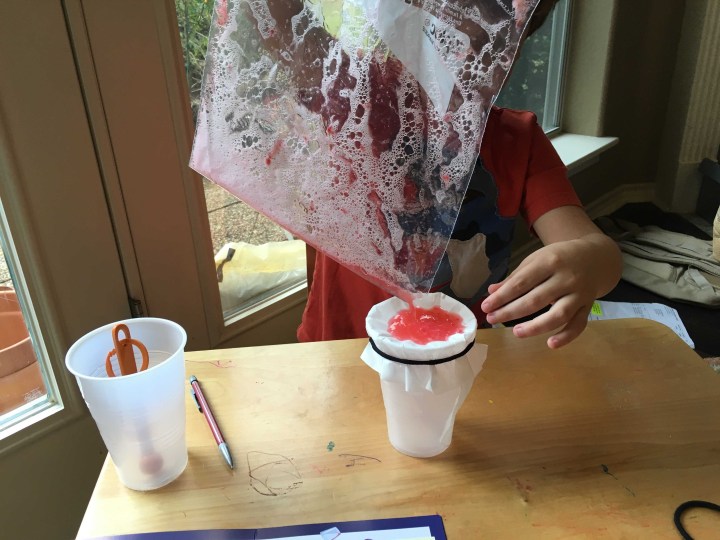 After adding in the dish soap mixture, he poured the solution onto a filter suspended over a cup.
He waited 10 minutes for some of the solution to pass through the filter to the cup underneath.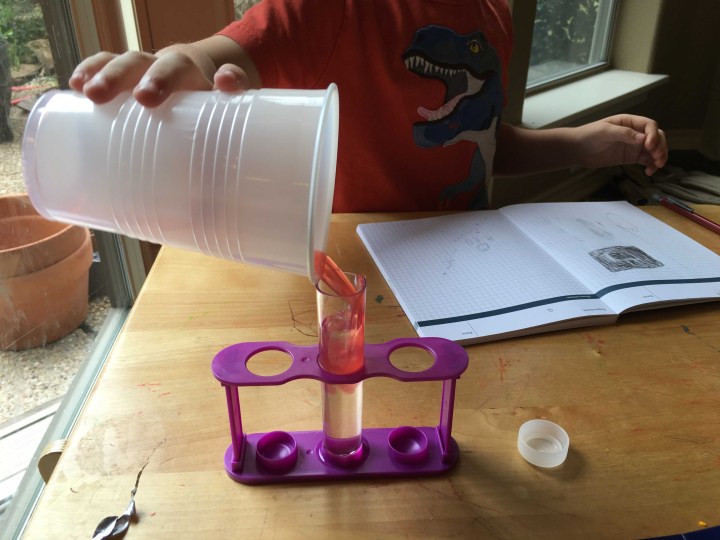 He combined this filtered liquid with rubbing alcohol and waited for the DNA to precipitate.
After about 10 minutes, the DNA looked like cotton candy. How neat!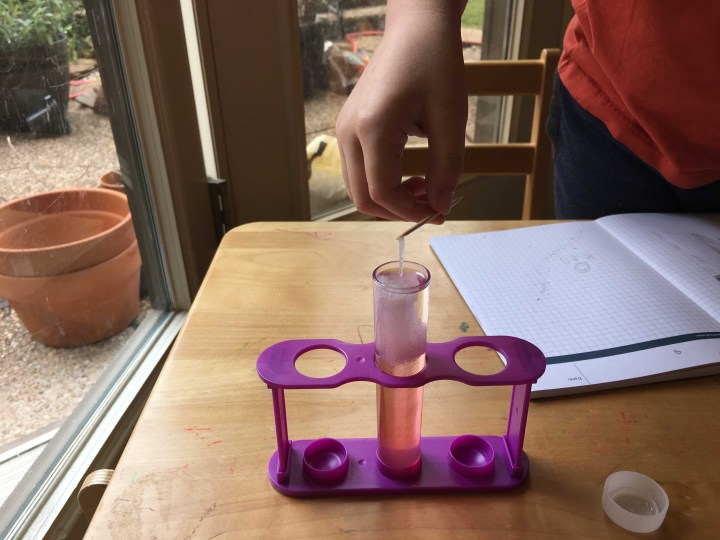 My son enjoyed playing with it. This was the first time my son had ever heard of DNA. It was all very abstract until he got to lift it up, see it and play with it. How cool!
Next, my son put his fingerprint knowledge to the test. He collected our family's prints and analyzed them all.
Then he put his own fingerprint on a balloon. I blew it up, and he analyzed his own fingerprint using the enclosed guide.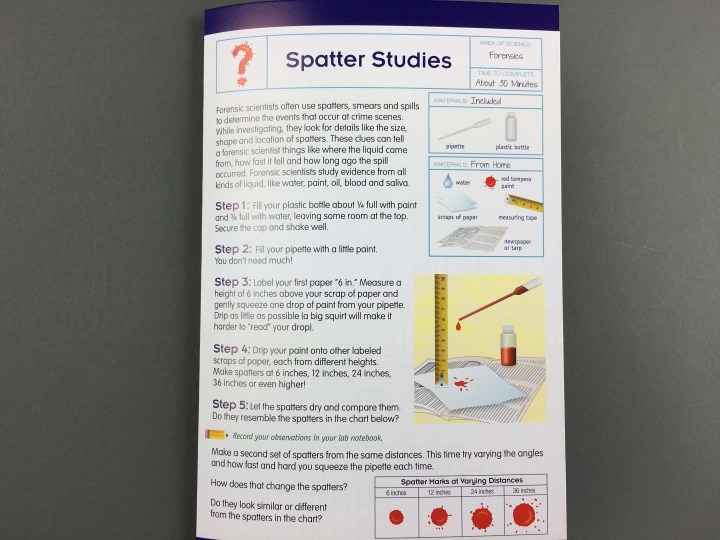 Since liquid is often found at crime scenes, it's important for forensic scientists to know where it came from.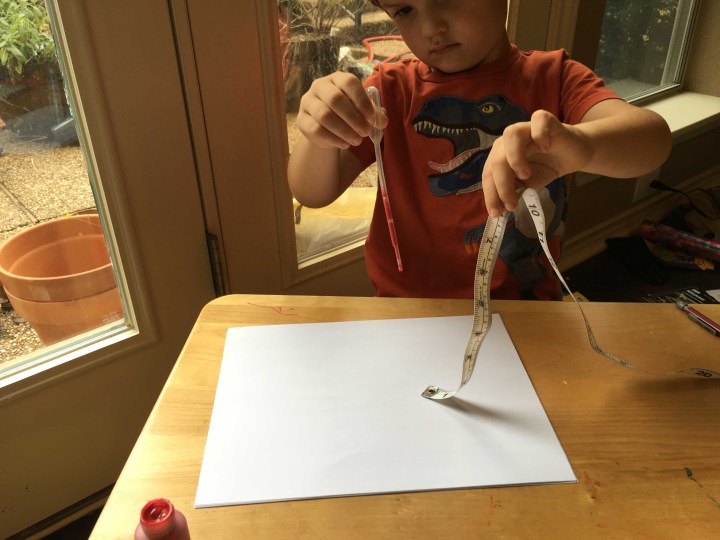 My son tried to do this activity himself, but I ended up helping him get his distances correct.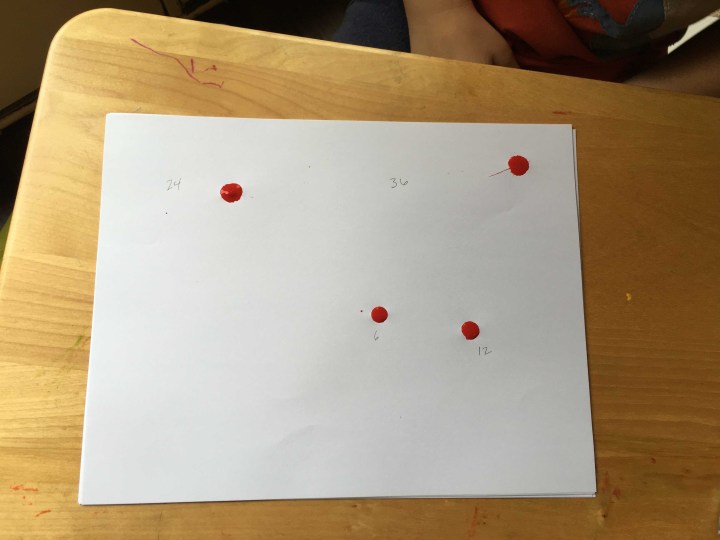 He enjoyed comparing the results of his splatters.
What a fun box! My son had a lot of fun completing this month's activities. They were all well thought out, clear, hands-on and engaging. While the subscription does not shy away from using accurate terminology, with just a little bit of scaffolding this box becomes great for younger learners as well. My son and I had a blast reading through the booklet and completing the activities together.
I have a feeling that we'll be investigating what other fruits and veggies we can extract DNA from in the near future.
Are you as excited as my son and I are about this new subscription? Do you plan to subscribe to Little Passports Science Expeditions?