Faithbox is a Christian company that seeks to help strengthen your faith in God with their devotional and bring joy with their great products from companies that do good. With the purchase of each box, they provide 3 meals for hungry children through a partnership with Rice Bowls. In 2015, they were able to provide over 100k meals for hungry children. Plus, you get a box full of cool stuff in the process.
You can subscribe to Faithbox with a month-to-month plan, a 3-month plan or a one-year plan. With the month-to-month plan, you pay $20 plus $5 shipping each month. The 3-month plan reduces the price per box to $19 plus $5 shipping when you pay for 3 months ahead of time. For the best price per box, you can pay for one year at a time and get each box for the price of $17 per box plus $5 shipping.
DEAL: Save $5 on your first box with coupon code SAVENOW.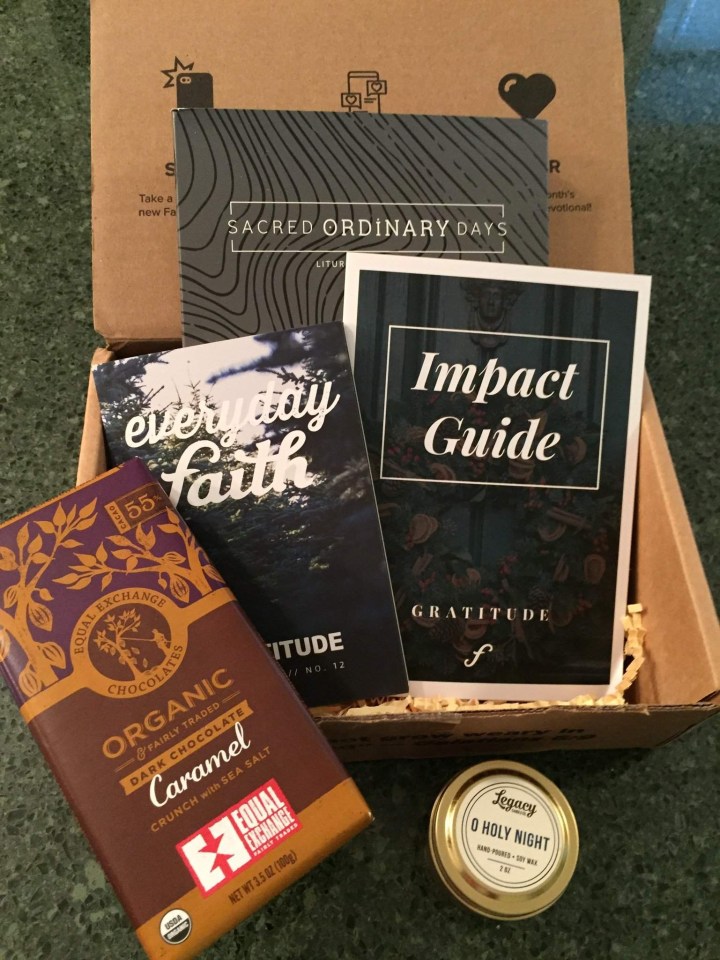 Faithbox will help you reexamine your faith and your relationship with God, ensuring that you are being the very best you that you can be in your walk with Christ. Well put together and thoughtful items in this box, can't wait until the next one comes.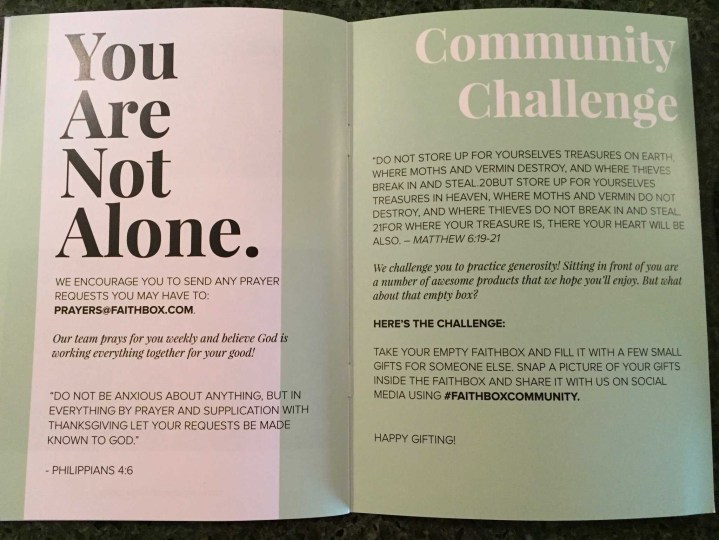 So I'm reading the Impact Guide and boy, oh, boy! Willie hit the nail on the head when he wrote "…Or maybe you are in a season that is stretching you thin and God is challenging you to place a greater emphasis on being thankful for what you do have rather than focusing on what you don't have." Willie was writing that for me! What a week this has been – everything is being stretched thin but thanks to Willie, I've got a new perspective. And I am truly thankful. Sometimes, I just need a reminder.
The Sacred Ordinary Days Liturgical Planner ($27) It's so nice to have the church calendar and a planner all in one place along with scripture verses and some space for journaling.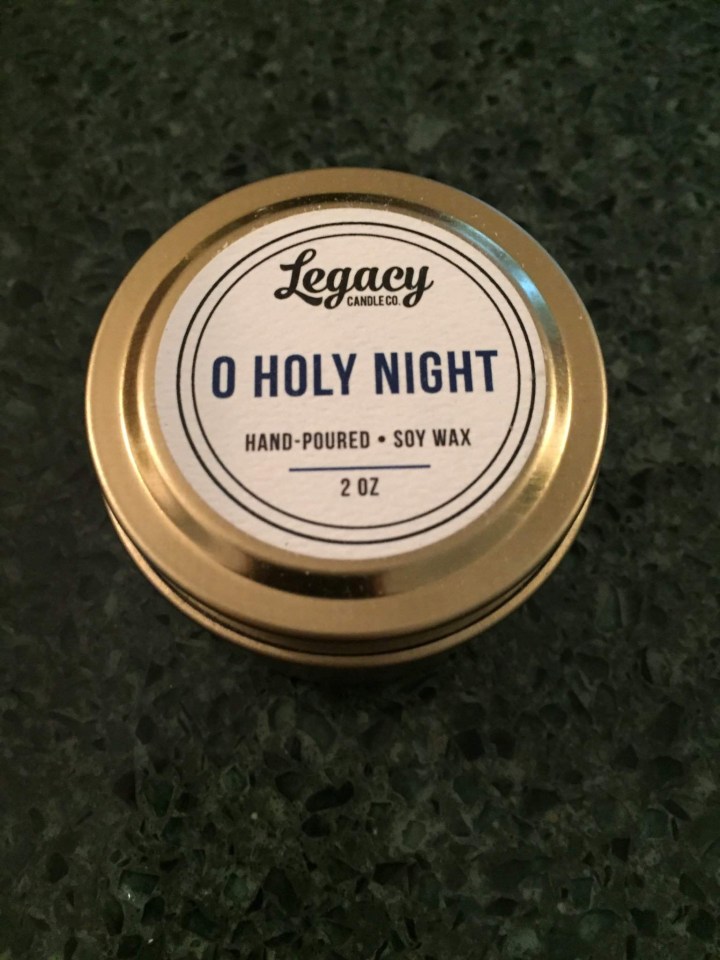 The Legacy Candle ($5) in my box is titled "O Holy Night." It's made by Legacy Candle Company and they support former victims of human trafficking. It smells so good.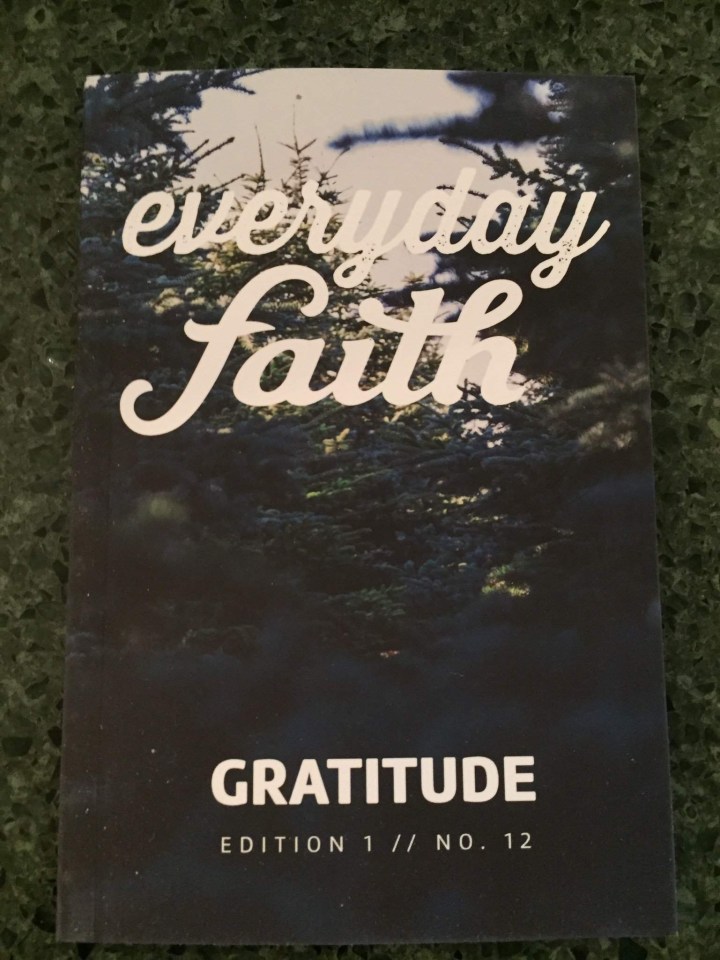 The book Everyday Faith, Gratitude is full of Bible verses and thought-provoking journal ideas with a little bit of room for writing down your notes. It's small enough to slip into your purse or pocket even. It's a "take it with you" kind of small book.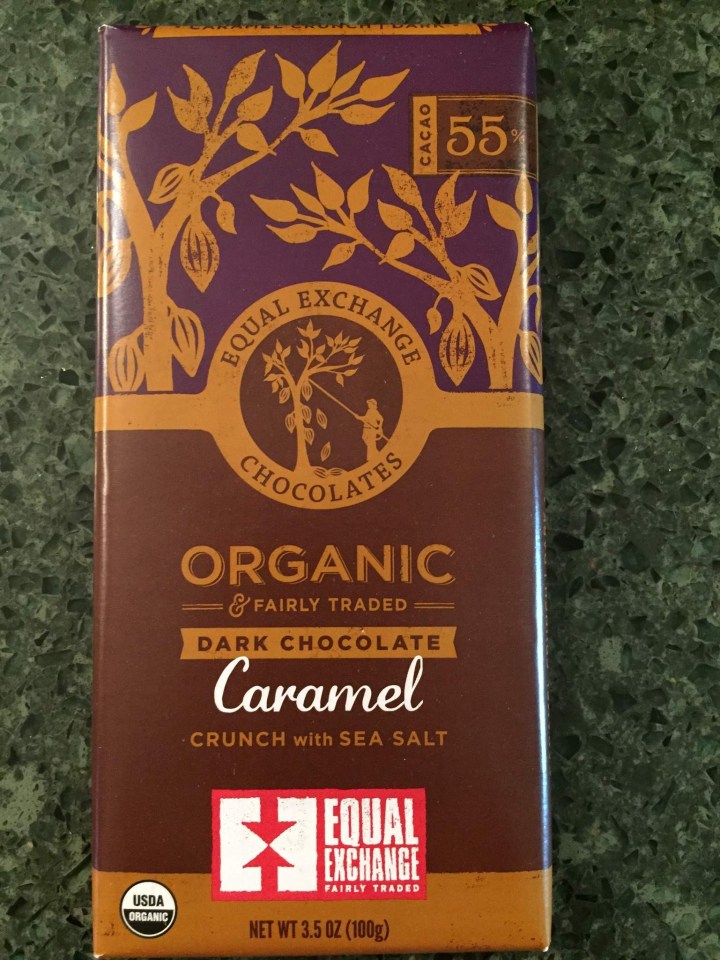 And finally, the sweetest item in the box is the bar of Equal Exchange Chocolate ($3.50) – pun intended. Can't wait to sample this candy. Equal Exchange is one of the oldest and largest cooperative in the country. They aren't designed to maximize profits, but rather to bring many of the rights and responsibilities we hold as citizens to the workplace.
At the end of the Impact Guide, there's a challenge which is to fill up the empty box with some gifts for someone else.  I can't wait to do this! There's a woman at church whose job is small but is a lot of help to me. I can't wait to surprise her.