Adidas Avenue A is a quarterly subscription box designed for women who are active and always on-the-go. The box contains premium running and training items – both apparel and footwear – that are handpicked by well-known fitness experts and fashion trend-setters.
This giant box arrived in an outer cardboard box. The box itself will be perfect to reuse underneath a bed!
Avenue A by Adidas box promises to bring items that meets style and performance at the same time. Instead of coming in a shoe box the shoes come in a divided section of the outer box. (This way you can't return your crazily discounted shoes for a refund.)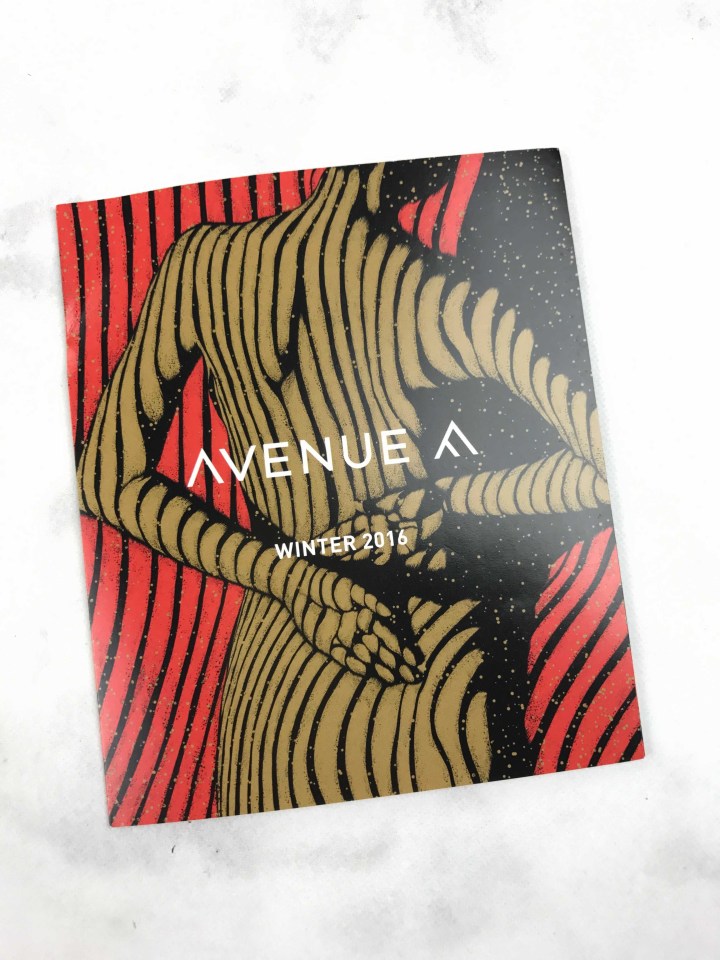 A tri-fold booklet contains the curator's letter and info about all the goodies!
This quarter, the box is curated by no other than Rita Ora!
You'll also find the items list inside the booklet.
When you sign up you have the opportunity to specify each size for every item. Shoes go up to size 12, apparel goes up to XL.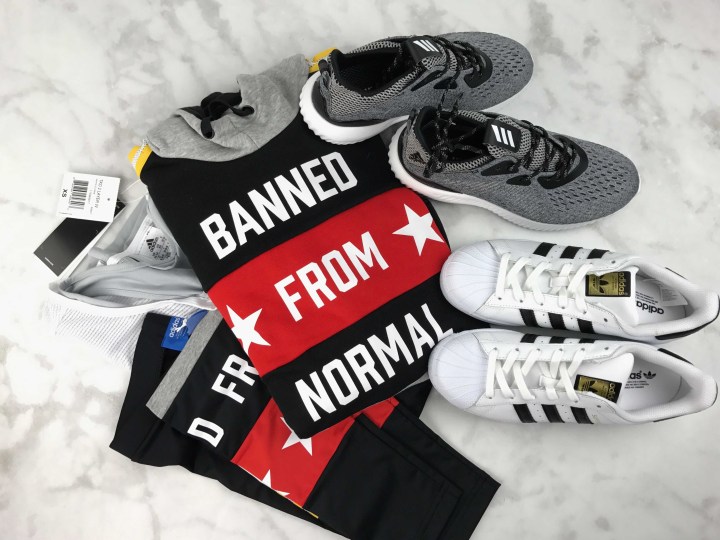 Everything in the Winter 2016 box! Rita's hopes for this box – that it would be something that any woman would feel comfortable and sexy in – probably weren't realized for most women upon unwrapping the tissue. This is definitely outside of normal, but that's the point!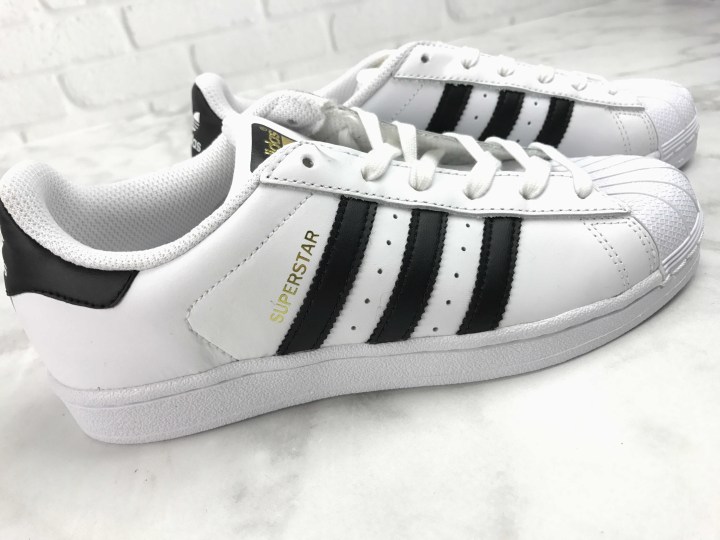 Adidas Originals Superstar Shoes ($80) Can I fangirl for a minute and tell you that I LOVE this classic style? Even though they're white?!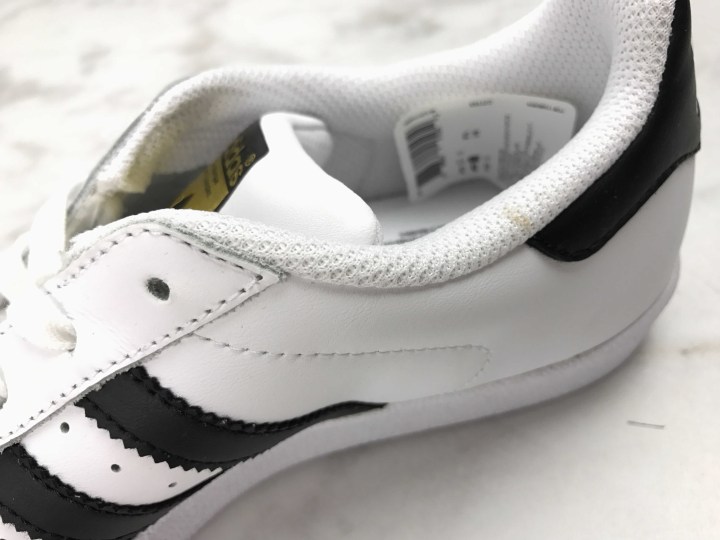 Mine had a bit of a stain on them out of the box. If it wasn't a shoe that will get hopelessly filthy the first time I wear them outside the house I might have an issue. I didn't, but it's worth mentioning.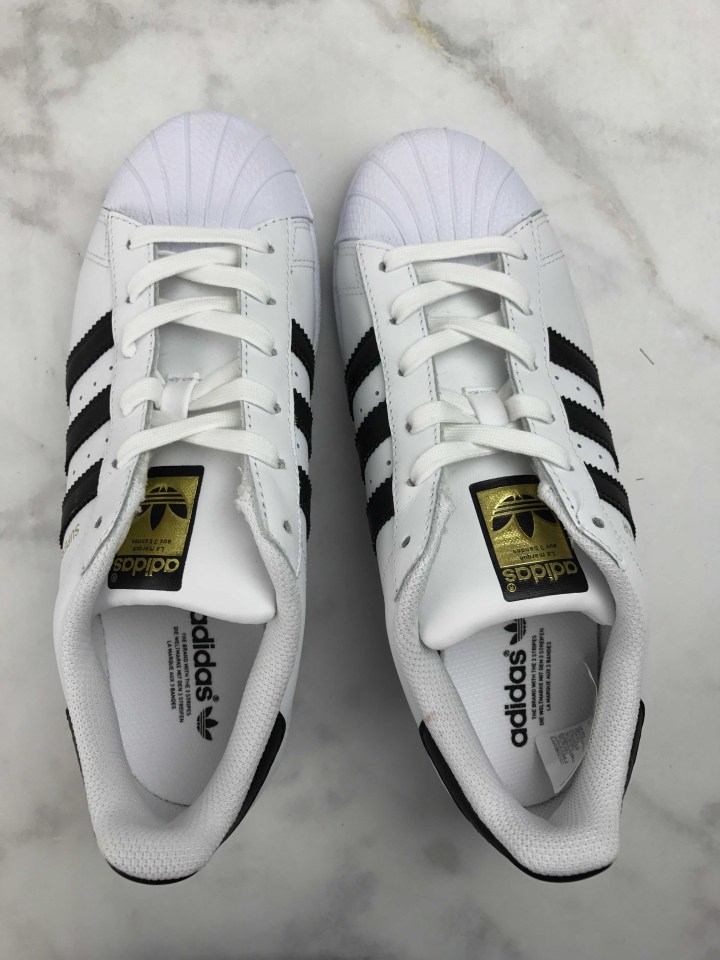 The classic toe shell and the gold logo really adds the finishing touch to these kicks. I am really happy they added a lifestyle shoe to the mix. 
I do have to warn that the soles are a bit inflexible but they have a nice tread on the bottom!
Another pair of shoes!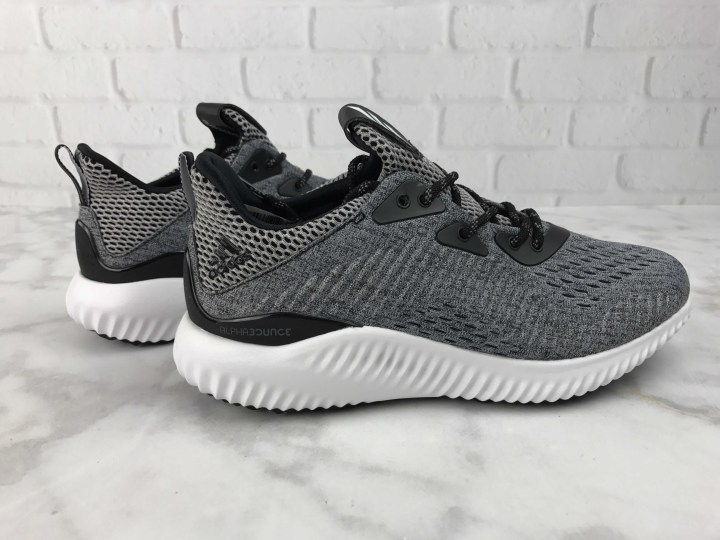 AlphaBOUNCE ($110) These shoes are super comfortable! Although the uppers are mesh they aren't as breezy as previous pairs, making them more winter appropriate. We knew this item would be in the box, but the fit and comfort are even better than I had anticipated. Despite the name I don't find it springy, which adds to the comfort for me.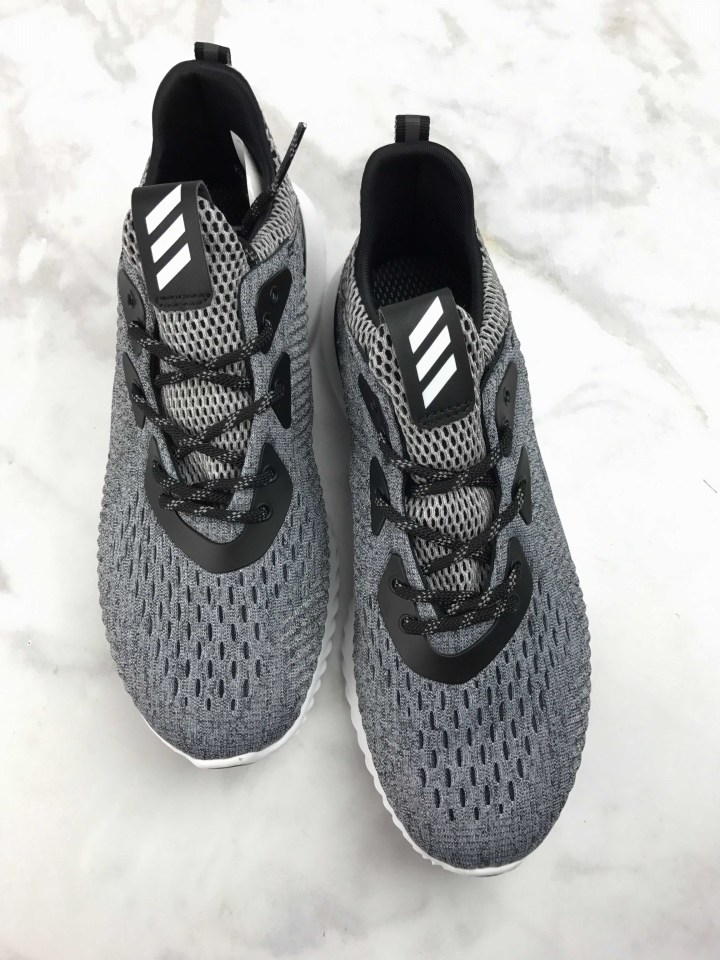 I love that the shoes come laced so I can strap them on right away. I had to size up on the previous pair of sneaks so as far as sizing these run on the larger side. There is more than enough room in the toebox for my wider 6.5 foot.  They are a touch long but comfortable.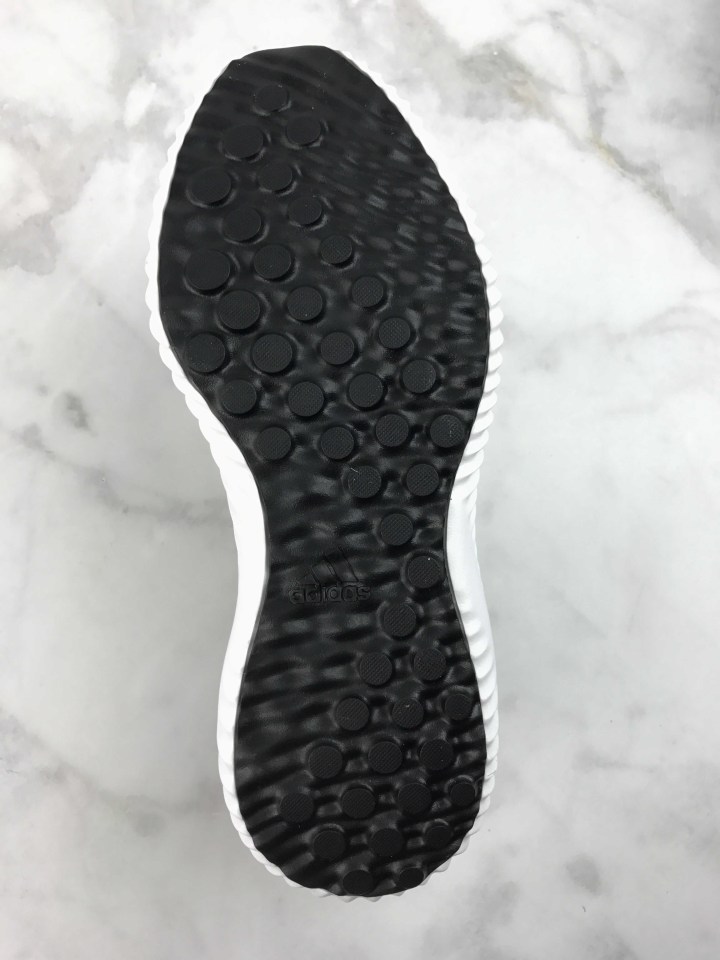 Excellent performance grip on the bottom. I should also add that all the adidas shoes have been excellent for stability control. I am an under-probate and haven't had a speck of an issue with all these shoes. I am impressed.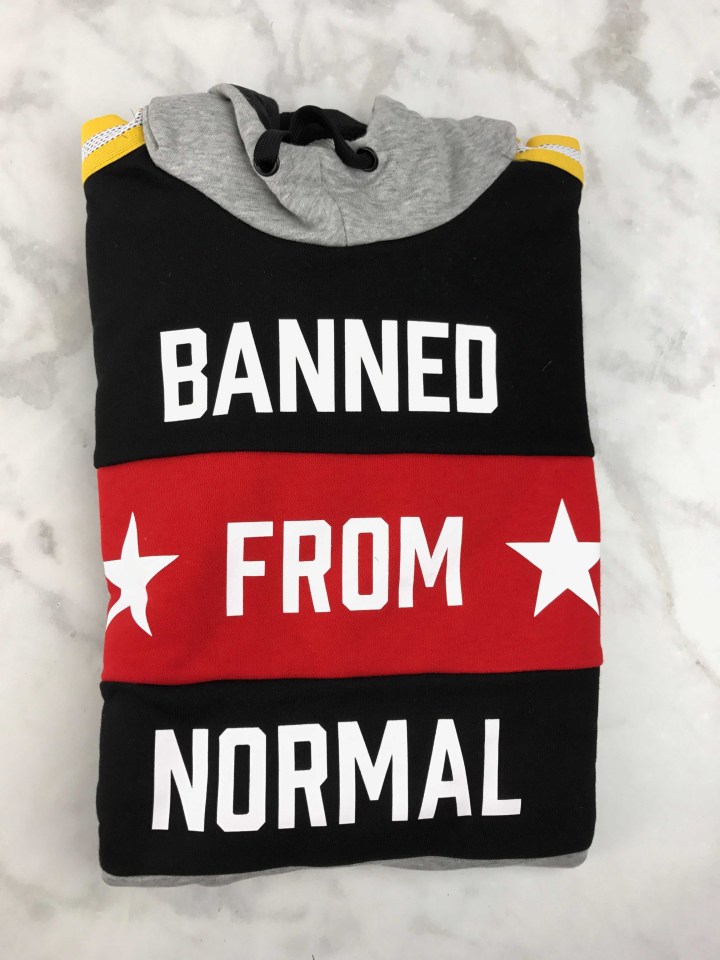 Rita Ora x Adidas Pullover Hoodie ($80) Wow.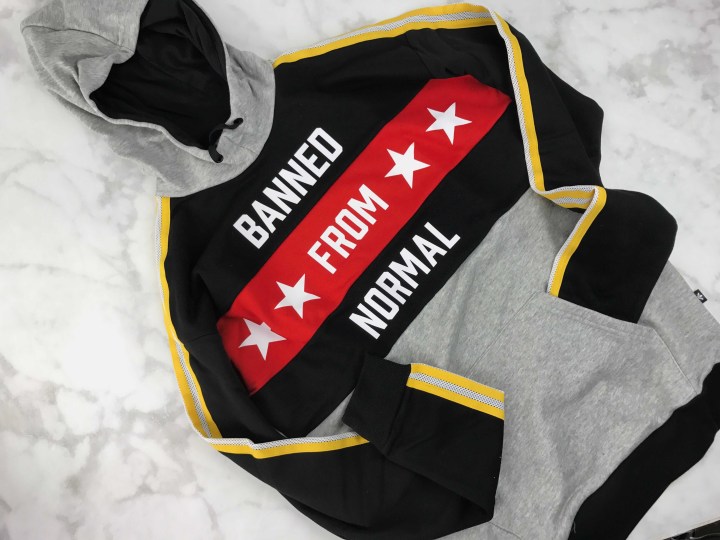 This hoodie is from Rita Ora's line. It is absolutely gigantic – the sleeves are extremely long for a slouchy casual look – I even think it might have been cut on a men's style.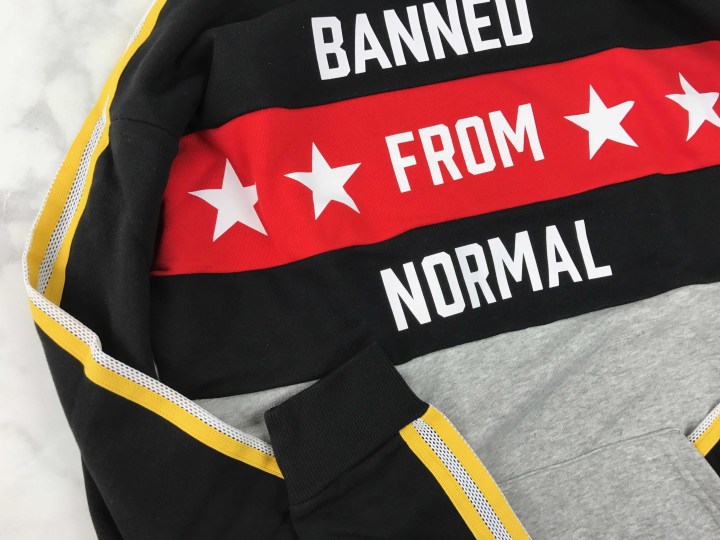 The hoodie features the BANNED FROM NORMAL motif with mesh inset between the yellow stripes. I don't even know what that means.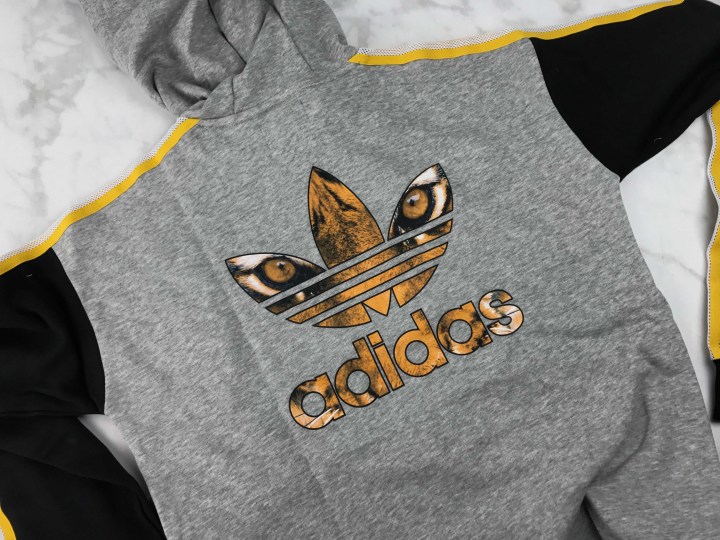 I love the back. They should put this tiger everywhere.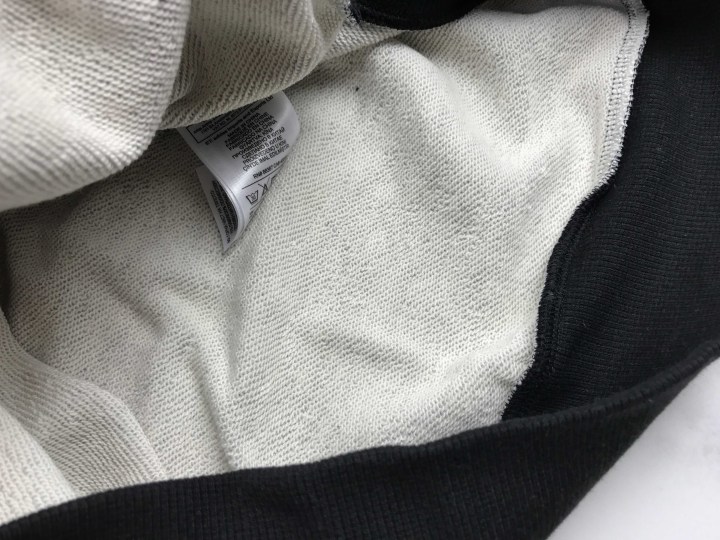 The inside is a nice French Terry.
This seems to be her style more than mine – we are chopping the sleeves off and she will be the raddest kid around (this is dress length on her).  I actually think the sweatshirt is great and would totally wear it, but probably not in public.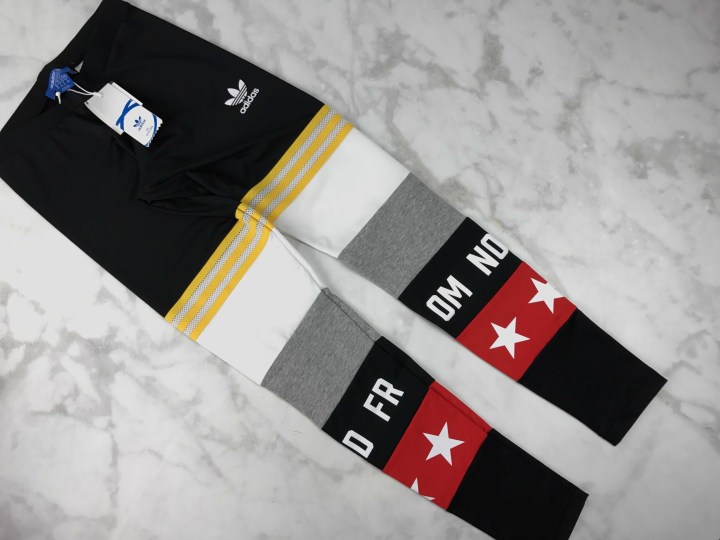 Rita Ora x Adidas  Tights ($39.99) These tights sport the same design, including thigh mesh. I think this is too much on pants. Or at least not together. Props to you if you can pull off the matching look. My name is neither Kylie Jenner nor Rita Ora, so that matchy matchy look isn't for me.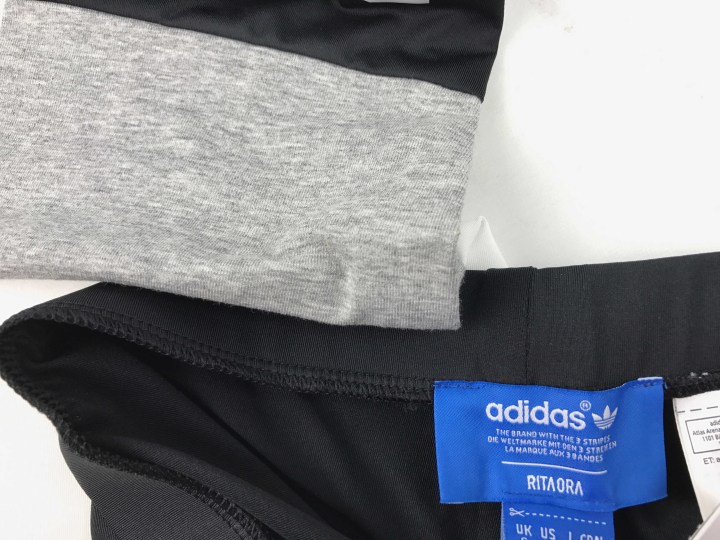 They are quite thin, with little weather protection, and on the small side. They may be better for a sporty look instead of actual workouts, although you can still achieve some goals in them.
Adidas 2 in 1 Top ($35?) This layered twofer is from the 2017 Fall/winter collection. That's pretty awesome!
The outer shell is white mesh with a banded keyhole opening in the back.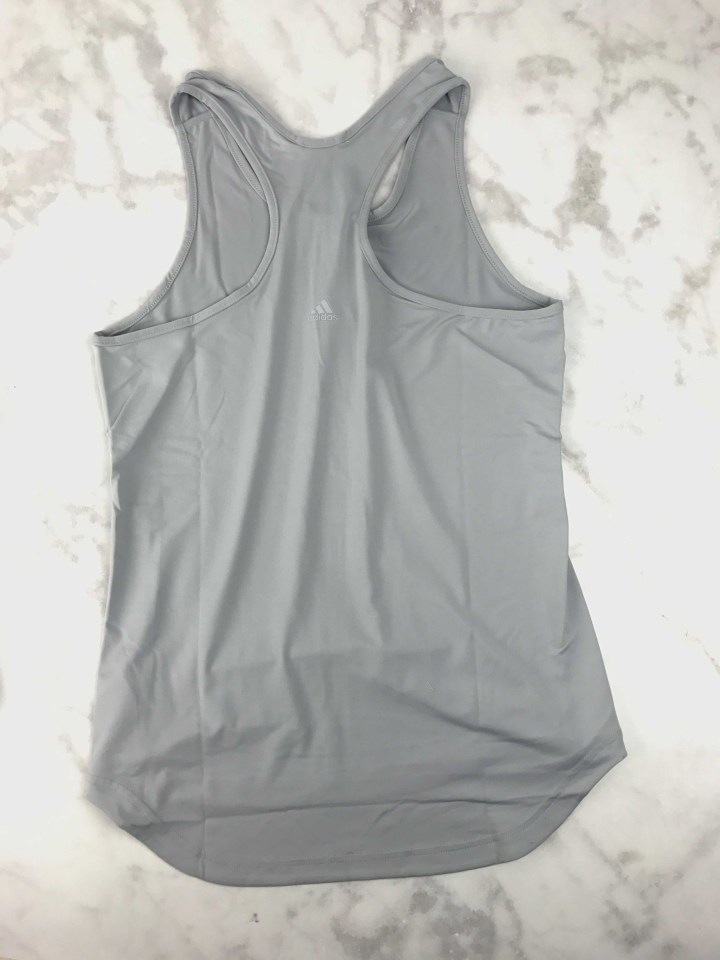 The inner tank is a light grey racer back! It's super comfy and the fabric is silky and slick. It's really a great top!
The styles in this box were rather fashion-forward, to say the least! I note in particular that the description on the site now says:
Get transformative style delivered right to your door. Subscribe and receive 4 celebrity-curated boxes a year, featuring seasonal apparel and must-have kicks.
I think this is a bit different of a focus than they originally conceived, so good to take note that the items selected may be on the more fashiony side. As long as I'm getting great value in the shoes, I'm willing to give the subscription box bottle a whirl and see what I end up with. One thing I do love is that this box feels actually curated by the celebrity – I really am not all that enthusiastic about a box that says it's celebrity curated but has no real connection to her style. I'm 100% ok with 2 footwear items in the box (please, running plus lifestyle every quarter). The tights are kind of a no for me, but I'm warming up to that hoodie.
The curator for the next box is Hannah Bronfman: a DJ, model, and entrepreneur from Manhattan. She is the co-founder of Beautified, a mobile app for finding last-minute beauty services. Bronfman is also an investor in multiple restaurants, including Hotel Griffou and Acme. (From Wikipedia) I spy some familiar kicks in her Instagram feed!
What did you think of the Winter 2016 Avenue A Box from Adidas?