TeeBlox is a pretty neat monthly t-shirt subscription box for a low price! Every month you'll receive a 100% authentic licensed shirt, plus 2 items from the collectible categories of posters, comic books, stickers, and decals. You'll choose a style when you sign up – Disney, Marvel, DC Comics, cartoons, games, movies & tv shows, beers & liquors, or "hot meex" (a mix of everything). Then you'll choose your size – Small to 2XL for all categories except for Disney. Disney sizes are Junior Small-XL – and check out for $12.99 monthly plus $2.50 shipping.
TeeBlox recently introduced new categories of licensed shirts they are offering for their subscription. Check out the t-shirt in Brandy's October Review and the shirts in the Teeblox Bloggers Mega Review.
The November TeeBlox is full of Marvel items!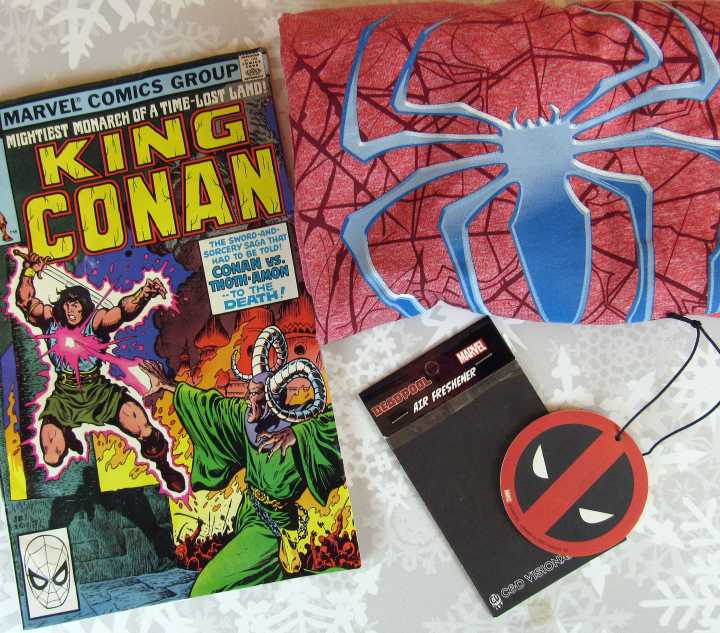 DEAL: Save 15% on your first month with coupon code HELLOSUBSCRIPTION.
T: Another Deadpool air freshener! The cinnamon smell reminds me of Snickerdoodles. Does anyone else think that Deadpool and Christmas go together?
PA Anna: Sorry, I can't picture Deadpool and Christmas together. Nope. Not at all.
We received the Marvel Extreme Deadpool Mask Air Freshener ($6.95) in the October Marvel Teeblox. It is one of the two free goodies sent out each month. I'm hoping next month we will receive something different!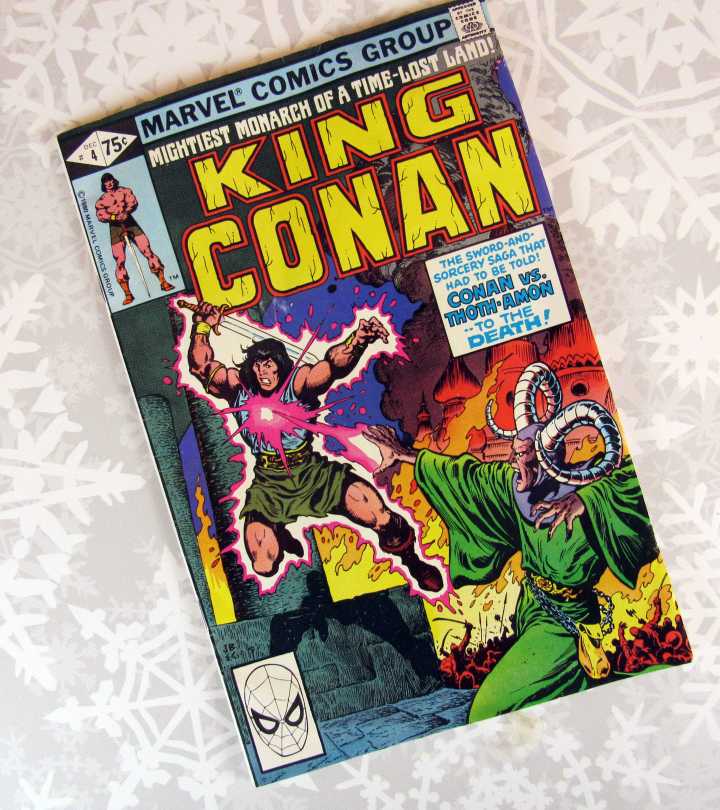 T: King Conan! The cover date for this comic is December 1980. 1980!!! I've never read a comic this old, so it was amazing to see the how different comic art was back then. It even smelled old which added to the flair. I've only seen old style comics in pictures or online, so I'm taking pride in owning one.
PA Anna: "This old!" I was a child in 1980 🙂 The Conan the King (1980) # 4 Shadows in the Skull ($0.75) is about Conan vs. Thoth-Amon. It looks as thought the beautiful women are on the bad team in this comic.
FYI – You may want to pull out possible objectionable material if you are ordering TeeBlox for the under 18 crowd. Sometimes there's a weird poster, etc.
PA Anna: Saturday morning cartoons were THE BEST!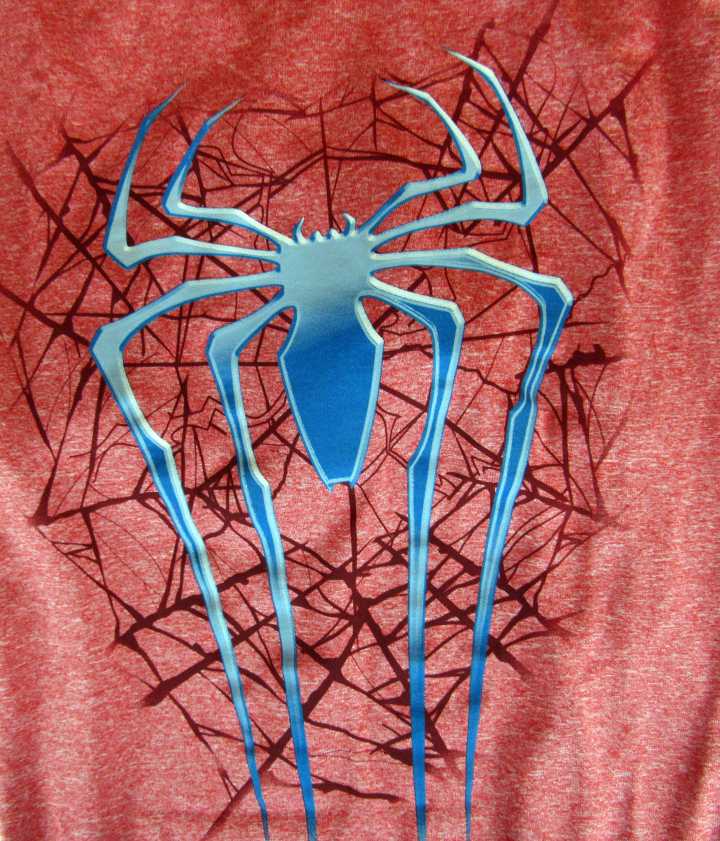 T: This is an interesting shirt. It features the trademark Spider-Man symbol on the front with webbing around it. This shirt is more of an exercise/running/workout shirt than an everyday shirt. The back felt tight around my shoulders, which made it difficult to move my arms forward or up. That defeats the purpose of the shirt, which stinks, but the design is nice.
PA Anna: T, welcome to the world of Polyester. It does feel like a workout shirt.
T: The shirt was not the best this time. The comic is good. Overall, I love my Marvel t-shirts from Teeblox.
PA Anna: We look forward to Teeblox every month. We would love to see some of the new freebies in our Teeblox such as socks.T loves receiving their shirts because they contain designs that are hard to find in stores. It's an inexpensive subscription that is a great choice for a teenage boy that loves Marvel.  If you're a huge Marvel fan, don't forget to check out all the best subscription boxes for MARVEL fans!
Did you receive a November TeeBlox? What genre? Share below!