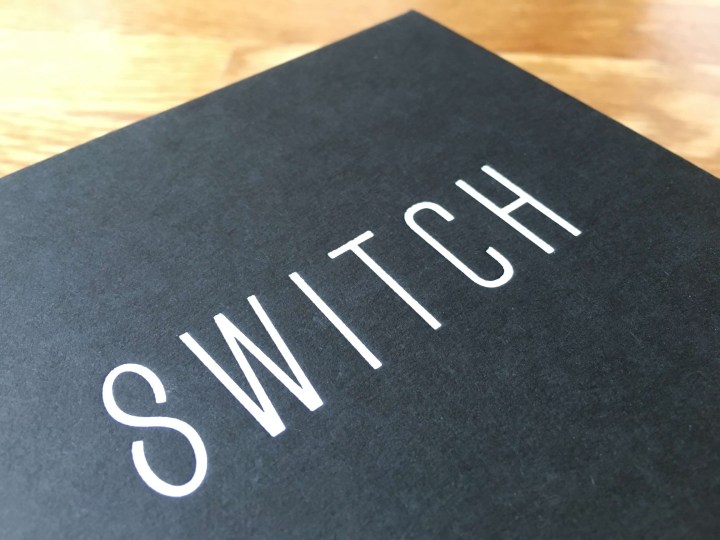 Switch is a jewelry subscription that lets you rent designer jewelry starting at $29 a month. You can wear the pieces for as long as you like, or switch them out for new piece(s) whenever you want. Shipping is always free. The jewelry, which includes pieces by Hermes, Alexander McQueen, and Celine, among others, averages $500 and includes necklaces, bracelets, and earrings. Jewelry is cleaned between wearers.
I have always admired fun statement jewelry on other women, but I can never bring myself to commit to a piece.  Who wants to spend $500 on a piece of jewelry that you may wear only a few times before it goes out of fashion? But who wouldn't like having an amazing new piece whenever you go out? Not being an heiress or a tech entrepreneur, and having a firm frugality-is-golden Midwestern upbringing, I figured this kind of jewelry was out of reach for me.  Enter Switch, which lets you have fun without the commitment. It's like internet dating for jewelry!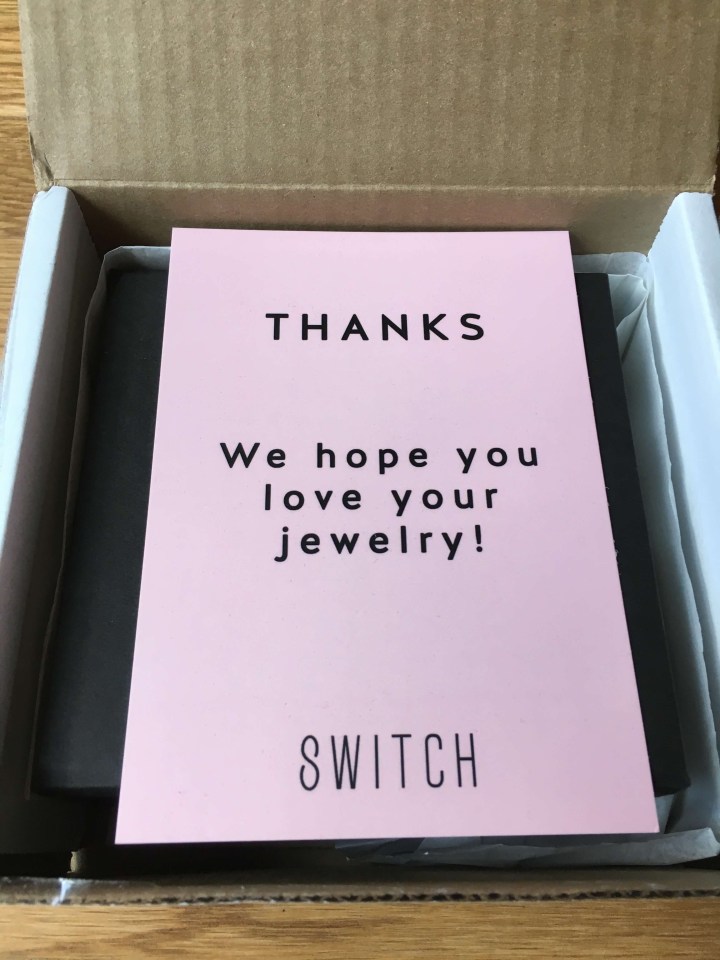 DEAL: Get half off your first month on any plan. Use coupon code HELLOHALF.
Sign-up is simple. You look through the collection and pick the pieces you like, ranking them in preferred order.  Switch sends you your top-ranked piece that's available. Wear it as long as you like, and send it back when you're ready for something new. I have the platinum plan, which allows me to have two pieces at any one time for $39 a month. My jewelry came in the mail in just a couple of days.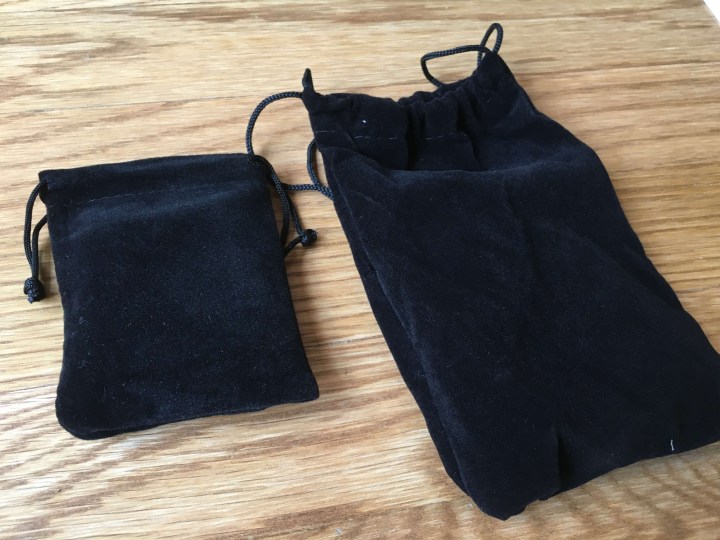 Everything was all snuggled up in secure packaging. Can I just tell you how exciting it is to open tiny velvet pouches containing gorgeous jewelry that costs less than my monthly Starbucks habit?
Fun stuff from my wish list this month!  I got the Valentino Medium Rockstud Leather Bracelet in Black ($295 retail value) and the David Yurman Mini Cable Hoop Earrings ($450 retail value).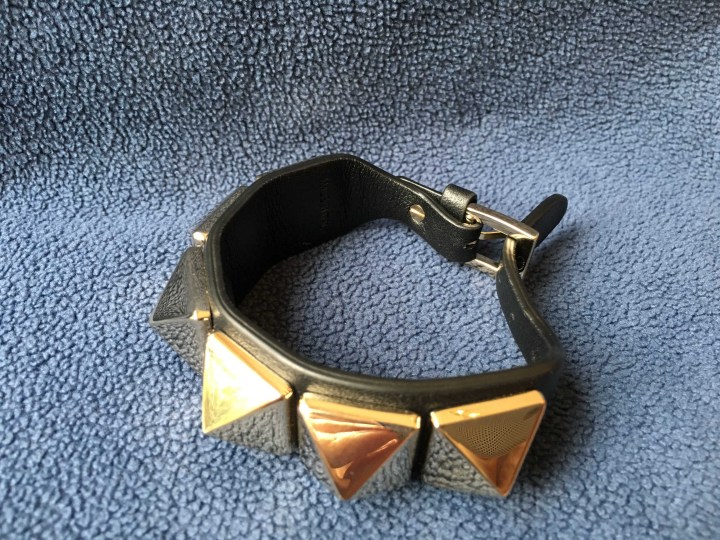 The immediate response to anyone who sees this bracelet is "Wow, that's so cool!"  This is from the current Valentino collection, which is part of the "modernizing" of the classic Valentino look.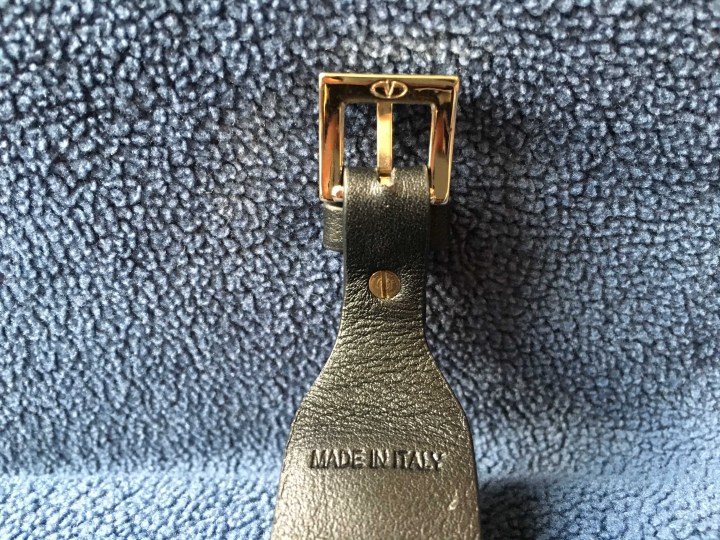 The bracelet is calfskin leather and the studs are a zinc-alloy gold-tone metal. It is 8.5″ long and 1″ wide. You can see the Valentino logo on the back of the buckle.
I love this bracelet! It's obviously a statement-maker, but the simple design pairs well with lots of clothing. I really love to wear it with something preppy for the contrast. Or you could go all rock star with it and match it with more edgy attire. It absolutely goes with a pantsuit, too.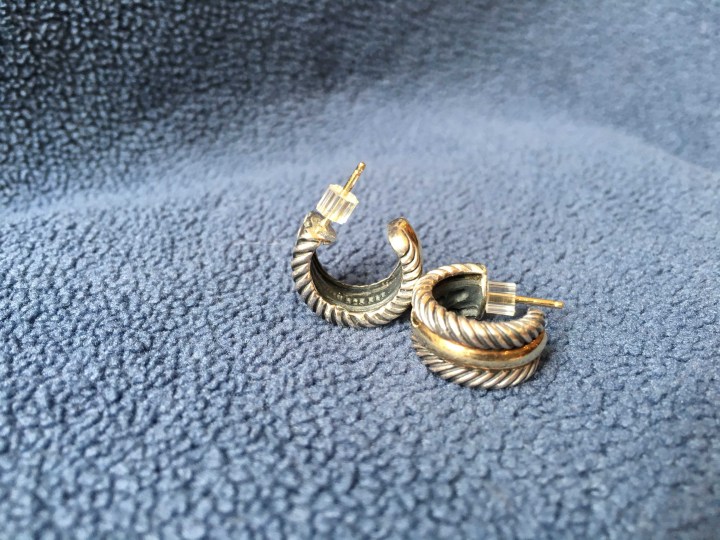 The next piece I received was the David Yurman Mini Cable Hoop Earrings. How's that for contrast?!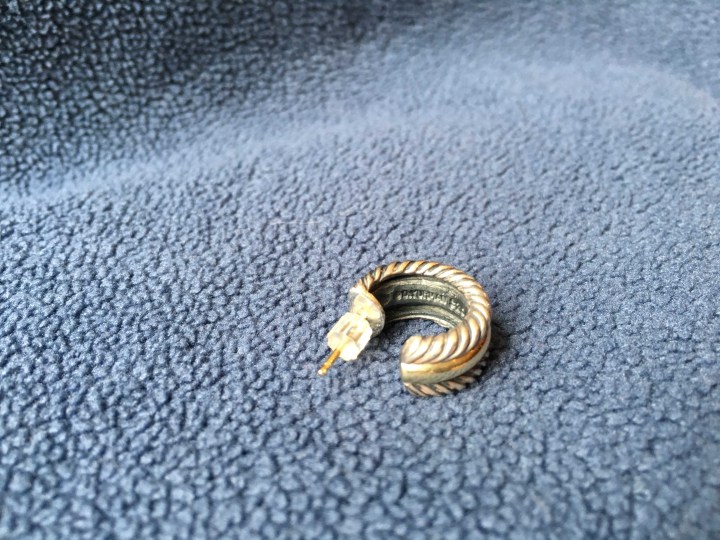 It doesn't get any more classic than David Yurman cable earrings. These are sterling silver and 14K gold. The drop is .75″ and the width is .45″. If you squint at the picture, you can see the D. Yurman stamp on the inside of the hoop.  These earrings came with a plastic back instead of the metal clutch back shown on the website.
These are lovely earrings.  They are heavy, and the sub of the plastic back for the original clasp back was a negative–they really hung on your lobes without the support of a proper back.  This piece is actually the kind of jewelry that I would consider buying, as it will never go out of style and you could wear it to the office every day.  I loved having the opportunity to test these earrings out with my own wardrobe, though, and I have a couple of meetings ahead of me that I'm excited to wear them to.  And, yes, I totally wore them with the stud bracelet one night out.
Overall, Switch was a really fun experience. I really like the variety of pieces available. I love the idea that I can go "shopping" for new jewelry anytime I want. Given the retail prices of the pieces (over $600 total in this shipment), the $39/month is very reasonable value. With that money, I can either buy a new piece of jewelry every 1-2 years, or I can have a new piece whenever I want. For this kind of statement jewelry that may have a shelf life of your interest or that of the fashion world's, the economics really do weigh in favor of renting. I can't wait to get my next Switch!
Have you tried Switch? Which piece is next in your queue?  Let us know in the comments below!