I'm so excited to be reviewing a great Korean sheet mask box called Piibu! It's a larger mask box, sending 8-10 masks for $15 a month – that's a great value, and what got me most curious about Piibu is they actually curate a bit of a theme every month, whether it's fruit/food themed, color, etc. Wait until you see the theme they came up with for November!
It's… character masks! Yes, just in time for Halloween (mine actually arrived ON Halloween), the November box features all masks that have those crazy characters printed on them. I'm so excited to get a closer look at these. Beware: editor selfie at the end of this review!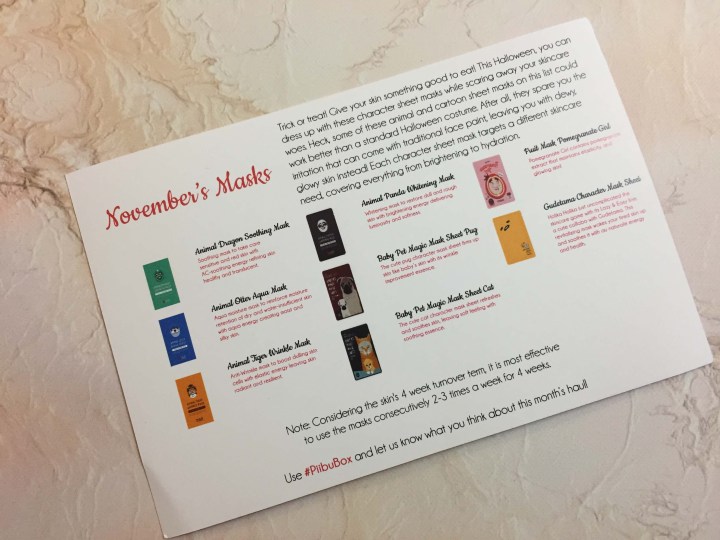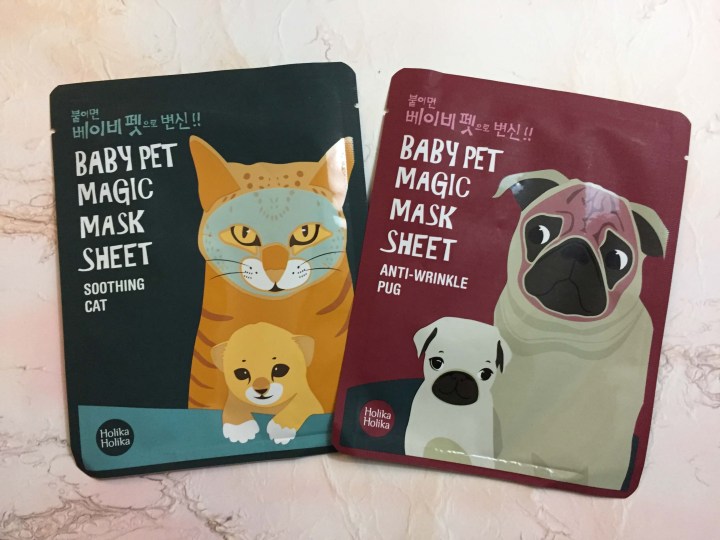 Holika Holika Soothing Cat Mask I LOVE Holika Holika. They have a bit of a "magical girl" style to their makeup that reminds me a lot of Majolica Majorca from Japan. I still have a sparkly cat highlighter I bought years ago. This mask has ingredients printed in English, and among them are tea tree oil, calendula, aloe, and camellia.
Holika Holika Anti Wrinkle Pug Mask Haha, how perfect is this pug mask being anti-wrinkle? The English ingredients list includes collagen.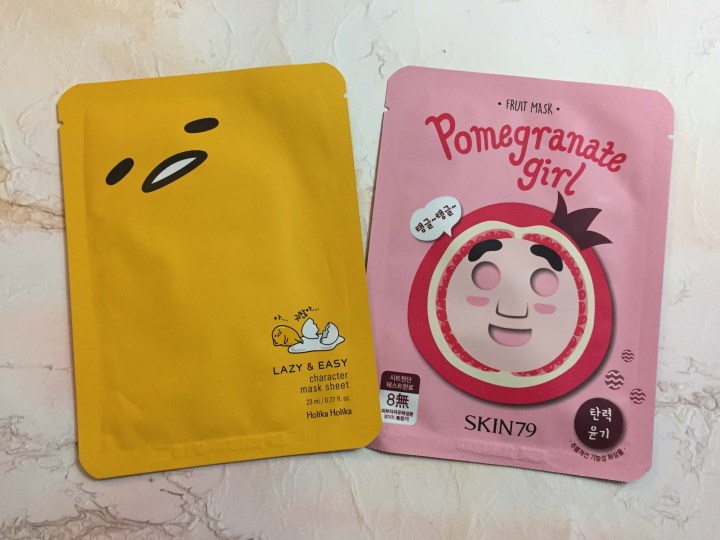 Holika Holika Gudetama Mask This mask helps restore the balance of tired skin and helps soothe it. The English ingredients list includes egg yolk extract (how fitting!), aloe, camellia, calendula, and tea tree oil.
Skin79 Pomegranate Fruit Mask Skin79 makes one of my favorite BB creams. I have been into K-beauty for about ten years now. Back in my day, we had to use Ebay and GMarket to get BB creams and sheet masks – now they're at Sephora. But their BB creams are awesome, so I am really excited to try one of their sheet masks! This fruit mask includes extracts from avocado, banana, kiwi, and mandarin.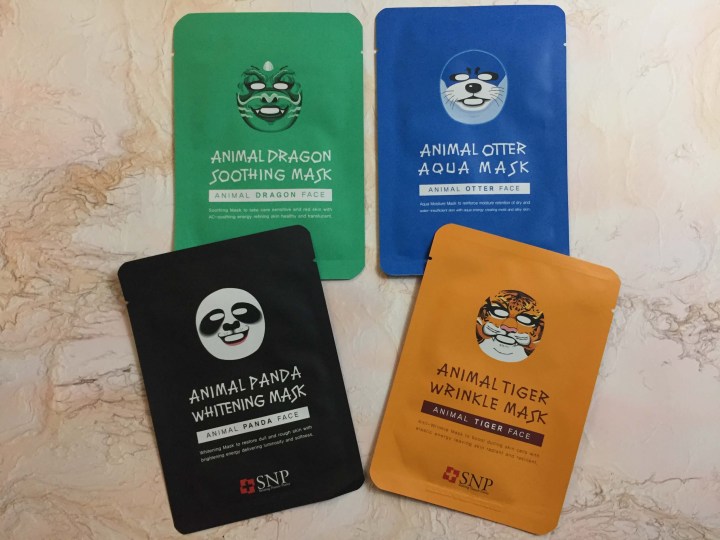 We were also sent four masks by SNP, which is a new brand to me!
Animal Dragon Soothing Mask Featuring coconut, licorice, camellia, rosemary, and fruit extracts.
Animal Otter Aqua Mask EEE! Otters are my favorite animal – my Patronus would totally be a sea otter. This mask features chestnut and coconut extracts.
Animal Panda Whitening Mask This mask includes coconut, witch hazel, and cranberry.
Animal Tiger Wrinkle Mask And finally, this mask includes coconut, evening primrose, blueberry, and camellia extracts.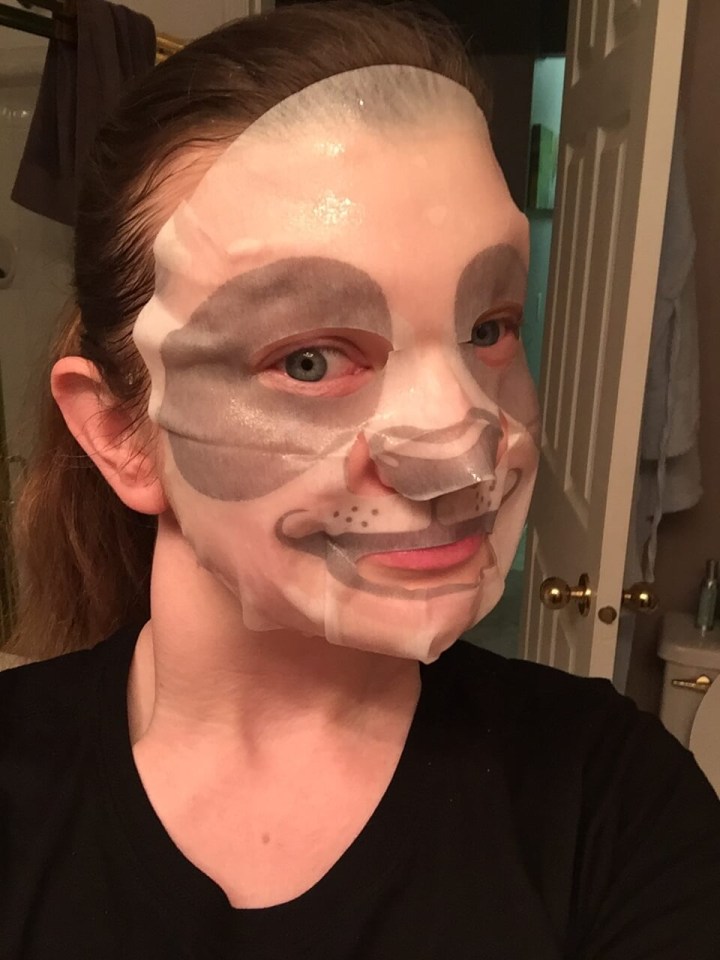 I promised a ridiculous selfie – this is the panda mask! I found the overall size of the mask to fit my face well, but the eyes were a bit close together and I was worried about getting serum in my eyes. Also, these masks never fit around my mouth well. Still, this was super cute and smelled great. I love massaging the leftover serum into my skin afterward, the bit of massaging makes my skin pink and glowy!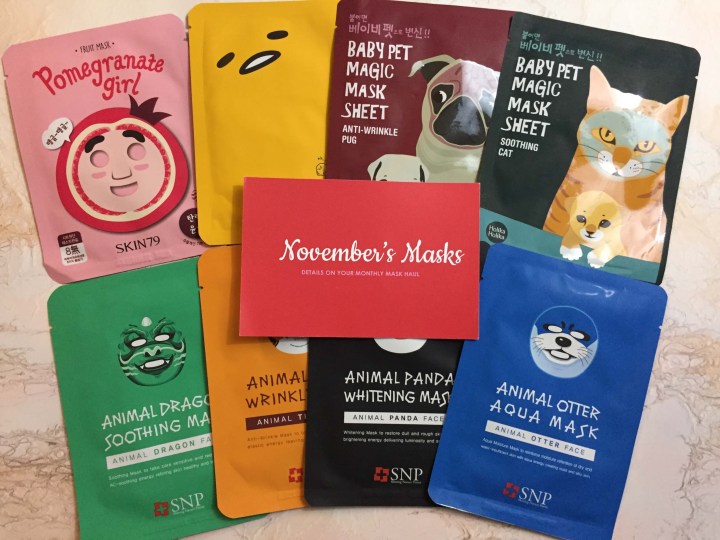 I'm seriously impressed with my first month of Piibu! There were so many masks in all different kinds and designs. These particular masks make me giggle because of the funny faces, but the benefits are great this time of year when my skin is getting dryer and harder to keep happy.
What did you think of the November Piibu box?