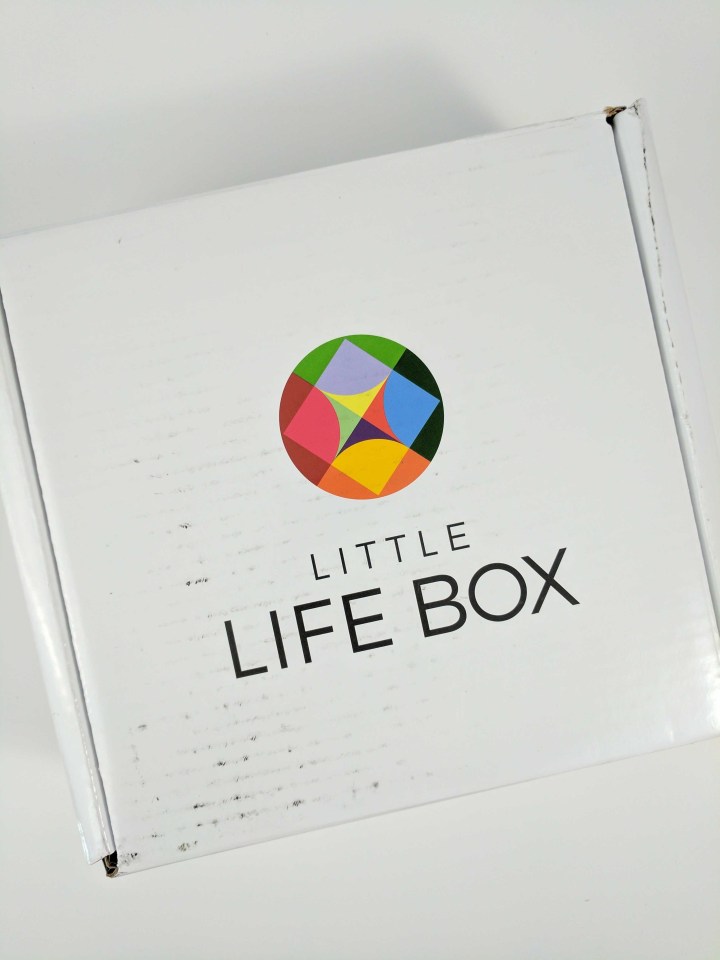 Little Life Box is a Canadian monthly healthy box subscription. For 19$ CAD, you will receive 8 to 12 items ranging from snacks to beauty products and supplements. The items are a mix of sample and full-size products. When you subscribe, you choose between the original and the vegan box. This review is for the original box!
Note: as this box is Canadian and most of the products are Canadian as well, all the price are given in Canadian Dollars.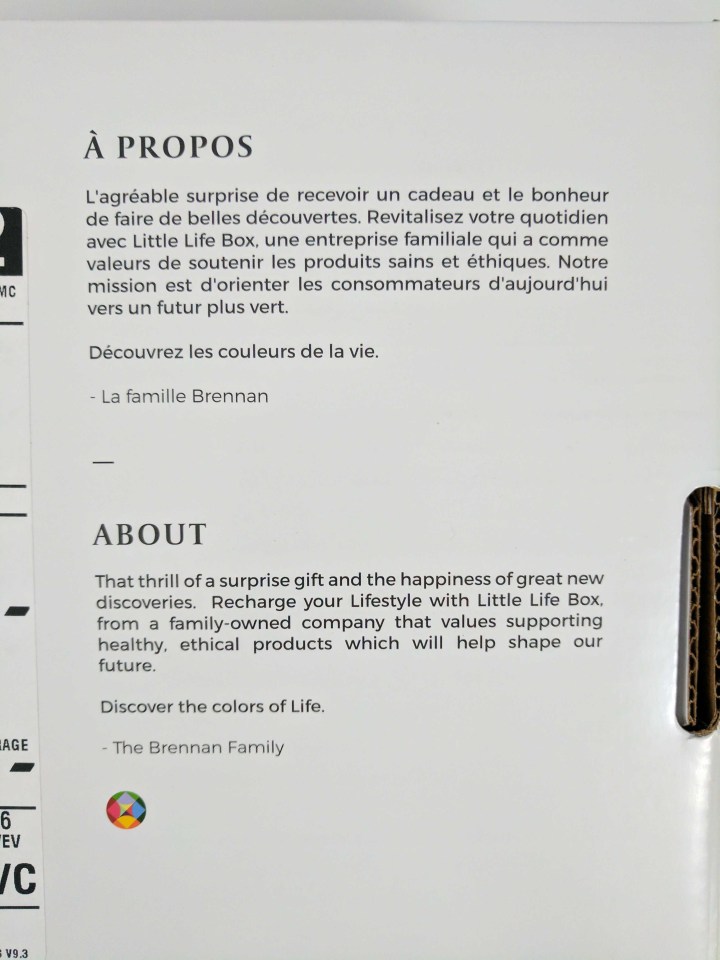 DEAL: Save 25% on your first month! Use coupon code LLB25.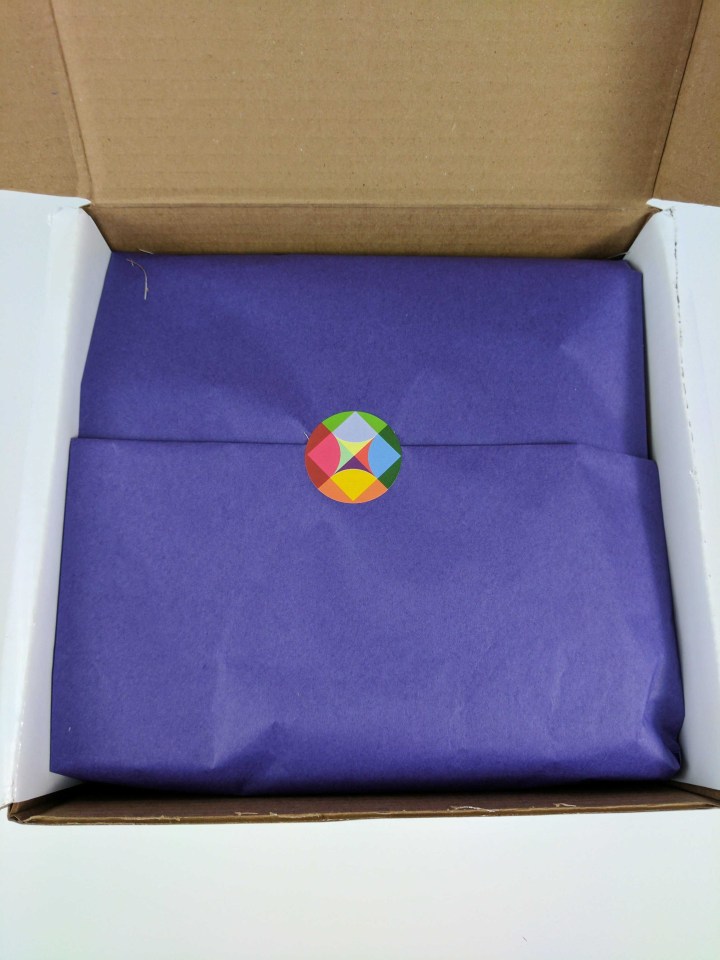 Purple welcomes us inside the box! This box is quite heavy! I love their logo, it's bright and happy!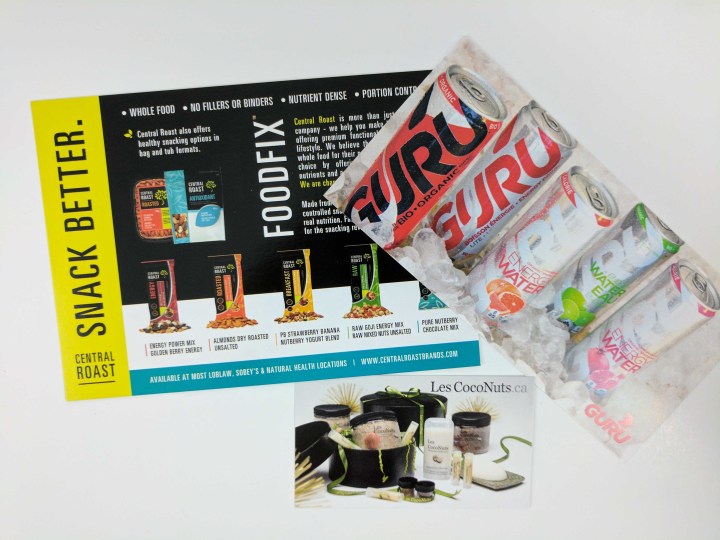 Some of the company showcased in this box also included cards.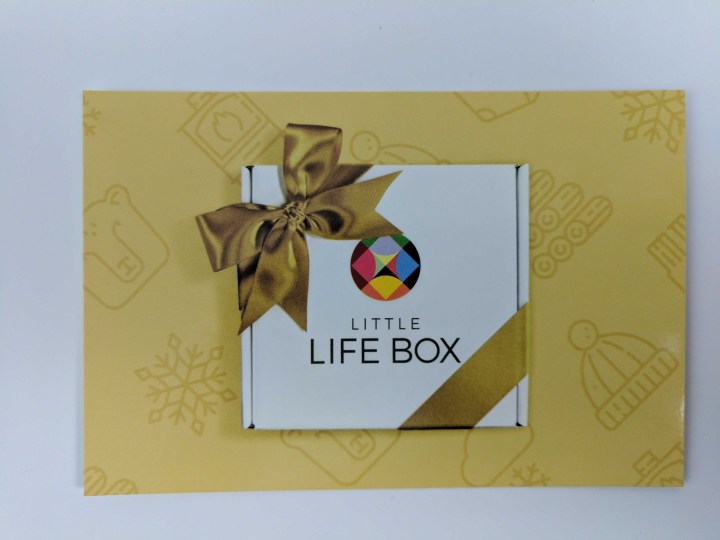 Welcome to the Little Life Box!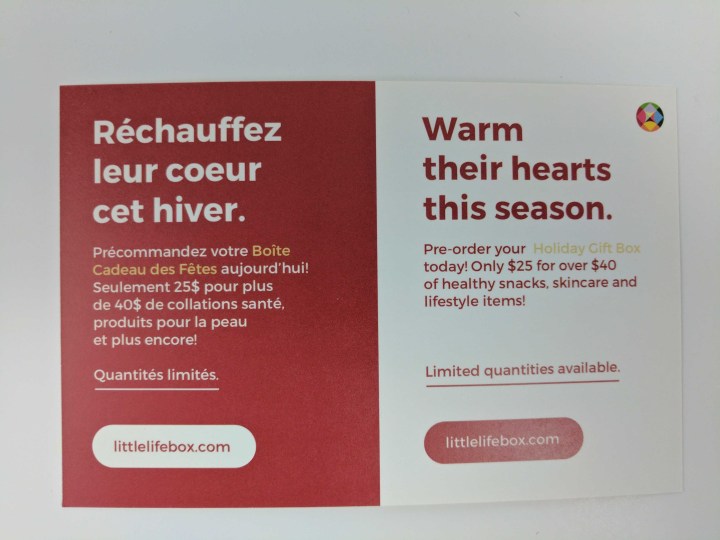 You can now pre-order your Holiday Gift box!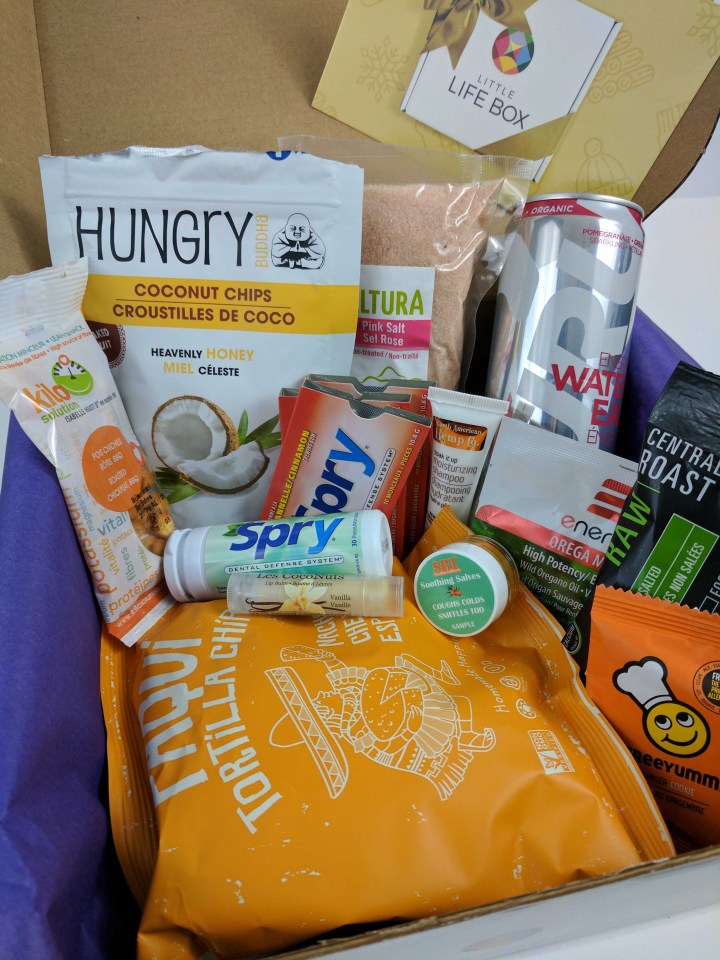 All of this was inside the box. Talk about a bounty!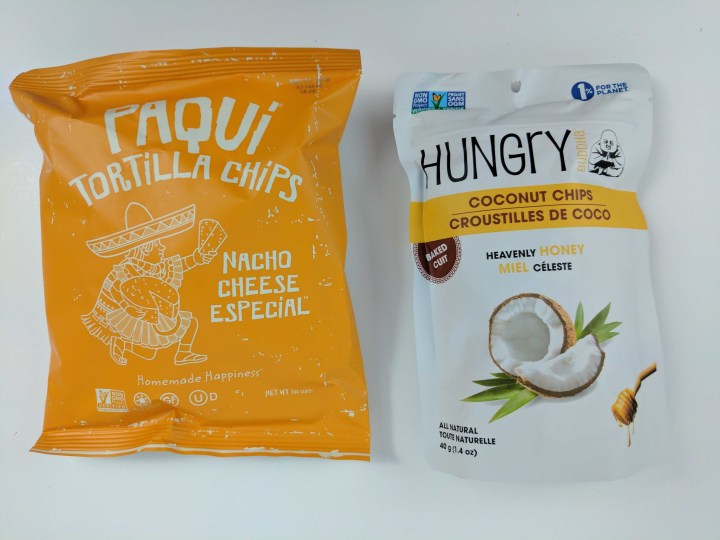 Paqui Tortilla Chips, Nacho Cheese Especial ($0.72, based on a $3.99 for 5.5 oz bag). First thing I saw in the box was the Tortilla Chips Sample. And also the first thing my husband saw and claimed his! He's a big fan of tortilla chips and he really enjoyed them. His only complaint was that there wasn't enough in it. They taste like real corn with a nice cheesy flavor. They are not too thick, so they have a nice crunch. I need to find more.
Hungry Buddha Coconut Chips, Heavenly Honey ($2.08). Hungry Buddha offers their baked chips in a lot of different flavors and I've seen them around often. I'm not a huge fan of coconut products (except coconut water and milk, or fresh coconut), so I wasn't thrilled to see them in the box. But we tried them, and it wasn't as bad as I thought it would be! They have a lot of crunch, a very very satisfying crunch in every bite. Also, you can seriously taste the honey right before the pure coconut taste hits you and lingers. I'm actually happy to have tried them and I now want to try their Sriracha and Wasabi flavors! Next time we have a family party, they will make an appearance on the table at some point. Very happy!
Even if they are baked, they feed the chips craving quite nicely!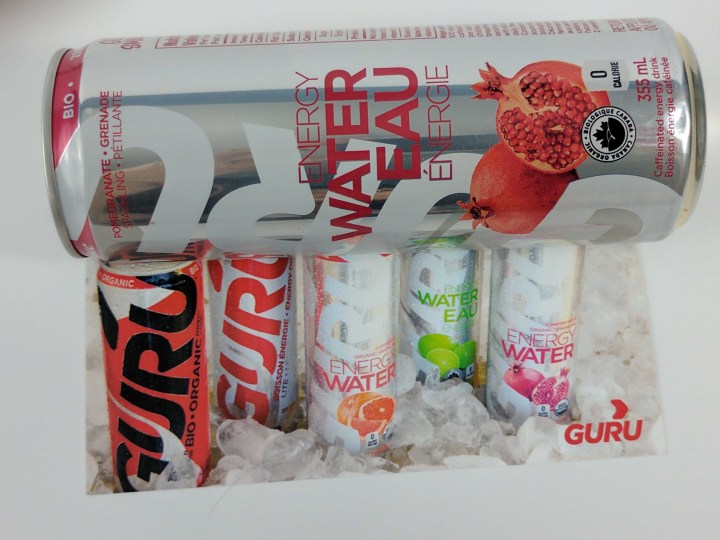 GURU Energy Water – Pomegranate ($2.63) Sweetened with Stevia and Erythritol, this 0 calorie and 0 sugar sparkling drink will give you a boost of energy whenever you need it. It's packed with 100mg of caffeine from green tea extract, and have a nice light pomegranate taste. I like it! Over here, we can find Guru drinks in any convenience store, but I had never reach for them. Now I know I will!
Kilo Solution, Roasted Chickpeas – BBQ ($1.25) These individually packed snacks were developed to help maintain a healthy weight with controlled calories and balanced proteins and carbohydrates to keep your energy level up. The taste was nice, and the chickpeas were quite nice. They make a nice substitute to peanuts.
Central Roast, Raw Mixed Nuts Unsalted ($2.49) A mix of raw almonds, cashews, walnuts, and hazelnuts, this is a great snack on a busy day! I love nuts, especially almonds, and hazelnuts.
Both of these snacks were not safe for peanut allergy sufferer, so I couldn't share them with my husband.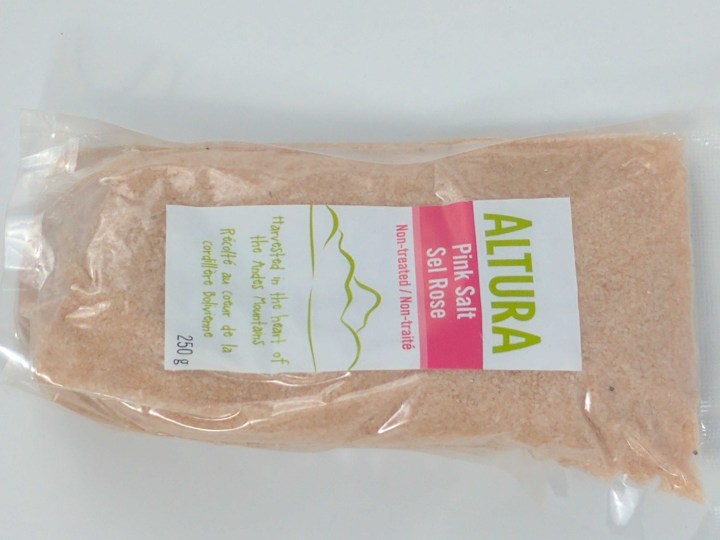 Altura Pink Salt, non-treated ($3.69). Salt. Pink Salt. It is a fine salt, although easy to pinch with our finger for that final, salty little touch on any meal. We don't cook with salt, we prefer adding a little bit at the end, so this is a perfect addition to our kitchen. Also, on a nice organic steak, or on a grapefruit, it's awesome! (Yes, I put salt on my grapefruit, then I put it under the broil. It's lovely!)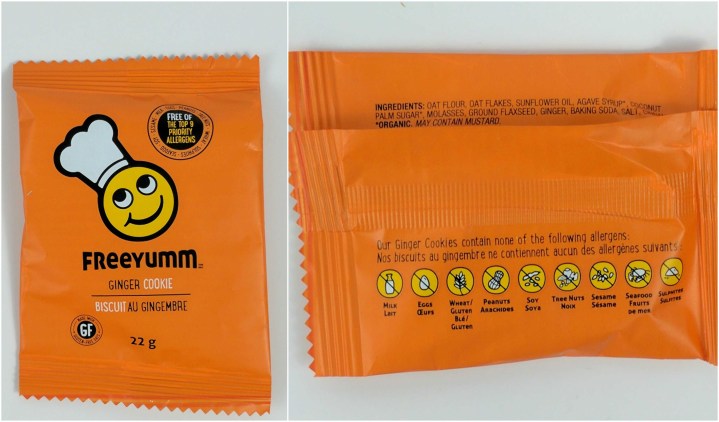 Freeyumm Ginger Cookie ($0.83) I loved this! I would eat anything with ginger, and this one was so delicious! Made with oat, molasses, flaxseed and ginger, you could bribe me with them. It's also super allergy friendly, so that's a plus for us! (No milk, eggs, gluten, peanuts, soy, tree nuts, sesame, seafood, or sulfite). I wish they would have sent me a whole box of them.
Spry Gums, Cinnamon and Spearmint ($6.87 and $2.99) . These gums help to keep teeth clean with Xylitol. Xylitol is a natural sweetener that has been used for decades for its oral health benefits. Xylitol helps clean the mouth of cavity-inducing bacteria by inhibiting the bacteria from sticking to the teeth and tissues. I was actually surprised to see the amount of gums in this box. And also a bit disappointed. I can't chew gum (sweeten or unsweetend) and I can't stand the sound of people chewing gums. But my husband likes them, so he'll keep them at work.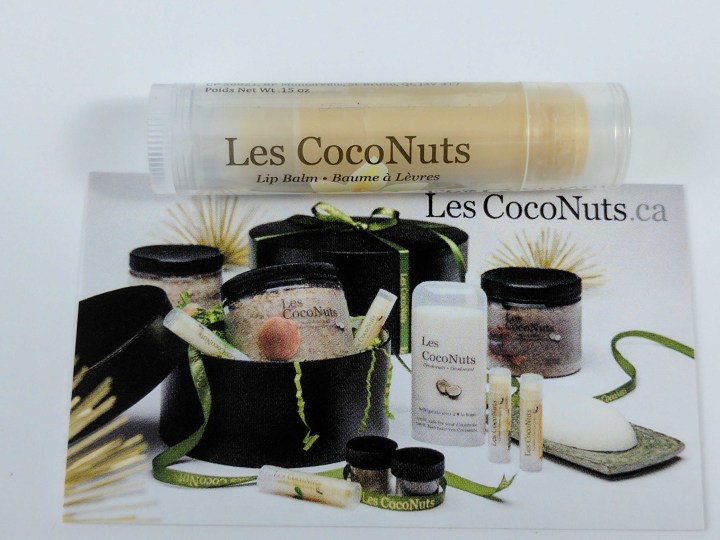 Les CocoNuts Lip Balm – Vanilla ($5). Les CocoNuts is a Canadian company specialized in all-natural and organic skin care products. Beside lip balms, they also have deodorant, sugar and salt scrubs, and soaps. I had never heard of this company before, even though they are located about 30km from my home! Shame on me, as I love every coconut oil based products! The vanilla lip balm is very smooth and rich, but it feels light. It has a hint of cocoa, coconut, and vanilla, and I'm not sure if I like this mix (I don't like cocoa or chocolate), but it doesn't bother me at all once applied! So it's a win for me, and I'll make sure to get more of their stuff!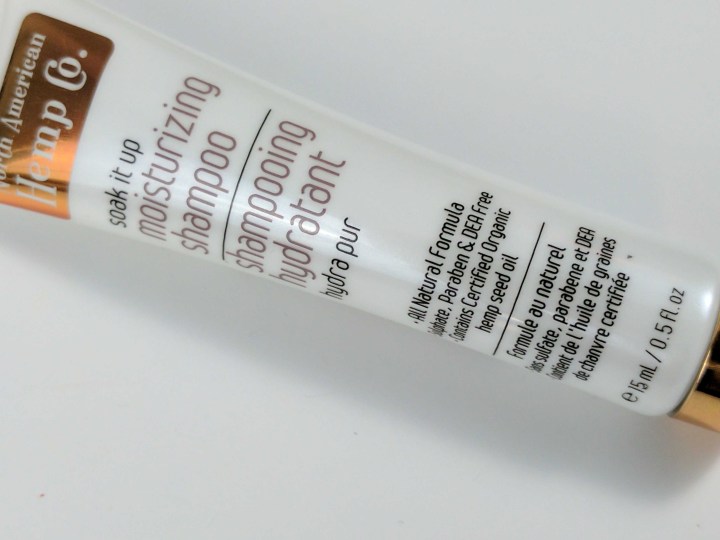 North American Hemp Co. Moisturizing Shampoo – sample size. From their website:
Soak It Up moisturizing shampoo drenches your dried out locks in its Omega Fatty Acid rich formula containing chamomile extract and thermal algae to hydrate, repair split ends and add incredible shine. It gently cleanses your hair of pollution, styling build-up and urban life over the past 24 hours. Gentle enough for daily use, Soak It Up tames coarse tresses making it easier to style
This sounds exciting! I love chamomile extract and I need all the moisturizing I can get going into winter. But this is a very small sample for me. I'm not sure I would be able to get one use out of it (I have thick hair). So this one will be given away to a friend and if she likes it, I'm totally buying a full bottle. It's sound way too awesome!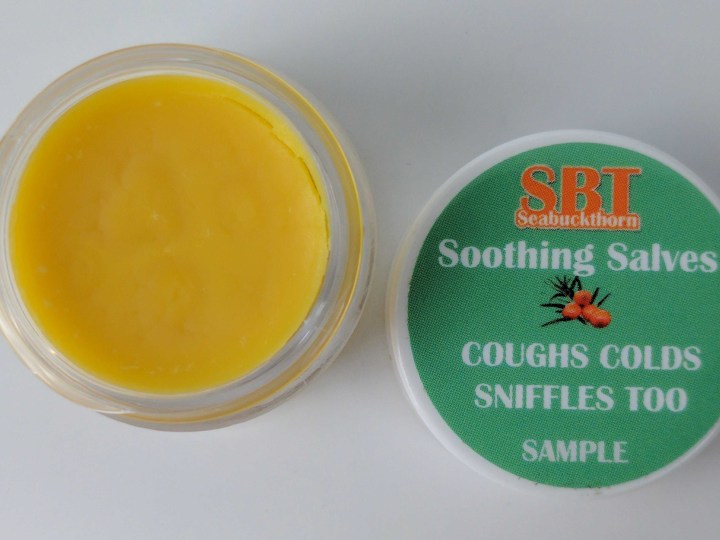 SBT Seabuckthorn Soothing Salves – Sample. This is a Vegan (Non-GMO, gluten-free, cruelty-free, soy free, eco-friendly) vapor rub. I know I'll need it sooooooon, as the cold and flu season is already knocking at the door. My sinus is already screaming for attention and this salve will certainly help me breathe a bit easier. It doesn't smell as chemical and potent as the mainstream vapor rubs, but I know it'll be efficient. Love it!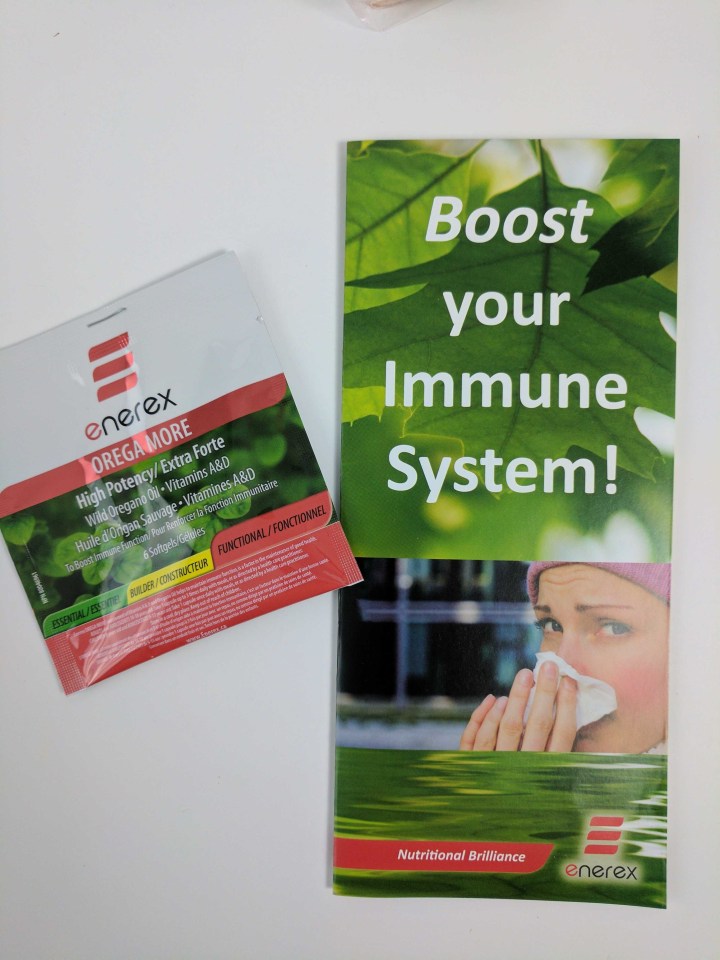 Enerex Orega More supplement – sample. We were giving 6 soft gels to try this wild oregano oil + vitamins A&D.
Oil of Oregano is entrenched as a potent natural medicine. It's primary constituents, carvacrol and thymol, are powerful and effective to help combat viruses, bacteria, parasites, and yeast & fungal infections. In addition, they have anti-septic and pain-relieving properties and can also be used topically for skin conditions and bites and stings.
This is a boost for the immune system going into winter with all the viruses and bacteria we will be sharing. I have never use oregano oil before, but I'm willing to give it a try, seeing that I usually get around 5 and 6 different flu episodes as well as at least one cold (the one you are on bed rest for three weeks) every winter. Yay!
This month's worth for the Original Little Life Box was about $28 (not including three samples), which is above the cost of this box, but lower than the value promised on their website ($45 to $75). I've looked at their previous boxes and this month's one looks like the odd one, so I wouldn't base my decision to subscribe in this one alone. Even if the value was on the lower end, I was still very happy with the choices and the new companies I've discovered. I'm especially happy with the tortilla chips (need bigger bags), the ginger cookie (gimme the box!!!!), the lip balm for having introduced me to my probably new favorite coconut based skin care company, and the samples. I enjoyed sampling different products, but that's the thing : it felt like a box of samples. Not a lot of "full-sized" products.
Overall, I really liked the box and the fact that most of the companies are Canadian AND based around Montreal. This is a great box to discover new products, and for me to try healthy products I was too scared to try while walking down the organic aisles in my grocery store.
What did you think of November's Little Life Box?