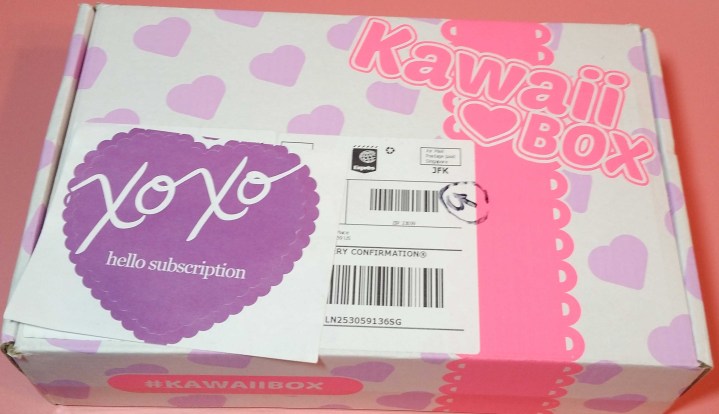 Kawaii Box is run by the same company who runs Japan Candy Box, if the adorable packaging isn't enough of a clue! This was our first time reviewing Kawaii Box and we were excited from the get-go!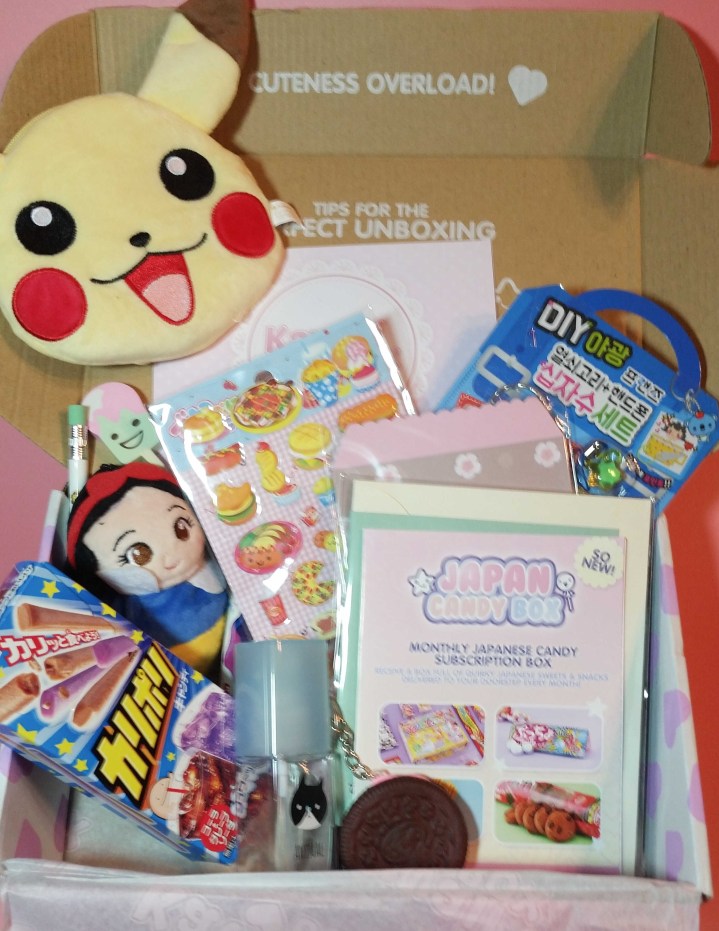 I reviewed this box with the help of my daughters, aged 11 and 14. Here's a peek at everything in the box – look how much fun! My daughters and I really enjoyed discovering this new-to-us box!
Here is the information card that was included in the box – even the card is super cute! Kawaii Box always includes 10-12 fun & totally adorable goodies. Let's see what we got!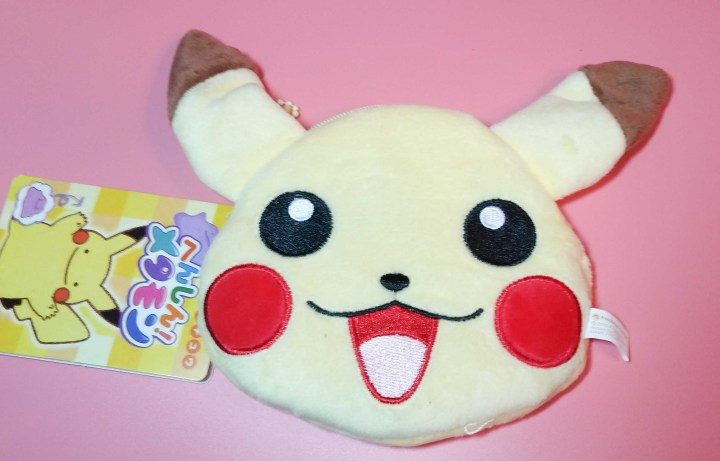 Here is a cute Pikachu coin purse. My younger daughter thought this was just the sweetest thing.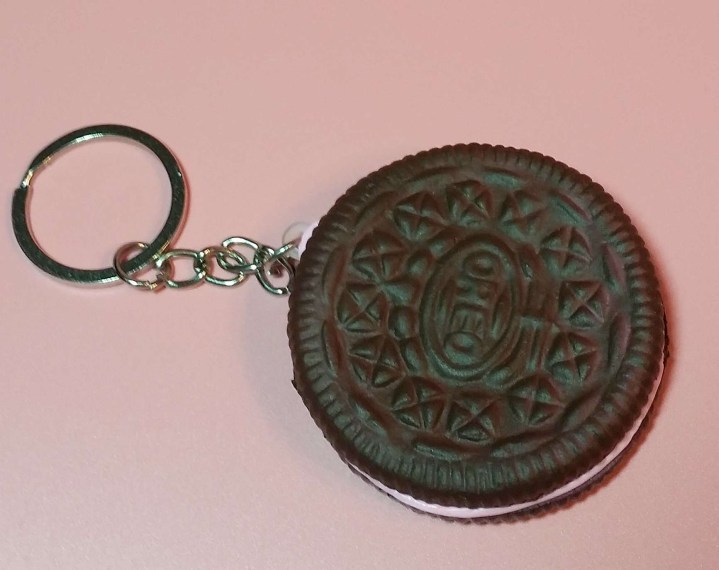 Next up is a Squishy Oreo Keychain. Like so many tweens, my daughter has about 80 million key chains on her backpack. (OK, exaggeration – maybe 20 million… seriously, though, I don't know how the child can walk upright for all the trinkets she has hanging off her bag.)  So yeah, this was also a hit.
Here's an adorable little Disney Potepote Bean Plush – so cute!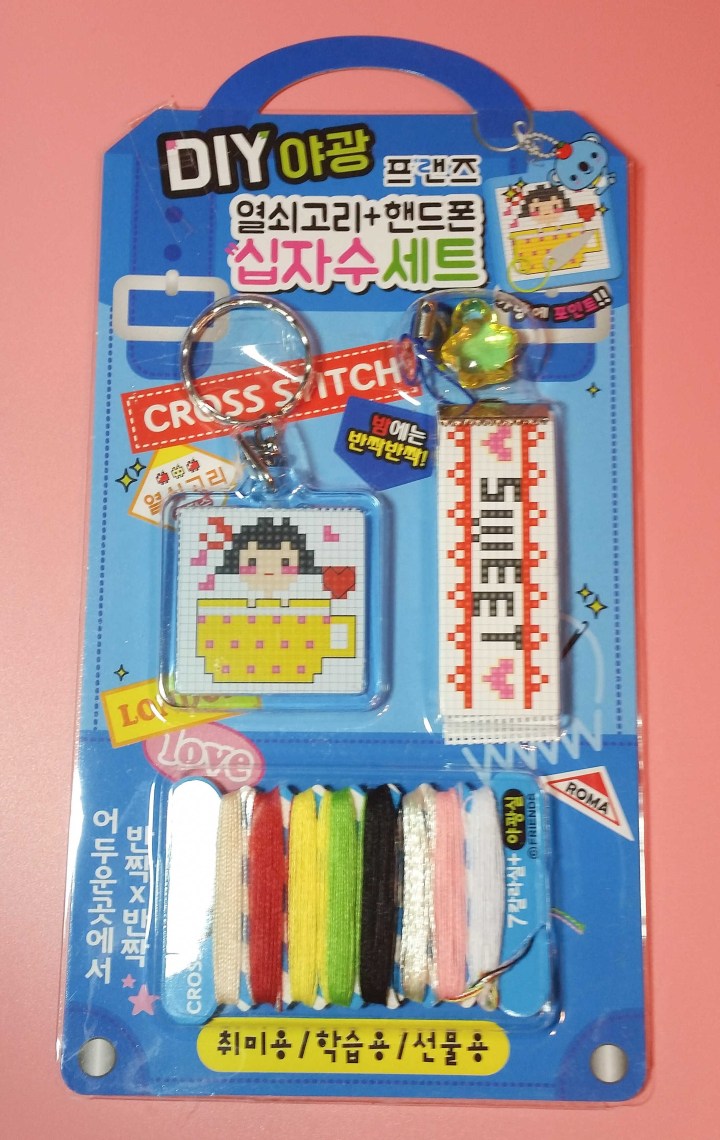 This next item was a huge favorite – a DIY Cross Stitch Keychain Kit. I've already told you the younger child is obsessed with key chains, but she also totally loves crafts, so this was right up her alley. In fact, she's working on her cross stitching right now!
We love stickers, too! These are super fun puffy Food Themed Stickers. (The sheet of stickers got a little off center in the photo, so the smiles that were on the outside of the packaging didn't line up quite right… but the stickers are fun no matter what.)
OK, this candy was so fun. These Karipori Candy Sticks are soda-flavored (grape and cola) candies. When you bite into them, they start to fizz, kind of like pop rocks… which just enhances the soda-like experience. I preferred the cola flavor, but my girls really liked the grape. So many giggles while we were testing these out!

There are never enough pencils in our house, so I was happy to see these in the box! There is a Cute Mechanical Pencil (love the little lion on it) as well a Happy Food Eraser.

I'm not sure what to say about this Marukawa Halloween Gum. It looked a little bit like licorice, but tasted like fruit (kind of a berry/cherry flavor). The best part, though, is that it turned our tongues black and red. Yikes!
This is the cutest little Square Animal Spray Bottle. I'm not sure exactly what to put in it, because it's pretty tiny. But the cat is so cute.  I'll find something to do with it!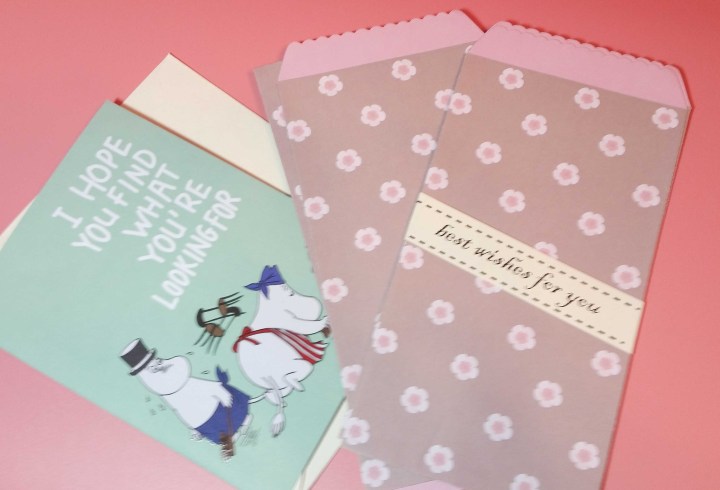 Last, but not least, there was a Moomin Greeting Card and some Japanese Sakura Envelopes. The envelopes are super pretty – we loved the tan and pink design. The card… well, the card just made us laugh. "I hope you find what you're looking for!" There are only so many occasions where a card like that is appropriate! Hahaha! We love Moomins though.
We had a great time with our first Kawaii box.  Everything was super fun and way too cute!  My younger daughter enjoyed it the most, but my older daughter and I also were really excited to see what was in the box and test out the candies!
What did you think of October's Kawaii Box?