My Ireland Box is a monthly subscription box from Ireland filled with the best of Irish-made craft (artisan) goods. You can expect to receive Irish made jewelry, housewares, and craft and beauty products. They ship to the US, Canada, EU & Australia (anywhere with a significant proportion of people with Irish last names live!). This box ships from Ireland!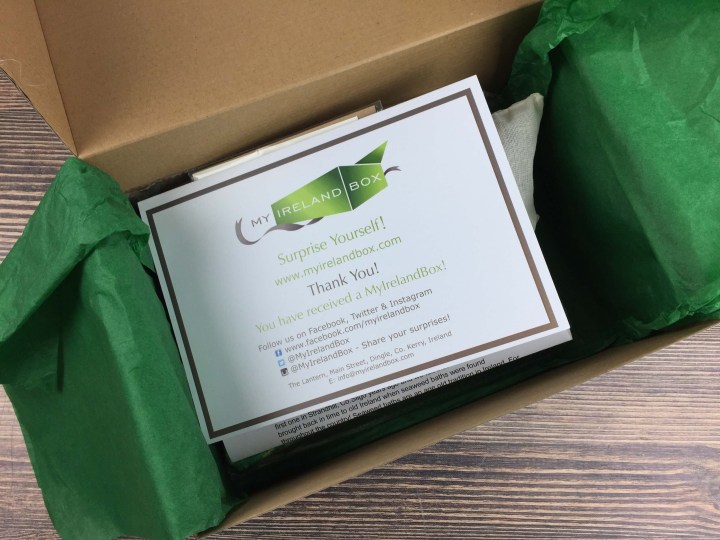 This box is always so neatly put together, and of course, the green tissue is necessary!
A letter containing extensive information about each product and its maker/designer comes with the box. We really like their information sheet because it gives each item a real sense of place and we get to learn about the influences of each item, the inspirations of the designer, and more! It is really one of the most detailed information sheets you'll ever see in a box.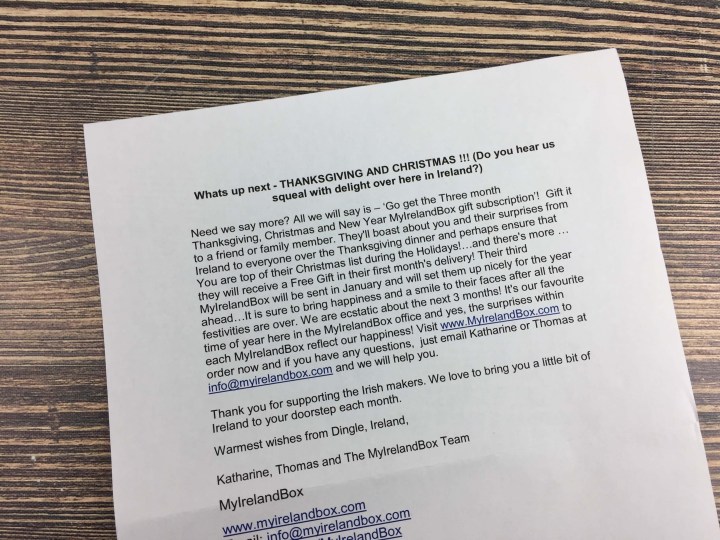 The last pages of the curator letter lists upcoming spoilers for the next three months. November is Thanksgiving, and December is, of course, Christmas-themed! January is New Year-themed!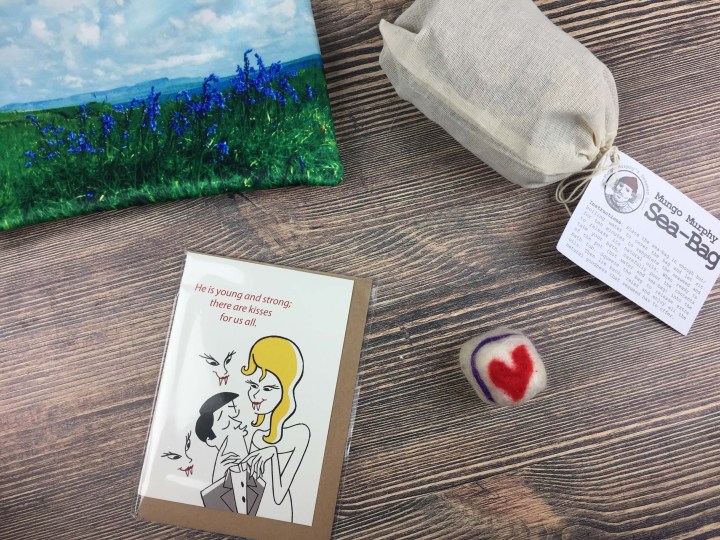 All the contents of the October box!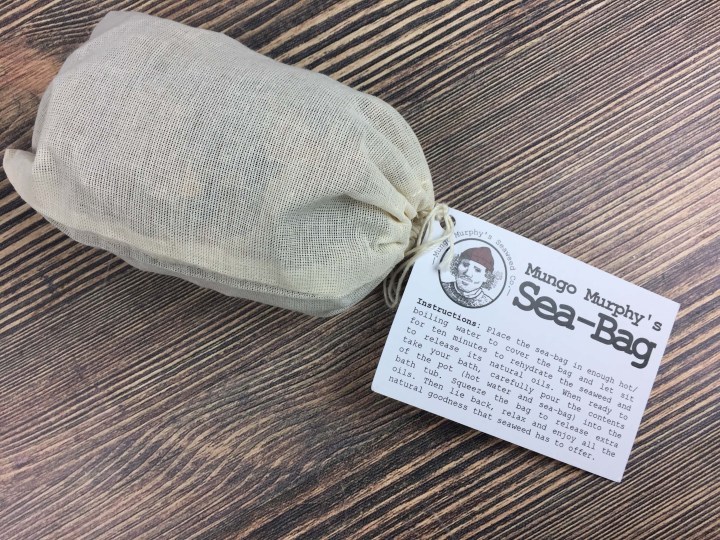 Mungo Murphy's Sea-Bag (€5.95, about $6.50) Believe it or not, I've tried this out before (almost 2 years ago!).
This is a bag of seaweed and you place it in your bath for 10 minutes to release the natural oils in the seaweed. It's a refreshing and unique bathing experience! (Note, I opened it to show you what it is, keep it closed in your bath!). Seaweed baths are an old Irish tradition and are used to stimulate blood circulation, soften stiff muscles, and detox and rehydrate. It's an unusual and cool item.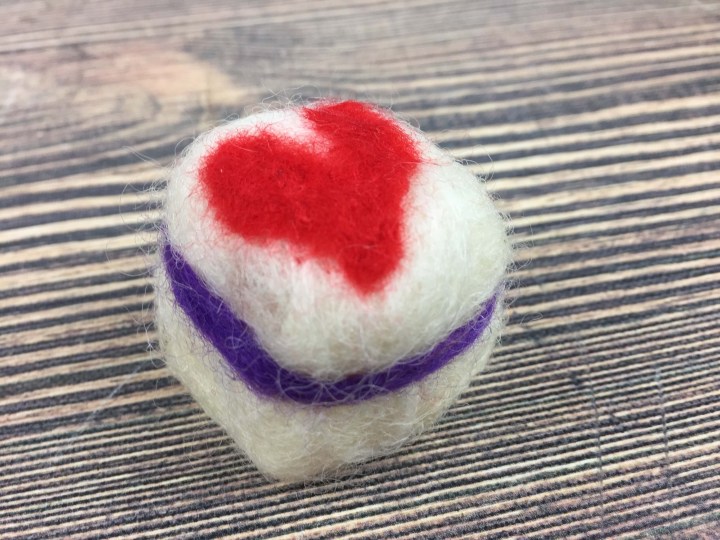 Julie Malone The Dingle Druid: This is a bit of super fragrant soap wrapped in felted wool – the lanolin in it is naturally antibacterial and antimicrobial. The scent is amazing! My daughter begged to test it out, and she loved it (she's a mermaid). The information card notes that the maker grows everything she needs for her beauty products in the countryside (encouraged by honeybees, which she also uses the wax and honey from), and pure clean water from her fresh Irish well rounds it all out. Very Irish and lovely!
At It Again! Bram Stoker Romping through Dracula Greetings Card (€3.75, about $4.10) All the items from this shop are designed and printed in Dublin, using sustainable materials, and all inspired by Irish classics (Bram Stoker was born in Dublin!).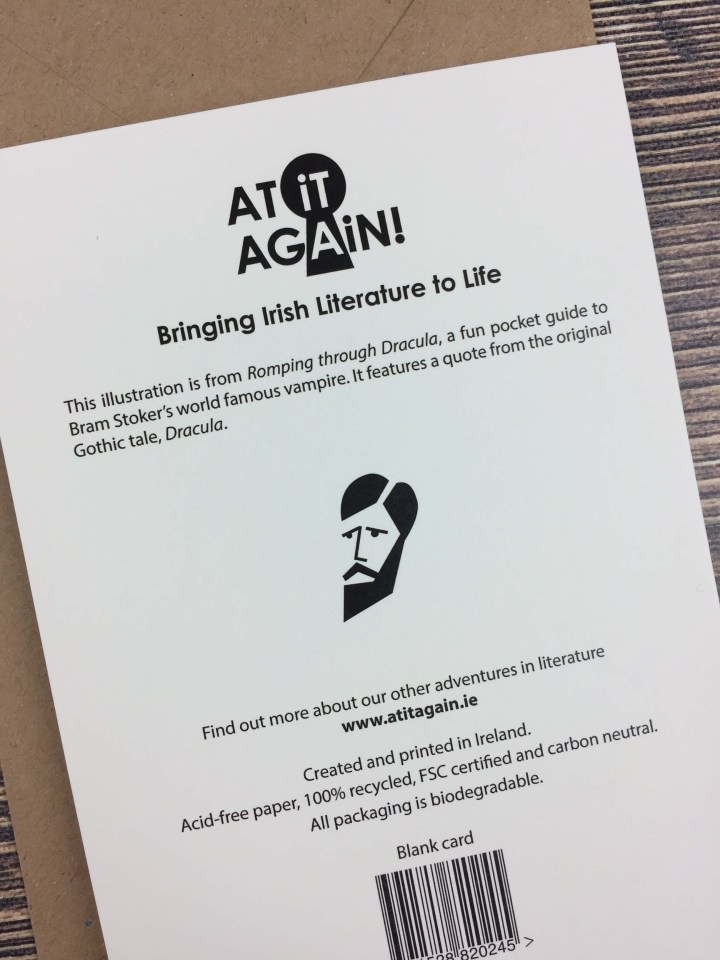 What a great little item for a nod to Halloween month!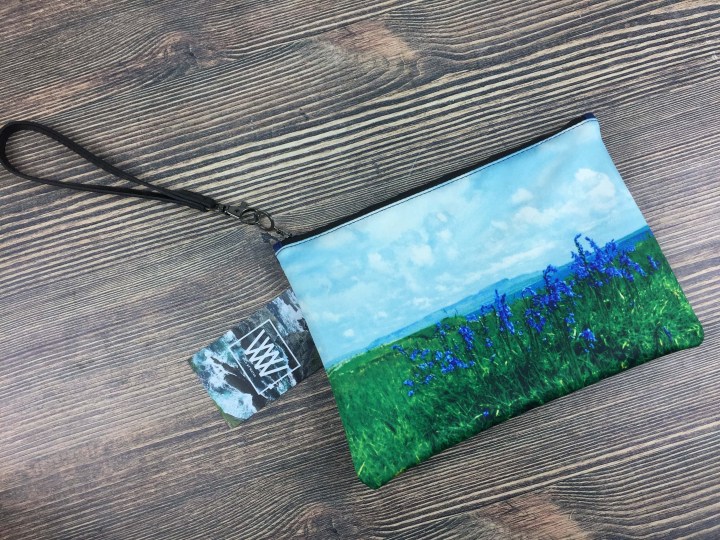 Wild By Water Island Bluebells Sporty Clutch (€34.95 about $38.36) This is so pretty – it depicts the wild Irish countryside and subscribers received a variety of images, including Inishmurray, Skellig Rock (you've seen it at the end of The Force Awakens), Dublin Bay, Kerry Cliffs, Donegal Drystone, Flaggy-shore (I'm writing all these because the names are delightful) as well as counties Antri, Cork, Mayo, and Connemara.
There's a little pocket inside!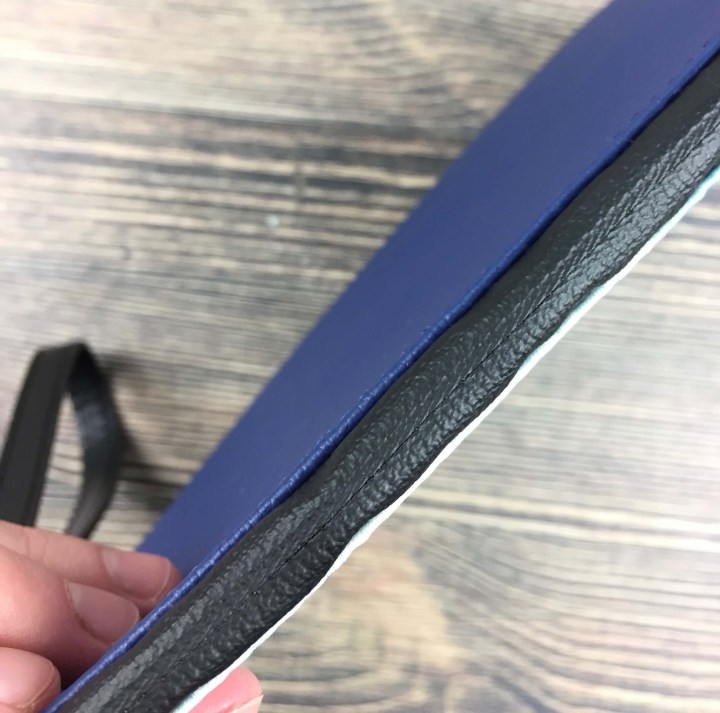 Look at this zipper! It just seals right up! The information sheet says that this is to keep your belongings dry while you adventure!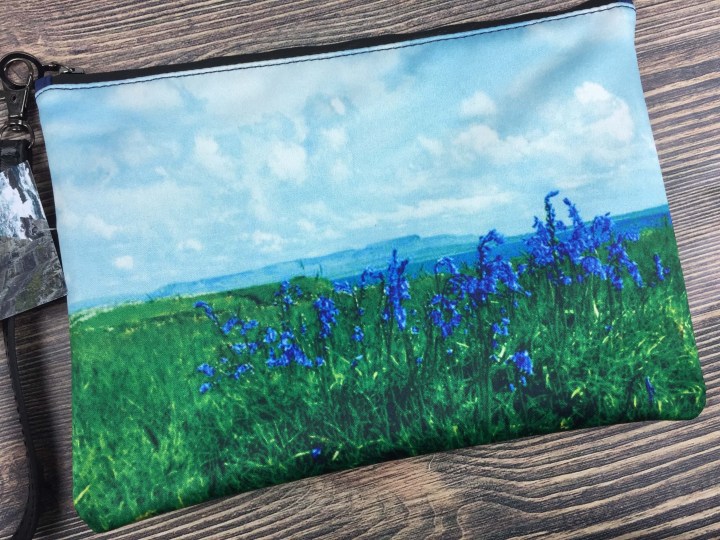 And another look at this fun deliciously Irish scene!
I think this box is perfect for someone looking for unusual and unique items, or any Ireland lover! It would especially make an excellent Christmas gift for your favorite Ireland fan. Everything is so thoughtful and this month was no exception!
What did you think of this month's selections?
Visit My Ireland Box to subscribe or find out more!
The Subscription
:
My Ireland Box
The Description
: MyIrelandBox curates the best of Irish made craft: jewellery, homeware, craft, and beauty products, delivering a monthly box of surprises to your door!
The Price
: $45, €6.20 to Ireland & Great Britain, $10.50 internationally