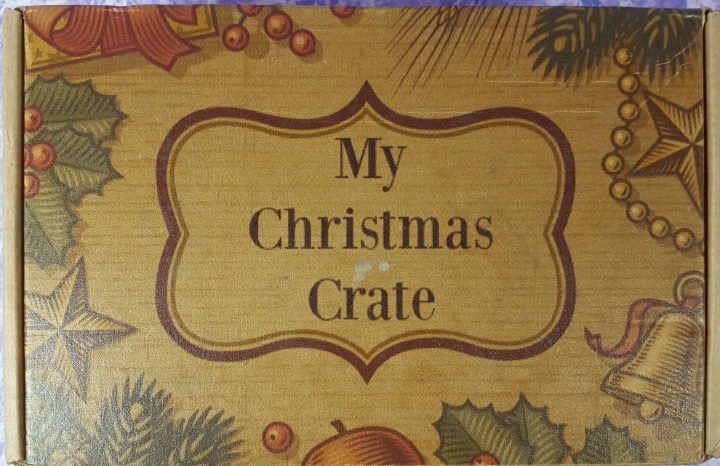 Merry Christmas! Do you love to celebrate Christmas all year long? Then this is the subscription box for you. My Christmas Crate sends a box each month full of fun and exciting Christmas goodies. This is the first box so I had no idea what to expect and I couldn't wait to dig in and see all the new Christmasy goodies.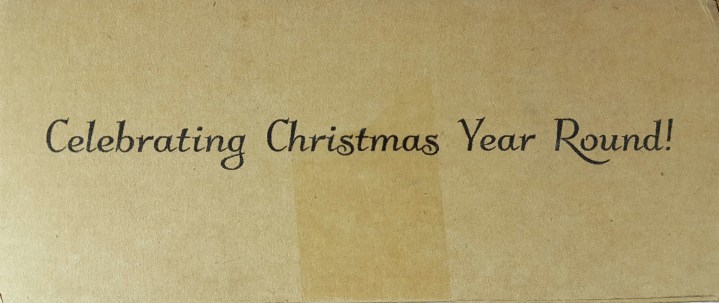 Once you open the outer flap of the box the celebrating continues even before you get to the guts of the box.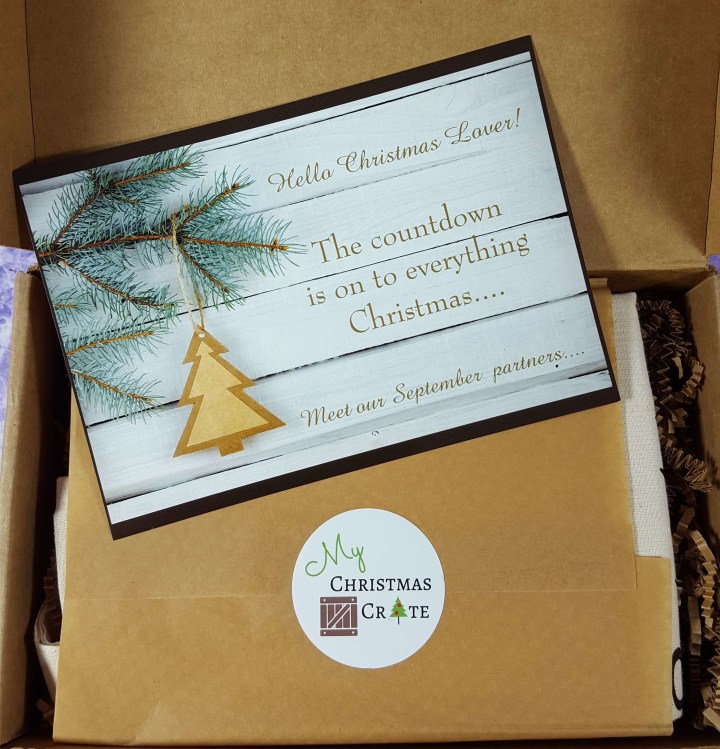 First look into my crate and they keep the crate theme going with brown squiggles and the brown butcher paper wrapped around the gifts. I'll admit I was kind of expecting the items to be wrapped liked presents but I know that would take way to much time when trying to get boxes out to people. This was a nice, neat, and tight package inside.
The back of the information card lists all of the products included and the website on where to find them. I love all the information and the ease of finding the items if I want to check out what else they have and/or order some more.
Everything in the first My Christmas Crate!
I Still Believe Tote ($15.95) – This is a tote right from My Christmas Crate and I'm in love. This is a great size for going to the library or carrying around a note book and other goodies. The strap is nice and long too so it hangs great.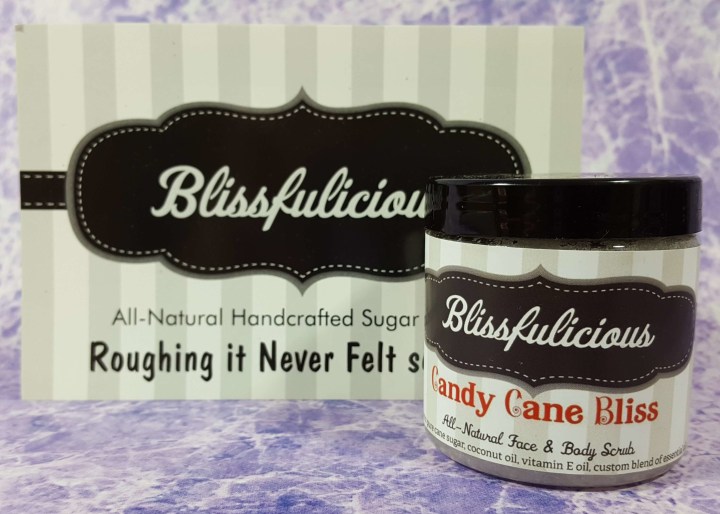 Candy Cane Bliss Body Scrub From Blissfulicious (I don't see this scent currently available or this smaller size but a normal 8oz size goes for $18.95) – This a nice sugar scrub. The back of the info card really has the best description so I will share that with you.
Hey Darling,

to be honest, I'm just a simple sugar scrub, and I can't wait to be on you.

here I am…soak up all my healthy goodness, use me all over in the morning or at night, I'll target dry, flakey skin, as well as eczema and other skin imperfections.

i'm your best multi-tasker – I remove makeup, exfoliate your skin, and moisturize…leaving you with soft glowing skin.  shaving is my secret power – use me on your legs before shaving… you will never go back to shaving creams again.

are you ready?
I mean really how could I have said it any better. I have never thought of using my sugar scrubs for shaving but now I can't wait to give it a whirl.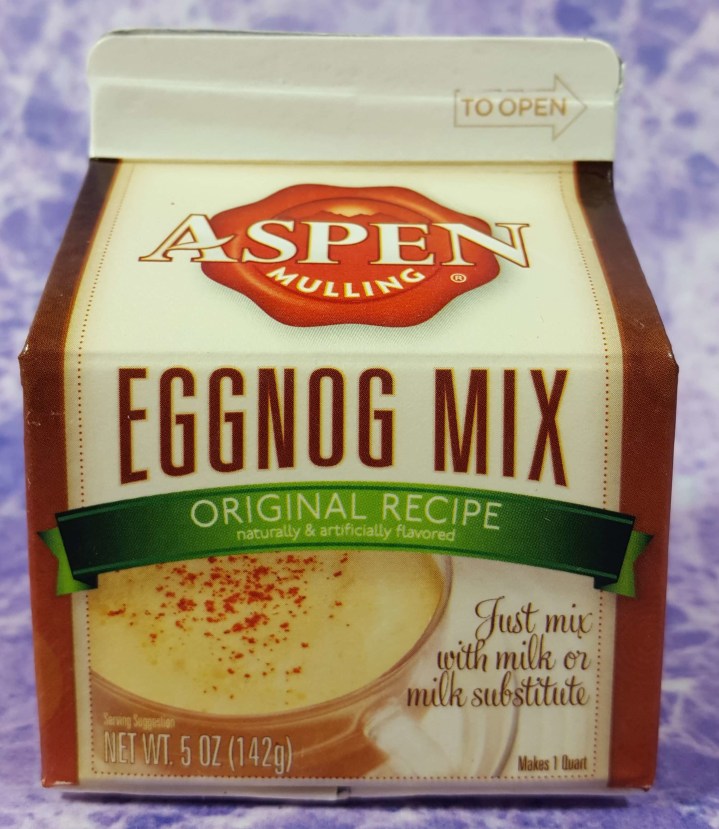 Eggnog Mix From Aspen Spices ($3.49) – I am not an eggnog fan but I know so many people are. I'm going to pass this one along. This is an easy mix to use by just adding the milk – and adult beverage, if you want – and go from there. I did look at the Aspen Spice site and I had no idea how many different mixes they make from lemonade to hot chocolate to apple ciders. I'm a huge apple cider person so I'm going to have to try one of those out.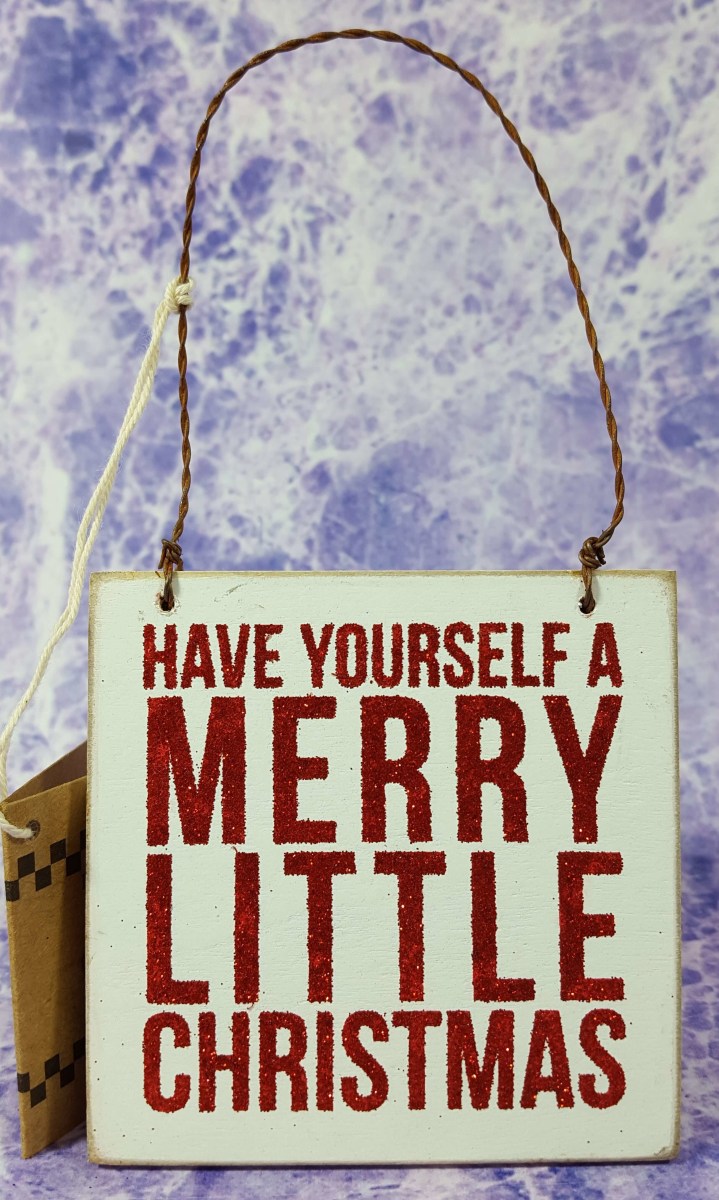 Have Yourself A Merry Little Christmas Wooden Hanging Plaque From Primitives By Kathy ($4.60) – What a cute little sign. I love this size and have been known to put them on my tree as a decoration and add them to presents as a package decoration. Plus it is full of glitter and everything is better with glitter.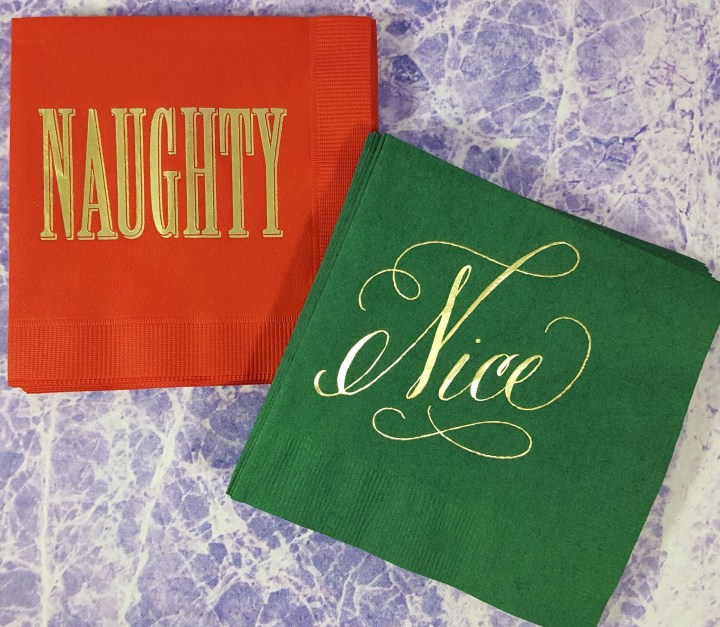 Naughty/Nice napkins from Fine Impressions – These are so fun. I actually host a Christmas night appetizer party at my house for all our friends and I'm keeping these for that. They are a really nice and thick napkin and the shiny blingy wording really adds to the design.
If you can't tell, I'm in love with my first My Christmas Crate. I love all the items that came and love that they will send me new Christmas related items each month. I would keep my tree up year-round if my hubby would allow it but he is really into putting it away. I do have a lighted Christmas Village that I have displayed in a case and all above my kitchen cabinets that do get to stay out all year and gives me a bit of my happy Christmas cheer whenever I look at it. This crate will help fill in all the other times when I need that whimsical boost.
What did you think about the first My Christmas Crate?
Save 10% off on your first box. Use coupon code HELLO10.
Visit My Christmas Crate to subscribe or find out more!
The Subscription
:
My Christmas Crate
The Description
: My Christmas Crate is a monthly subscription crate full of Christmas & holiday tastes, scents, accessories, holiday home goods, culinary delights and more We send you a joyful mix of holiday themed items to surprise and delight Christmas fans from near and far every month. Each month's box is specially curated by our holiday elves! We pride ourselves on sending only top quality "specialty" products that are not sold on everyday shelves. You'll notice our elves put a great deal of thought and time into crafting a magical experience month after month so YOU can continue to enjoy Christmas 12 months a year!
The Price
: $29.95 per month