Bargain Bead Box is a monthly bead subscription service. Each month, you'll receive over $40 worth of top-quality jewelry supplies. It can be a mix of loose beads, bead strings, findings and pendants. You can share your creation on their social media for a chance to win a $25 gift certificate for their sister store Bead Box Bargain. Boxes are $15.95 per month. Shipping is free in the US and $7.50 to Canada. Even if it's technically a subscription box, it comes in a teal bubble mailer, which is less expensive than a box so they can send more beads! And more beads is more fun!
Inside the bubble mailer, the beads come nicely packaged inside three bags and wrapped in tissue paper. Inside the bags, everything is in individual plastic bags.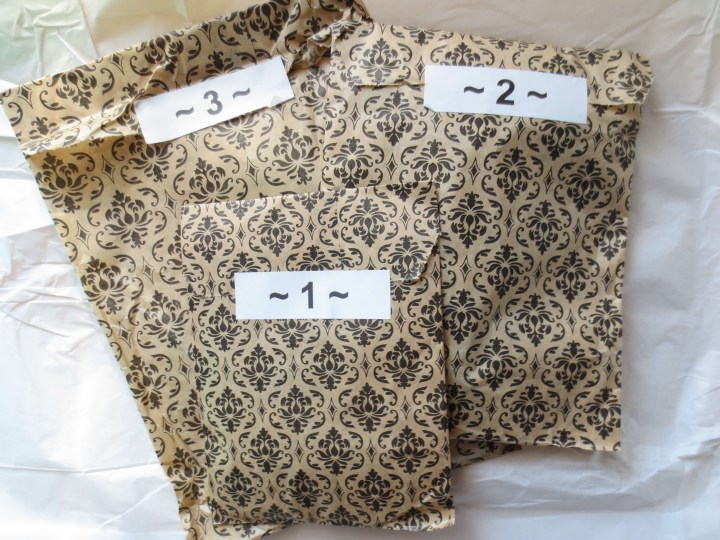 Each month is curated around a different theme and all the beads and findings are coordinated. This month's theme is "Autumn Harvest" and promises a pumpkin patch and greens and reds! Antique Brass is the metal this month.
With the note, included in the package, you also get a discount for their sister store "Bead Box Bargains."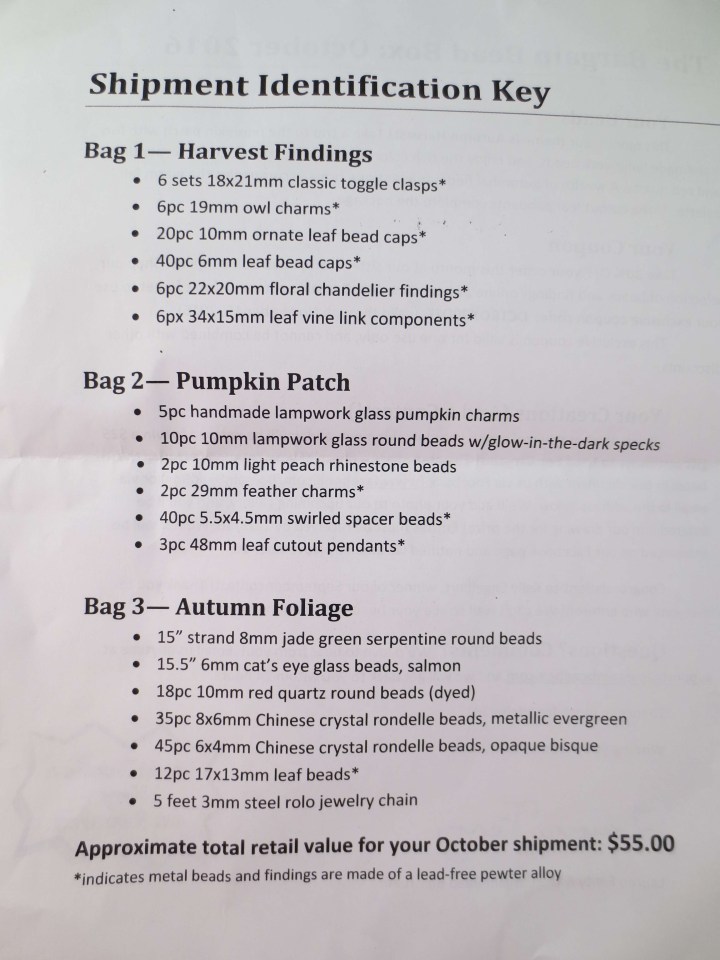 On the reverse of the letter, the content of the three bags are described. And I think I see something interesting. YESSS, OWLS!!!! BIRDS!!!!!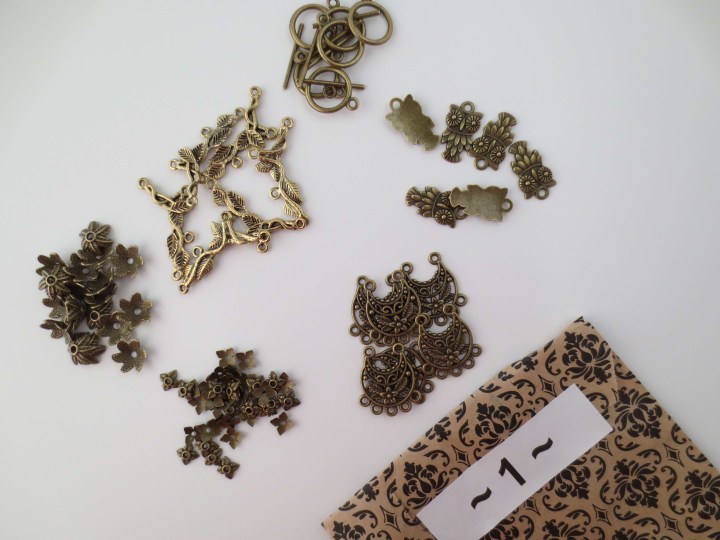 BAG 1: Harvest Findings
34x15mm leaf vine link components. These are lovely! They have two little loops underneath them so we can attach beads or pearls or other charms from the vine. They are slightly more golden than brass, but they look great with the brass. For once, I might do a simple design with my Bargain Bead Box this month! Maybe, I'm not promising anything yet!
22x20mm floral chandelier findings. Perfect for loop-style earrings with a lot of dangles! They are quite light, so we can go wild with them! They could also be used as a focal point on a necklace. I like the amount of details on them, they are cute!
6 classic toggle clasps. I really like that we always get some clasps in this box. They are quite simple, but they will work with any design.
19mm owl charms. BIRDS!!! Cute little charms, the details is great. I love them! BIRDS!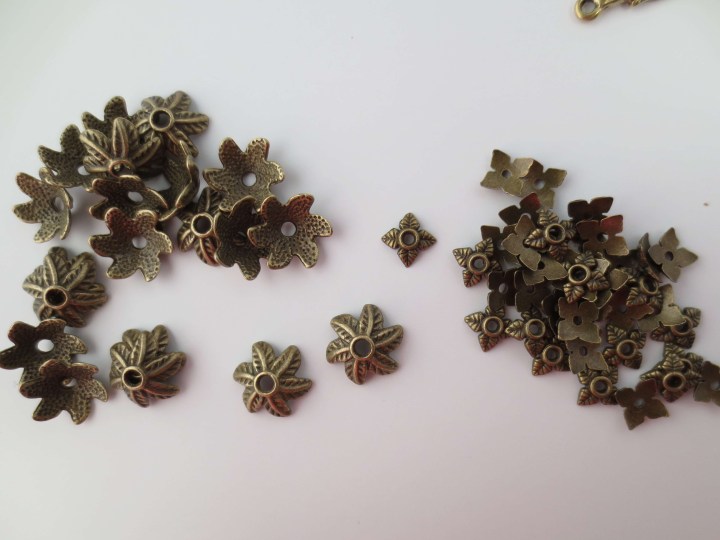 This month, we received two types of bead caps. 10mm and 6mm. They are perfect to add some classic element to a beaded design.
BAG 2: Pumpkin Patch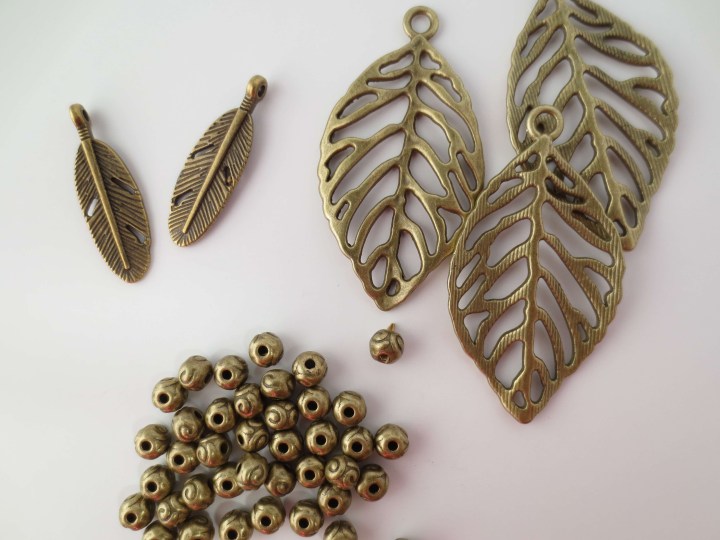 29mm feather charms and 48mm leaf cutout pendants. What would be a fall box without some leaves? These are perfect. Paired with green shiny beads, the small feathers would make a cute little set of earrings. The leaf ones are nice and reversible. They have a wavy design (they don't lay flat) and they would be perfect on a long brown cord to be worn with a sweater.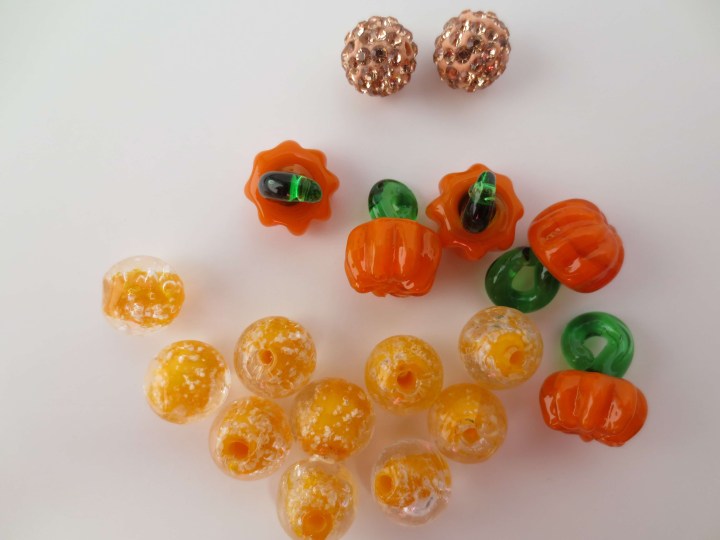 Here comes the pumpkin patch! We received two nice 10mm light peach rhinestone beads. I love them on a bracelet with solid-colored beads. I really like the color, it matches with anything. The 10mm lampwork glass round beads have glow-in-the-dark specks, perfect for a Halloween design!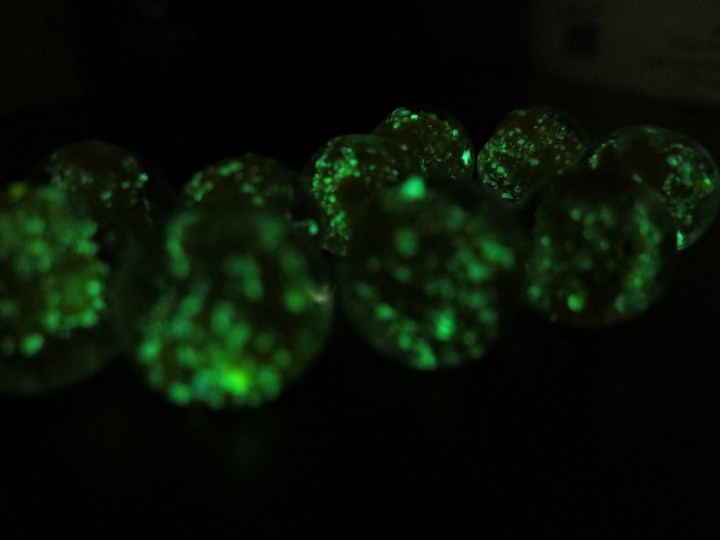 (Sorry for the blur!) Look at all the glow-in-the-dark specks!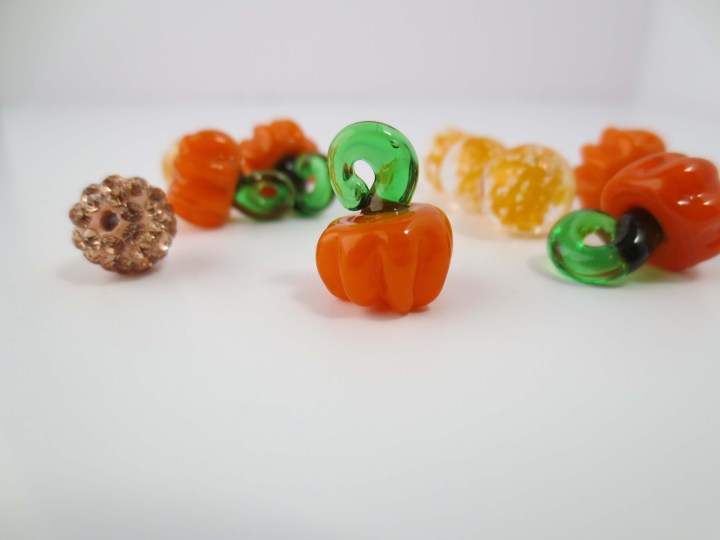 And how CUTE are these Pumpkin lampwork glass charms? Earrings? Probably!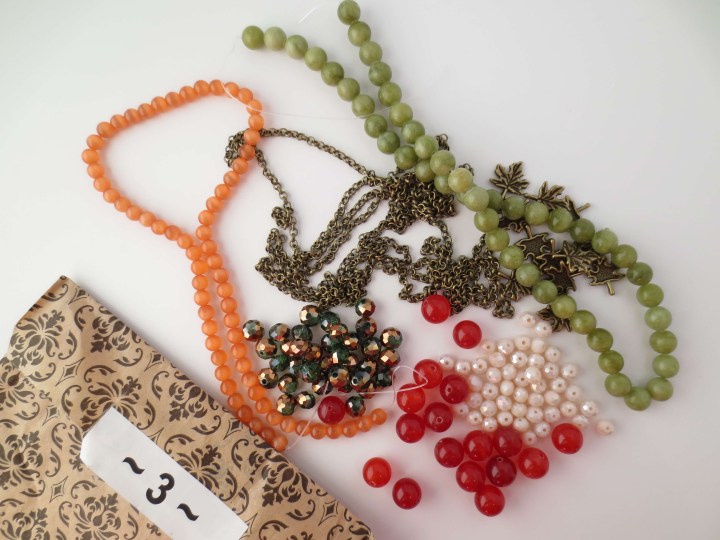 BAG 3: Autumn Foliage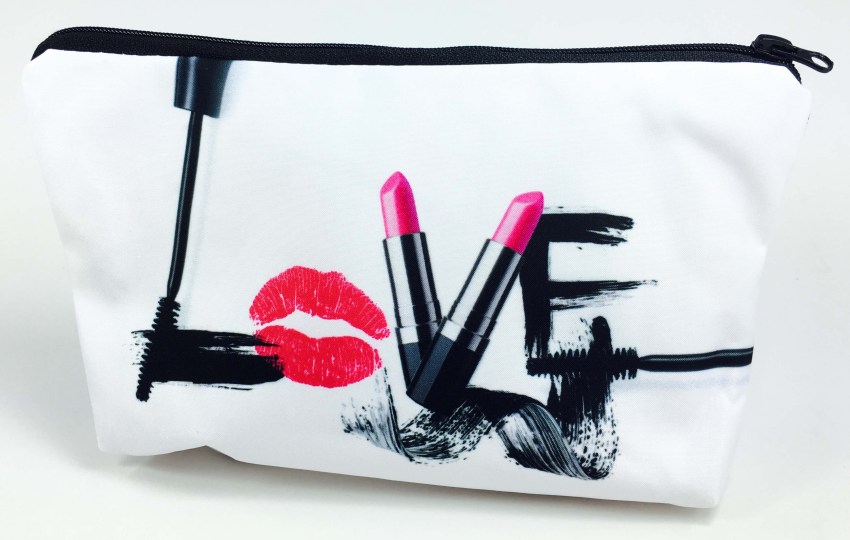 5 feet of 3mm steel roll jewelry chain. I love chains. I would use chains in every single design if I didn't know self-control! I'm so happy when they are adding some chains in the box, which they do quite often. And I love these maple leaf charms. I think I'll keep them for spring when maple syrup season will be in full bloom!
Chinese crystal rondelle beads. SO PRETTY AND SHINY!!!! I love the half-metallic coating on the green beads (8x6mm) and the opalescence of the bisque beads (6x4mm). The green beads would be lovely with the two smaller leaf charms we received in Bag #2. The bead caps from Bag #1 would work well with them too. And look how great they are side by side! I might do something to incorporate both in the same design, I'm in love with the combination.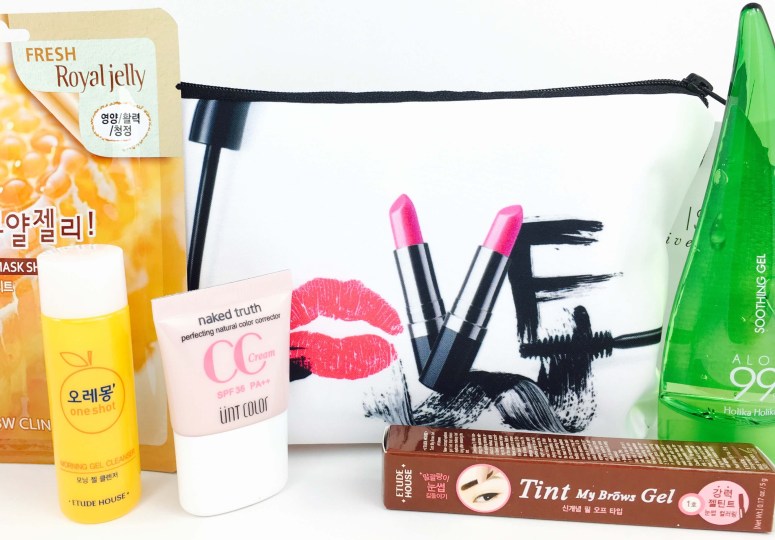 I just want to take a bit of those beads! They look like perfect fall fruits and vegetables. Look at the ripe apples (10mm red quartz round beads-dyed). Or the delicious Brussels Sprouts (8mm jade green serpentine round beads). Or the tiny little pumpkins at the back (6mm cat's eye glass beads – salmon). The orange beads have a nice chatoyant look, they are very nice!
I didn't use the chains from this month's box, but they would have worked perfectly. I just had a couple chain's lengths hanging around, so I used them to give a cascading effect. Leaves with a bit of morning frost (yes, it was cold out here last week).
There were so many earring designs possible in this box! I used the glow-in-the-dark beads with owls (I like the idea of seeing the earrings in the dark, like how owls can see at night!), a fall veggie patch inspired earrings, and the feathers with ripe and juicy apples!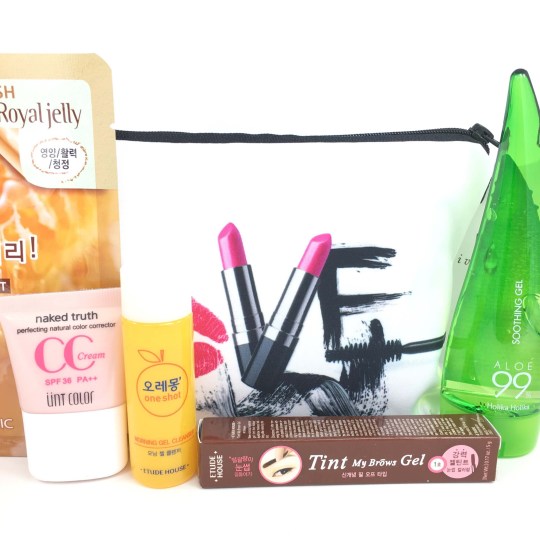 As always, the quality of the beads, for the price of this box, is great. I love this month's autumn's theme that leaves a lot of room for inspiration. The vine links are lovely and what about the owls!!! I think my favorites were the mix of the metallic green and opaque bisque rondelles. Don't forget about the pumpkins!
I also appreciate getting some new findings every month, even though it's a different metal every month (gold, silver, brass, and copper).
What did you think of this month's Bargain Bead Box?
Visit Bargain Bead Box to subscribe or find out more!
The Subscription
:
Bargain Bead Box
The Description
: Get $40+ of designer-quality factory closeout beads delivered monthly! Subscribers get 10-15 full-size packages and strands of glass, crystal, gemstone, and/or metal beads & findings each month.
The Price
: $15.95 per month