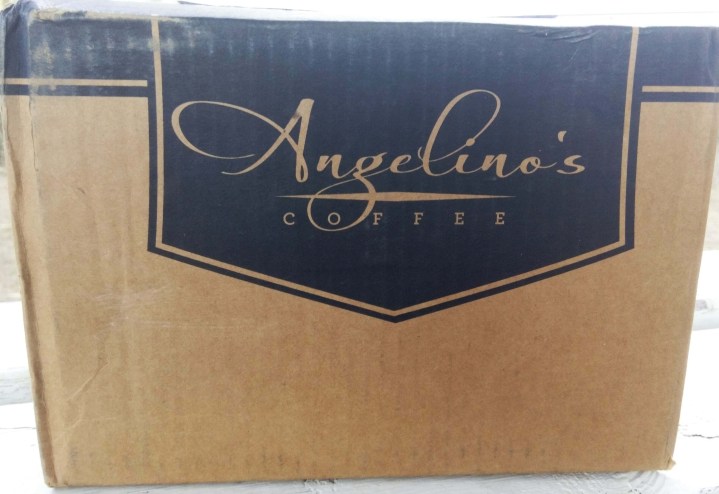 Angelino's is a coffee subscription service that supplies your monthly coffee needs in K-cup form. They offer estate coffees, roast in small batches, and blend after roasting using a top of the line gourmet coffee roaster. The coffee is ground and packaged quickly to ensure you get the freshest coffee in your K-cups possible.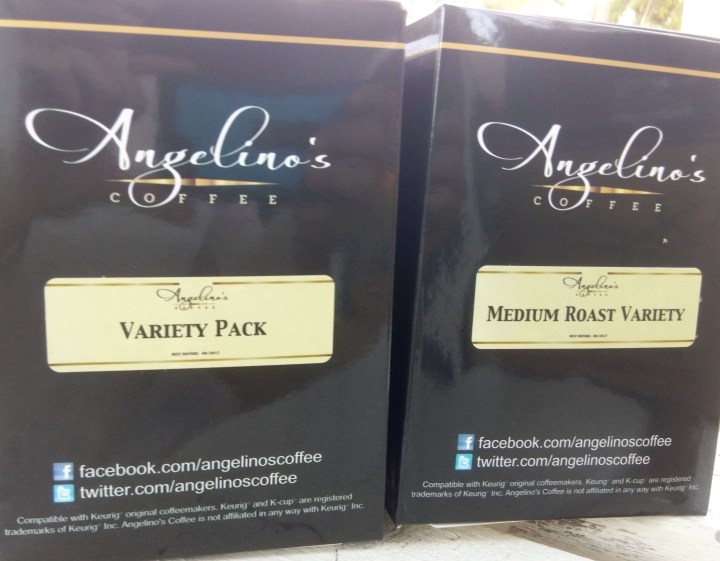 They currently offer 22 different K-cups for your coffee drinking enjoyment. There are unflavored coffees to choose from: Breakfast Blend, Colombian Narino, Donut Shop Blend, Kona Blend, Mocha Java, Dark Roast and French Roast. They offer 4 decaf choices: Colombian Decaf, French Vanilla Decaf, Dark Roast Coffee, and Jamaican Me Crazy Decaf.  And their biggest category is their flavored coffees: French Vanilla, Hazelnut Creme, Caramel Creme, Maple Glaze, Blueberry Truffle, Cinnamon Twist, Jamaican Me Crazy, Coconut Macaroon, Creme Brulee, Chocolate Raspberry Truffle, and Pumpkin Spice.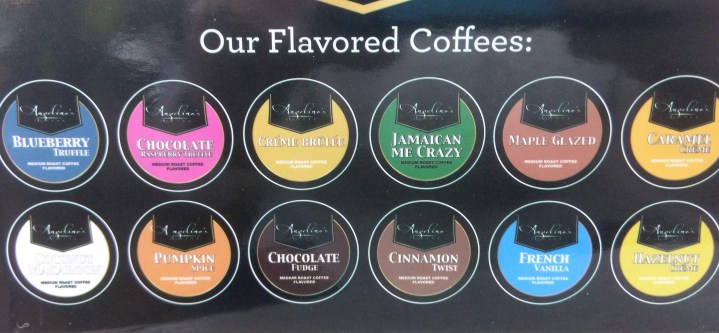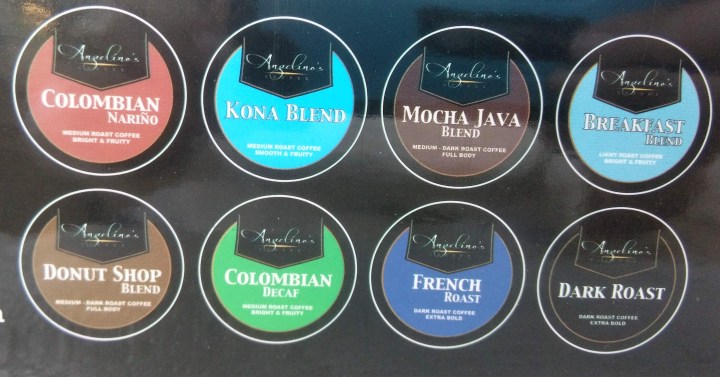 Angelino's offers three subscription choices. The first choice offers a shipment of 48 k-cups (two boxes of 24) for $24.95. The second option offers 96 k-cups a (4 boxes of 24) for $44.95. And, thirdly you can choose 192 k-cups (8 boxes of 24) for $74.95 (perfect for the office). You can choose to receive your coffee every month, every 2 months or every 3 months. Right now, they are also offering a 12 K-cup Sampler Pack for $5.95 (free shipping).
Box choices include the Variety Pack (dark, medium, and flavored), the Flavored Coffee Variety Pack, the Medium Roast Variety Pack, The Dark Roast Variety Pack, and the No Flavor/No Decaf Variety Pack. You can also grab a whole box of any single flavor. Each box contains 24 K-cups.
The used k-cups are great for starting young plants if you are a gardener (there is already a hole poked in the bottom for drainage) or crafts with kids if you're a teacher or have your own munchkins. If you don't reuse them yourself, you can contact your local elementary school and see if they need them for craft projects.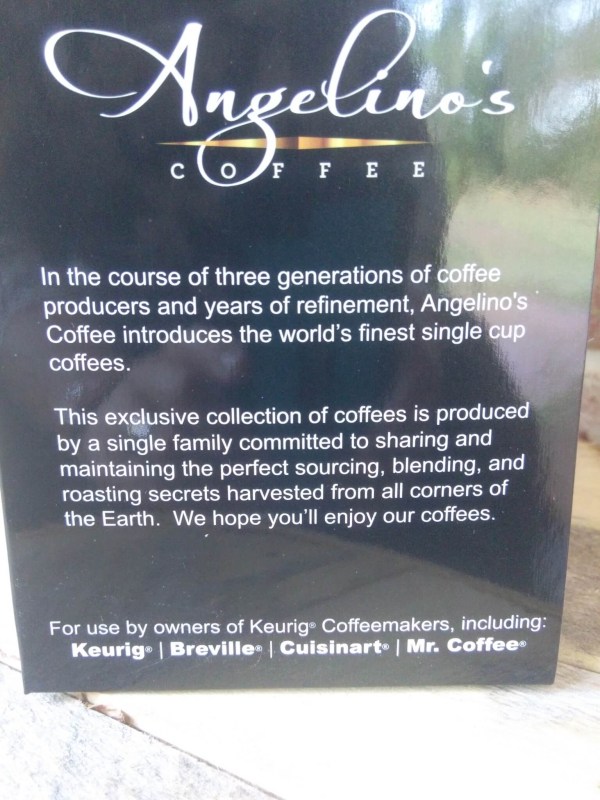 The end of the box gives you a little info about what is inside. The k-cups are compatible with Keurig coffee makers (the website says 1.0 and 2.0), Breville, Cuisinart and Mr. Coffee. And, according to this, the coffee is produced by a single family.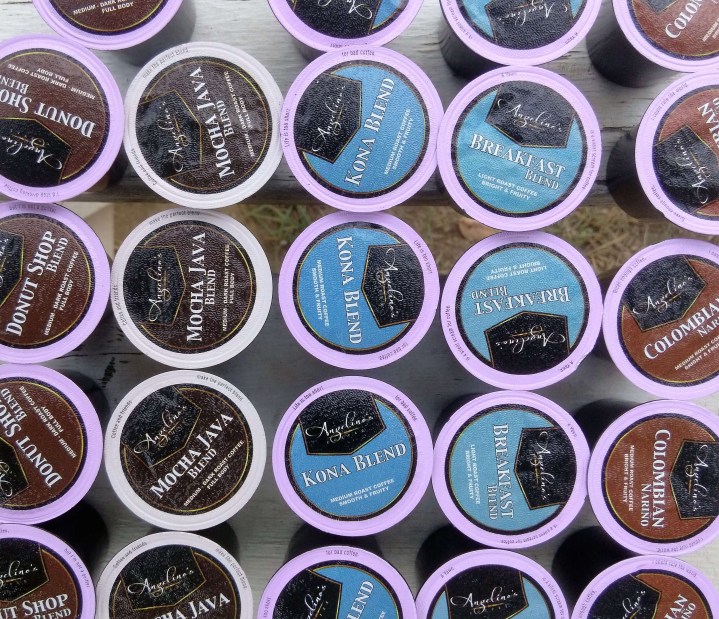 We received the 48 k-cup subscription which lets you choose two 24 k-cup boxes. We chose a Medium Roast Variety Pack for the first box.
The Medium Variety Pack included five K-cups of Kona Blend, Breakfast Blend, Colombian, and Donut Shop Blend, and four of Mocha Java Blend.
The Kona Blend is a medium roast coffee with a smooth fruity taste.
The Breakfast Blend is a light roast coffee that is bright and fruity.
The Colombian is a Medium Roast Coffee that is also bright and fruity.  This one was my husband's favorite.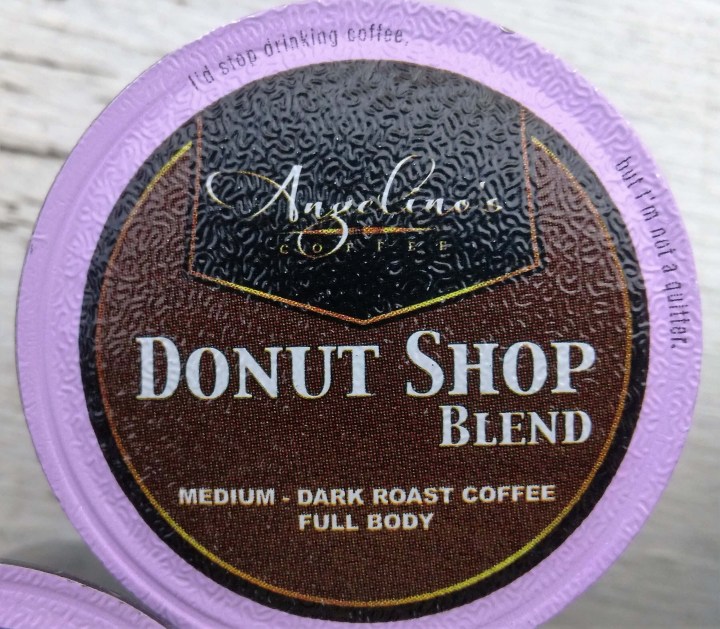 The Donut Shop Blend is a medium to dark roast coffee with a full body.
Lastly, in the Medium Roast Variety Box was the Mocha Java Blend. It is a medium to dark roast coffee with a full body.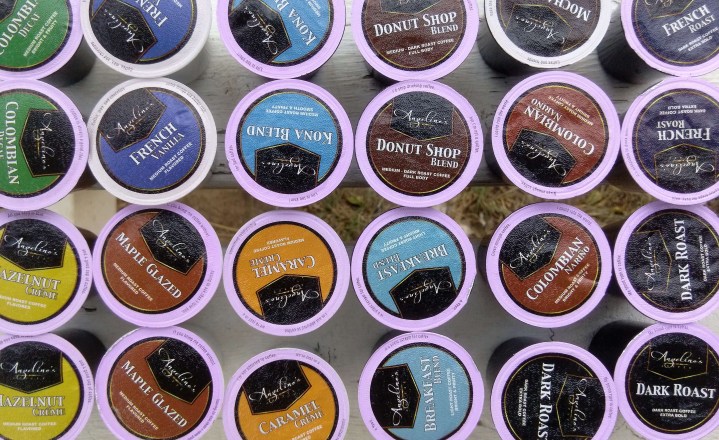 The second pack of 24 K-cups that we chose was the Variety Pack (including flavors).
Two each of the following K-cup varieties were in the box: French Vanilla, Kona Blend, Caramel Creme, Columbian Narino, French Roast, Dark Roast, Colombian Decaf, Hazelnut Creme, Donut Shop, Mocha Java Blend, Maple Glazed and Breakfast Blend.
Their French Roast is a dark roast coffee that is extra bold.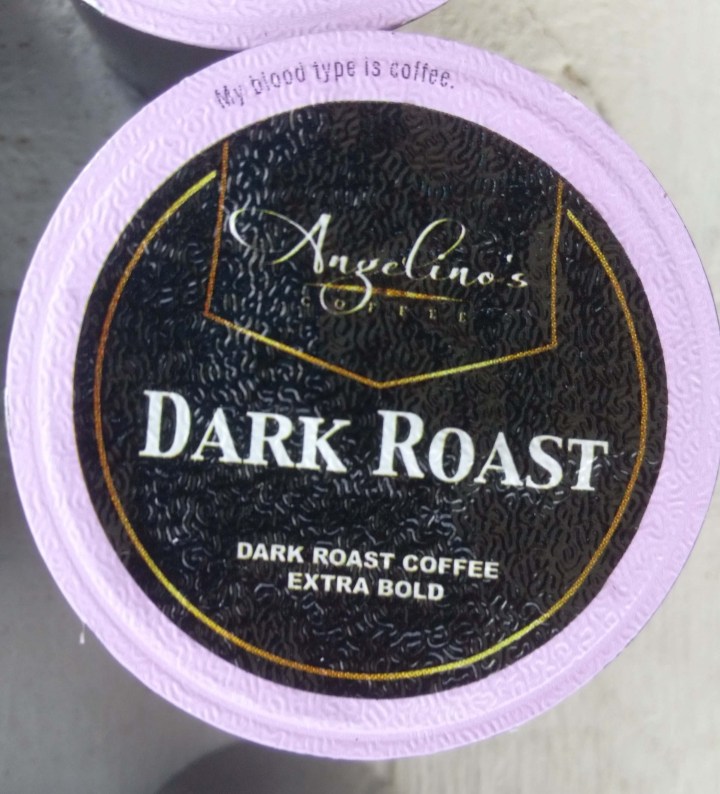 The Dark Roast Coffee is also a dark roast coffee and is extra bold.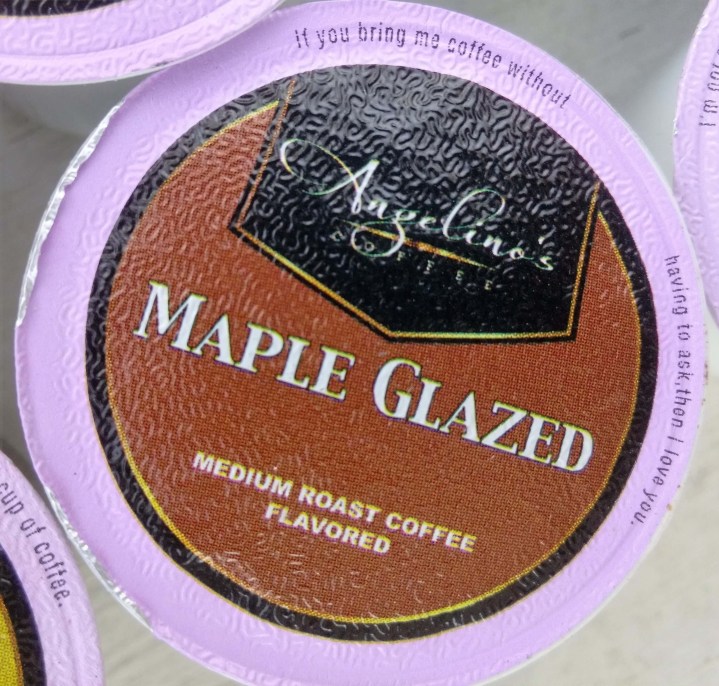 This one was my favorite. It tasted like a warm freshly glazed maple doughnut (I may have added a little creamer).  This is a medium roast coffee with flavor added.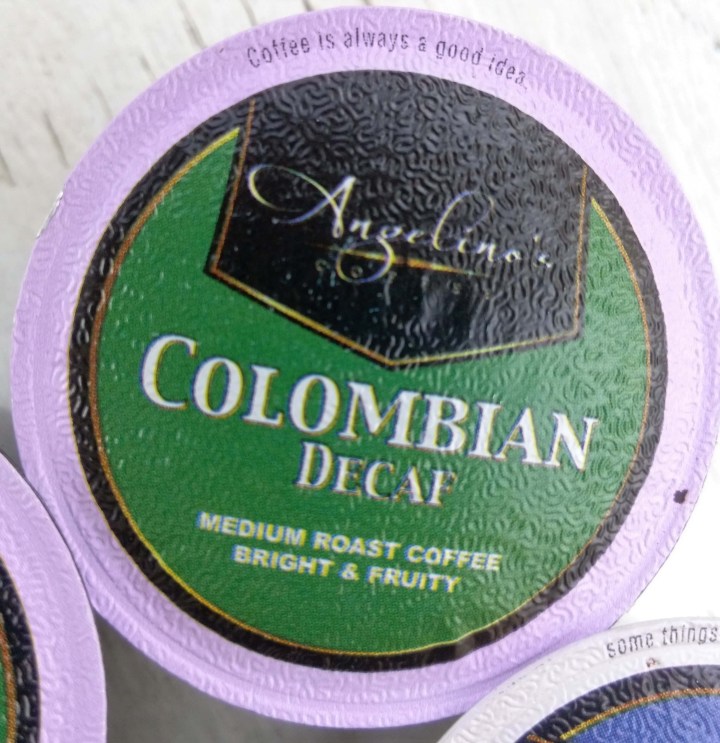 This is the Colombian Decaf. It is a medium roast coffee that is bright and fruity. It made a decent cup of decaf. I love coffee, but if I drink caffeine after about 5pm I won't be sleeping that night. So, decaf is a necessity in my life.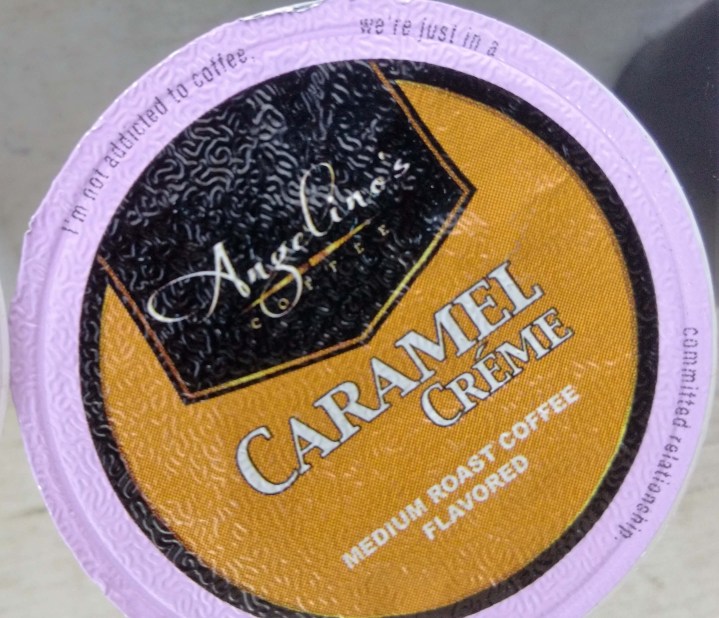 This is the Caramel Creme, a medium roast coffee with flavor added. It is wonderful. I added my favorite hazelnut coffee creamer and it was perfection.
Also, if you look really close you can see cute coffee related sayings printed around the ring of the K-cup. This one says, "I'm not addicted to coffee, we're just in a committed relationship."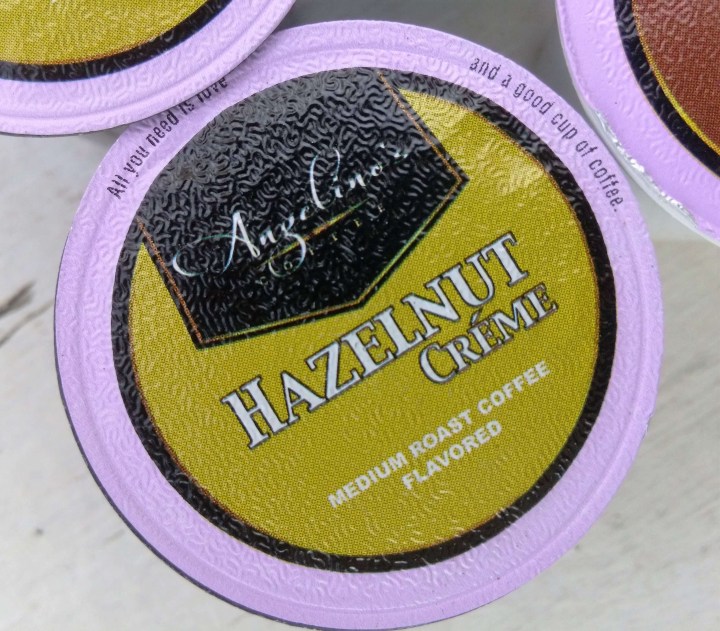 This is the Hazelnut Creme, a medium roast coffee, also flavored.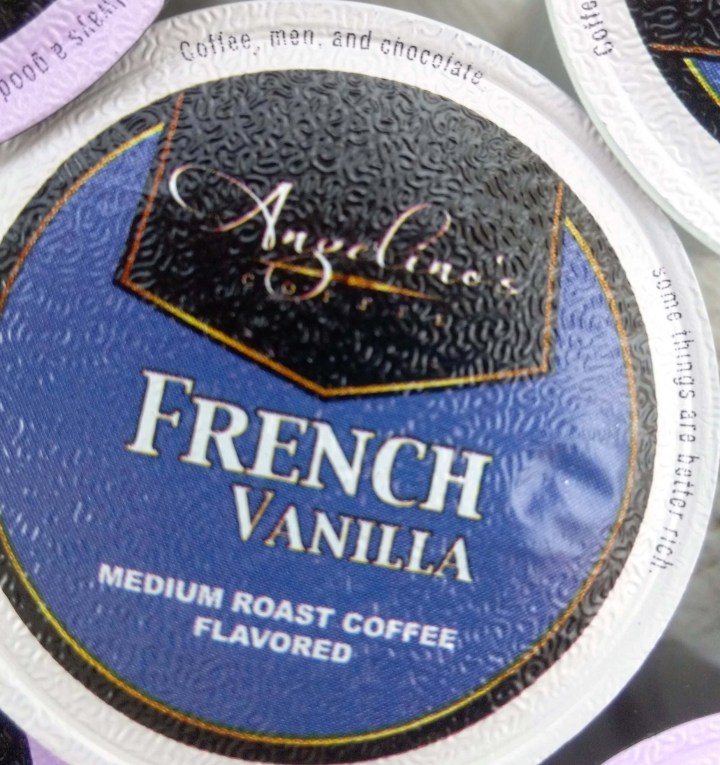 And lastly, this is the French Vanilla flavored medium roast coffee. This one was also yummy, especially with a splash of french vanilla creamer.
Just when you thought that K-cups couldn't get any more convenient. Now Angelino's will deliver high-quality K-cups to you in a convenient subscription service.
Do you get K-cups by subscription? Which do you use? Angelino's Coffee has a $5.95 trial offer but they are also inexpensive enough to just try a couple boxes!
Visit Angelino's Coffee to subscribe or find out more!
The Subscription
:
Angelino's Coffee
The Description
: K-Cup subscription. Select the quantity of cups you want in each shipment, then select coffee types you'd like. All you have to do is sit back and wait to enjoy the coffee when it arrives, simple as that. You've just built your own custom variety pack!
The Price
: $25.00 per month