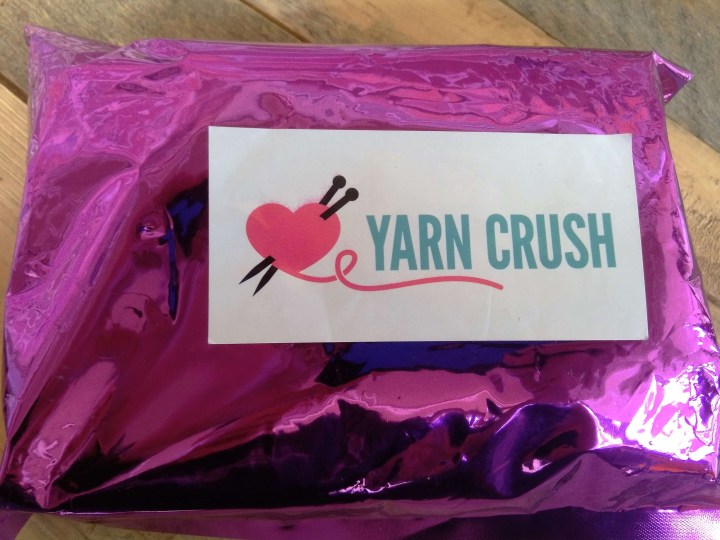 Sock Crush is a new box offered by Yarn Crush.  Each box contains enough yarn to make a pair of socks, a sock pattern and a bonus gift.  Plus, it comes in this really shiny purple bag that will set your fiber loving hear a flutter when you see it in the mailbox.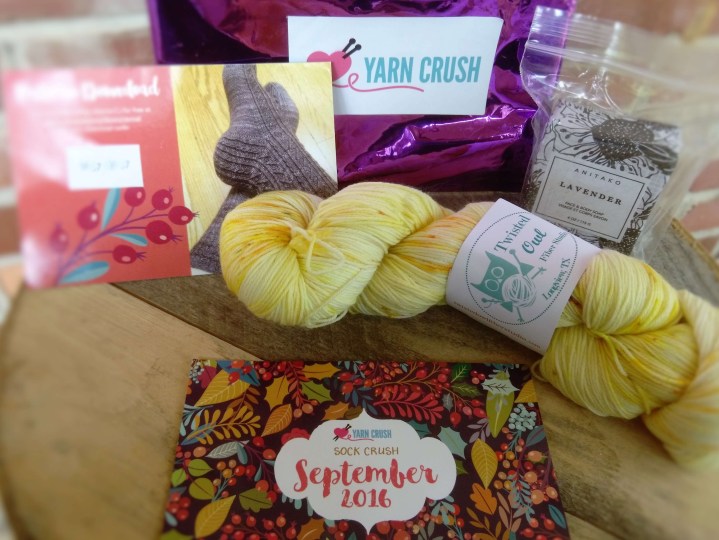 If you choose to subscribe to Sock Crush month to month, the price is $26.99 per month.  If you prepay for 3 months, the price is $25.99 per month.  If you prepay for 6 months, the price is $25.49 a month.  And, if you are totally committed to this box of swoon worthy yarn, you can prepay for a full year and the price drops to $24.74 a month.
You can also choose to get your subscription bimonthly (every other month).  The price for bimonthly is $28.99 for month to month, $28.00 per box for 4 months (2 boxes), $27.33 per month for 6 months (3 boxes) or $27.00 per month for a year (6 boxes).  Shipping to the U.S. is $3.50 per box.
You also get to have some input to the colour way that you get.  You can choose between Warm, Cool, Neutral and Surprise Me.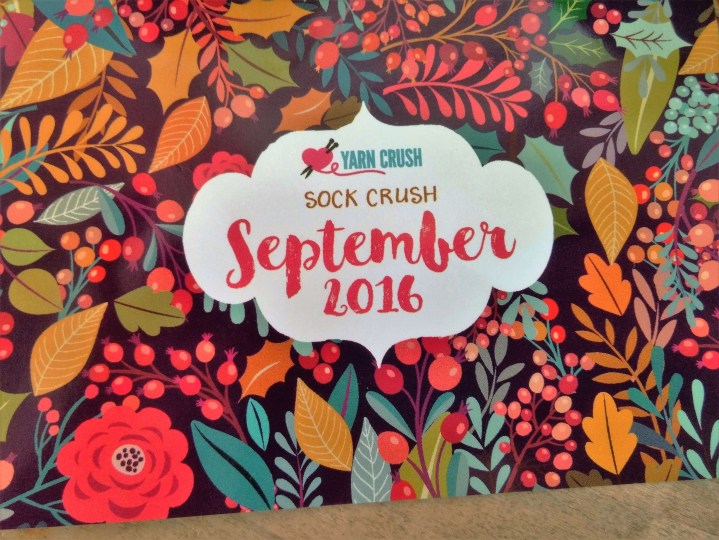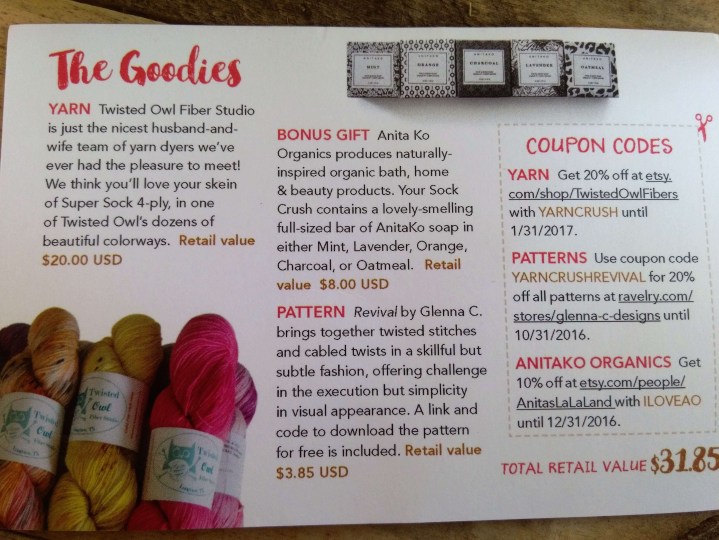 This product information card introduced us to the Sock Crush subscription box and included a description of each item and the retail value of each along with coupon codes if you need more.  The total value of this box was $31.85.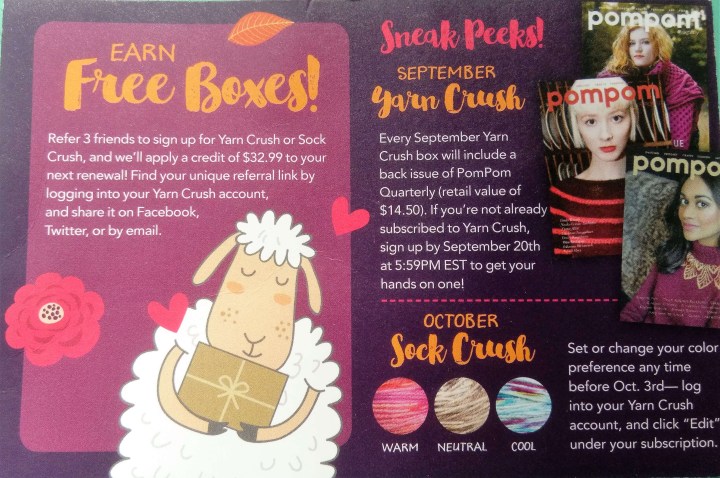 Next month's box is set to include a back issue of PomPom Quarterly, a $14.50 value.  Woohoo!  Also, if you want a change, you can log in and change your color preference (before Oct 3 for the October delivery).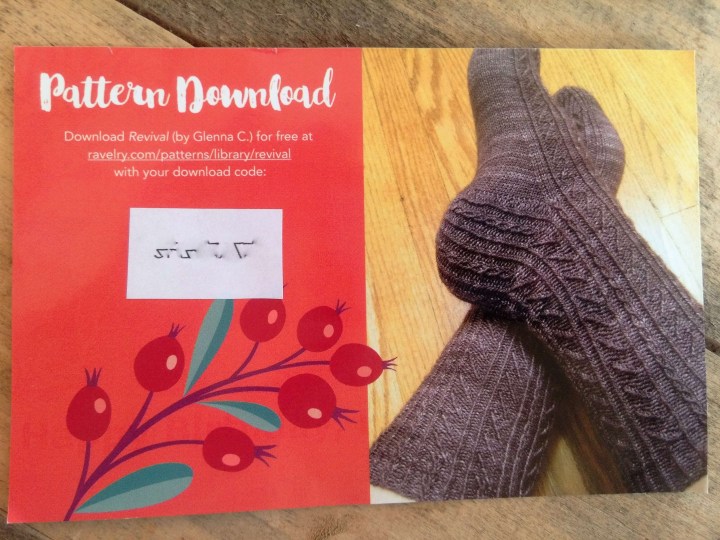 This gorgeous knit sock pattern entitled Revival ($3.85) by Glenna C. was the included pattern.  This card had a coupon code to download the pattern on Ravelry.  (I blurred it out.  Sorry.)  The pattern is very thorough.  It includes charts, a list of required skills and even a glossary of terms.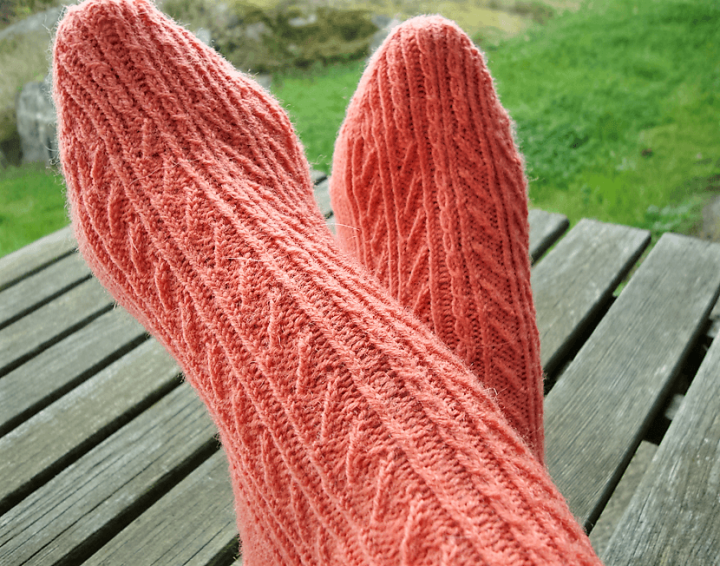 This is a picture from the pattern site.  Aren't they beautiful?  So, I decided years ago that I can crochet pretty well and therefore I was going to concentrate on crochet and forgo knitting.  (Be a master of one trade, ya know?)  But, this pattern has me seriously rethinking that decision.  Look at those pretty cables!
Oh my goodness.  Here it is!!  The beautiful, gorgeous yummy yarn!!  It is Mellow Yellow colorway Super Sock by Twisted Owl Fiber Studio ($20).  You might have received a different colorway in your box, but don't be jealous that I got this luscious yellow and you didn't.  You can order more colors to supplement the skein in your box for $20 each on Etsy.  (A little less with the coupon code included in the box.)

The yarn is machine washable, which is great when you are making socks.  It is a 75% Merino Wool / 25% Nylon blend.  Each hank is hand dyed so make sure you order enough to finish your project.  (If you are ordering more.)
Look at that beautiful color!  I love the slight hints of orange.  I did find a crochet sock pattern to assuage my need for cables.  Check it out below.
A note from a yarn aficionado without a ball winder.  Carefully wind the hank onto a ball.  I was most successful with putting a chair upside down and placing the hank around two of the legs in order to keep it from getting tangled while I wound it into the ball.  Or you could get someone to hold it for you.  But, whatever you do, don't try to work from it in the hank.  It will not end well.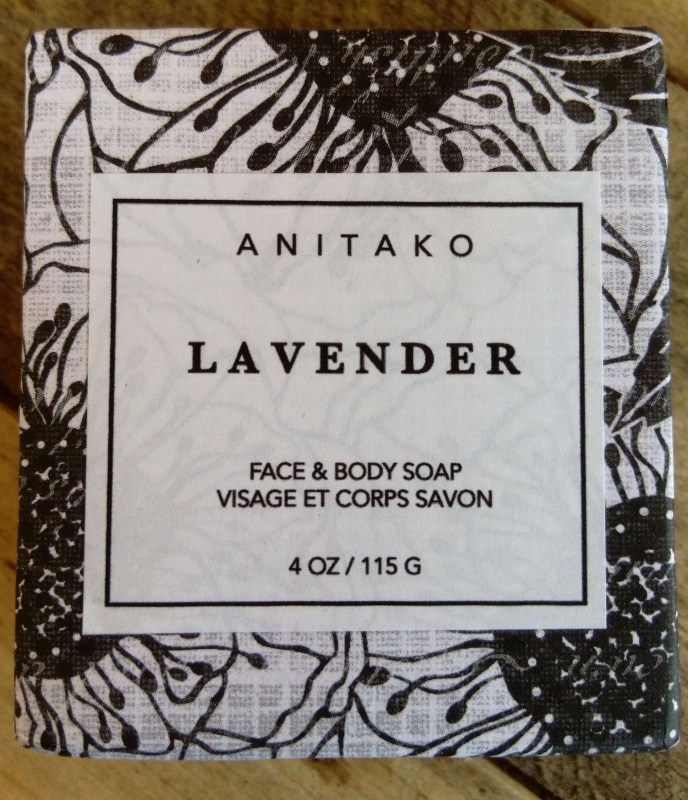 This Lavender face and body soap by Anitako ($8) was the bonus gift in this month's box.  This is a small business made, natural soap.  It smelled so very good!!  My daughter with sensitive hands pounced upon it and claimed it for her own. 
So, here are the crochet socks that I made.  This is a paid pattern called Parker Cable Socks by Lakeside Loops.
Check-out my cables!
Didn't they turn out lovely?  I may make them a little higher.  I haven't decided for sure.
I am impressed with the beautiful yarn offered by Sock Crush by Yarn Crush.  I love trying out the lovely high end yarns.  They have exceptional taste in fiber. The title, Yarn Crush, is so appropriate!  Forget diamonds, send me yarn!
Did you order the new Sock Crush box?  Do you love your new socks as much as I do mine?? You can save $5 on your first box with coupon code HELLO.
Visit Yarn Crush to subscribe or find out more!
The Subscription: Sock Crush
The Description: Sock Crush is a sock knitting subscription box from Yarn Crush! Get enough premium yarn to knit a pair of socks, a PDF sock knitting pattern, and usually a small bonus gift!
The Price: $26.99 per month
See Sock Crush in the Hello Subscription Box Directory!
The Categories: Fiber Crafting Subscription Boxes. Knitting Subscription Boxes.
The Reviews: See all our Sock Crush Reviews.