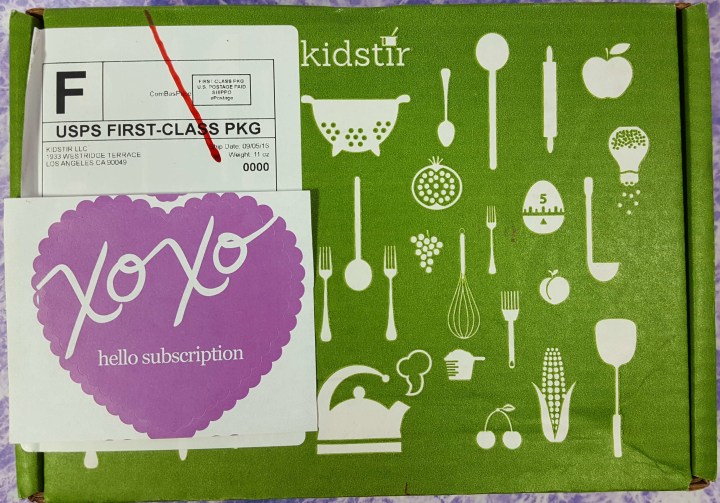 Kidstir is a really cute kids monthly cooking subscription box. You get a themed cooking kit sent to your door every month. Every box includes 3 recipes and accessories for each – 2 kid-sized tools and a special extra. On an annual plan, your first box comes with a great recipe binder to store all the recipes in so you can revisit your favorites. My youngest is my kitchen helper and he is loving getting all these kid size tools to use.
DEAL: Save 20% off on the first month of your subscription! Just use this link and coupon code AFHELLO20!
Plus, when you subscribe to an annual subscription you'll also get a FREE cookbook binder! Plus all subscriptions get a bonus 2 years to select print magazines!

Even opening the box you will get the happy feels.
First look in the box! The theme for September is Bake Me Happy which is great for right now as the days are getting cooler and I don't mind using the oven as much as I do when its so hot outside.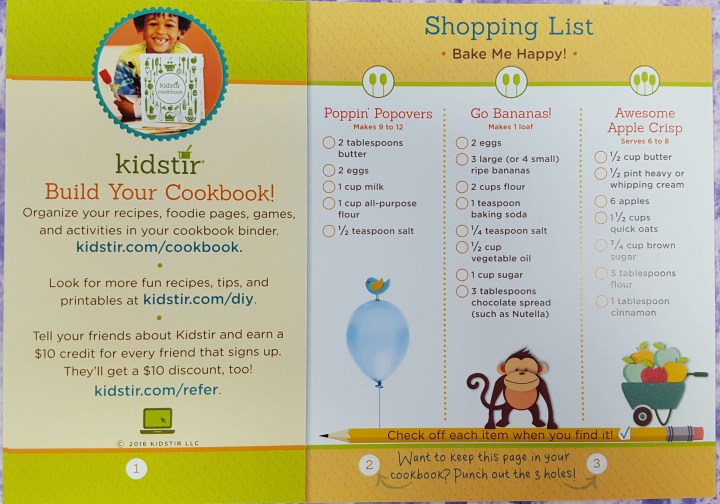 The back of the information card lists a shopping list so that you can grab all the ingredients you need for each recipe.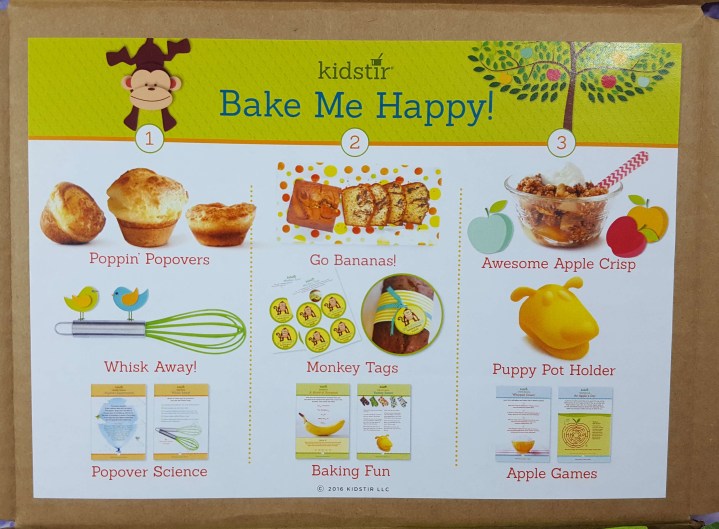 You will always get 2 kid-sized tools and one special extra in every box!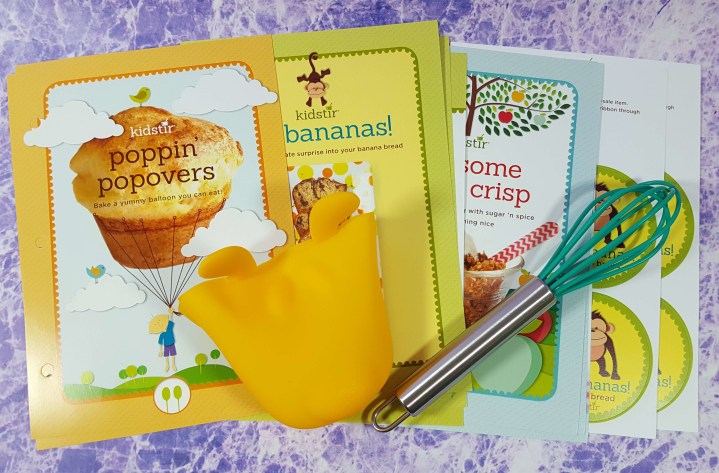 Everything in this month's KidStir box.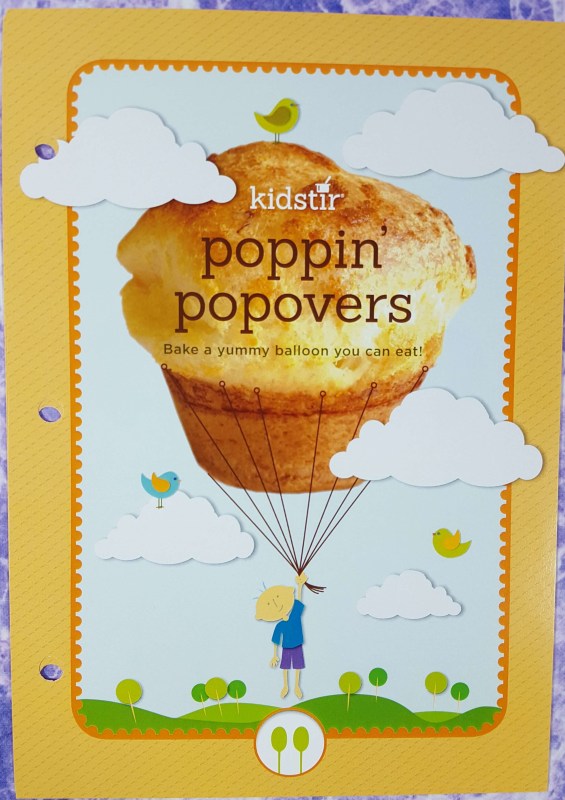 First recipe in the box was for some Poppin' Popovers.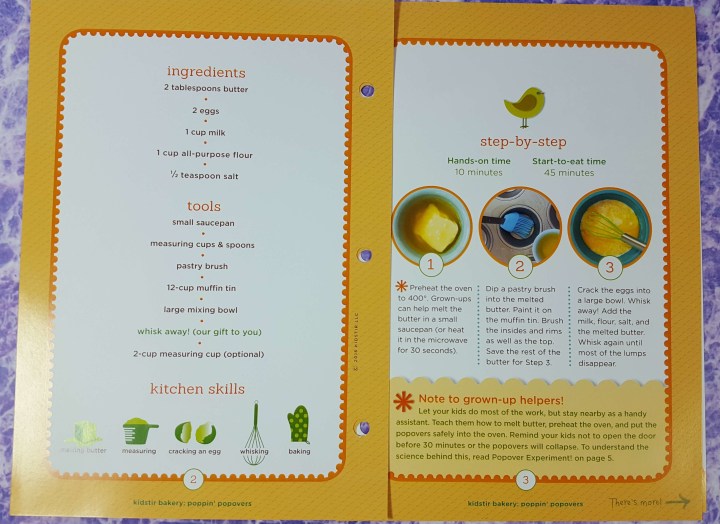 Each recipe comes with a list of ingredients and skills needed and some instructions on how to make it.
It also includes any notes or information about ingredients and if there are some other options for you.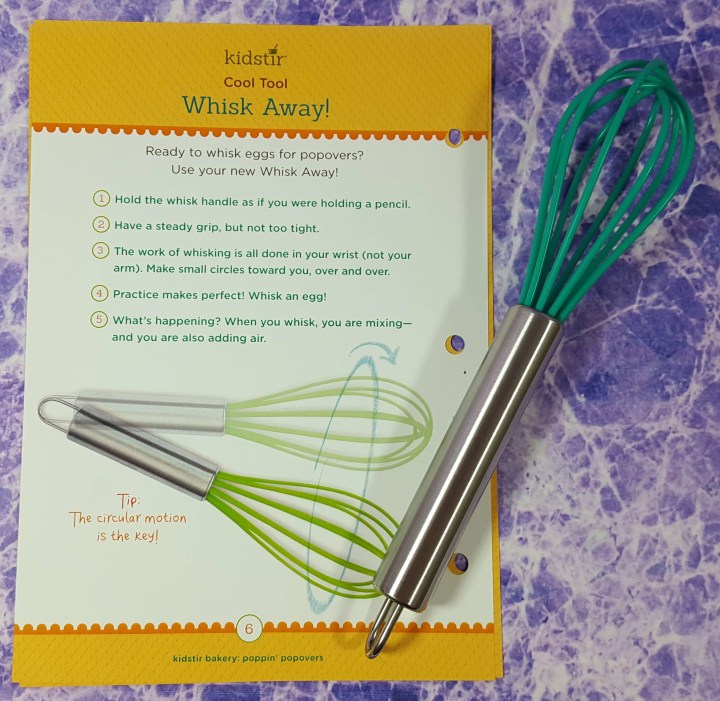 This recipe involves lots of whisking so they included a kid size whisk and some information on how to use it with the recipe.
The second recipe is for chocolate banana bread!  I actually love banana bread but we don't make it very often as my youngest eats bananas like they are going out of style.  This looks delicious and I'm going to have to have him help make some.  Being a paper crafter I actually do put belly bands on so many packages and these little labels are so fun. I should make the bread and then add this to the boys lunch. They will think its fun.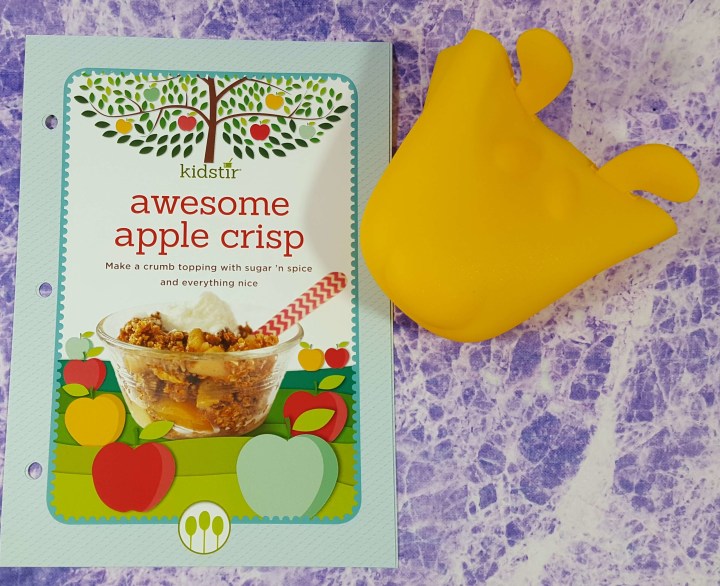 The final recipe is for apple crisp and came with the cutest pot holder.  I love fall weather and apple season and apple pie is my favorite kindof pie.  I'm also a fan of an apple crisp and it always seems a bit easier to make then a full blown pie is.  My son will enjoy helping with this one and using the pot holder.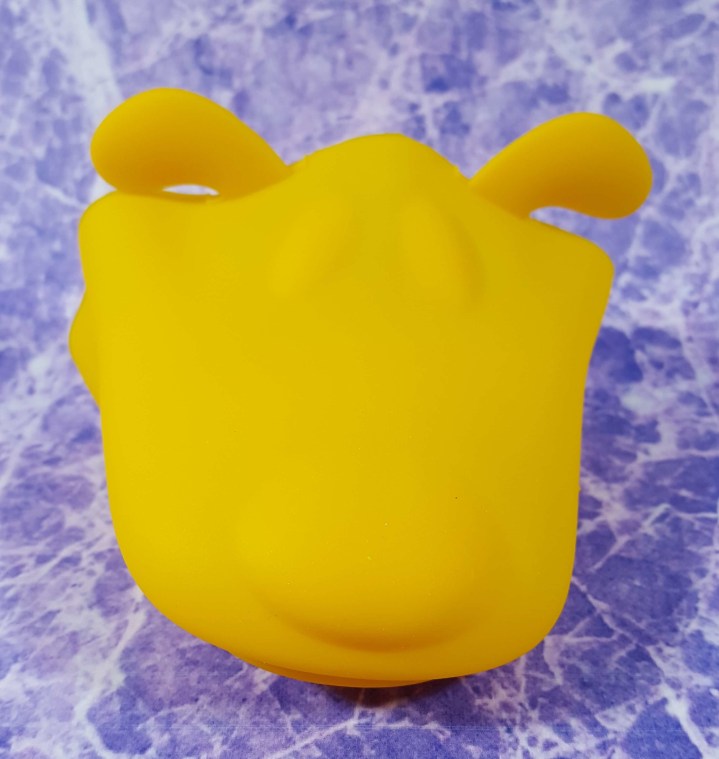 How cute is this pot holder.  I don't let my son hold many things that require a pot holder but this will work great even when he is trying to scoop something off a sheet or out of a dish that is just a little too hot.
This is another great KidStir box with fun and simple recipes for the kids to help with and some very useful tools that are just perfect and kidsize.  The recipes this month are going to be great as add ons to something else we are having and all have a nice warm cozy feel to them which will be so fun as we get into the cooler days of fall. Here in NC we have awhile to go for that but some other places will be there pretty quick. I can just see myself sitting in front of the fire with a bowl of apple crisp in my hands and some apple cider in my mug.  That just seems divine!
Have you cooked with KidStir? No coupon codes for this box, but when you subscribe you'll get a free magazine (they also have an $8 rebate deal!).
Visit KidStir to subscribe or find out more!
The Subscription
:
KidStir
The Description
: Get a kit of delicious recipes, kid-size tools, fun food games, & special extras! Explore, cook and learn all about good food — and have fun with your family. Each monthly kit is a new cookbook chapter!
The Price
: $19.99 per month