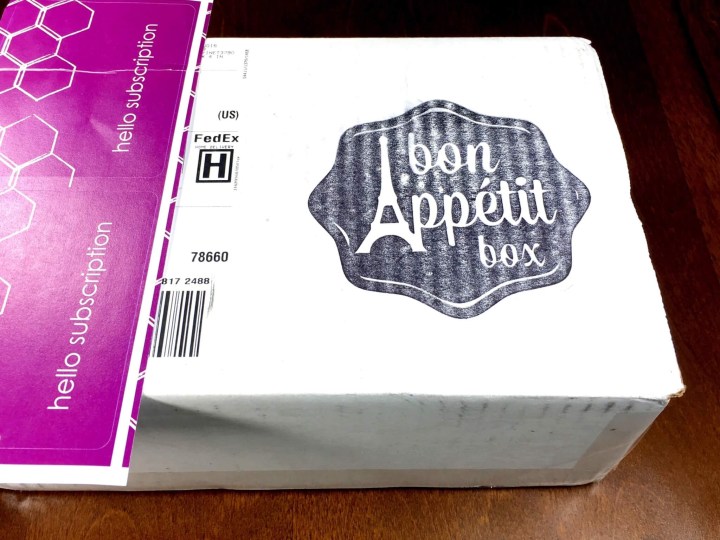 Bon Appétit Box now has a Snack Box Subscription available! This is a a smaller selection of their favorite French sweet and savory treats.
We've curated a selection of our favorite treats from our signature boxes.

Each month, enjoy 4+ delicious made in France items, carefully selected by Zoé & Bertrand, and delivered right to your doorstep! You'll get to try all different exquisite specialties in the comfort of your own home. From the buttery flaky palmiers cookies to the juicy green olive tapenade from Provence, indulge in the best France has to offer!
My box arrived via FedEx and was cushioned with biodegradable packing peanuts.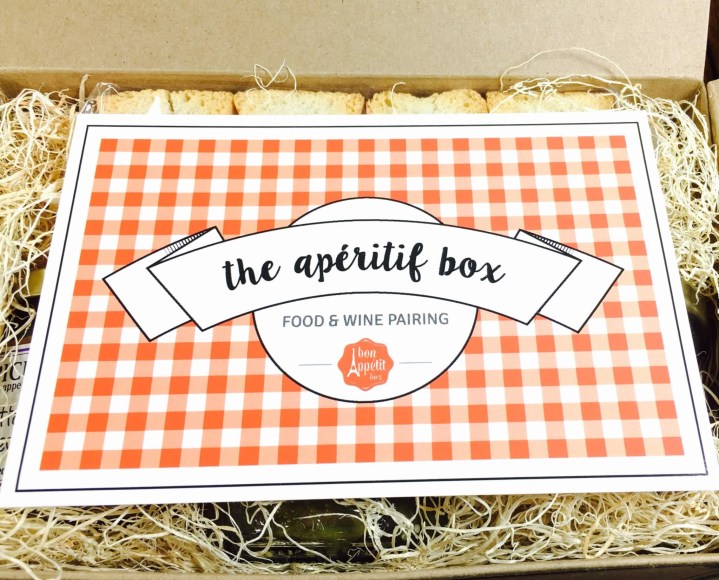 This is my very first box from Bon Appétit and it happens to be the Petite Apértif Box and can be bought individually in their shop for $30 plus shipping. The Snack Box subscriptions are available in 2, 4, or 6 month terms that auto renew and shipping is already included. A two month subscription is $70.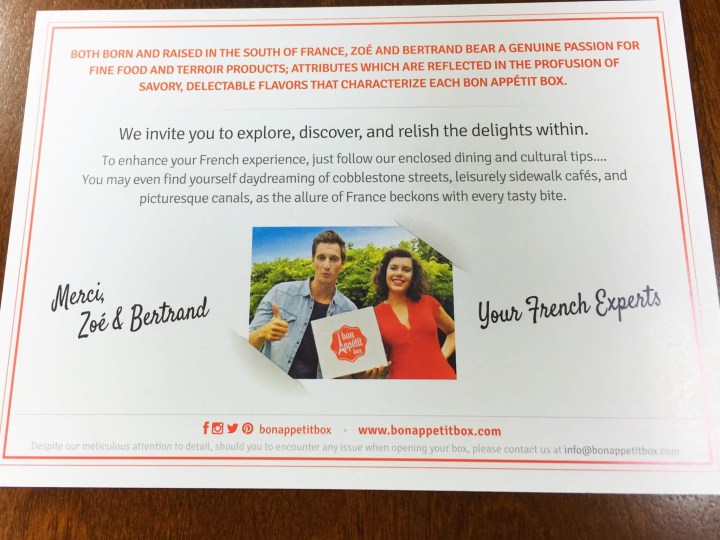 It has been a long time since I visited France but now I can try some of their specialties in the comfort of my own home! Each Bon Appétit Box is curated by avid gourmands Zoé & Bertrand and offers only the finest French artisan goodies.
My box included 4 treats that I had never tried before. I have looked for cornichons at my local grocery store but they don't carry them so I was pleased to get them in my box. I had my doubts about the duck and eggplant but read on because they were actually pretty good!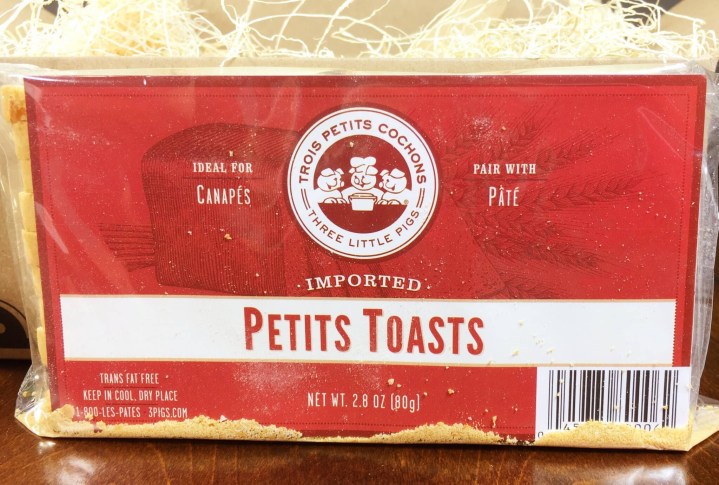 First up is Trois Petits Cochons Petits Toasts ($2.99) which are imported from Holland and are the perfect blank canvas on which you can apply your snacks. They stayed crispy  a lot longer than I thought they would, since I forgot about my snack for a bit while working, but they were still crunchy when I remembered.
The next product is imported from Canada and with the exception of my wedding day it is only the second time I have tried duck. Périgord Duck Rillettes ($10.60) reminded me of the canned deviled ham that I used to eat when I was a kid. This is like pâté but made with meat instead of liver.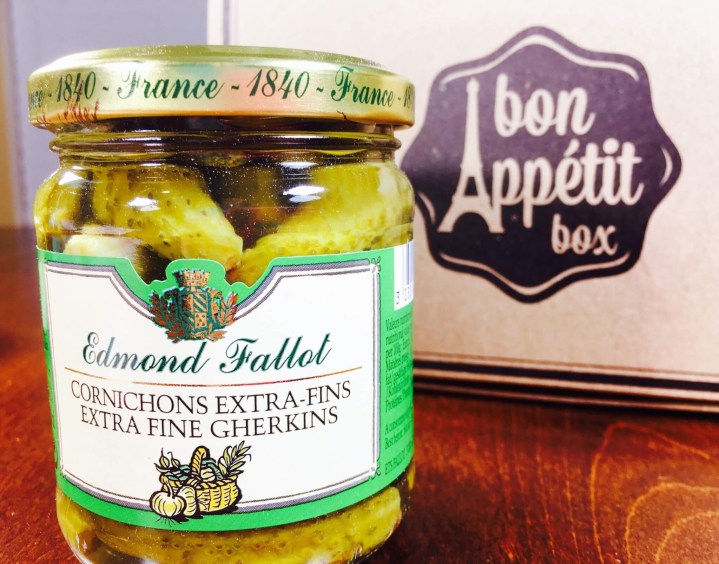 Edmond Falloy Extra Fine Gherkins ($6.99) were tiny dill pickles that were perfect to cut the richness of the rillettes. I layered both of those items on the cracker and my husband was immediately back for seconds.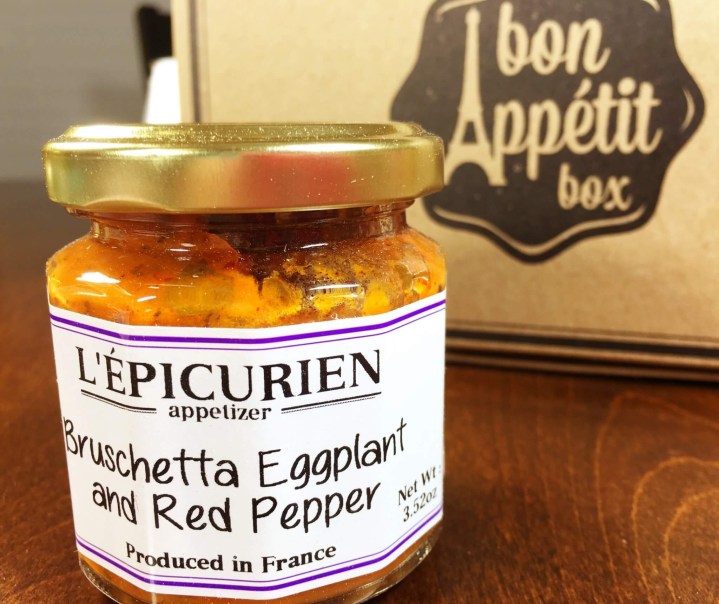 I have a great distaste for both the flavor and consistency of eggplant but when it is all mixed up with red peppers and tomatoes it tastes great! L'Épicurien Bruschetta Eggplant and Red Pepper ($5.49) was bright and a bit spicy and would probably be just as good on pasta.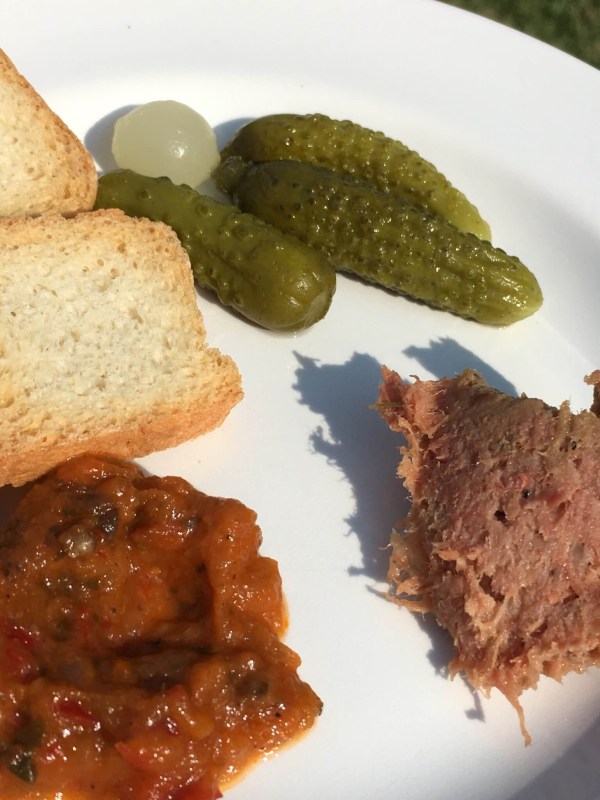 From the top and going clockwise: cornichons (which included onions), rillettes, bruschetta, and mini toasts.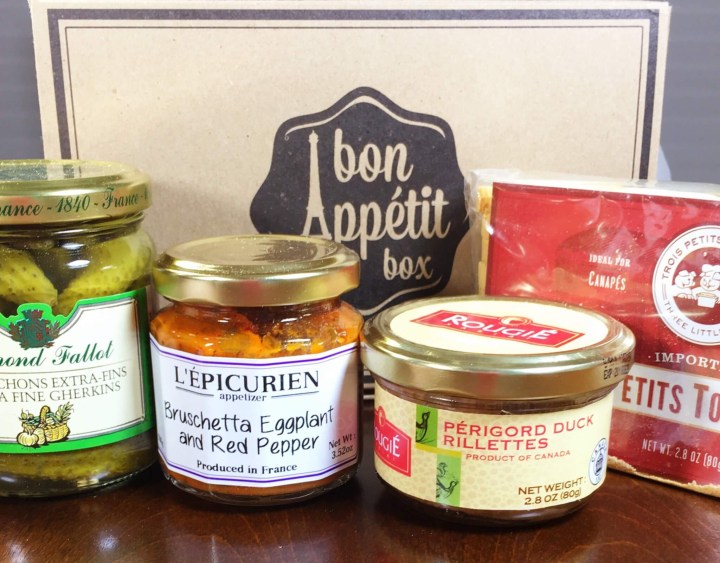 I savored my very first Bon Appétit box! My box had a value of around $26 but this is more about curation than value but even so if you add up all of the shipping charges for the individual items I think it isn't bad at all. My husband was very happy to eat these fancy snacks and we had fun trying new flavors. I would suggest this box for a romantic picnic, whether along the Seine or in your own backyard, with your sweetie.
Note: One concern that I would like to share is that when I opened each of the jars there were tiny pieces of the shipping straw in each one. I don't know how that could have happened and I am not sure if it presents a health concern or not. I scraped them out and tried it anyways but it has me rethinking how safe our food is if something so tiny could somehow get inside of a tightly closed jar. I am baffled by this. It may be due to the very small straw vibrating its way through the threads on the lid during shipping.
Visit Bon Appétit Box to subscribe or find out more! Get $5 OFF on your 1st box when you sign up for any subscription. Use coupon code  HELLO5.
The Subscription
:
Bon Appétit Box
The Description
: A taste of France in a box delivered right to your doorstep! Experience the flavors and traditions of France in a unique and fun way, without the need of your passport. Start your journey to France thanks to our incredible gourmet selections, dining tips and cultural anecdotes.
The Price
: $75.00 per month