Strength Crate is a monthly subscription service that delivers essential items to make your workouts better. You'll get apparel, snacks, equipment, supplements, and a lot more in every box for starting at $35 per month. Strength Crate offers 3 sizes of crate: the Warm-Up ($39.95), Game-Day ($59.95), and the G.O.A.T. ($79.95). This box is the G.O.A.T.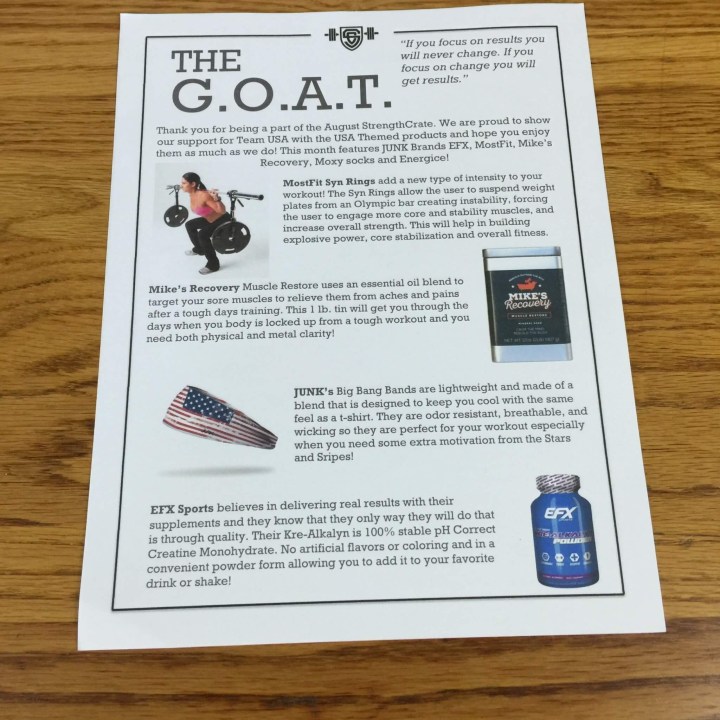 The G.O.A.T. (Greatest of All Time) box info sheet gives a quick run down of some of the products found in the box but still leaves you wanting to try everything for yourself.
Side two gives you a recipe for The Bodybuilder's Buddha Bowl. With the exception of the shredded cabbage I cannot wait to try this meal, I will be adding some lean chicken for the extra protein.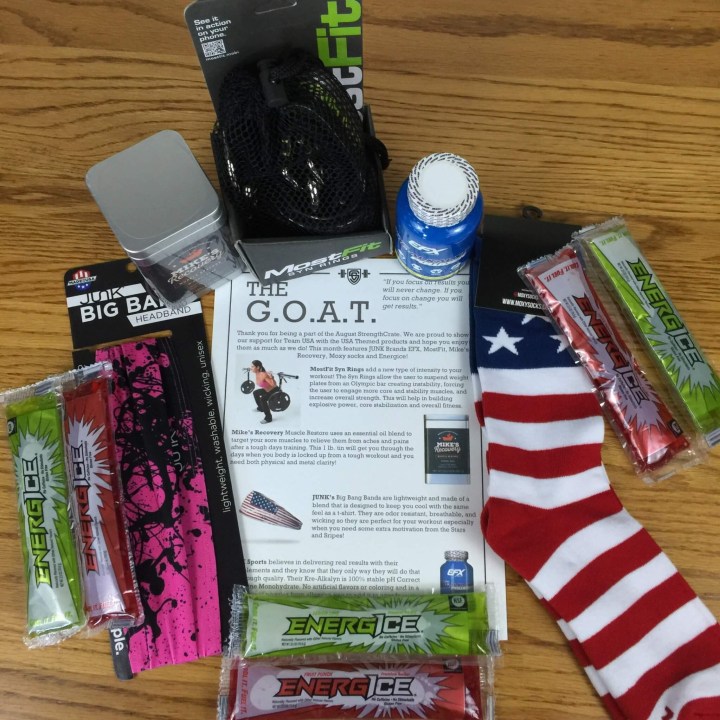 I got all of this in this month's box!
Energice Bars ($5.99) are used to help the body metabolize and obtain energy from fats, carbohydrates and proteins. I don't eat anything Lemon Lime flavored but I did try the Fruit Punch variety. It was a nice flavor that helped my cool down and hydrate without having to drink plain boring water.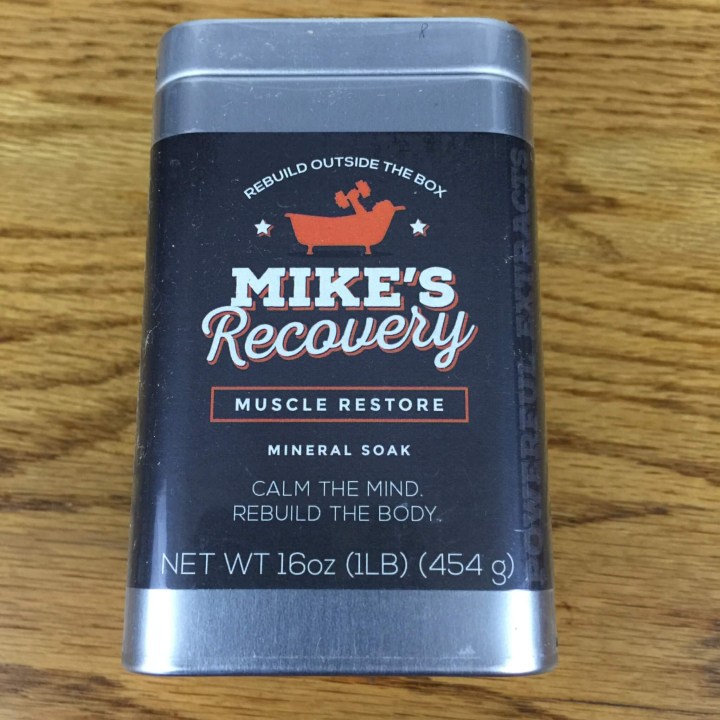 Mike's Recovery Muscle Restore ($12.48) is a mineral soak that has a super strong medicinal scent that I can't get past. The scent is so strong that I could not use it.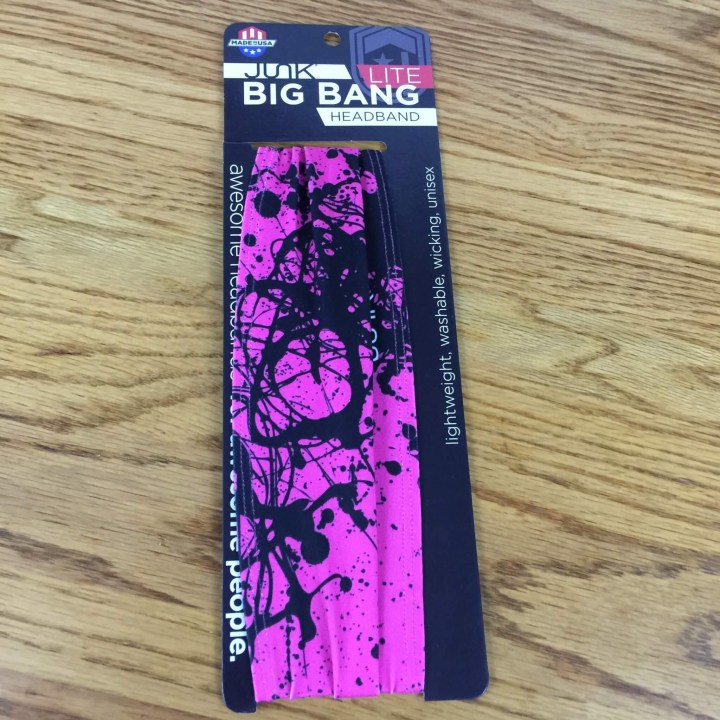 Junk's Lite Big Bang Headband ($15.99) is super light weight. It breathed and trapped moisture very well and I hear it's odor resistant.
Moxy Socks ($10.95)! I love socks and these are no exception. Super plush bottoms with a slightly thinner tube. I love that they are patriotic and bright.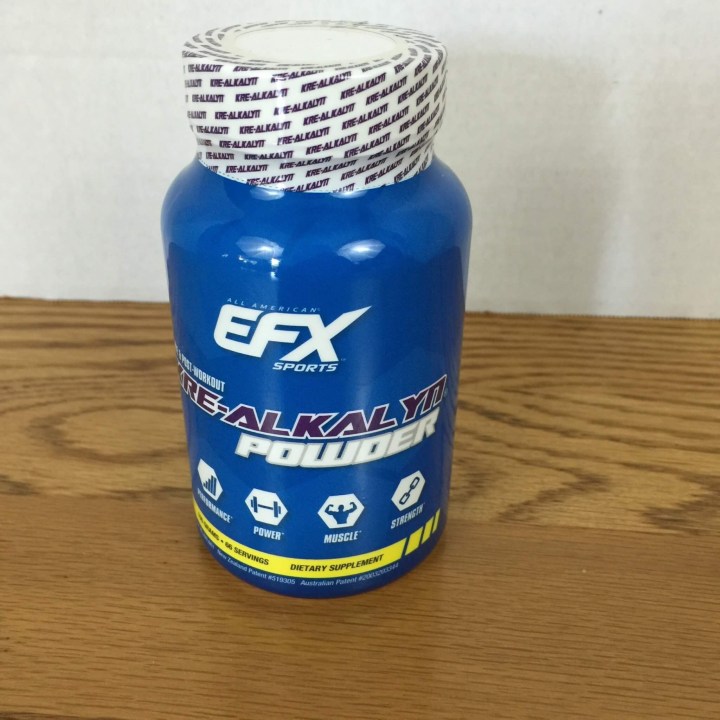 Efx Sports Kre-Alkalyn Powder ($24.20) for both pre and post workout. The cool thing about this product is it's in powder form allowing for it to be added to my favorite smoothies.
MostFit Syn Ring ($39.95) add a new type of intensity to your workout. The Syn rings allow the user to suspend weight plates from an Olympic bar creating instability, forcing the user to engage more core and stability muscles, and increase overall strength. This will help in building explosive power, core stabilization and overall fitness.
Once again Strength Crate brings amazing products and new gear into my ever expanding fitness world. I am both excited and a little nervous to use the Syn Rings as I'm not super coordinated and fear an injury. I love the addition of a recipe to the box because it truly rounds out all of the fitness aspects.
What do you think about this month's Strength Crate? Save 10% on your first box with coupon code HELLO10.
Visit Strength Crate to subscribe or find out more!
The Subscription
:
Strength Crate
The Description
: Each month your StrengthCrate will include an assortment of these type of products , not every month will include every type of product (quantity will vary depending on the product and month). Each box will include Equipment, Supplements, Apparel( 1 to 2 pieces of high quality apparel), and Training Aids. They will also include a few extras like protein bars, paleo snacks and any other kind of product that we think you will enjoy.
The Price
: $35.00 per month