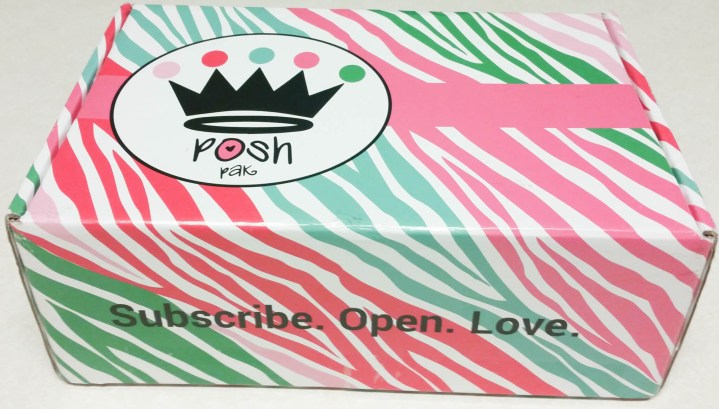 Posh Pak is a monthly subscription box for the fashionista girl in your life.  Posh Pak is available for girls in three different age ranges — 5 to 8 years old, 9 to 12 years old, and 13+ years old.  Subscriptions are $29/month, with discounts for 6- and 12-month subscriptions.  We received the teen box – and I reviewed this box, as usual, with the help of my 11-year old and 14-year old fashionistas.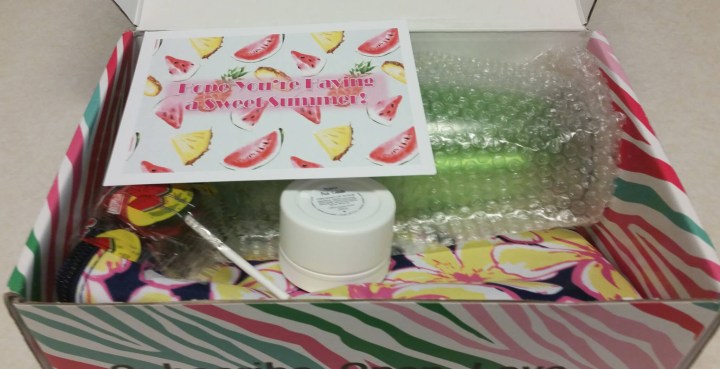 Look at all the bright colors and fun patterns.  My daughters were excited to dig in to this box!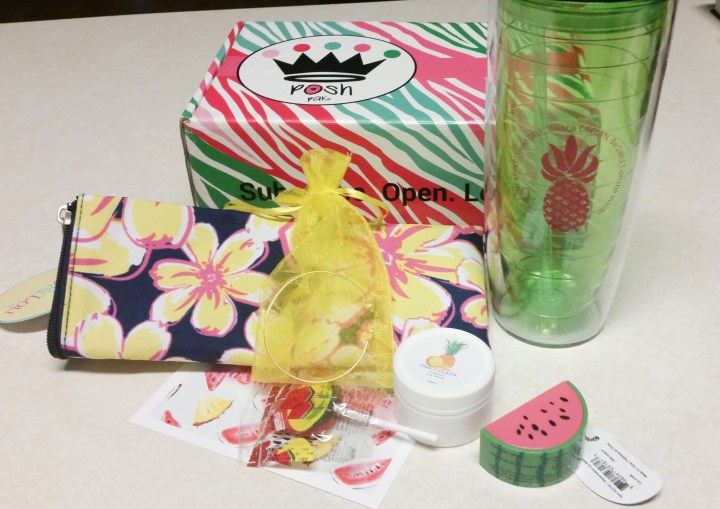 The Posh Pak website promises that each box will include "4 to 6 items ranging from health & beauty, fashion accessories, tech, school supplies, tasty treats and some designer labels."  Here's a look at everything in this month's box.
Here is the theme card for this month's box – Sweet Summer!  As you'll see, the items in this box are spot-on for this fun theme.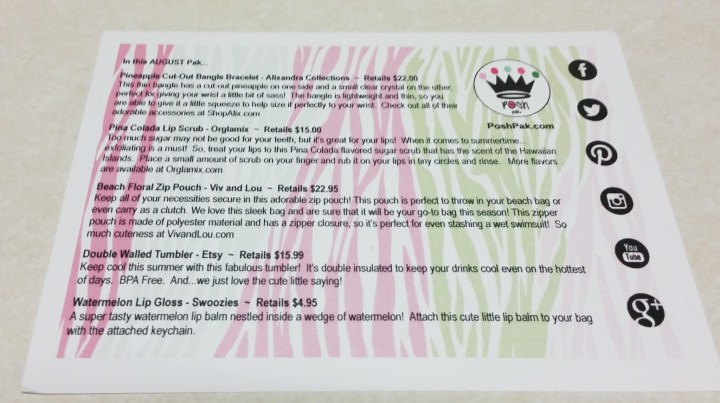 On the back of the theme card is a list of the items in the box, along with retail price information and some hints on how to use the various products.  The Posh Pak website states that each box is "typically valued at more than the monthly subscription fee."  The prices listed below are those provided by the information card.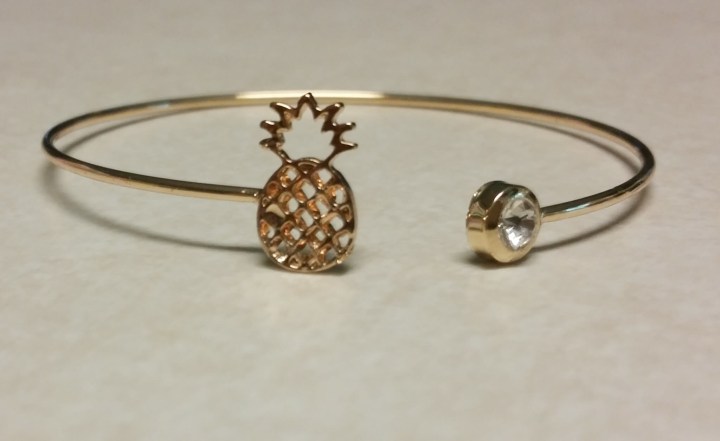 Pineapple Cut-out Bangle Bracelet ($22):  Such a pretty little bracelet – and perfect for the sweet theme!  It is very thin and delicate and looks great on my daughter's wrist.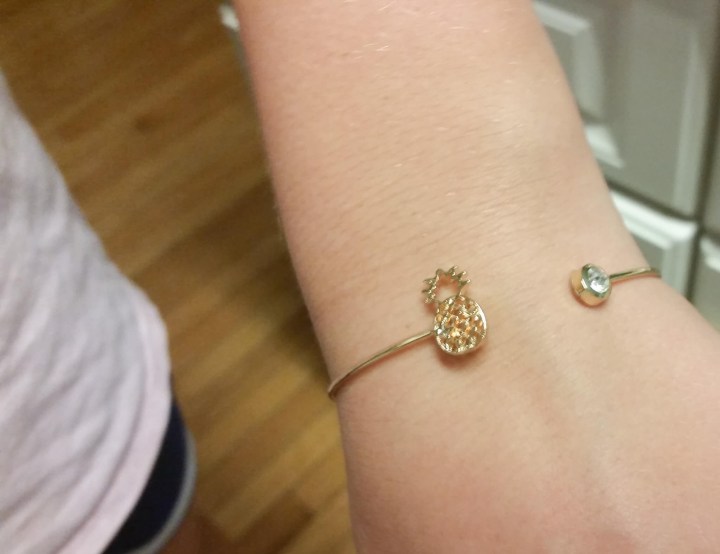 Here's a photo of my younger daughter wearing it.  She is big for her age – since the bangle is open, I'm sure it would fit on nearly any teen (and it fits me too!).  So pretty!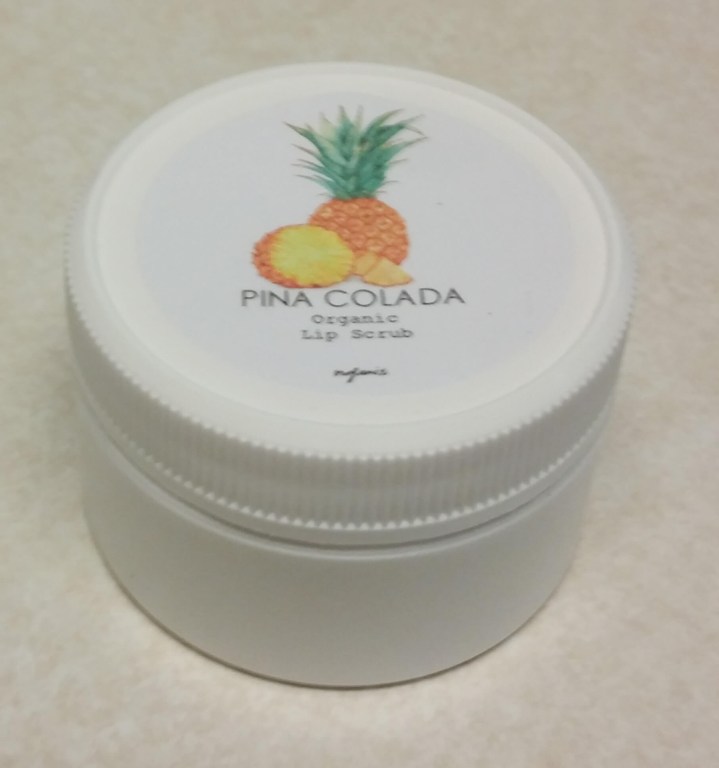 Pina Colada Lip Scrub ($15):  This is a nice lip scrub from Orglamix, a company that makes all-natural, cruelty-free cosmetics and products.  Keeping with the theme, it smells sweet and amazing.  Not only that, but the lip scrub also makes your lips feel soft.  Both girls really liked this product. Orglamix has its own subscription – find out more here!
Beach Floral Zip Pouch ($22.95):  We love the cute bags that Viv and Lou sell and this one is no exception.  This is so perfect for a sweet summer box in the "Beach Floral" pattern.  Plus this is a great sized bag for summer adventures – it measures about 12″x9″ so it holds a good amount of stuff.  Perfect for throwing in some sunscreen and other beach gear or, as the theme card notes, even tossing in your wet swimsuit at the end of the day.  And at the end of summer, my girls can use it to stash their post-gym or sports team practice gear for cleaning up.
Double-Walled Tumbler ($15.99):  This is a cute little tumbler from Etsy with the sweetest saying on it…"Be a Pineapple.  Stand Tall.  Wear a Crown.  Be Sweet on the inside."  We love tumblers in our house and this one will definitely get good use.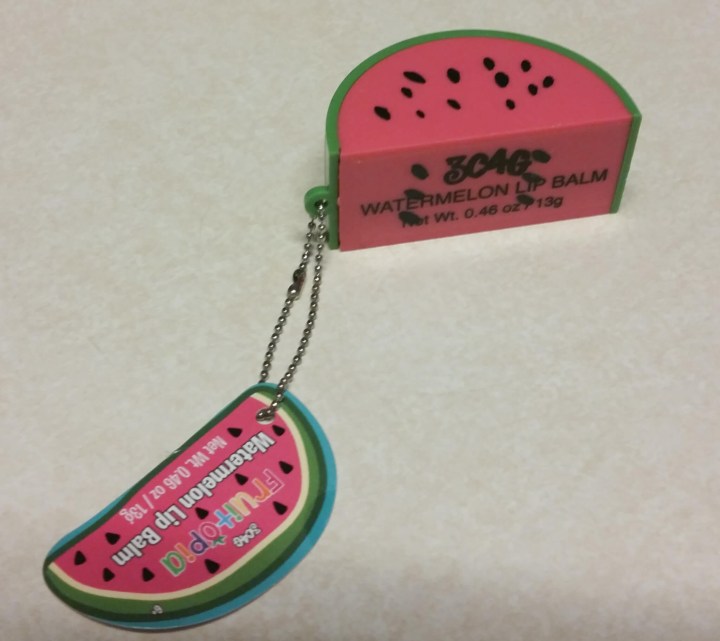 Watermelon Lip Balm ($4.95):  This fun little lip balm is shaped like a watermelon wedge and has watermelon flavored lip gloss inside.  Fun and silly and perfect for the theme.
Watermelon Lollipop:  Finally, and not listed on the card, a watermelon lollipop!  A fun sweet treat that just wraps up the theme of this great summer box.
This was our second experience with Posh Pak and my girls loved it.  The items were perfect for the age group and fit the theme to a tee.  Additionally, the products are all things my girls will (and in most cases already are) using – not just a box of clutter but actually useful things.  But just because the items are useful doesn't mean they aren't fun – Posh Pak does a great job of satisfying both fun and useful!  A great box!
What do you think of this month's PoshPak? We love pineapples!
Visit PoshPak to subscribe or find out more!
The Subscription
:
PoshPak
The Description
: Inside the Pak you will find 4 to 6 items ranging from health/beauty, fashion accessories, tech, school supplies, tasty treats and some designer labels, just for girls. Choose between the age ranges of 5-8, 9-12, and 13+!
The Price
: $29.00 per month