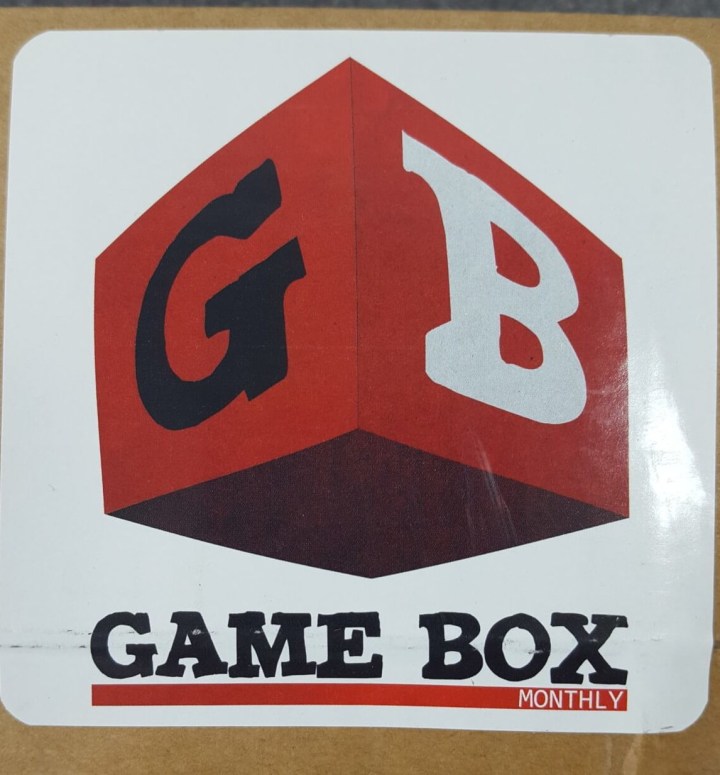 Game Box Monthly is a subscription box that comes monthly with a board game for you and your family to play.  We love to play games and with my boys getting older we are able to branch out and try some new games that are a little more involved.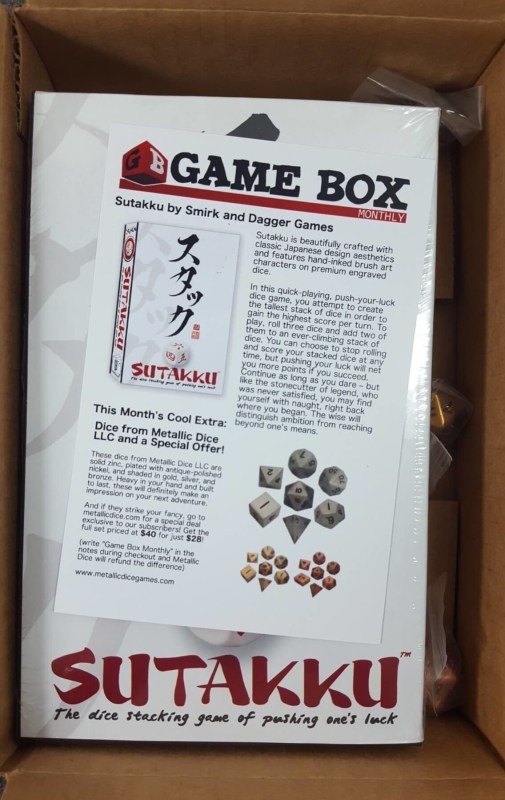 The subscription comes in a plain box with the GameBox sticker and once I opened it I noticed right away that they have included an information card this month.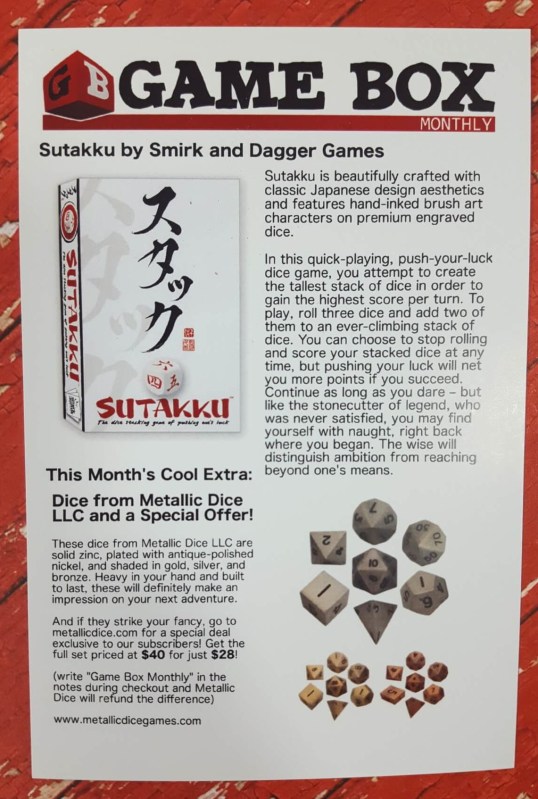 The information card gives us a bit of information on the game and the extra in the box.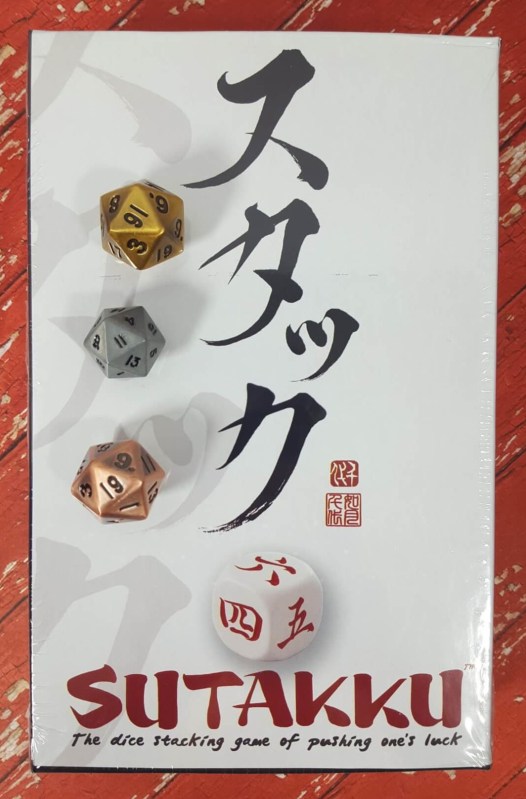 Everything in this month's box.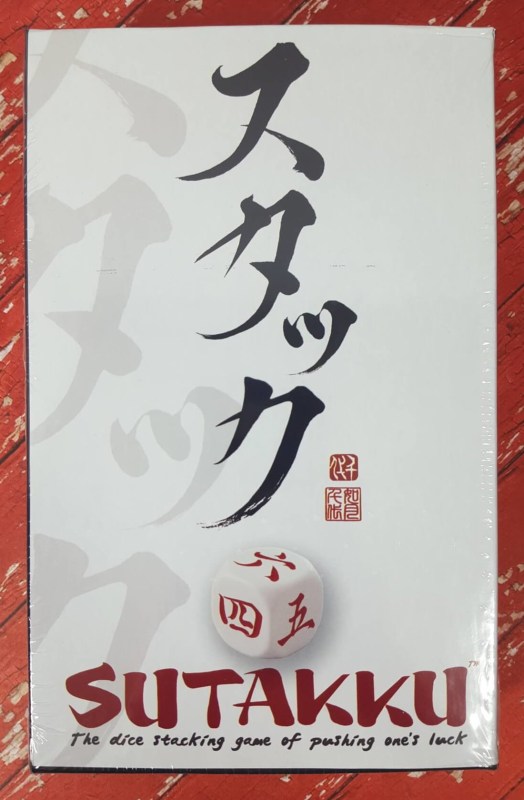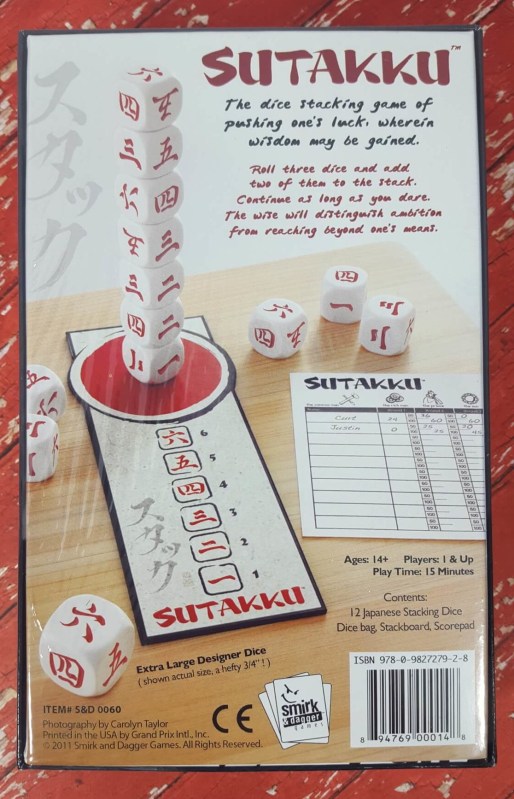 Sutakku ($13.85) – We love dice games here and my son is actually collecting different dice so he was stoked to see this game.  We are going to try it out while he is out of school next week and see how we do.
The dice stacking game of pushing ones luck. Steeped in Japanese folklore SUTAKKU was originally developed to teach the common man the foibles of wishing for more than he had. In this quick-playing push-your-luck dice game you attempt to create the tallest stack of dice in order to gain the highest score per turn. The general rule – roll three dice and add two of them to an ever-climbing stack of dice. You can choose to stop rolling and score your stacked dice at any time but pushing your luck will net you more points if you succeed. Continue as long as you dare. But like the Stonecutter of legend who was never satisfied you may find yourself with naught right back where you began. The wise will distinguish ambition from reaching beyond ones means. This simple but addicting dice game is beautifully crafted with classic Japanese design aesthetics and features stunning hand-inked brush art characters on premium engraved dice. These twelve dice are a hefty 0.75 in. in size perfect for stacking. Game also includes a cloth dice bag stacking board and scorepad.
16mm Plated Polyhedral Dice from Metallic Dice Games ($15-17) These dice are really heavy and I'm loving them. My oldest son has been collecting all the dice we get in this box and he'll make up games with them which he always wins since he is making up the rules but we still have fun.  He has already ran off with these and added them to his stash.
We love this box each month and getting a new game to try out and play. My boys track out of school next week for 3 weeks so we can't wait to grab this one out and give it a try.
What do you think of my Game Box Monthly? Do you play dice games?
Visit Game Box Monthly to subscribe or find out more!
The Subscription
:
Game Box Monthly
The Description
: Choose a subscription and then get a different awesome tabletop game every month delivered right to your door!
The Price
: $25.00 per month