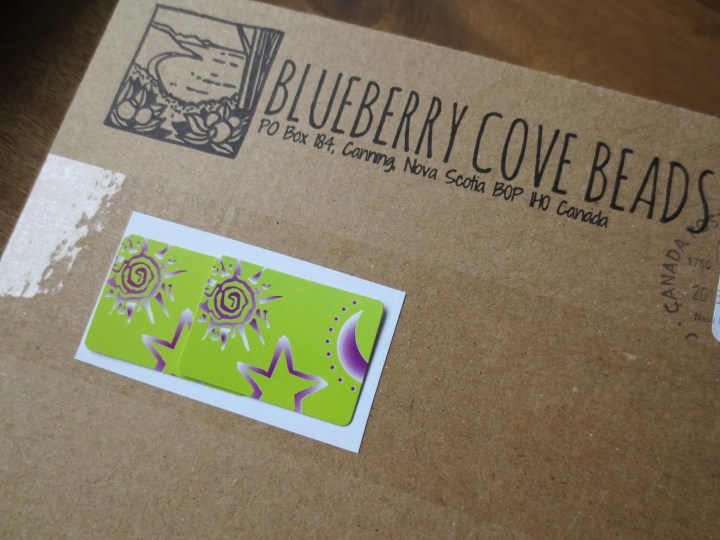 Blueberry Cove Beads is a monthly bead subscription box. Each month, you'll receive between 9 and 13 different items. It can be a mix of loose beads, bead strings, findings and pendants. You can share your creation on their social media for the chance to win a free box. Boxes are $22 per month plus $5 shipping in the US & Canada and their website features projects you can create with your beads.
Inside the box, there's always a nice black satin pouch with a postcard showing the theme of the month.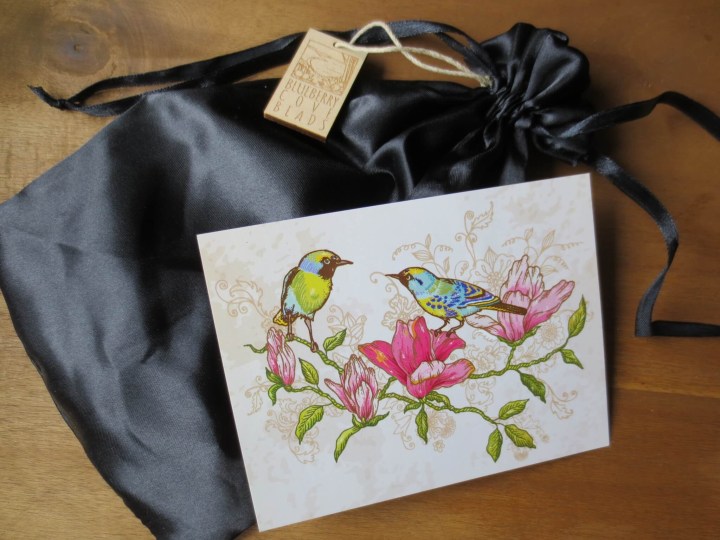 Each month has a different theme. This month's theme was Beautiful Birds!!! FINALLY!!!!! I love birds, I'm obsessed with birds so I hope there'll be a lot of birds in there! GIMME ALL THE BIRDS!!!
There is no info about the content of the box. Instead, we get a card explaining the challenge (optional) for the month. We can share our creation on their social media to enter a draw for a free box. Also, it's really neat to see what everyone else creates with the same set of beads! This month's challenge is to make necklace with our choice of bronze bird charms! So there's more than one? More than one colour? Let me go take a look.
Everything comes individually wrapped in self sealing plastic bags, except for the bead strands and some of the single beads. I see birds. Lots of birds. Birds everywhere! I'm crying.
Those are the least exciting beads in the lot. Only because the rest are birds. Glass pearls in mint green (5mm) and ceramic beads in lilac and purple. There's also light blue rondelles crystals, but they are used as spacer beads and some of them are scratched and broken, so I don't consider them as beads per se in this box.  I love the color of the pearls! They would look so nice with lilac pearls for something cute and simple. The ceramic beads are quite interesting in shape, I have no idea how to use them in a design. I'll have to think about it.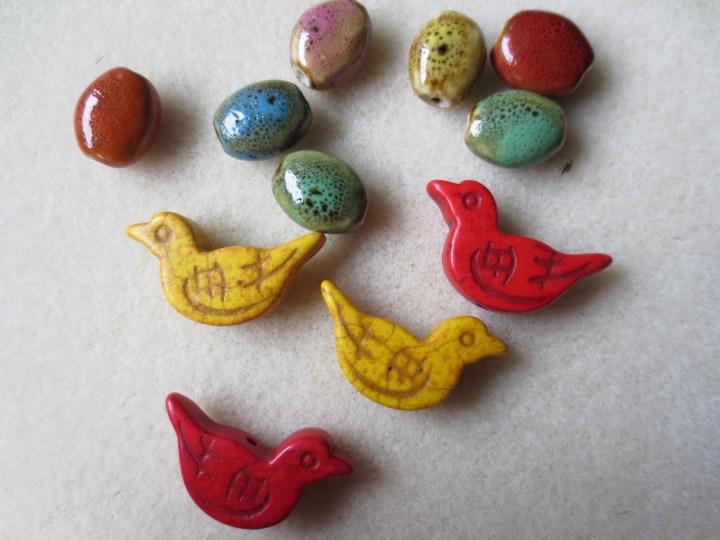 Birds. And ceramic oval beads (14mm). But mostly birds (28mm long). So pretty! The bird could be used as focals or as a pendant with feathers underneath to give them a lighter feel. I love the colours, earthy and bright.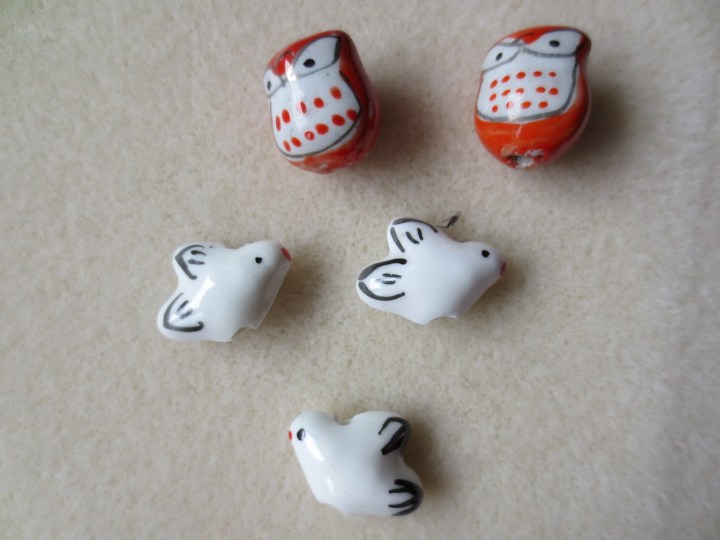 Birds. Ceramic doves and owls. I've seen the owls quite often in different colours at every bead stores in the area, so I'm not overly in love with them, but they are still pretty cute! The dove are simple and light. As a pendant on a minty pearl necklace, they would look cute and deliate.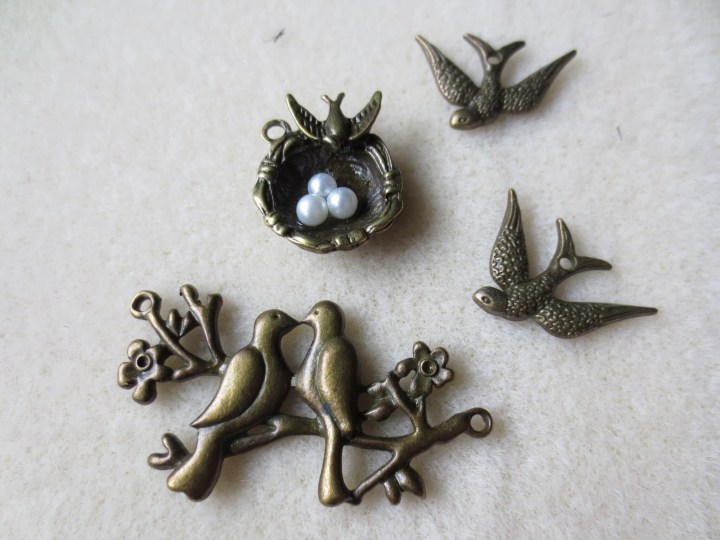 Birds in bronze! Two types of charms and a link. They are lovely! I really like the link (48mm) and I will attach it on a bronze/brass chain for a simple look. I feel that all of these birds could look awesome on a simple chain, or as dangles on earrings (for the pair of birds).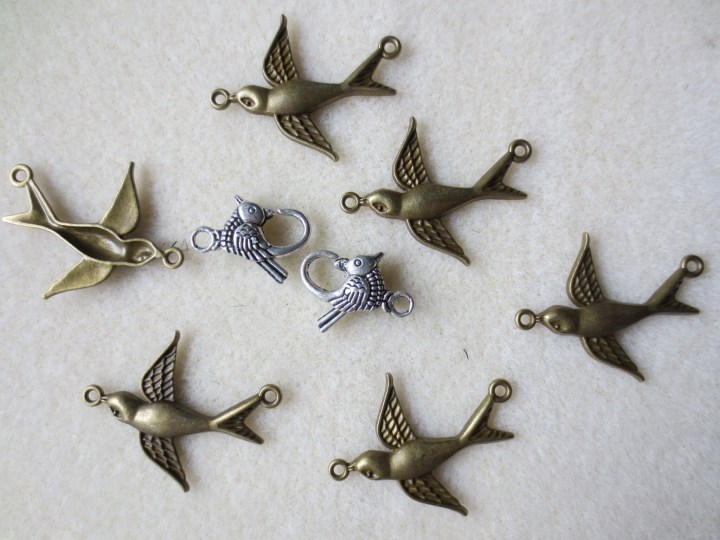 Birds. Bronze links (35mm) and antique silver coloured clasps. I love getting clasps in my subscription boxes. It gives that finishing touch to your necklace or bracelet. You just have to push on the tail to open the clasp, it's adorable! The links are very light.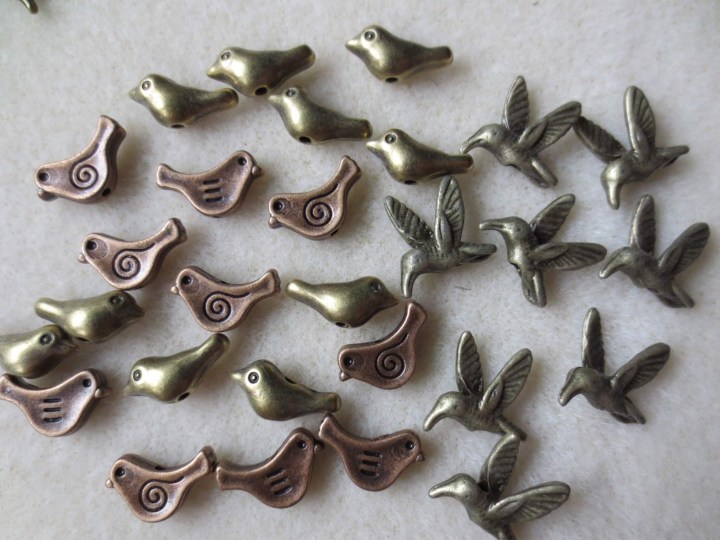 So many BIRDS!!! (Copper and brass) They are all top-bottom drilled so they would be great as pendants or charms. I'm thinking of making earrings with the copper one, mix with purple or dark green beads. The brass big birds are quite heavy for their size, they would be great in a fringe-like design.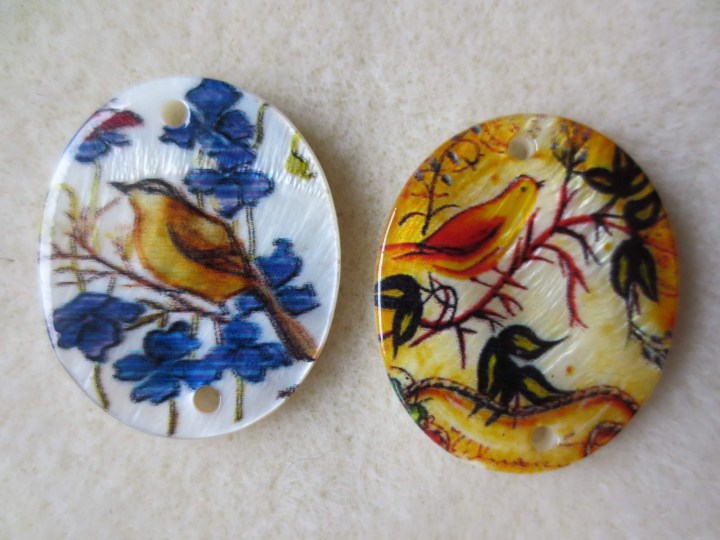 BIRD. Painted shell links. They are amazing! As pendants with a little beads or feathers at the bottom, or turned into a pair of mismatched earrings, these are light, full of colours and lovely. (30mm)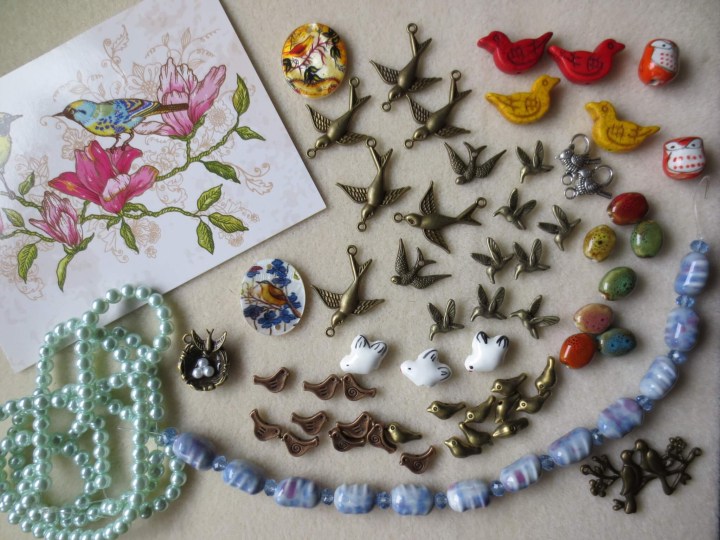 BIRDS EVERYWHERE!!!! So many birds to choose from! Where do I start? I know, with the BIRDS!!!! I also fell in love with the minty pearls, so I had to use them. I've only added brass coloured findings to the nest and the diving birds. I already wore it with a green summer dress and it feels so light and summery!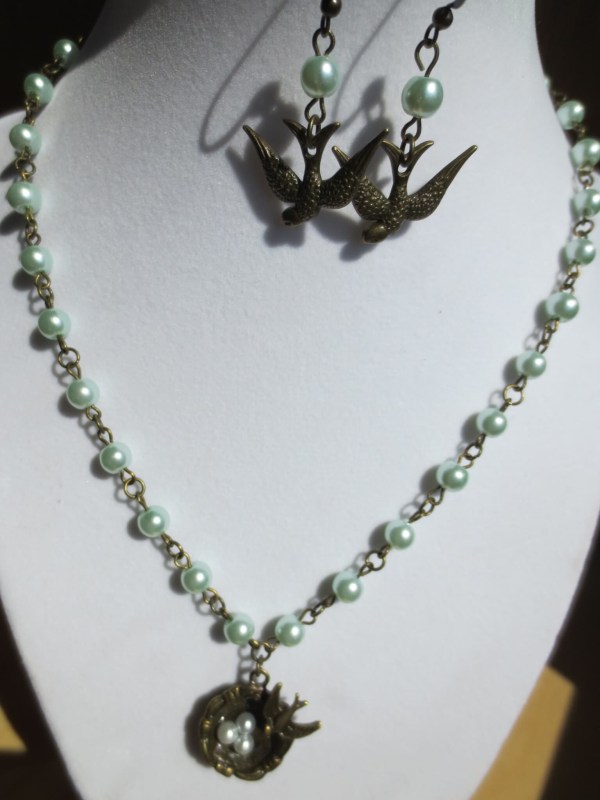 I said this every month, but this is one of my favorite boxes from Blueberry Cove Beads! But that's almost cheating with my love (obsession…) for birds! This month was heavy on metal beads, so I wish we would have gotten something a bit lighter like feathers! After all, it's a box about birds!!!
What did you think of this month's Blueberry Cove Beads?
Visit Blueberry Cove Beads to subscribe or find out more!
The Subscription
:
Blueberry Cove Beads
The Description
: A monthly bead subscription box. Each box will contain between 9-13 items such as loose beads, bead strings, findings, pendants and more.
The Price
: $27.00 per month