RawBox is a monthly subscription box intent on delivering only the healthiest snacks and cleanest lifestyle products.  The snacks are all raw and plant-based, free of gluten, wheat, dairy, soy, and many other common food sensitivity triggers.
The August Box is full of wonderful items!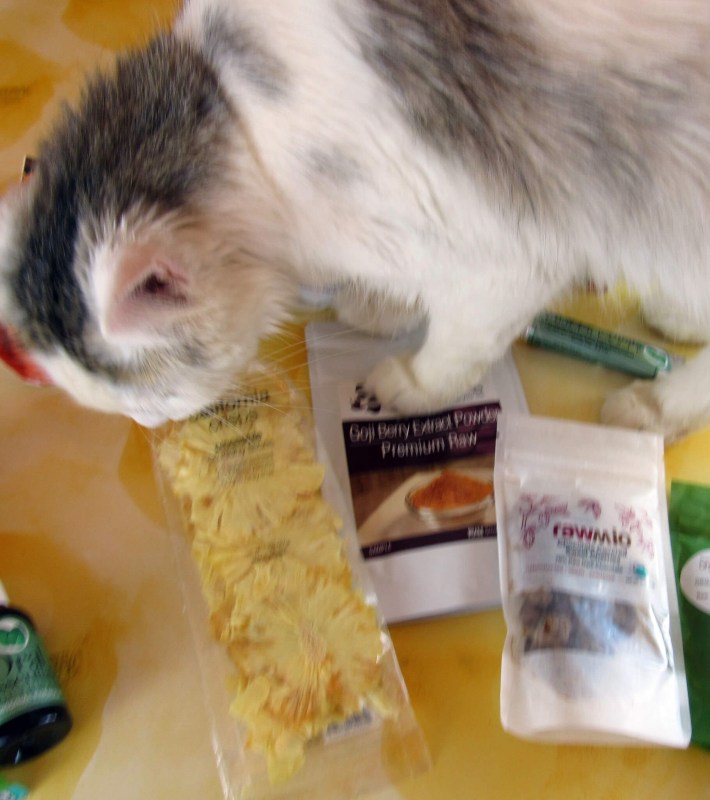 Little Lamb was utterly fascinated with the August Raw Box. I had a hard time keeping him away from it. He photobombed most of the photos!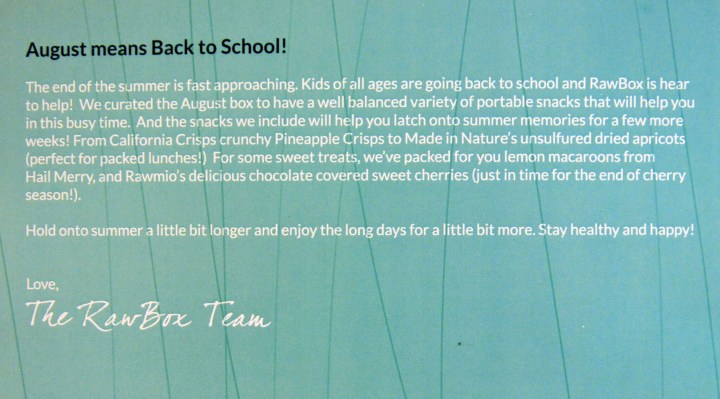 The August theme is "Back to School!" Sniff, sniff my oldest son is a high school senior this year.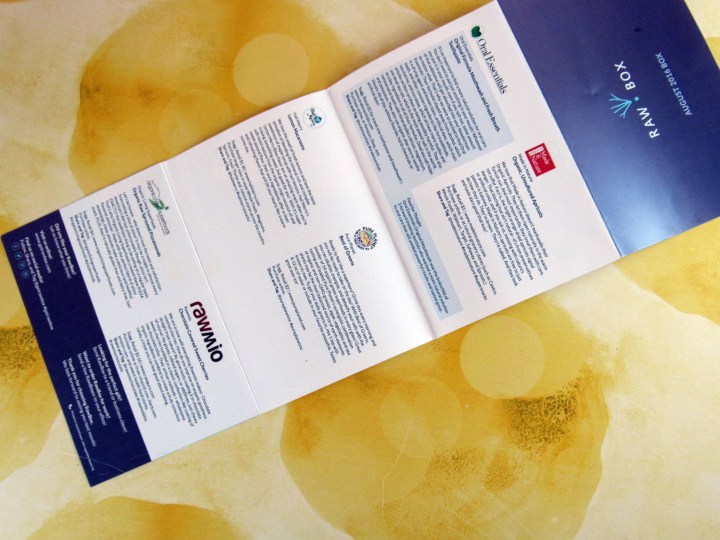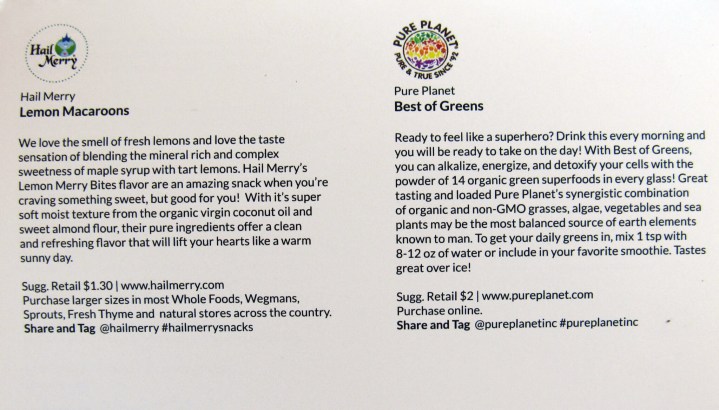 The information card is comprehensive with a detailed description, price, website, and recipes. It's helpful whether you are new to the raw style or seeking more information on a particular item.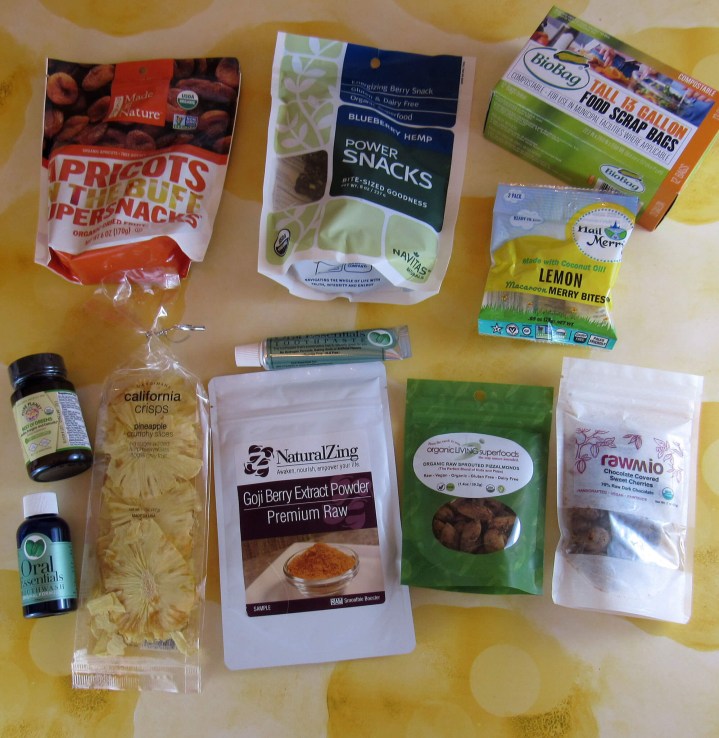 The August Raw Box will have us ready to go back to school!
One of the things I love about Raw Box is that it is more than a food box. The Oral Essentials Toothpaste (.8 oz, $1.50) is free of SLS, hydrogen peroxide, baking soda, and artificial flavors. It does have dead sea salt in it which helps remineralizes your teeth. It has a great minty scent thanks to the peppermint, spearmint, and wintergreen oils. I will be trying it out soon.
The Oral Essentials Mouthwash (2 oz, $2.33) also contains dead sea salt. It has a great minty scent and left my mouth feeling refreshed.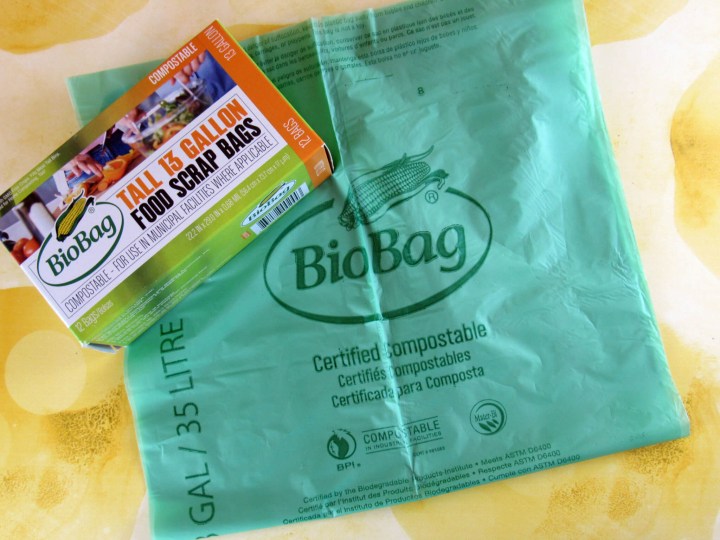 What a useful product! The BioBag Tall 13 Gallon Food Scrap Bags (12 bags, $4.99) fit my trash can. I love that it is biodegradable. Don't put hot liquids in it!
The Pure Planet Best of Greens (8 g, $3.29) provides 14 organic green superfoods in each serving. T (age 17) plans to use it because it can build muscle. The ingredients are organic and non-gmo. I enjoy trying out different supplements and discover which ones I like. There is a Little Lamb hair in the bowl!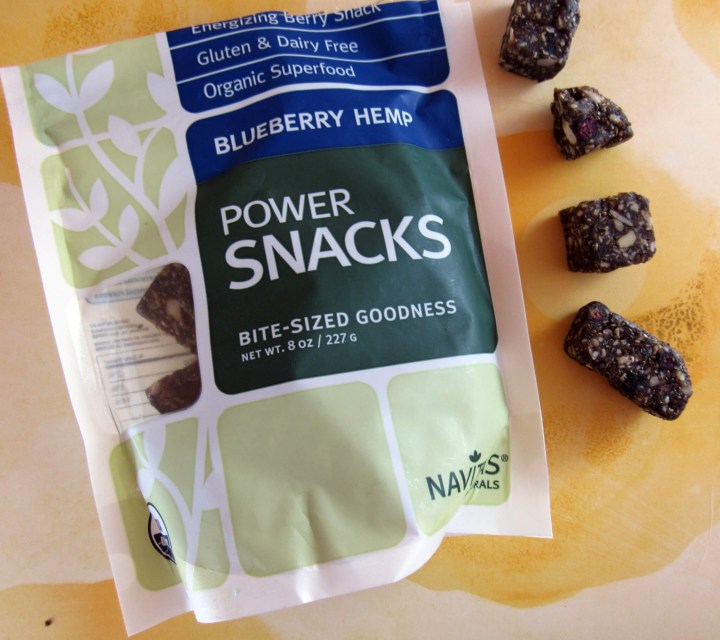 I could smell blueberries as soon as I opened the Nativas Naturals Blueberry Hemp Power Snacks (8 oz,  $9.99). It's a quick, easy snack that won't leave you tired in the middle of the day. They are also gluten and dairy-free!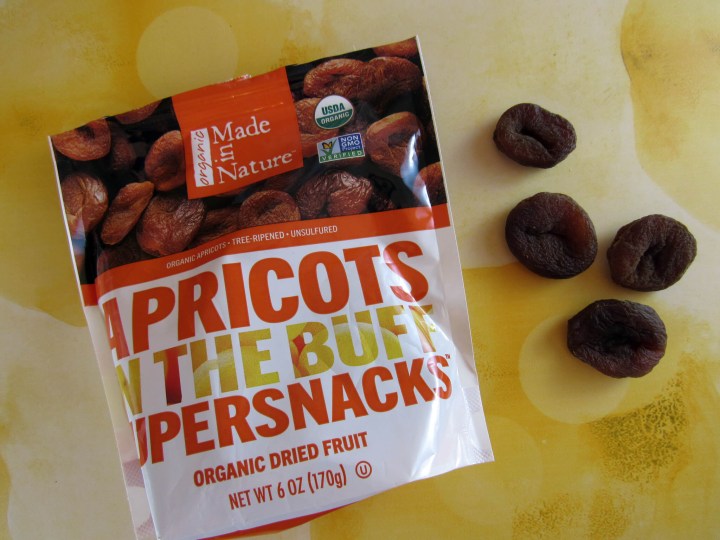 The immature side of me loves the name Made in Nature Apricots in the Buff Supersnacks (6 oz, $4.25). On a more serious note, the apricots are organic, and sulfur is NOT used when drying them. Naked apricots are brown, not bright orange which comes from preservatives and colors. My husband loved them.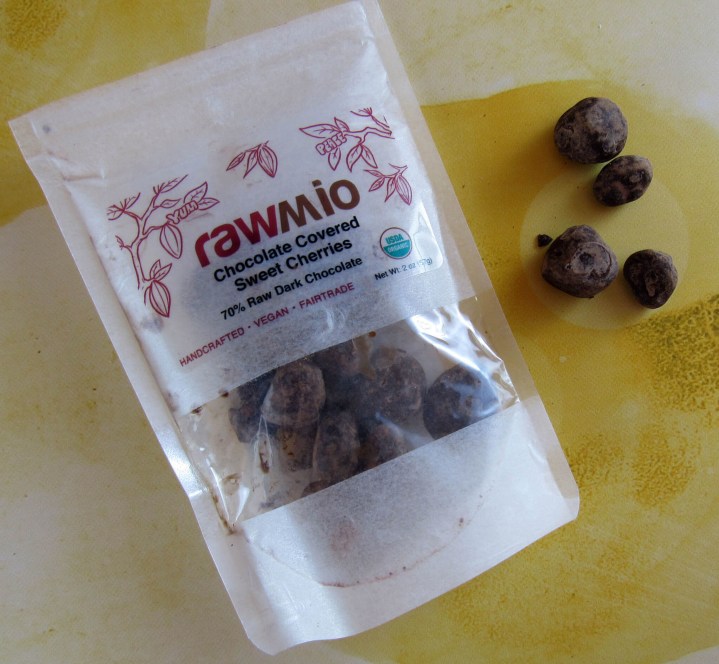 My husband and boys did not share the Rawmio Chocolate Covered Sweet Cherries (2 oz, $4.49) with me.  I was told that the combination of 70% raw dark chocolate and sweet cherries tasted irresistible. Rawmio is a favorite in my family.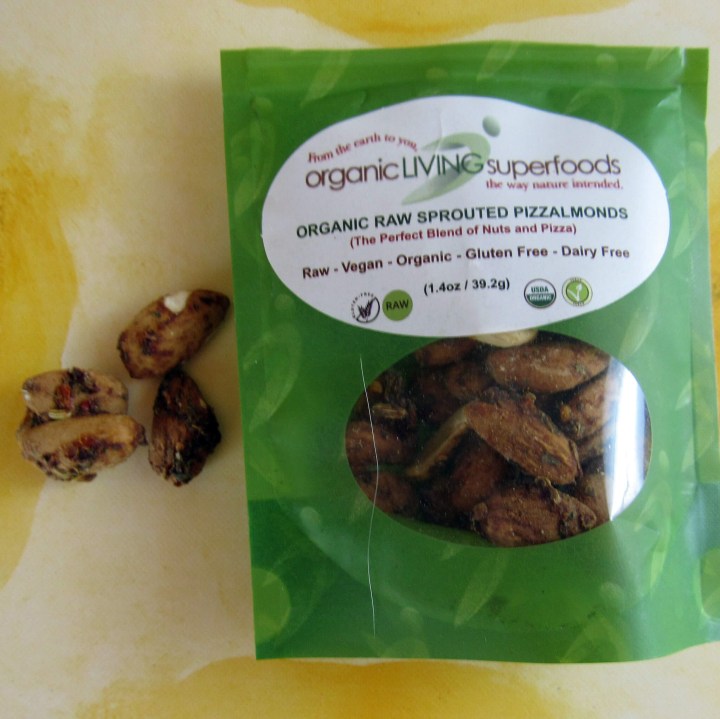 Yes, that is a Little Lamb hair. He was obsessed with the box. My husband and the boys tried the OrganicLIVING Superfoods Organic Raw Sprouted Pizzalmonds (1. oz, $3.99) have a pizza taste.  There is enough left for my sister to try it out. It's hard to find a decent gluten-free pizza. I am hoping that this might help satisfy the desire for pizza.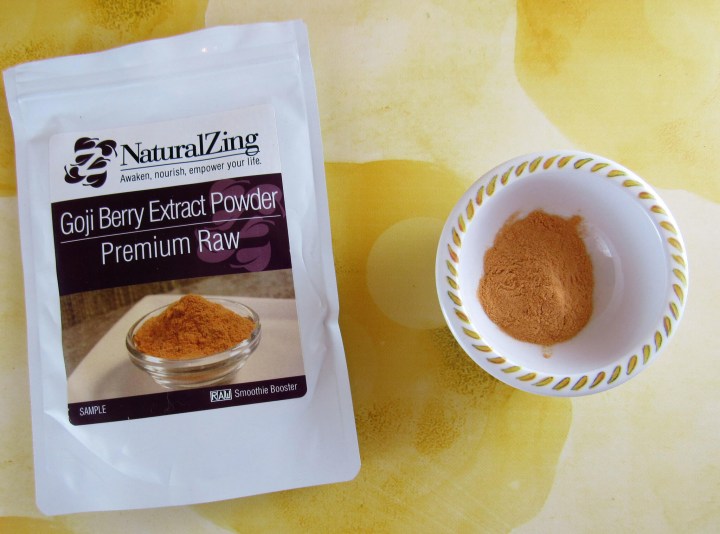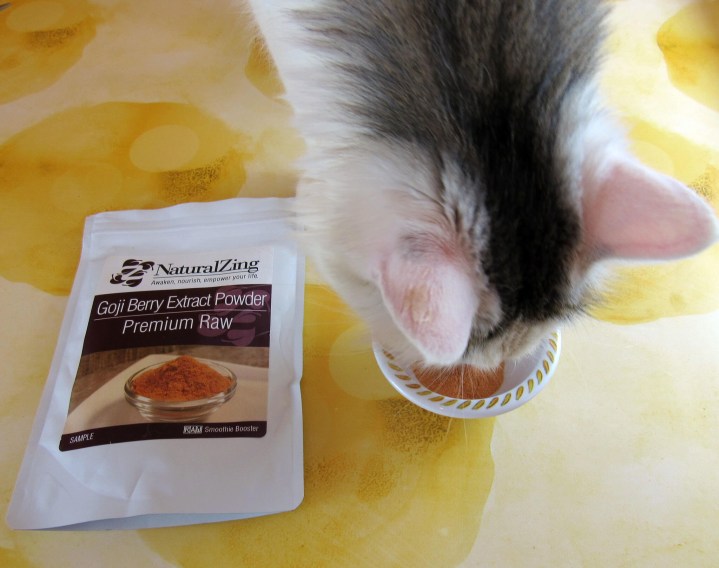 Little Lamb gave the NaturalZing Gogi Berry ExtractPowder Premium Raw (sample, appx $5.00-$7.00???) a good sniff over. The powder is concentrated goji extract powder instead of whole goji berries powder. It can help with the immune system. I will give it a try in my smoothies.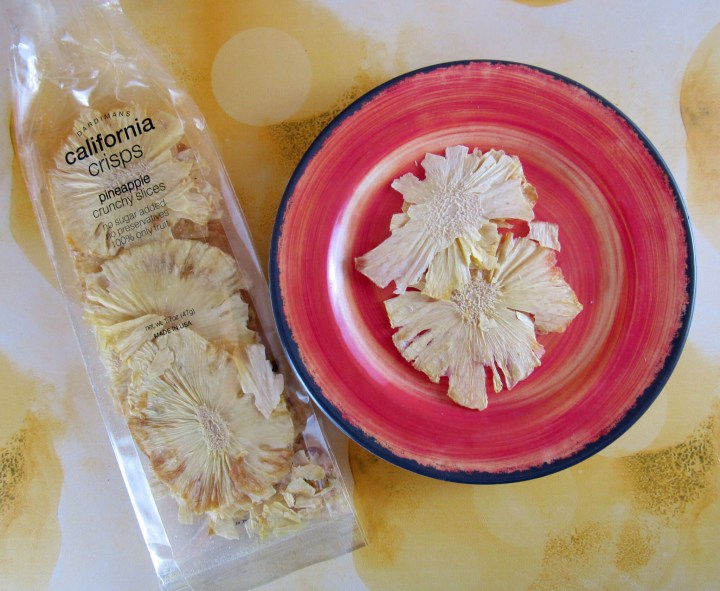 The Dardimans California Crisps Pineapple Crunchy Slices  (1.7 oz, $5.99) are almost too pretty to eat. Almost! The slices have a great, crunchy, pineapple taste.  Everyone in the family loved it.
Did someone say macaroons? T (age 17) and I inhaled the Hail Merry Lemon Macaroons (2 cookies, $1.30). The cookies tasted sweet until the lemon taste kicked in making us sad that only two cookies were in the package. Yummy!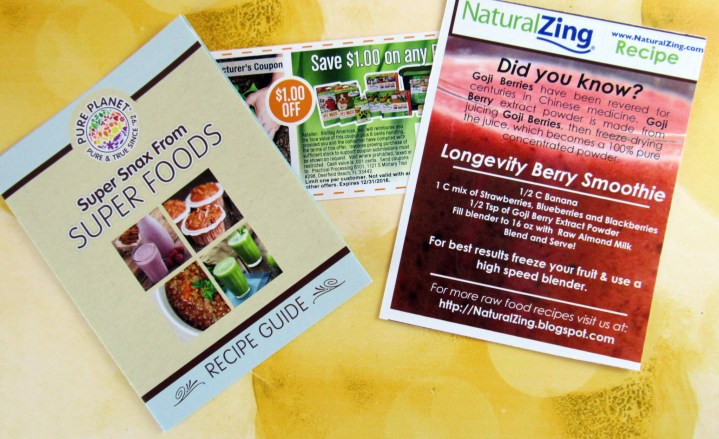 The family and the family cat loved the August Raw Box! It had an excellent variety of items ranging from snacks to lifestyle items. Little Lamb went crazy over this box. He laid next to it, on it, and sniffed every product. I am always impressed with how well Raw Box curates the box for people with dietary needs or living a cleaner lifestyle.  The value is around $50.00 which is excellent for a food and lifestyle box that contains specialty items. RawBox is an easy way to check out a more natural lifestyle or enhance it.
What do you think of the August RawBox? Share below and let us know!  Save 15% on your first subscription! Use coupon code WELCOME15OFF.
Visit RawBox to subscribe or find out more!
The Subscription
:
RawBox
The Description
: RawBox is the first subscription box that may be safely enjoyed by Raw Foodists, Vegans, Vegetarians, Celiacs, Paleoists, Athletes, Dieters, and more. Each box has only raw, plant-based snacks and lifestyle products from the healthiest brands on the planet. 10-12 products; a total value of $60 or more. Totally raw, plant-based, gluten-free, wheat-free, soy-free, dairy-free, GMO-free, MSG-free, sulfite free, and more. All lifestyle products are free from parabens, polypropylene and polyethylene glycols, sodium lauryl and laureth sulfates.
The Price
: $39.95 per month