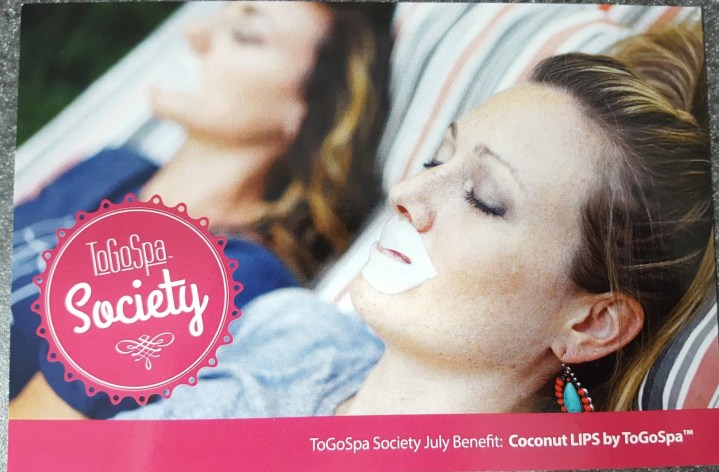 ToGoSpa Society is a monthly replenishment and surprise subscription by ToGoSpa.  With ToGoSpa Society you'll get either 6 ($25), 15 ($40), or 30 pairs ($64) of Eyes by ToGoSpa plus The Benefit, a monthly surprise from ToGoSpa or their selected brand. The Benefit is always valued at $20-$50 and is a high quality spa item.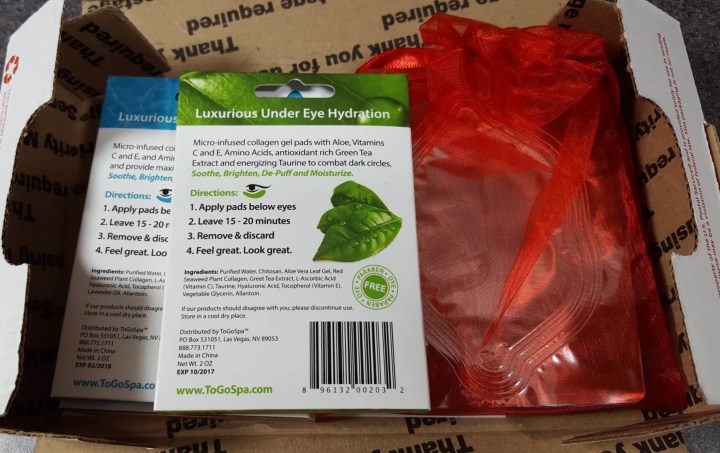 First look in my box. The last couple months I've gotten a large box so I was intrigued when it came in a small priority box this month.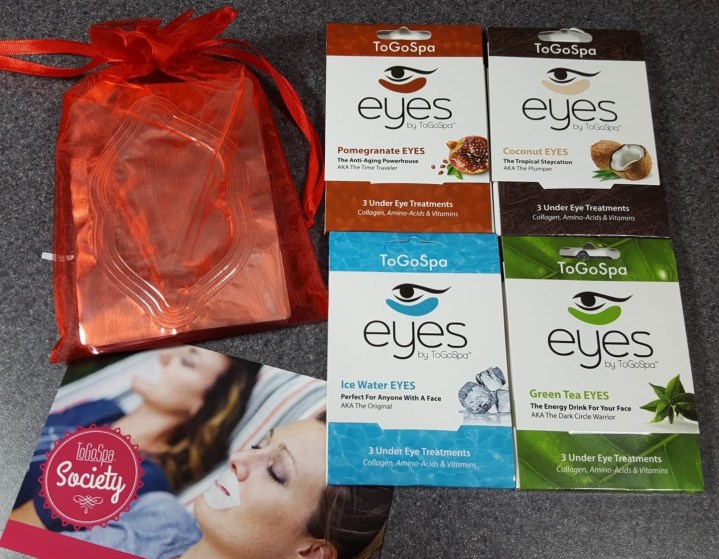 ToGoSpa has a smaller Mini Box, which is great for those of us that don't have a chance to use our EYES every day.  This is everything in the July Box, which includes 4 packs of EYES plus the benefit.
The Benefit this month is the Coconut Lips ($25).
The information card details the Benefit item including its benefits and suggestions for use.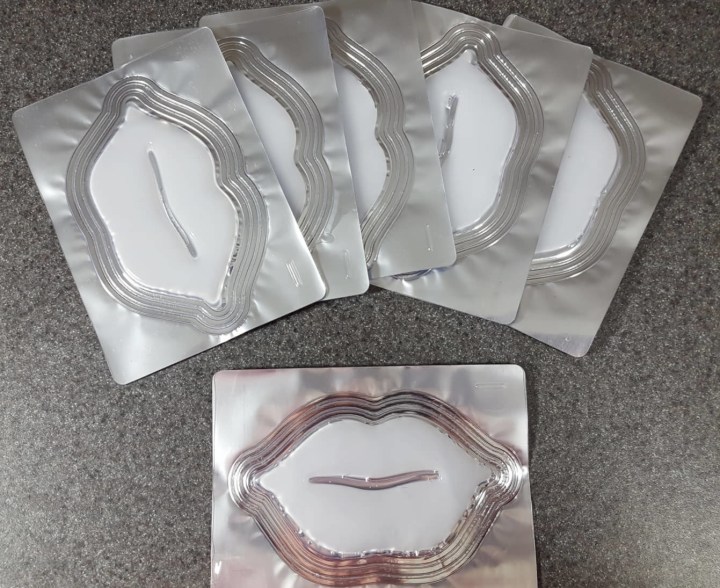 These are so exciting and I can't wait to try them. My lip are really dry from spending the week at the beach and while these are supposed to soften them up they are also plumpers so they will give you a bit of a boost too.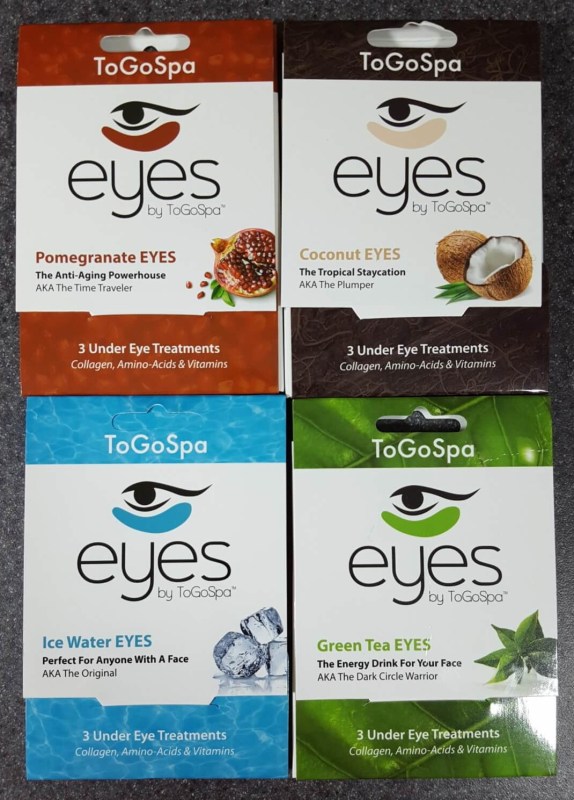 I received 4 different types of Eyes by ToGoSpa: one pack each of Green Tea, Ice Water, Pomegranate, and Coconut.
These are super hydrating and are activated by your body temp! EYES are collagen gel pads with Hyaluronic Acid, Vitamins C & E, and nutrients. Each different type has a different composition to provide different benefits. Green Tea works on the dark circles under your eyes, Ice Water is the Original and perfect for everyone, Pomegranate is for anti-aging and Coconut is for giving you a great little staycation at home.  I love the Green Tea EYES and grab those whenever I have them first.  Actually with being at the beach last week I used some of my eyes there to give me a refreshed feel. It was a blast and so felt so great when we cooled them down after a hot day at the beach.
I love using my ToGoSpa eyes and the refreshing feeling they give me.  I can't wait to give the lips a try and will plan a time to lay back and relax a bit with them.  This box is great for me and I love taking my eyes with me when I'm getting together with my friends. We can sit back and relax and refresh while we are chatting away. I always feel so great afterwards.
Have you tried ToGoSpa? They're perfect for summer! Save 15% with coupon code hello15.
Visit ToGoSpa Society to find out more or to subscribe!
The Subscription
:
ToGoSpa Society
The Description
: The ToGoSpa Society membership offers huge discounts on Eyes and Face by ToGoSpa and in addition each month members receive The Benefit! The Benefit is a FULL size product we love and want to share free with our members.
The Price
: Mini: $25 for 6 EYES plus the benefit, Standard: $27.50 for 12 pair of EYES + The Benefit, Combo: $50 for 6 pair of EYES + 3 Face + The Benefit, High Society: $99 for 24 Eyes, 6 Face, and The Benefit