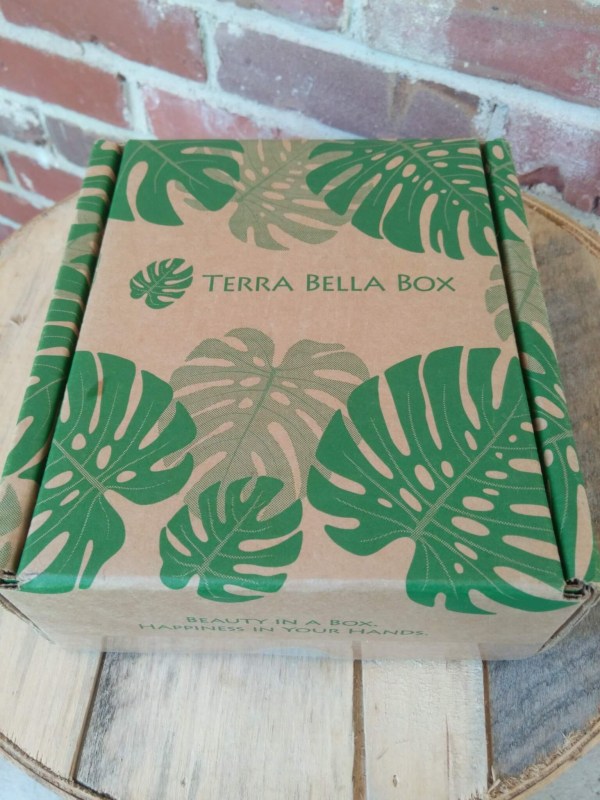 Terra Bella is a a monthly subscription box of products for your bath and beauty routine.  Each box has 3-4 products and free shipping in the U.S.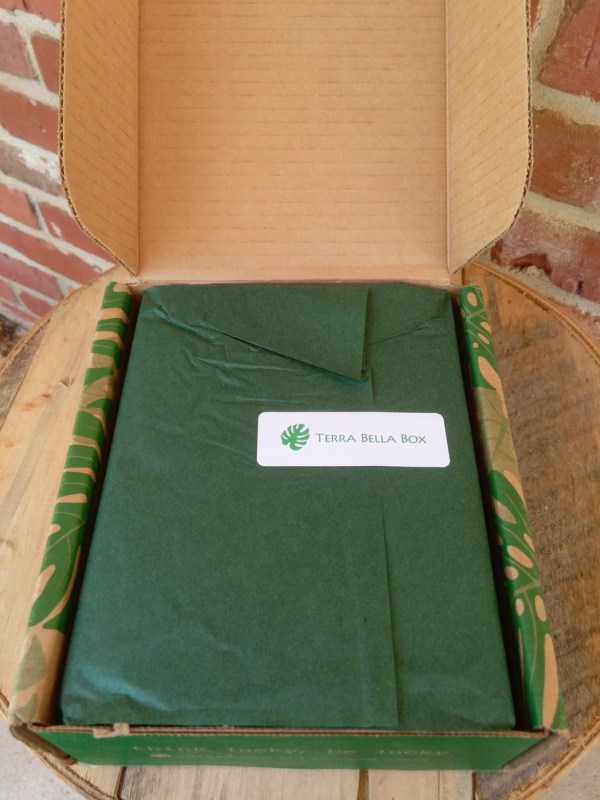 The products are handmade, animal cruelty free, and made in small batches by small businesses from ethically sourced ingredients.  Products can include cleansers, moisturizers, masks, exfoliators, hand and nail products, hair products, bath products and such.  Terra Bella was created by Kate Gray.  Her goal is to fill your cabinets with every beauty product that you might need.  And with that in mind each month is filled with a wide variation of useful products.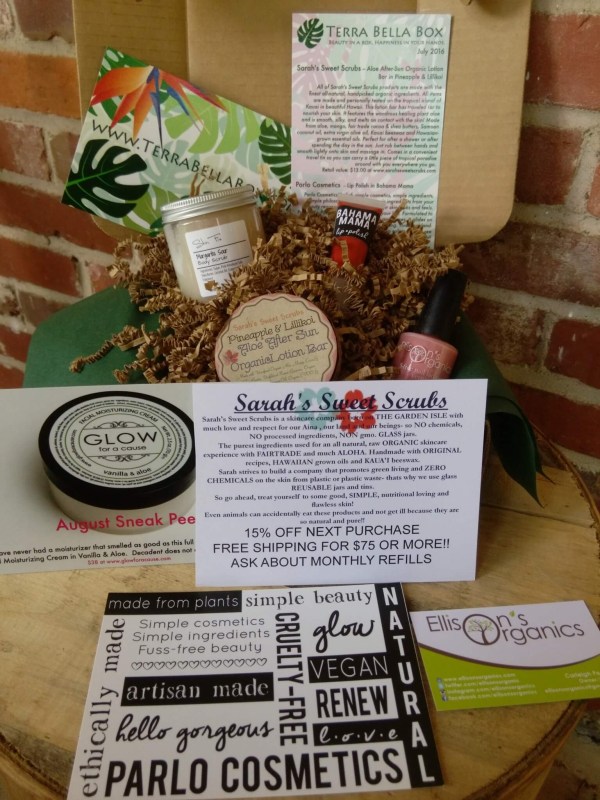 All of this was in the box.   The Terra Bella Box is $32.95 a month, auto renewing.  The Make Up Edit box (which is at least 3 make up only products) is $29.95.  You can switch between Terra Bella or the Make Up Edit each month.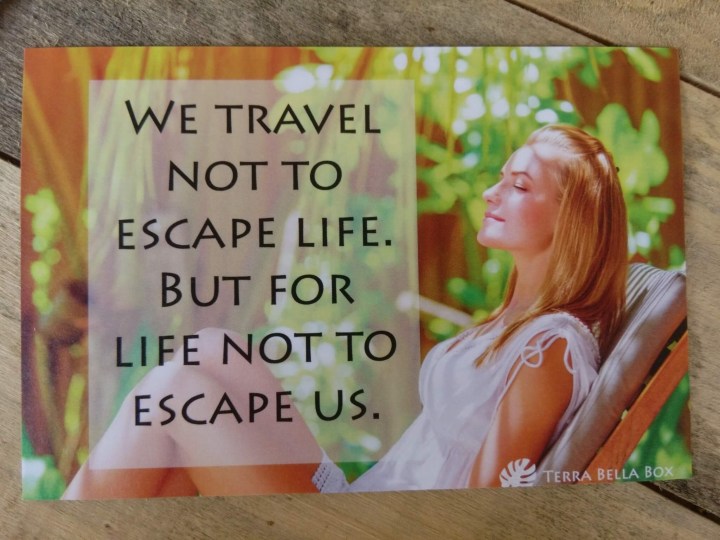 This card makes me want to go on vacation.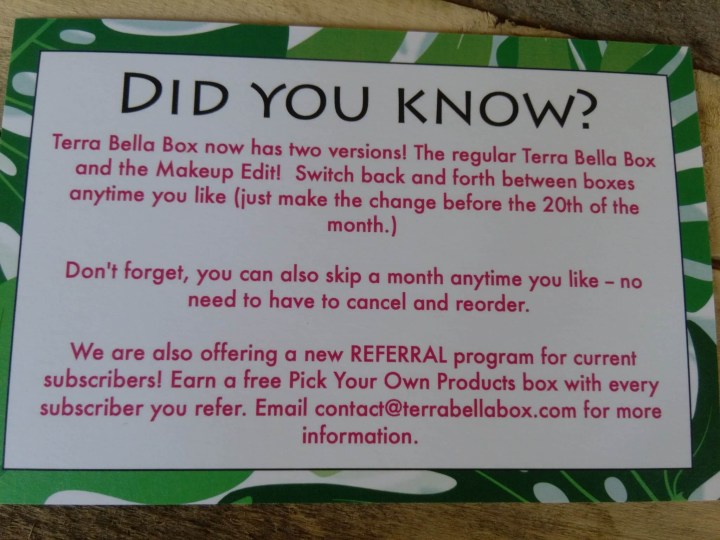 This information card from Terra Bella was in the box.   Some good info here.  I didn't know that Terra Bella lets you skip a month whenever you need to.  And also, they have an awesome new referral program!  You can earn a free Pick Your Own Products Box with every subscriber referral.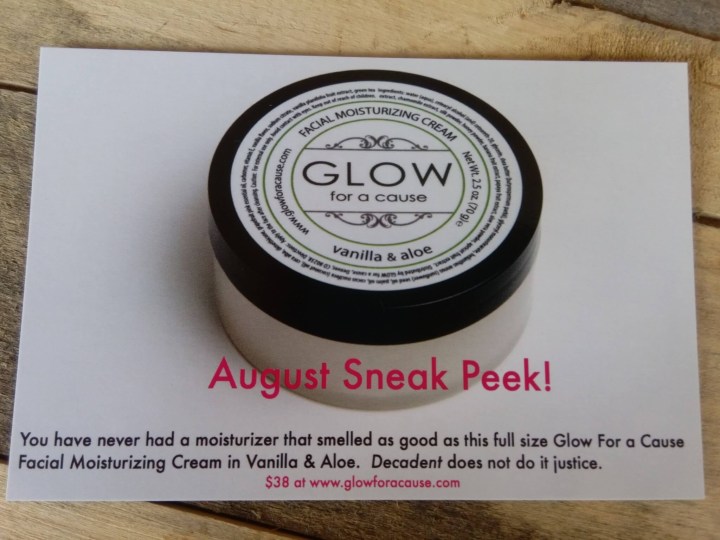 This was the back of that card and it gives a sneak peek at the August Terra Bella box.  This Glow for a Cause Facial Moisturizing Cream in Vanilla & Aloe is going to be in the August box.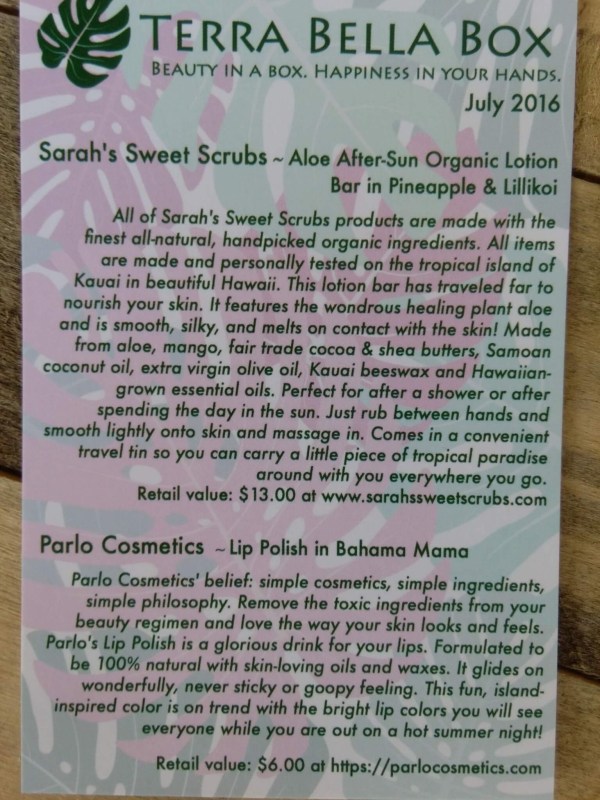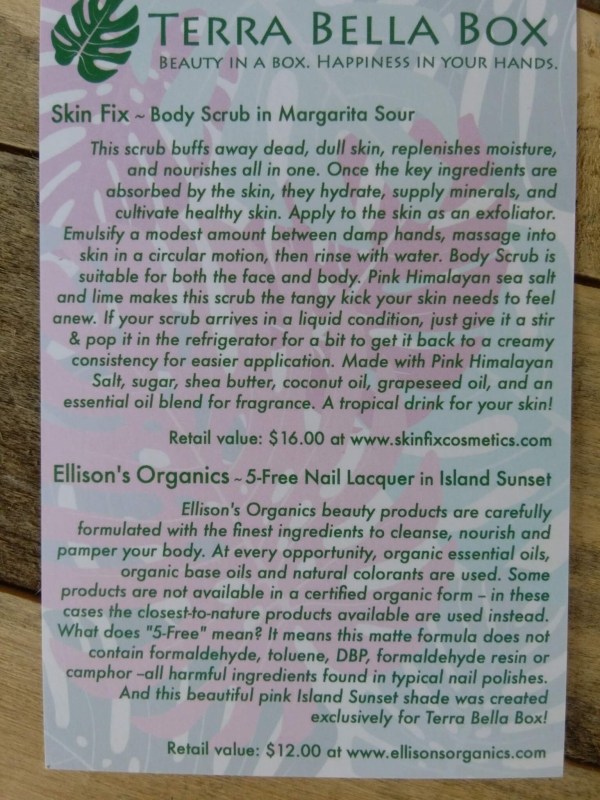 The product information card gives you a good description of each product in the box, the website of the company and a retail price.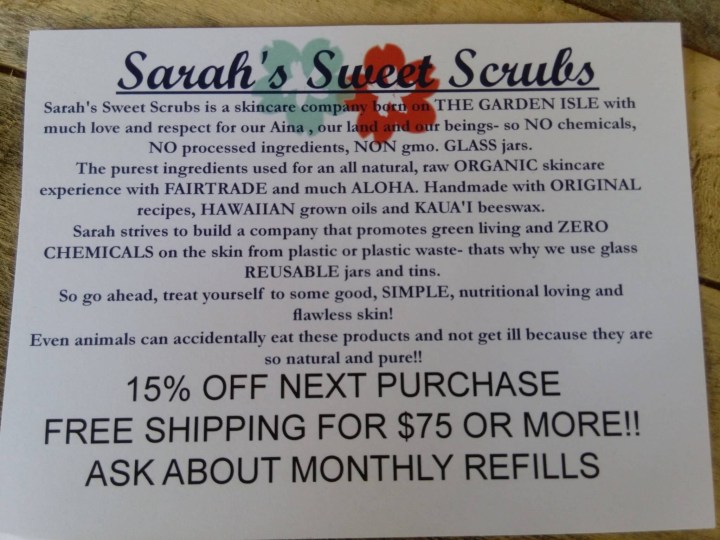 This product card introduced the first product from Sarah's Sweet Scrubs and included a coupon offer.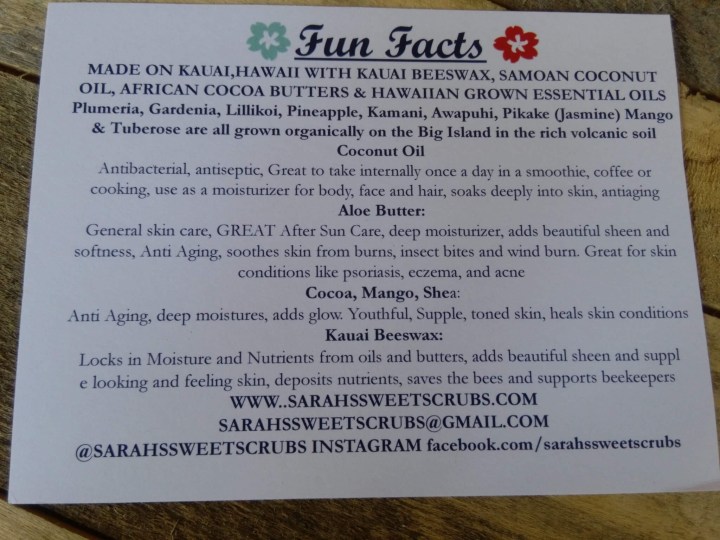 Pineapple & Lillikoi Aloe After Sun Organic Lotion Bar ($13) from Sarah's Sweet Scrubs:
"All of Sarah's Sweet Scrubs products are made with the finest all-natural, handpicked organic ingredients.  All items are made and personally tested on the tropical island of Kauai in beautiful Hawaii.  This lotion bar has traveled far to nourish your skin.  It features the wondrous healing plant aloe and is smooth, silky, and melts on contact with the skin!  Made from aloe, mango, fair trade cocoa & shea butters, Samoan coconut oil, extra virgin olive oil, Kauai beeswax and Hawaiian-grown essential oils.  Perfect for after a shower or after spending the day in the sun.  Just rub between hands and smooth lightly onto skin and massage in.  Comes in a convenient travel tin so you can carry a little piece of tropical paradise around with you everywhere you go."
It was a little sticky feeling unless your hands were very warm, but when you smooth it over warm skin it absorbed quickly and the sticky feeling was gone.  The smell is mild and coconuty.  I could even see using it as a lip balm.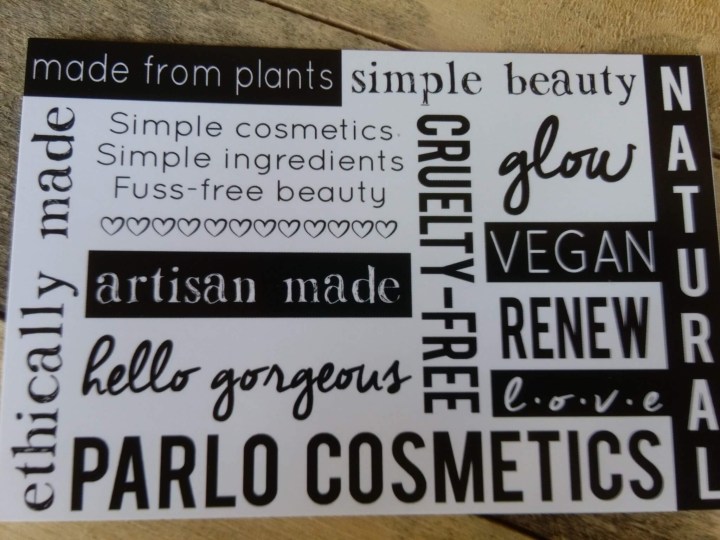 Lip Polish in Bahama Mama ($6) by Parlo Cosmetics:
"Parlo Cosmetics' belief:  simple cosmetics, simple ingredients, simple philosophy.  Remove toxic ingredients from your beauty regimen and love the way your skin looks and feels.  Parlo's Lip Polish is a glorious drink for your lips.  Formulated to be a 100% natural with skin-loving oils and waxes.  It glides on wonderfully, never sticky or goopy feeling.  This fun, island inspired color is on trend with the bright lip colors you will see on everyone while you are out on a hot summer night!"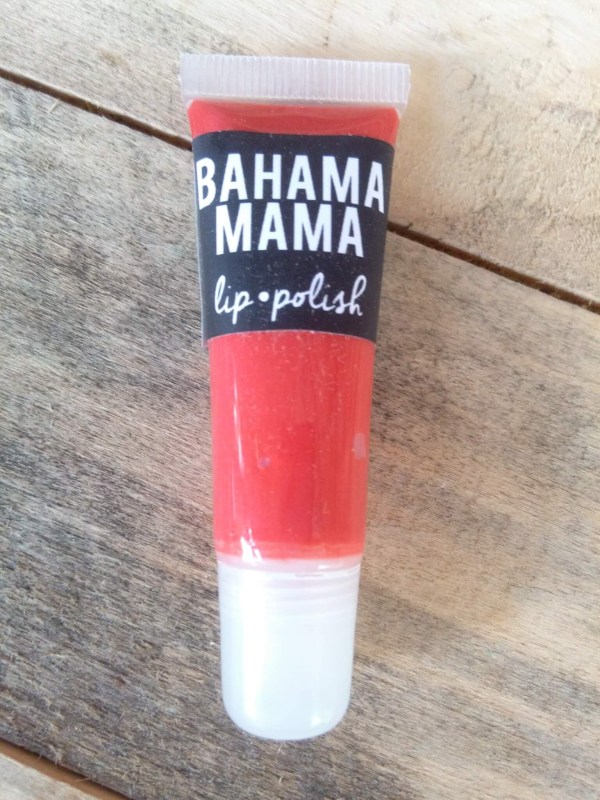 I love this stuff!!  It glides on smoother than any other lipstick/gloss I have ever tried!  When they say it isn't sticky or goopy they really mean it.  And the color was perfect.  It is an organish red and was the perfect complement to the dress that I wore to church Sunday.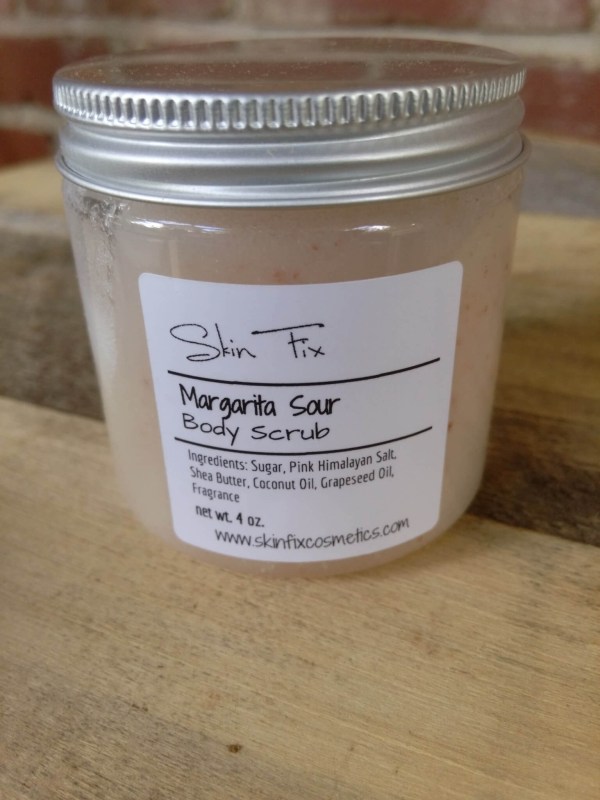 This Body Scrub in Margarita Sour ($16) by Skin Fix:
"This scrub buffs away dead, dull skin, replenishes moisture, and nourishes all in one.  Once the key ingredients are absorbed by the skin, they hydrate, supply minerals, and cultivate healthy skin.  Apply to the skin as an exfoliator.  Emulsify a modest amount between damp hands, massage into skin in a circular motion, then rinse with water.  Body Scrub is suitable for both the face and body.  Pink Himalayan sea salt and lime makes this scrub the tangy kick your skin needs to feel anew.  If your scrub arrives in a liquid condition, just give it a stir & pop it in the refrigerator for a bit to get it back to a creamy consistency for easier application.  Made with Pink Himalayan Salt, sugar, shea butter, coconut oil, grape seed oil, and an essential oil blend for fragrance.  A tropical drink for your skin!"
Have you ever found a product that you really needed, but you didn't know that you needed it until you tried it?  I love the feel of my skin after using this body scrub.  My hands are so soft!  The oils in it moisturize your skin as you scrub.  I even scrubbed my face with it.  My cheeks are soft, rosy and pink.  Delightful stuff.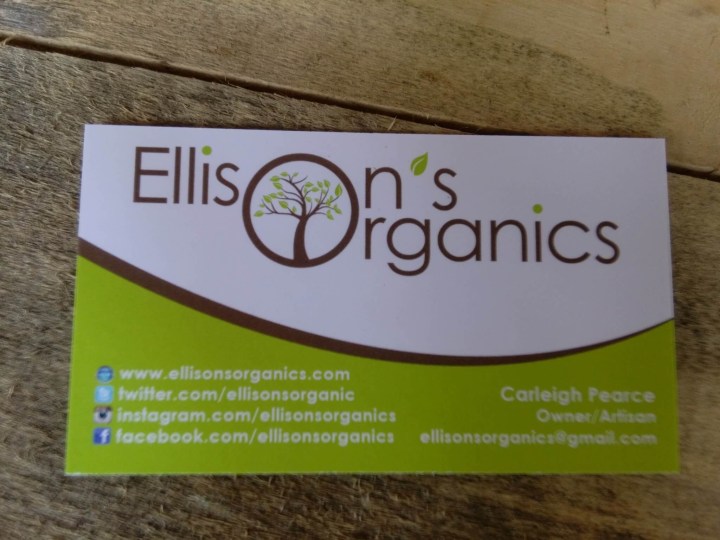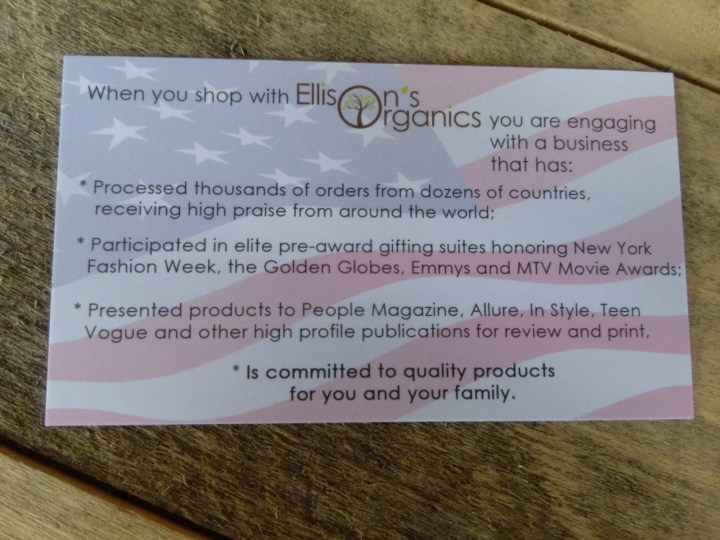 This business sized product card introduced the Ellison's Organics 5 Free Nail Lacquer in Island Sunset ($12).
"Ellison's Organics beauty products are carefully formulated with the finest ingredients to cleanse, nourish and pamper your body.  At every opportunity, organic essential oils, organic base oils and natural colorants are used.  Some products are not available in a certified organic form – in these cases the closest-to-nature products available are used instead.  What does "5-free" mean?  It means this matte formula does not contain formaldehyde, toluene, DBP, formaldehyde resin or camphor – all harmful ingredients found in typical nail polishes.  And this beautiful pink Island Sunset shade was created exclusively for Terra Bella Box!"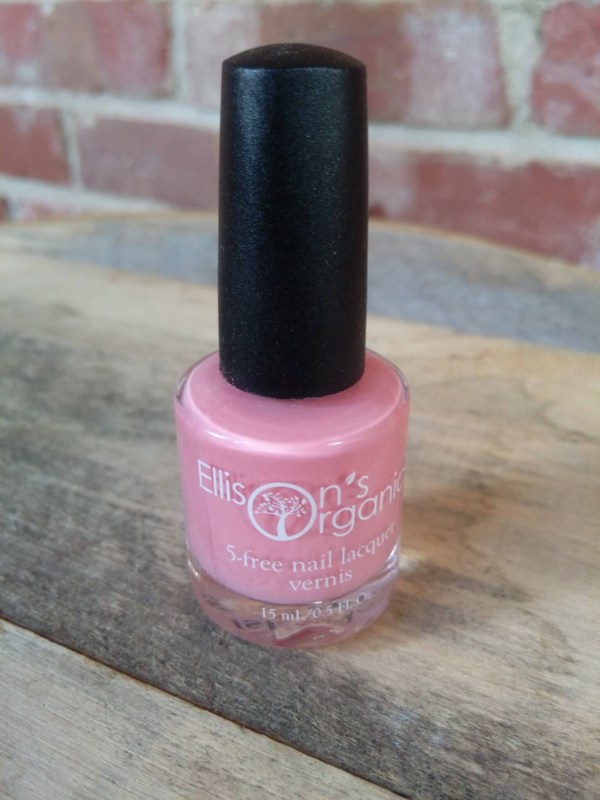 I don't ever recall having a matte nail polish before.  I usually don't care for light pink nail polishes nor do I usually paint my finger nails (just my toes), but this polish changed the whole dynamic.  The matte pink was pretty and soft with out being flashy.  It quietly accents your hands without screaming, "HEY LOOK AT ME!".  It also dried really quick.  (Who has time for slow drying polish??!)  Loved it.
Terra Bella literally means "Earth Beauty".  Doesn't that fit this company perfectly?  Plus it sounds really pretty.  Kate at Terra Bella is great at choosing earth friendly beauty products that you will find you needed without knowing you needed them.
Did you order this box?  Which product was your favorite in this month's Terra Bella box?
Visit Terra Bella Box to subscribe or find out more! Get an extra bonus item in your first box. Use coupon code HELLOEXTRA.
The Subscription
:
Terra Bella Box
The Description
: Terra Bella Box is a different kind of beauty box. We find products that are created in small batches by small businesses, are always cruelty free, and are made with the finest natural ingredients. Good for your body, good for the earth, good for local economies.
The Price
: $32.95 per month