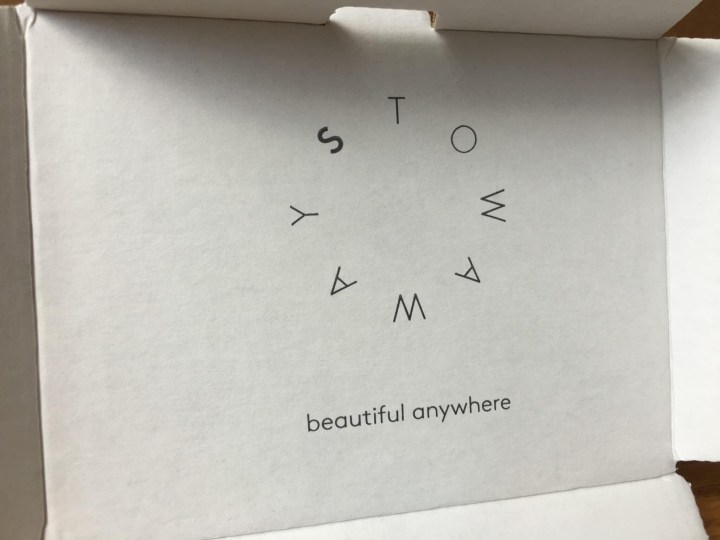 Stowaway Cosmetics Essential Edit is a subscription box full of Stowaway's right-sized beauty products and other surprise items from brands they love.  Each month, for $50, you will receive at least $70 and up to $150 worth of Stowaway cosmetics and other fun items, shipping included.
July's box was everything you need for a garden party good time!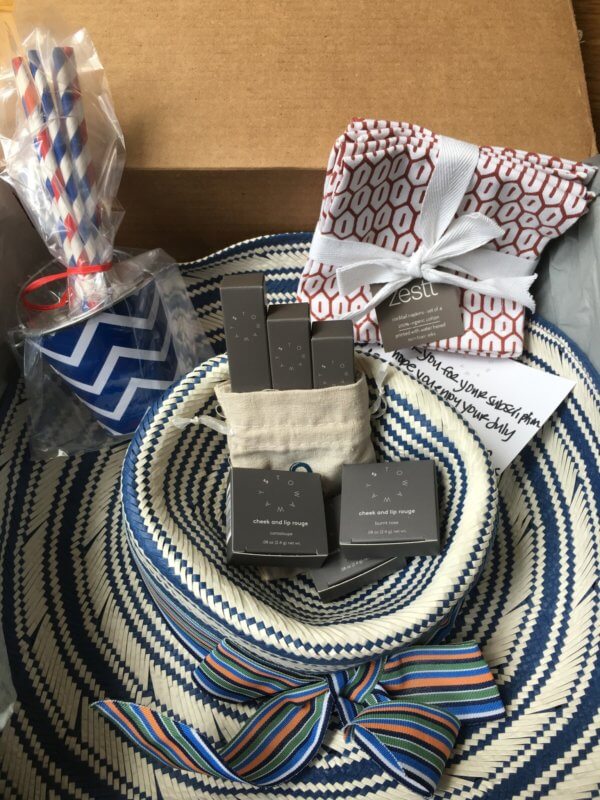 I love the hand-written note–it's a sweet personal touch and lets you know someone put some thought into what they sent.  Plus, they spelled my name right, which almost never happens.  Lots of goodies in this box!  Let's start with the makeup.
Stowaway was founded to offer makeup in sizes that make sense for women–not too big, and not too small.  Their products are paraben-free and packaged to fit easily in a gym bag or clutch.  These sizes really are great–you use them up before they expire, but you have plenty of time to enjoy them.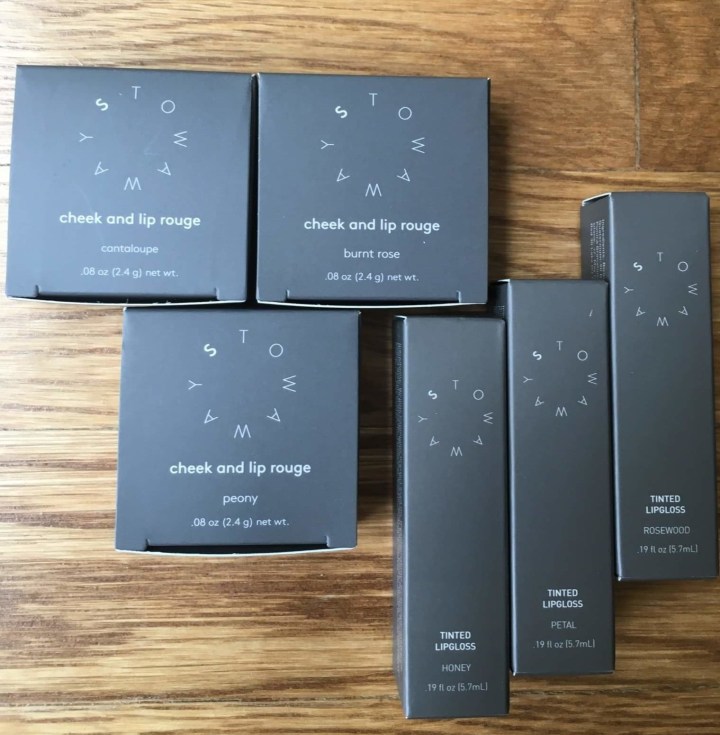 This month was all about color!  I got three Cheek and Lip Rouges, in Cantaloupe, Burnt Rose, and Peony ($15 each), and three Tinted Lipglosses, in Honey, Petal, and Rosewood ($8 each).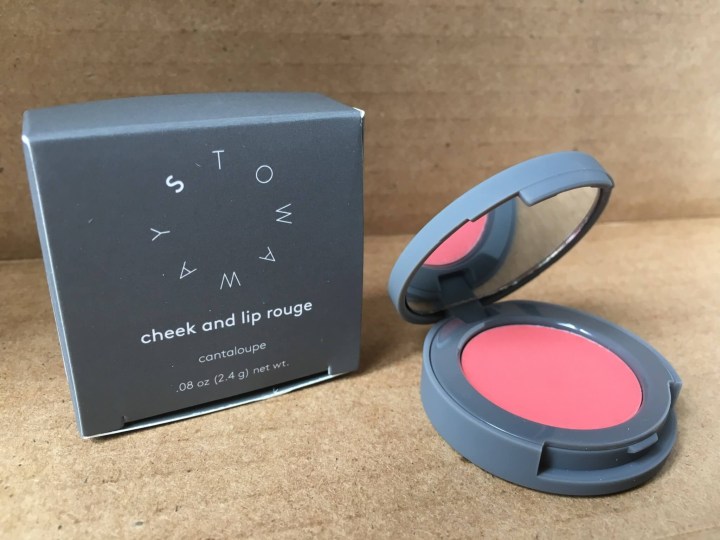 Cheek and Lip Rouge in Cantaloupe ($12).  This little pot of sheer color goes on like a liquid and finishes like a powder, so you can apply it precisely but look like you didn't try too hard when you're done.  It's about 1/3 the size of a standard blush.  I'm a barely-there kind of makeup user, and I've recently fallen in love with these sheer pops of color.  You look like you just did a few turns of the jump rope–healthy and naturally gorgeous.  This color looked great with my fair skin.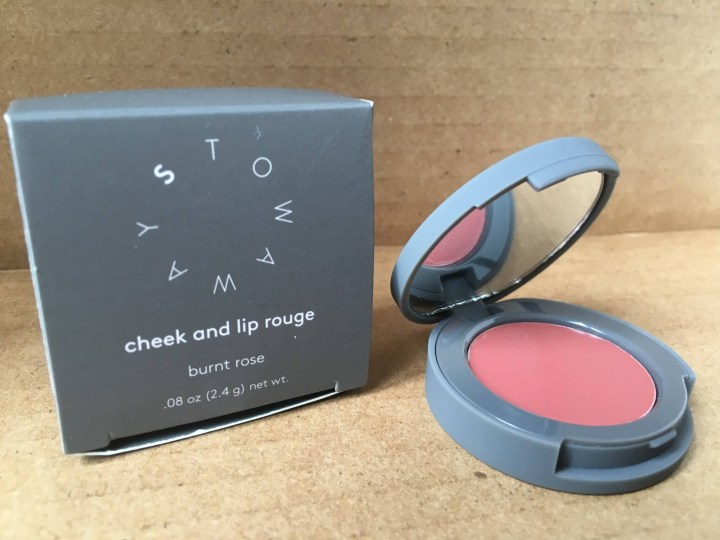 Cheek and Lip Rouge in Burnt Rose ($12).  This is a universally flattering color!  It's also buildable, so you can ramp it up for evening if you're going out.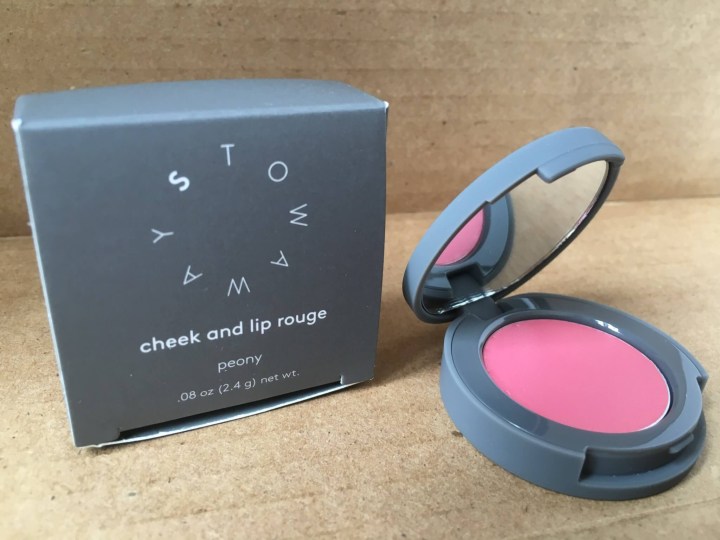 Cheek and Lip Rouge in Peony ($12).  This color would be great on darker skin.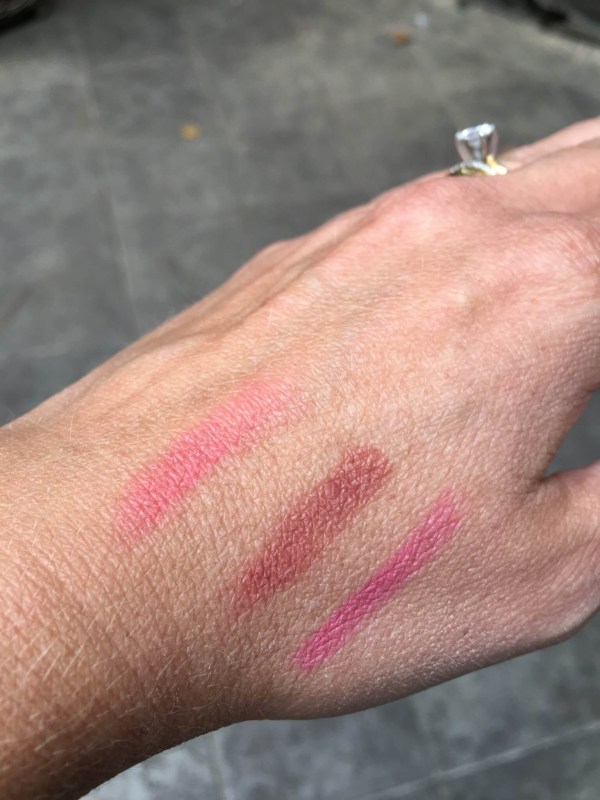 You can see how sheer and yet fully pigmented these colors are.  The matte finish is great for those of us in humid climates.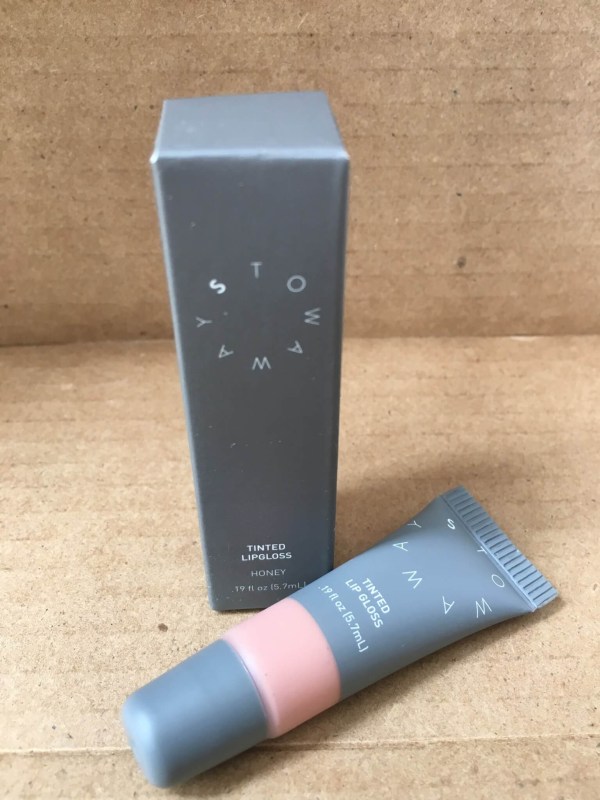 Tinted Lipgloss in Honey ($8).  I'd say this is more of a gloss/balm hybrid than a straight-up gloss.  It goes on smoothly and is more matte than a standard gloss, though still a bit reflective.  It's also not at all sticky, which is a big plus in my book.  It will come off on your glass like any other gloss, but it leaves a decent wash of pigment behind.  This color is a taupe-y peach nude, not a clear gloss, and would look great on anyone who can rock that look.  Olive-skinned ladies, check this out for sure.  You could also layer it over a brighter lipstick to take the color down a notch.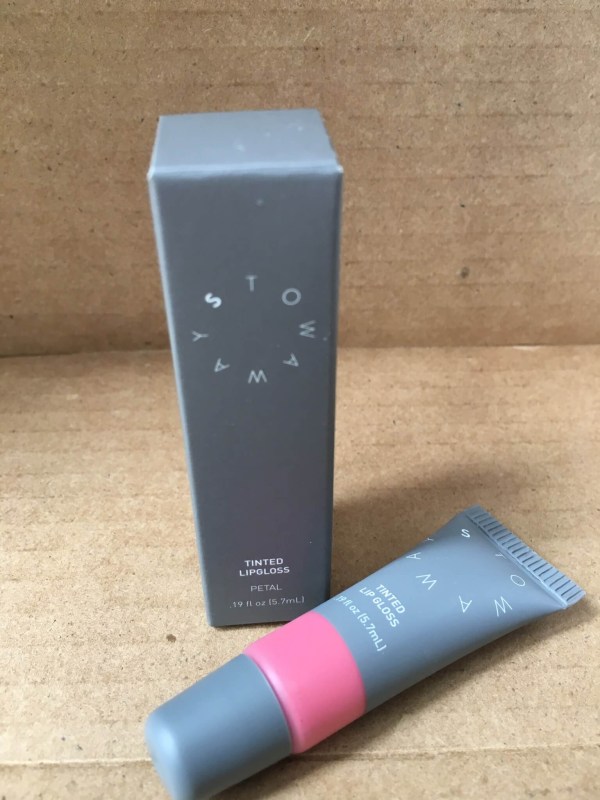 Tinted Lipgloss in Petal ($8).  This was my favorite cosmetics product!  I thought it was going to be too pink, but it looks FANTASTIC with my fair coloring.  It really brightens up my whole face with a pretty pink that doesn't look like it time traveled from 1985.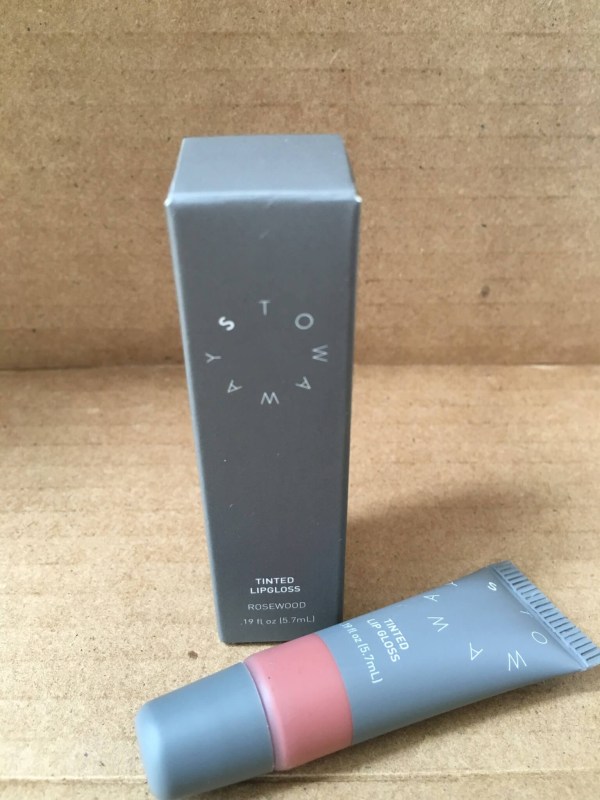 Tinted Lipgloss in Rosewood ($8).  This is another color suitable for lots of different skin tones.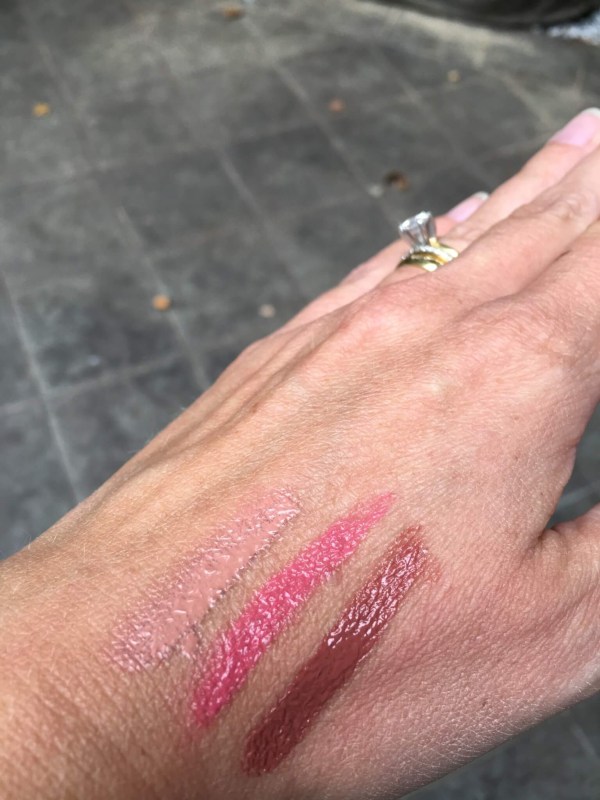 I thought these glosses were super fun.  You could definitely sub this out for our regular work lipstick–you'll still look put-together, but the gloss adds a little fun to brighten up your look.
Thumbs up to this colorful makeup collection–the sizes are perfect, the products are good quality, and the value is great.
I also got a cute nautical themed pouch that I can tote everything in!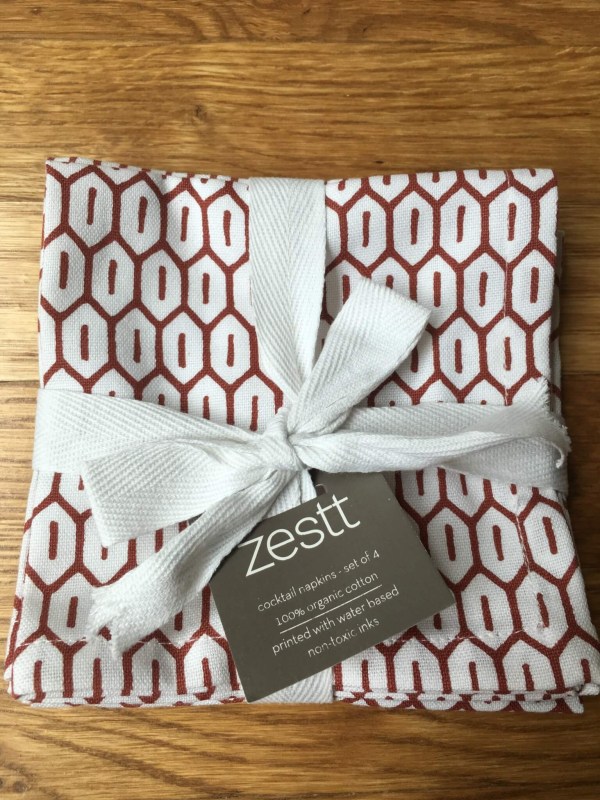 July's box came with other garden party fun, too, with lots of other surprise items, like the Zestt Organic Cotton Cocktail Napkins in Marsala ($24).
These napkins are stylish and pretty.  They have a nice weight to them and would be great for a wine tasting party.  They would also make an elegant hostess gift.
This fun little tin is just the right size to store these trendy paper straws.  This would make a cute centerpiece to a cocktail table or would be a great takeaway for your guests.  Olympics party, anyone? We found similar tins at Oriental Trading Company.
And what garden party would be complete without a fantastic hat?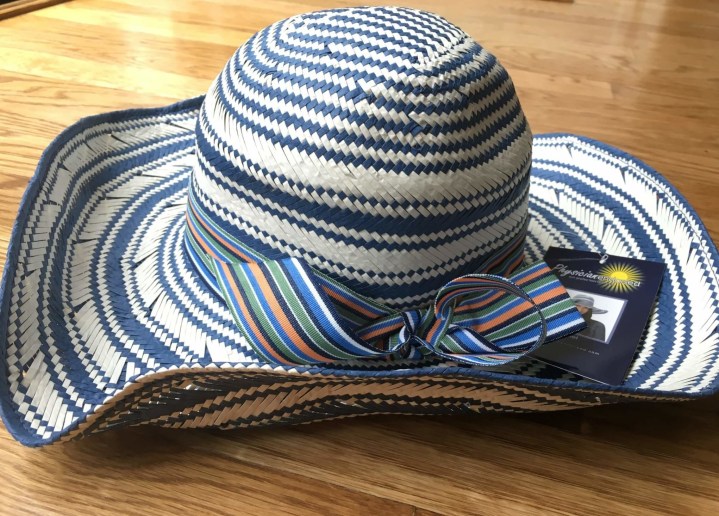 The Physician Endorsed hat in Sanibel ($43 list, on Amazon for $23.25) has a guaranteed sun protection rating of UPF 50.  The hat, made of 100% toyo, has a 4.5″ brim, and an adjustable interior string to insure a perfect fit.  I love to be outside in the sun, but I'm also a responsible adult who knows soaking up radiation is a bad idea for my fair skin.  I have, therefore, learned to love a big floppy hat.  This one is cute and stylish.  It would look great at the pool, or at the patio bar afterward.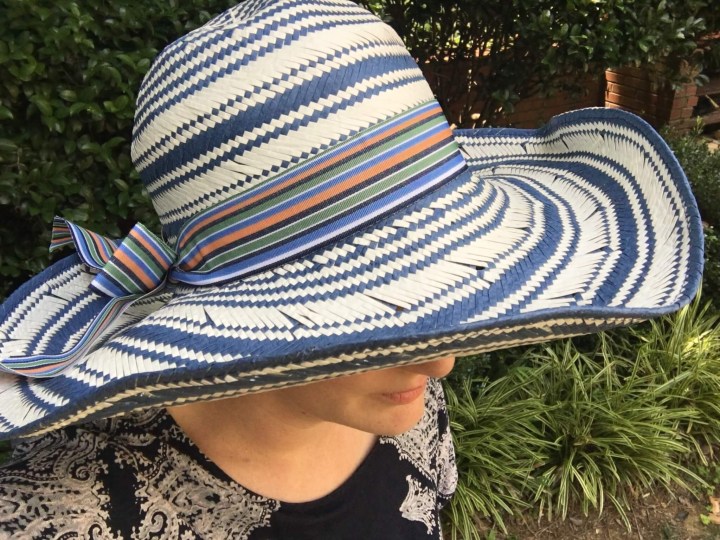 Now, if you'll excuse me, I have a garden party to find.
Overall, the July Stowaway Cosmetics Essential Edits box was a ton of fun to get!  The items were of good quality, interesting, and kept with the theme nicely.  I felt like there was good value in what you receive for your $50 – about $108 in value.  I can't wait to see what comes next month!
Unlike last month I received exactly what was shown in the July 2016 Essential Edits spoilers. Last month one subscriber received a very bizarre variation, which we think was probably a packing error (Stowaway refunded).  We haven't seen any other variations yet – so if you got something different please let us know in the comments!
What did you think of the Stowaway Cosmetics July Essential Edits box and the variations?  Where are you wearing your fabulous hat?  Tell us below!
Visit The Essential Edit – Stowaway Cosmetics to subscribe or find out more!
The Subscription
:
The Essential Edit – Stowaway Cosmetics
The Description
: Smart women know life requires an essential edit! Simplify your busy life with our unique monthly curations for only $50 per month with surprises that could be worth up to $200. At least $70 worth of Stowaway products each month. Surprise and delights from brands including: Blow Pro, Flight 001, Baggu, Bkr, and more
The Price
: $50.00 per month