Serendipity by LLB is a bi-monthly subscription that provides a little something extra in between regular Little Lace Boxes, as well as a fun way to deliver serendipitous discoveries right to your door. It's $12.99 per box, down to $10 per box on an annual subscription.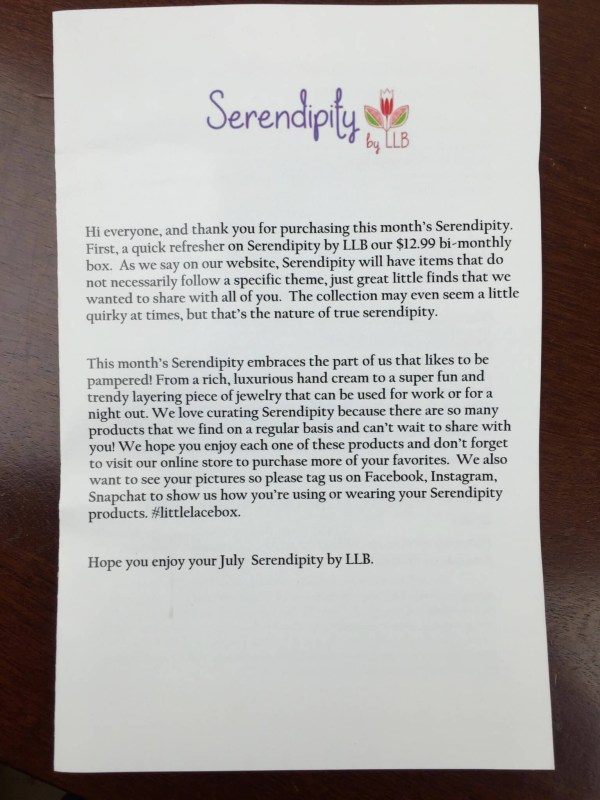 This subscription isn't meant to have a theme and is a box (or bag) of really fun surprises. However, this month seemed to have more of a theme and Little Lace Box said the July Serendipity was aimed at your pampering needs!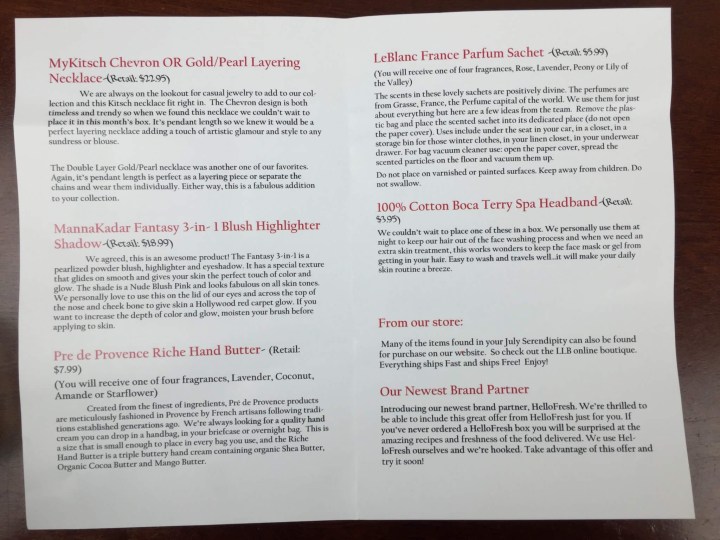 The information sheet gives quite a substantial amount of information for an inexpensive subscription, which is nice!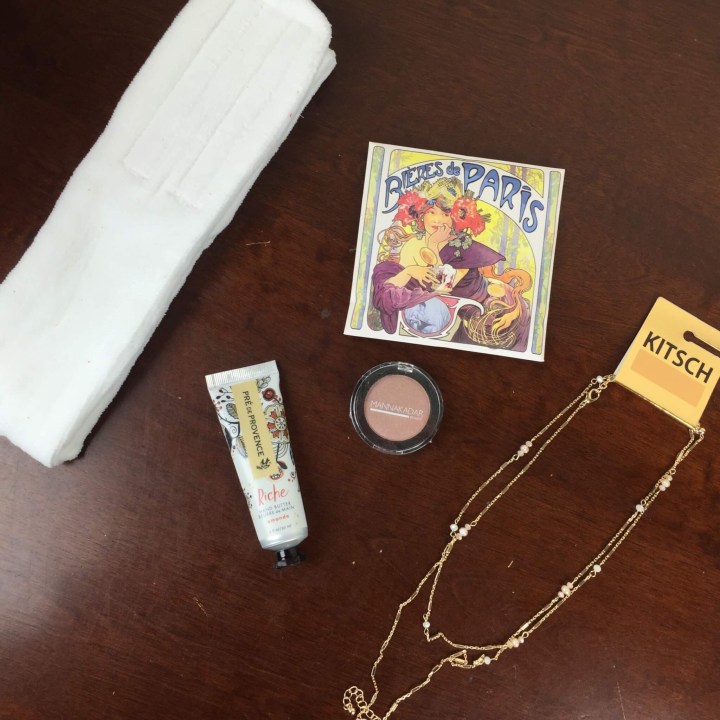 Everything in the July Serendipity by LLB!
MyKitsch Chevron Necklace or Gold/Pearl Layering Necklace ($22.95) Not too long, this pendant length necklace is great for layering with summer looks! Obviously I received the layering necklace – you can see the other necklace in the spoilers post here.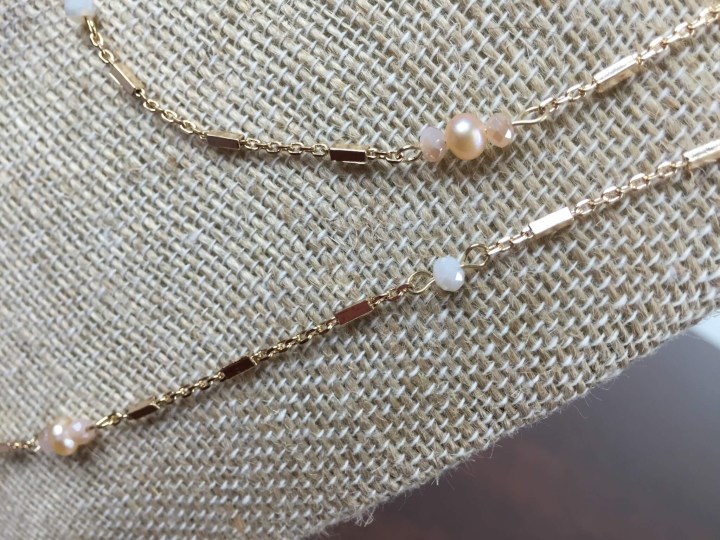 The necklace is comprised of links, bars, faceted beads, and lovely champagne colored freshwater pearls. Or at least it looks like freshwater pearls (they are irregular).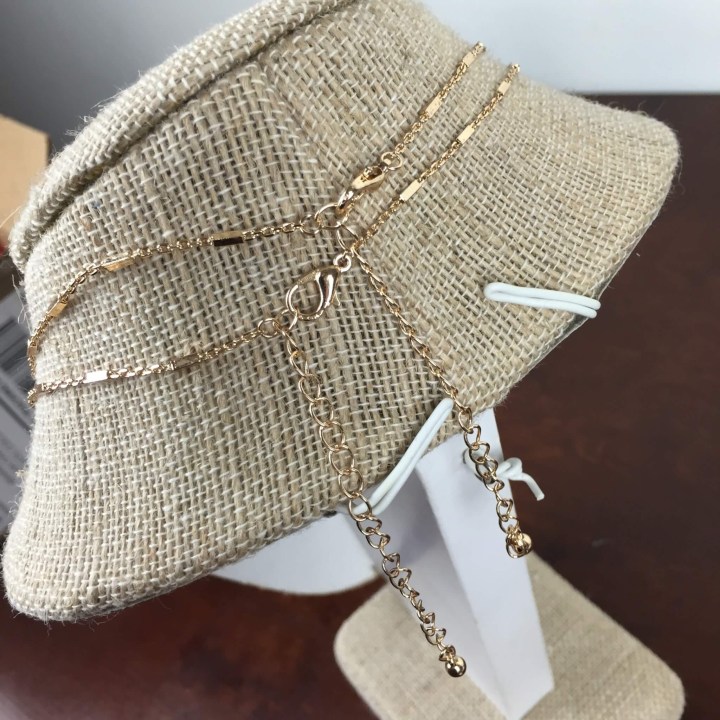 The necklaces are separate and they each have an extender, so you can make them the perfect length!
Manna Kadar Fantasy 3-in-1 Blush Highlighter Shadow ($19) A velvety rosy-bronze neutral! This is a multipurpose blush, highlighter and eyeshadow and it goes on so smoothly – it's just super impressive!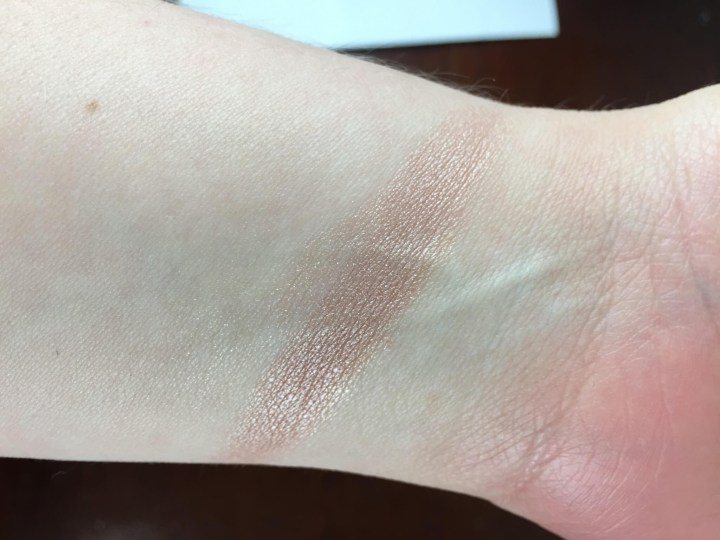 This is one of my favorite shadow colors and I'm definitely going to experiment with it – the information card has a few ideas for adding a light touch of glimmer to the rest of your face!
Pre de Provence Riche Hand Butter ($7.99) Subscribers received one of 4 fragrances – lavender, coconut, amande, or starflower! This rich hand cream uses mango butter and organic shea & cocoa butters to deeply moisturize. This is a totally non-greasy handcream and I loved how it softened without making my hands gross – plus the almond scent in mine is lovely!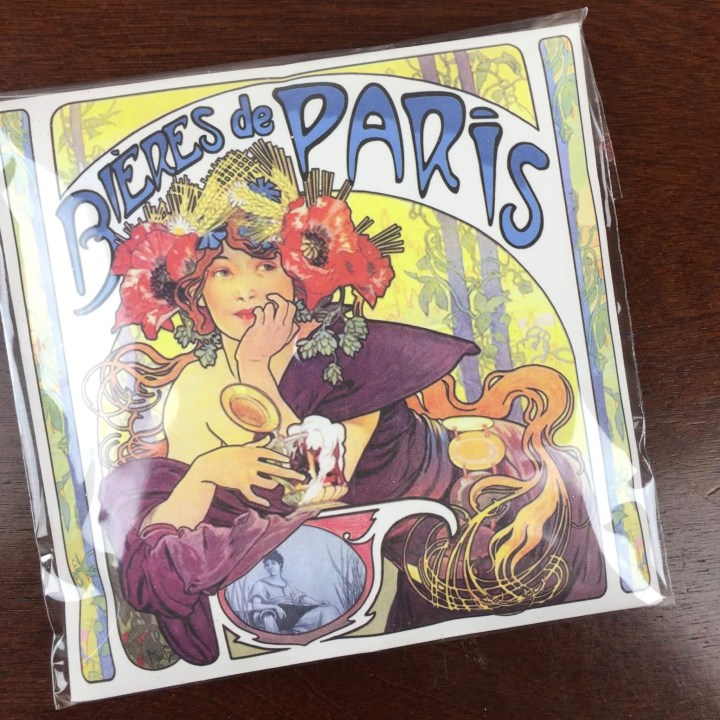 LeBlanc France Parfum Sachet ($5.99) Subscribers received one of 4 fragrances -rose, lavender, peony, or lily of the valley. Imported from Grasse, France (perfume capital!), you can use this sweet smelling sachet to scent a cupboard, drawer, or closet! They come in a plastic sleeve to keep them fresh and are decorated with Alphonse Mucha art! I couldn't tell what scent I received by the smell – but it says it on the back in French (pivoine = peony).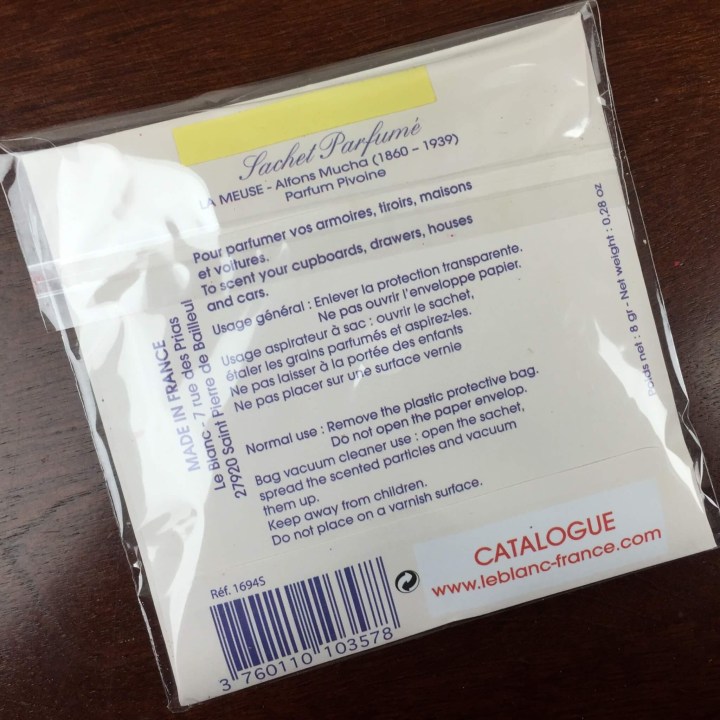 The yellow thing on the back is actually a sticker – you can remove that part and slap it up wherever you'd like!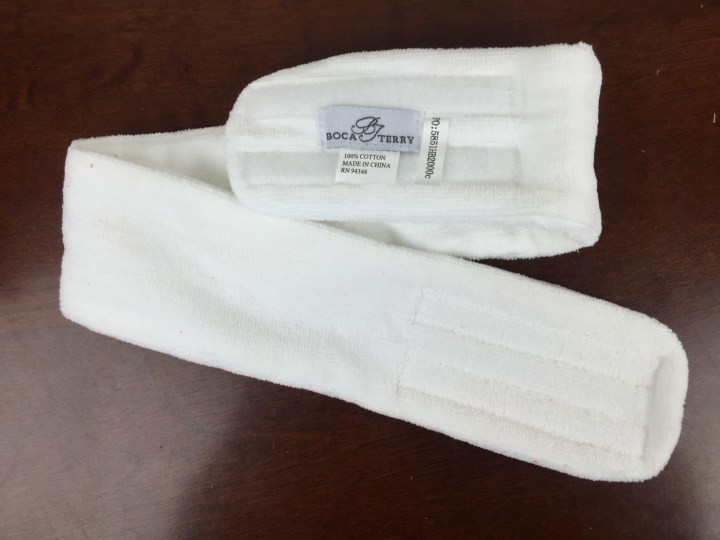 100% Cotton Boca Terry Spa Headband ($3.95) This is a small but totally necessary item! It keeps your hair away from your face when washing without creasing your hair. This is something I really needed!
I'm not quite ready for a closeup but that's ok, I'm about to do my face!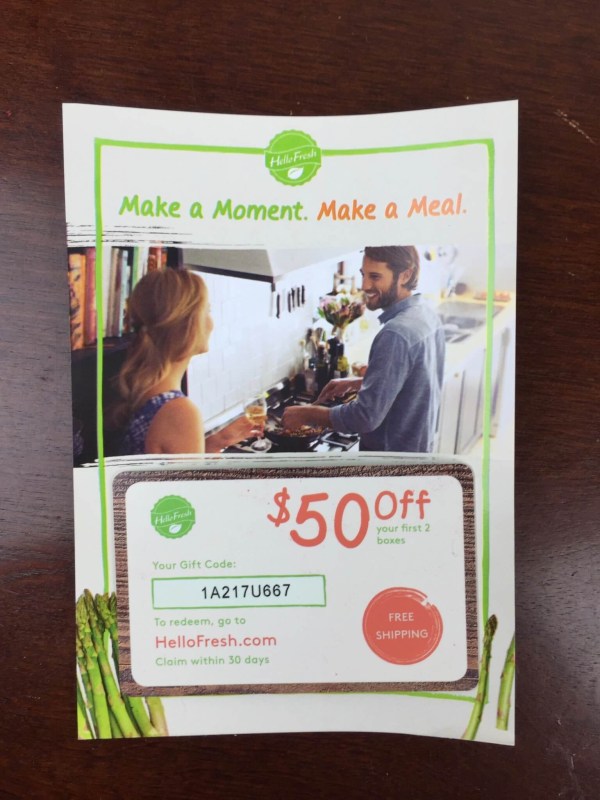 There was also a coupon for Hello Fresh in the box. Currently you can get a $50 Discount on your first two boxes with coupon code HF50SUMMER.If you just want to try one box save $40 off your first box with coupon code 7UT7K8.
Even though there's no theme, to me this month was all about little luxuries! What did you think about this month's Serendipity? I think it's really amazing for the price and way better than other similarly priced subscriptions because of the variety. The LLB girls know how to do it right! I do recommend a yearly subscription to get that $10/month price (total $60 – about the value I received just in this box) – why pay more?
There are no coupons or deals on Serendipity (which is price-wise cheap!) but you can use the codes below to save on the regular Little Lace Box subscription. I
Save $15 on an 6 month subscription (3 boxes). Use coupon code HELLO15.

Save $20 on an annual subscription (6 boxes). Use coupon code HELLO20.

Take $10 off your first box. Use coupon code HELLO10.
Visit Serendipity by LLB to find out more or to subscribe!
The Subscription
: 
Serendipity by LLB
The Description
: Get a fun surprise of delightful odds and ends in the "off" months of Little Lace Box in a dazzling red pouch!
The Price
: $9.99 every other month