Planner Packs is a monthly subscription box of hand picked planner beautification supplies! You'll receive planner addict supplies like pens, markers, stickers, washi, and other planner enhancement items!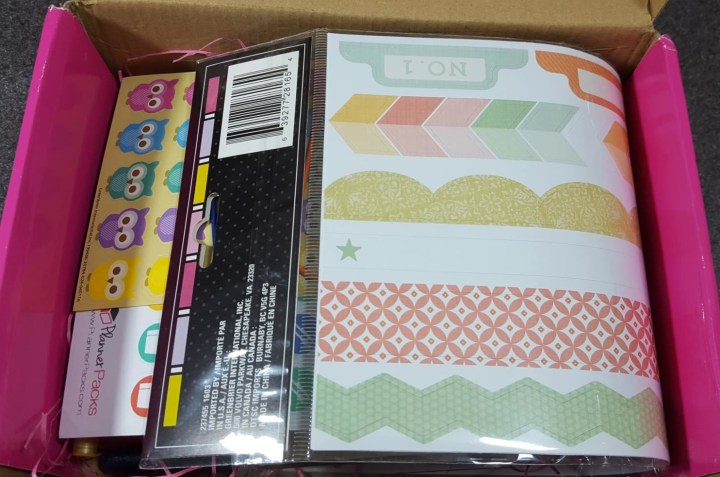 My first look inside the box. While the box itself doesn't have any labeling on it I do love the bright pink color and it is easily recognizable in my mailbox.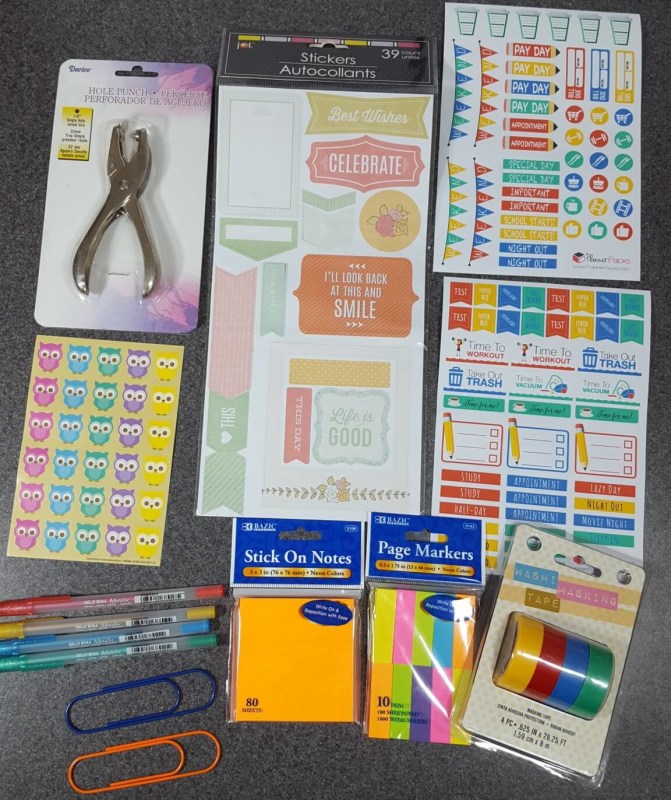 Everything that came this month.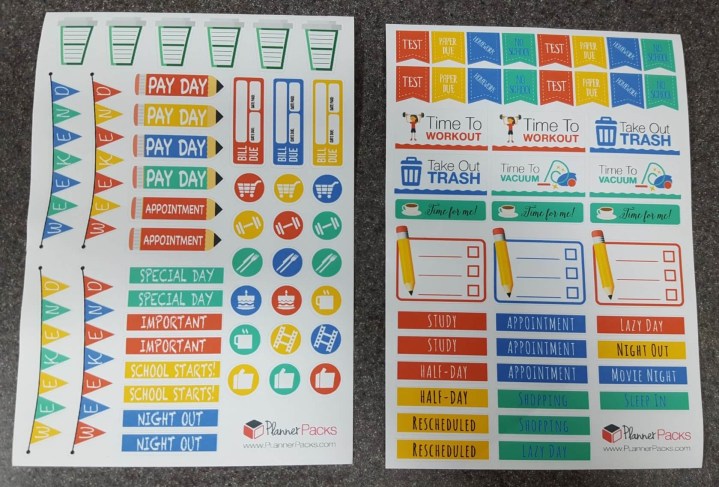 These are some nice stickers to keep on hand as they are basic planner items.  We actually started school this week so I need to go ahead and add a couple of these into my week soon.  The colors also scream primary and school to me so I think they will be great for those layouts.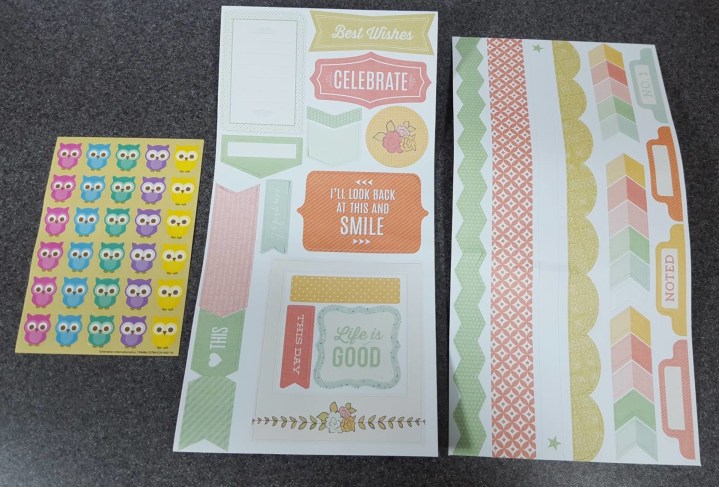 These are some nice stickers however they are rather large for my planner. I'm going to place these with my scrapbooking stuff and use them on those pages since most of them are so large. I do like the colors and the sayings but they don't really go with the included planner stickers which is ok for me since I do a hodge podge style however if someone wants to be matchy these are not going to do it for them.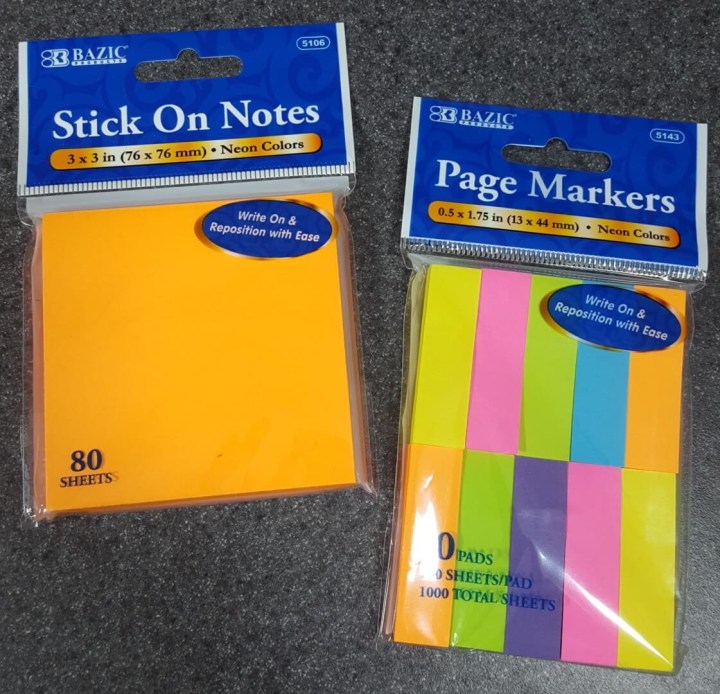 I love sticky notes and use them daily so these have me very excited.  These are one of those products that you can never every have to many of.  You could send me a whole box of sticky notes and I would be so happy.
Bazic Sticky Notes ($.99)
Bazic Page Markers ($1.99)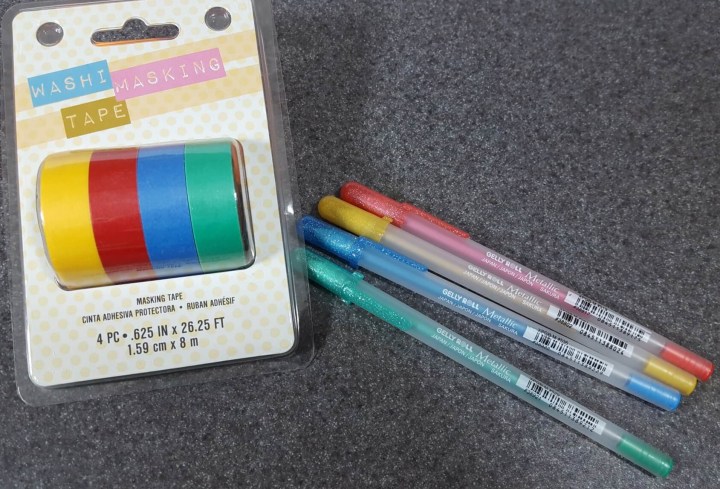 Washi tape and gel pens.  These are similar colors and great basics for any planner. I love the gel pens and will be using those often. These are back to the primary colors and very back to school looking.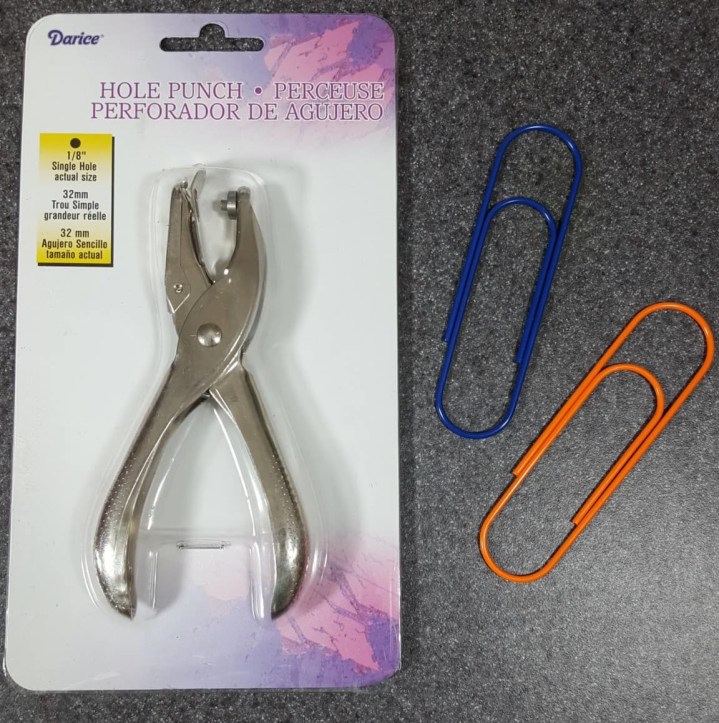 Some more of the extras in the box.  The 1/8″ hole punch is an interesting choice for a planner box I think.  I actually have a crop-a-dile so I'm not in need of a hole punch and I don't punch holes in my planner but maybe I need to check out what I could do with this.  I'll probably pass this onto my boys and I'm sure they will have fun with it.  I LOVE the large paperclips. Until I started getting these boxes I didn't really use clips in my planner but now I'm addicted and this are really big so they will hold something fun for me.
This was a bit of an interesting box for me.  I did not get an information card in here like we do most months and I get the feeling like they just tossed some items in a box and sent them out instead of making it cohesive.  I would say it has as a back to school theme but then they sent some stickers that don't follow it.  However while it doesn't all seem to mesh together they are all very useful items and I will be using them soon.
Use coupon code 
CRATE15
for 20% off your first month!
Visit Planner Packs to subscribe or find out more!
The Subscription
:
Planner Packs
The Description
: Have a cute box of hand picked planner beautification supplies delivered right to your door step every month! We search Etsy and many of our internet sources for great items and buy in bulk to pass the savings on to you. Generally, each box has a retail value of close to $30 or more and will always include washi tape, stickers, and pens as a base and then all our other great stuff on top of that. What a deal. We are one big family so we hope you'll join us!
The Price
: $17.99 per month