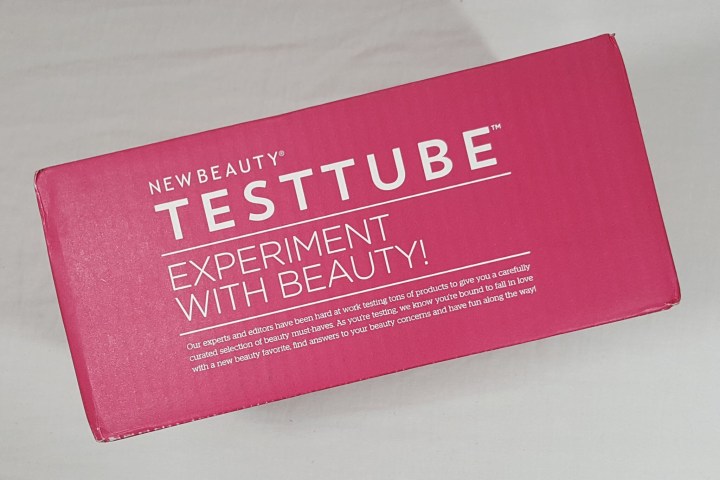 Happy 10th Anniversary to TestTube!  NewBeauty TestTube is a bimonthly beauty subscription box filled with 8 or more deluxe and full-size products with a total value of over $100.  When you subscribe you will also receive a subscription to NewBeauty magazine, delivered quarterly.  Because of NewBeauty's heavy focus on skincare and in-office treatments, this box is targeted to more mature women although everyone should care about skincare!
TESTTUBE turns 10

Discovering the latest beauty products should be as easy as having them delivered to your front door.  The editors at NewBeauty are constantly being sent everything from cult classics to the latest cutting-edge products to test and report on.  And that's how TestTube was conceived almost 10 years ago.  Our editors wanted you to try the products you read about on the pages of NewBeauty.  Throughout the past decade, we've delivered more than nine million products, filled nearly one million beauty cabinets and introduced millions of women to products that have become essential to their daily beauty regimens.

We cut through the clutter to deliver products to women that we believe they will fall in love with.  And, we don't just stop there – from key ingredients and formulations to scents and solutions, we tell you how to use each product and why you have to have it.

In celebration of TestTube's 10th anniversary, we have surprises in store for you that you can expect to experience all year long.  Trust us – you won't want to miss an installment.

Thank you for inviting us into your beauty cabinets for the past decade.  We look forward to many more.

with love,

TESTTUBE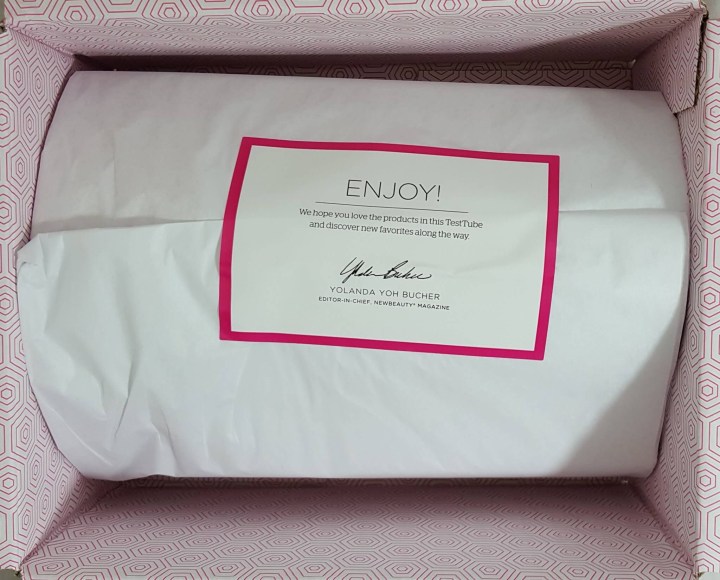 I love that everything is packed so well inside the box.

The products that don't make it into the tube are such good teasers.  They build up my excitement level so much!  And, there's a new tube color (I've been upcycling these around the house as vases and containers).
The information booklet has details on each item, as well as the reason it was chosen by the editors.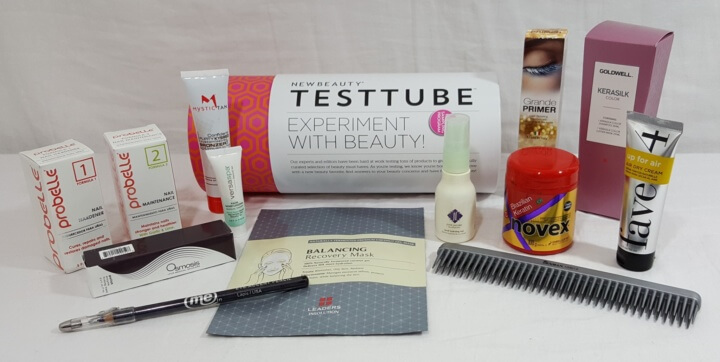 Everything in the box!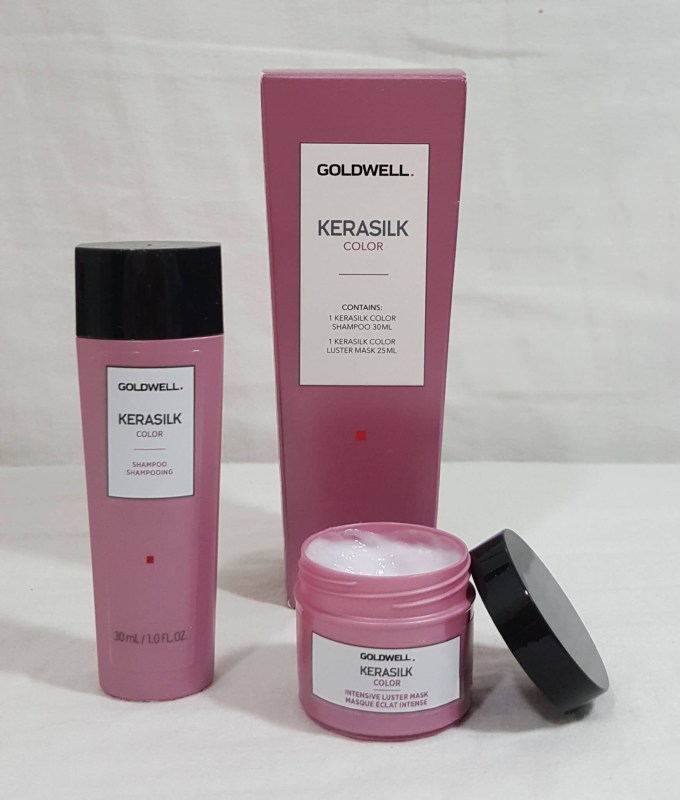 Goldwell Kerasilk Color Shampoo & Kerasilk Color Intensive Luster Mask ($7.00?) :  I'm guessing on the price here.  The link takes you to a travel set that included the matching conditoner for $10.00.  This is a gentle shampoo formulated with keratin and Tamanu Oil to treat damaged hair by providing moisture and shine enhancing benefits.  The luster mask is a deep conditioner that works to keeps hair strong and extend the life of your color.  I'm holding this for my next coloring session, but I can tell you that it smells divine.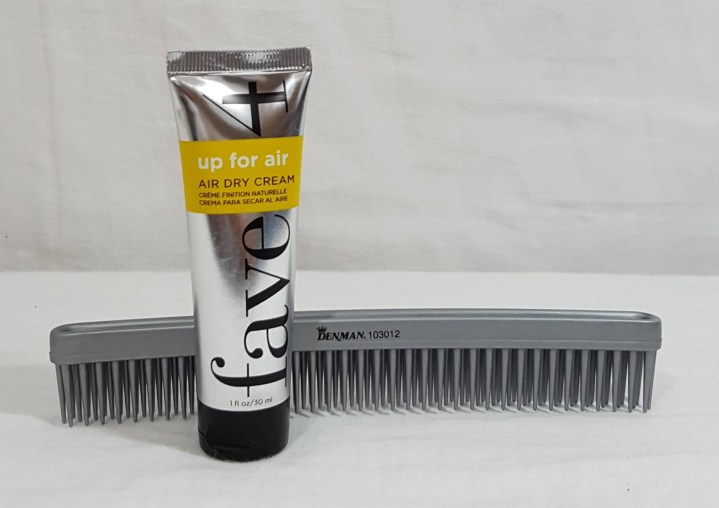 fave4 Up for Air Air Dry Cream ($2.91):  This contains quinoa, flax, abyssian oil, and heliogenol to stengthen and moisturize hair.  It also helps to protect color and against free radicals.  For those who want tousled, beachy waves with little effort, this cream is great.  I had mixed results.  For air drying my natural curls, it wasn't enough to combat the humidity here in Florida.  However, when I pulled my hair out of bun after using this, I had pretty waves for the evening.  Too bad, I wasn't going anywhere to show them off.  The video below gives some tips on using Up for Air.
Denman D12 Three-Row Comb ($6.00):  I've never seen a comb with 2, let alone 3 rows of teeth.  This is designed to make detangling faster and easier.  It is also great for back-combing hair to add volume.  I used this in the shower with my conditioner and liked how well it helped to distribute the product.  I want to try this when I flat iron my hair to see if it works better than my bristle brush.
Novex Brazilian Keratin Deep Conditioning Hair Mask ($3.31):  I've received a deep conditioning hair treatment by Novex in another box and liked how it made my hair feel.  So, I'm excited to see this.  This contains keratin and vitamin E to nourish hair.  And, its arrival was perfect timing… I just ran out of my other hair mask.
Leaders Cosmetics Balancing Recovery Mask ($7.00):  As you know, I am a fan of the sheet mask.  The Leaders mask is made from a coconut gel sheet and holds a large amount of serum.  This particular formula helps treat acne prone skin by managing excess oil, reducing redness, and helping to shrink enlarged pores.  This helped to soothe the Mt. Rushmore sized blemish on my forehead and maybe a few more masks will make it go away fully.  Here's a tip, follow the directions when applying the mask – remove the second protective film AFTER placing the mask on your face.  I didn't and spent about 5 minutes trying to separate the mask from itself to get it on my face.  Some subscribers may have received the Blueberry SuperFood Mask.
Osmosis Polish Enzyme Firming Mask ($9.00):  Polish is an exfoliating mask containing cranberry enzymes, L-lactic acid, and antioxidant CoQ10.  It also provides firming benefits.  I can't wait to try this out once my face clears up.  Editor Liz Ritter describes this as "Like a facial in a tube."
June Jacobs Neroli Hydrating Mist ($5.67):  Use this mist as you would a toner, after cleansing and before moisturizing.  Neroli, from the bitter orange blossom, is said to stimulate cell regeneration and work as an anti-inflammatory.  Combine this with the antioxidant properties of the tea extracts in this mist, and you have a powerful combo to protect your skin.  Bonus, the scent has its own soothing therapeutic properties.  This can also be used as a moisturizing mist throughout the day when your skin needs a little pick-me-up.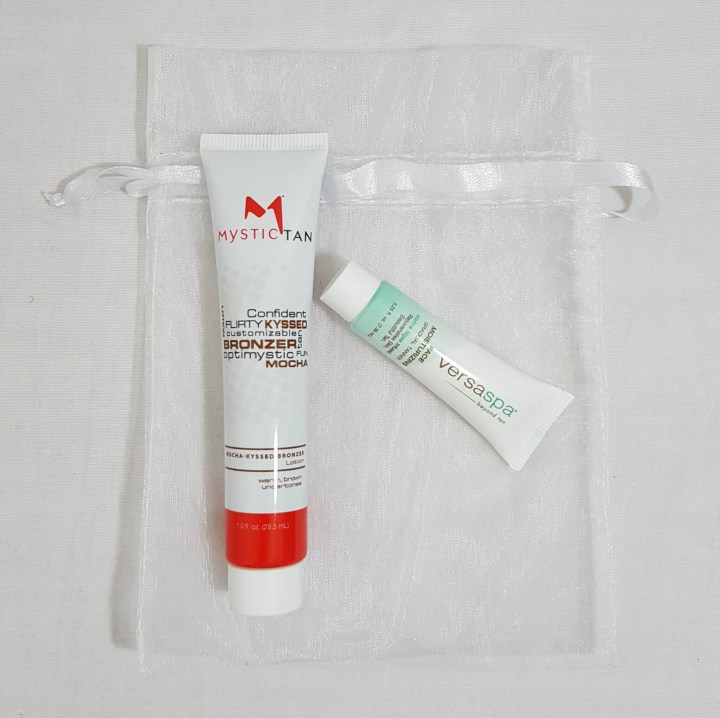 Mystic Tan Mocha-Kyssed Bronzer Lotion ($5.83):  "Mystic Tan Mocha-Kyssed Bronzer Lotion gives a double punch of instant cosmetic color, while gradually building a natural tan.  The silky lotion, with warm, brown undertones, moisturizes skin and creates an all-over, customized look."  As you'll  see in the swatch below, the immediate color is not overwhelming when blended onto the skin.  You can speed up your tan by applying this more than frequently – daily is suggested for a more gradual effect.  This was not sticky or greasy, but definitely wash your hands immediately after using.  I had had tan fingertips because I was determined to finish taking my pictures.
VersaSpa Face Moisturizer Gradual Tanning ($4.38):  "VersaSpa Gradual Tanning Face Moisturizer instantly hydrates skin, blurs fine lines and creates a beautiful tan.  Go beyond tan™ with VersaSpa's unique blend of green & brown marine algae to moisturize, oxygenate and detoxify skin for a beautiful tan."  This works like Mystic Tan, but the formula does not provide immediate color and is modified for the face and decolletage.  I will be passing this on; my face gets tanned from daily exposure in the sun.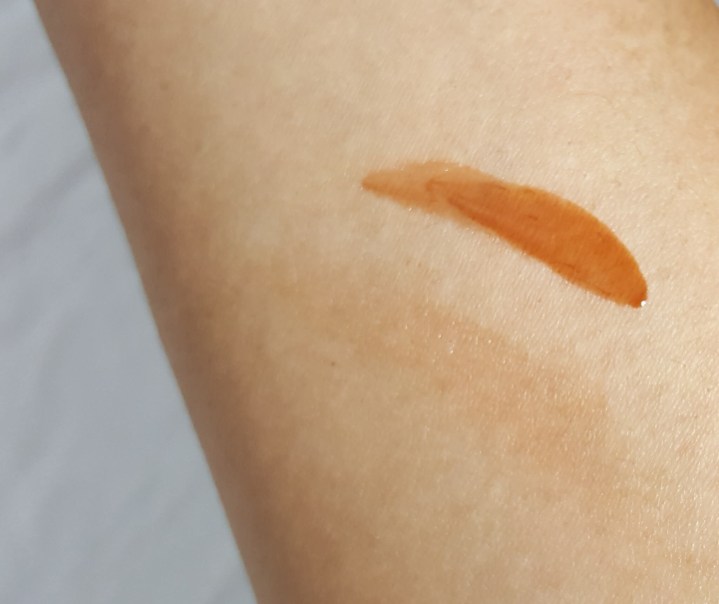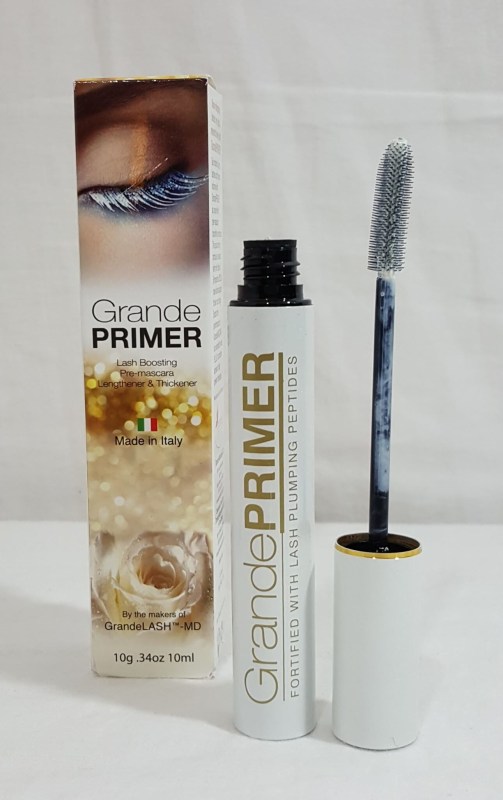 Grande Primer ($24.95):  I received the Grande Brow Fill-in in my March Test Tube, but couldn't use it because it was for those with lighter hair.  So, I was super amped to see a Grande item that I could use.  This primer contains a conditioner to help prevent breakage.  Apply 1-2 coats to lengthen and thicken lashes.  Then apply your mascara before the primer fully dries and bat those lashes!  I inherited my mother's lashes, so mascara is a must.  While I didn't see a big difference in volume, my lashes did appear longer.  I'll keep testing this out with different mascara formulas to see which combination gives me the best smize.
Pencil Me In Cosmetics Natural Eyeliner Pencil – lapis ($6.99):  Some subscribers may have received this in char-kohl or brownie.  I have not used a blue eyeliner since my early teens, so this was a refreshing change.  The color is deep blue, almost navy.  This glided on smoothly and left a clean line; the formula does not smudge easily.  It contains a blend of antioxidants and vitamins to nourish the skin around the eye area.  Plus, there is a built-in sharpener in the lid.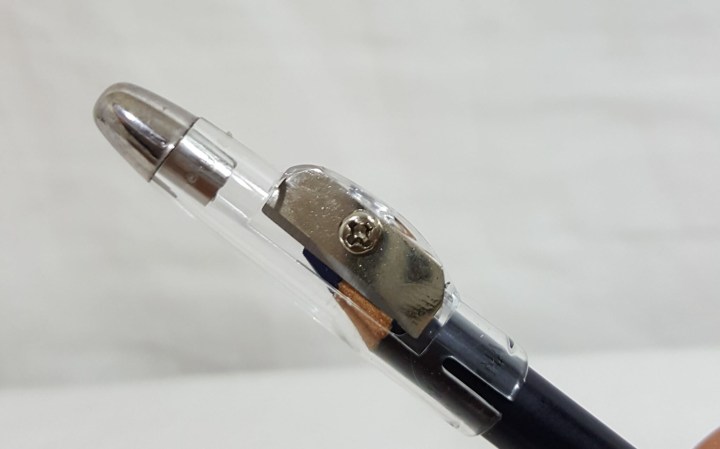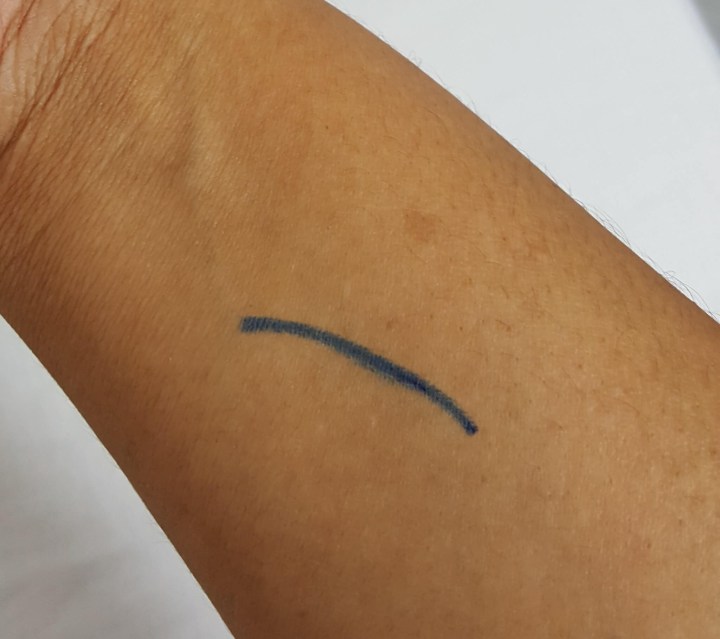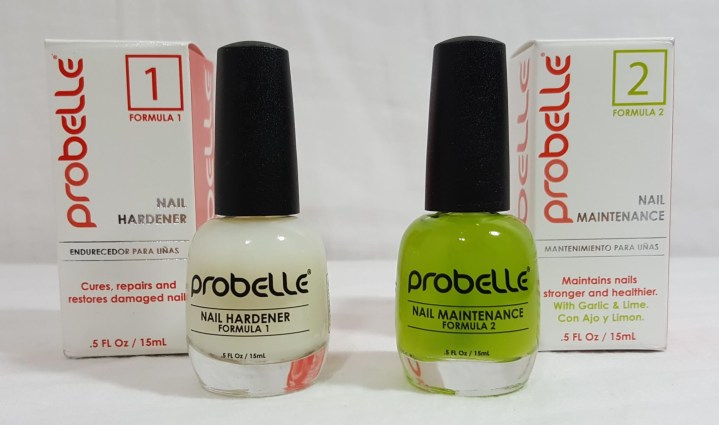 Probelle Touch & Grow Duo ($28.00):  The set contains Probelle's Nail Hardener (Formula 1) and Nail Maintenance (Formula 2) formulas.  The hardener works to repair nails by providing a protective barrier on the nail.  Formula 2 uses garlic and lime to maintain nail hardness and growth while protecting against fungus and restoring whiteness.  Probelle recommends using Formula 1 for 2-4 weeks before Formula 2 for best results.  A friend of mine recently stopped wearing acrylic nails and commented on how damaged her natural nails were.  This set will go to her.
This month's TestTube contained $111 in product!  There were items to take care of your needs from head to toe.  I felt there was a heavy hair focus, but I like trying out products on my curly mane.  Right now, the Grande Primer is my favorite item, but that could change once I use the Osmosis mask.  This subscription is a fun way to try out beauty products without risking a fortune.  It makes me happy to see it in my mailbox.  Did you get one of the alternate items?  I'd love to hear your thoughts.
Don't forget to check out the giveaway for the PREVIOUS tube – watch for the giveaway for this one soon!
If you're interested in subscribing, use this link for a $9 savings – no code required!
Visit New Beauty TestTube to subscribe or find out more!
The Subscription
:
New Beauty TestTube
The Description
: Six times a year receive a TestTube filled with deluxe and full-size beauty products – top brands, time-tested formulas and targeted innovations. Subscribers receive a subscription to NewBeauty magazine, delivered quarterly.
The Price
: $38.00 every other month