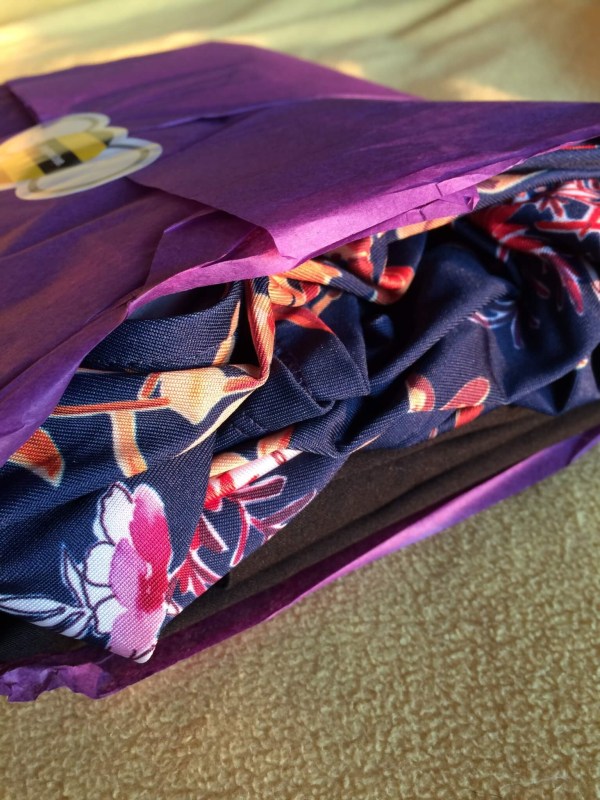 I am always excited to see my Gwynnie Bee box in the mail. It has been a great way for me to keep my work wardrobe interesting.  While I usually focus on dresses for travel, I have had a few months mostly at home, so I have been getting some more casual items.  This month was a mix of fun and work stuff.
Gwynnie Bee is a clothing rental subscription service. My body shape makes me a perfect candidate, as they specialize in sizes 10-32, and I am a 14-16.  When I started I added about 25 items to my closet (it's a lot like creating a Netflix queue back when DVD subscriptions were their main business model, except there is no specific order) and they sent me the first three that were available. They now have a feature that lets you prioritize items, so I have some control over which items are more likely to show up. Then, when I return items, they send more!
I really like that I have a lot of control – I pick the specific items that are in my closet.  I can go outside my comfort zone if I feel like it, or I can stay well within it. Overall, I put several items that would be a stretch for me in my closet, but also put plenty of items I think I will like so that any given shipment is likely to have something in it that I will wear.  
Isabel and Alice Floral Printed Faux Wrap Top Size 1X 
I am in love with wrap dresses, so why not wrap tops?  This one is a happy floral print, nice bright colors against a more neutral blue background.  The fabric is stretchy and forgiving. I usually wear a 14 on top – the 1X was the right size, but I needed to pin it a bit to keep it from being too revealing. I wore it with the white skirt here, but I also paired it with a dark dress denim – alas, I forgot to take pictures!
Leota Tank Tunic in Portico Size 1L
Universal Standard Didot Unzip Skirt in Universal Black Size 16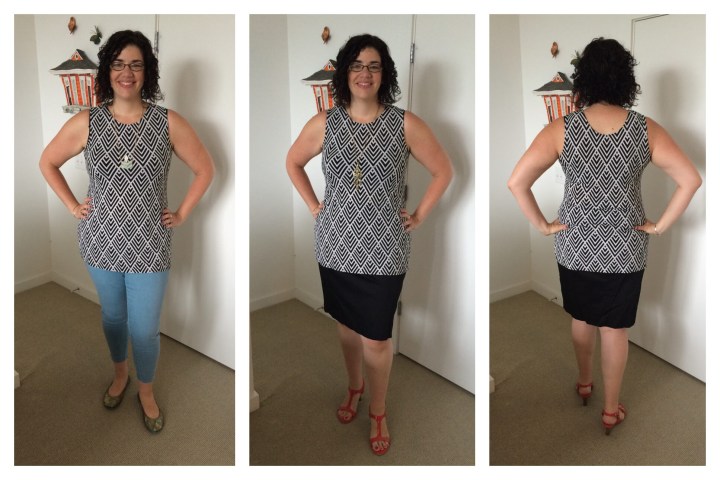 You may have noticed that I have a thing for black and white geometric prints.  I saw this and prioritized it, and it showed up the next month! I like how long it is – great with skinny jeans, but I was surprised to see I liked it with the Didot Unzip skirt, too.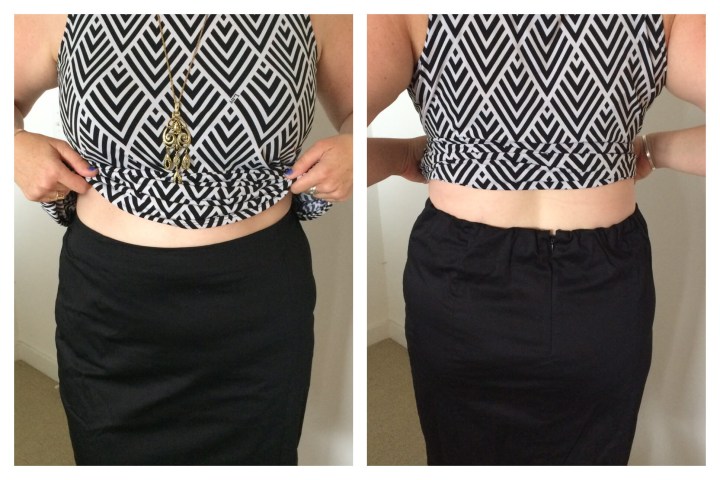 The skirt felt like it fit well, perhaps a bit loose. I am not a fan of how bunchy the back is – there is elastic back there, but the cut had a lot of room to allow it to stretch.  It was one of those poplin fabrics that attracts lint like crazy, so it didn't stay in my house too long – it would just get coated in kitty fur.  But hey, the beauty of Gwynnie Bee is they do the laundry!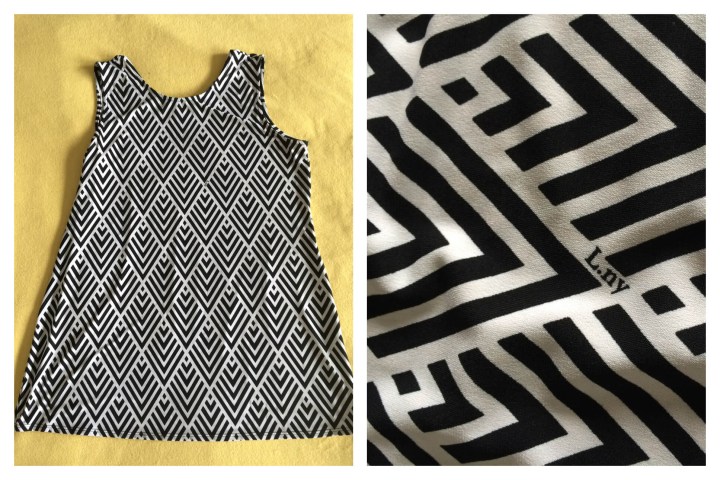 I just went through and added some more summer pieces to my closet. It is Hot Hot Hot down here and I definitely don't need any sleeves for the next month or so.  One of the awesome things about Gwynnie Bee is you can change your priorities and take items in and out of your closet easily.  There is an "On Hold" section of the closet for items you like but don't want to be considered in your next shipment.  I already moved the sweaters and winter patterned dresses over there, but I might be even more brutal and cull the closet down to just the most summery of pieces!
Currently when you sign up for Gwynnie Bee you can get your first month for FREE, (no code needed, just use the link) which is an awesome way to just try it out and see if you love it.
Visit Gwynnie Bee to subscribe or find out more!
The Subscription
:
Gwynnie Bee
The Description
: Plus size clothing subscription rental service. Unlimited exchanges, free shipping & returns. Hot brands for curvy ladies sizes 10-32!Because this is a rental service, this is not quite a plus-size Stitch Fix. However, you can purchase the items you love, usually at a significant discount. We recommend trying it out for a month!
The Price
: $49.00 per month
A couple things to remember (besides free laundry!):
you can mark your shipment as outgoing so your items ship out faster
you can purchase items that you love at huge discounts
use the community at Gwynnie Bee to help you select the best items for your body and the right size for that garment.
All the garments are inspected and I've never really had an issue with anything I've received in terms of condition.
 It's also worth a mention that the clothes are higher end clothes, so they all have better construction and fabric than what you might normally purchase for yourself.
Gwynnie Bee Cost:

1 item/ $49 per month
2 items/ $69 per month
3 items/$95 per month
5 items/$139 per month
7 items/$179 per month
10 items/$199 per month