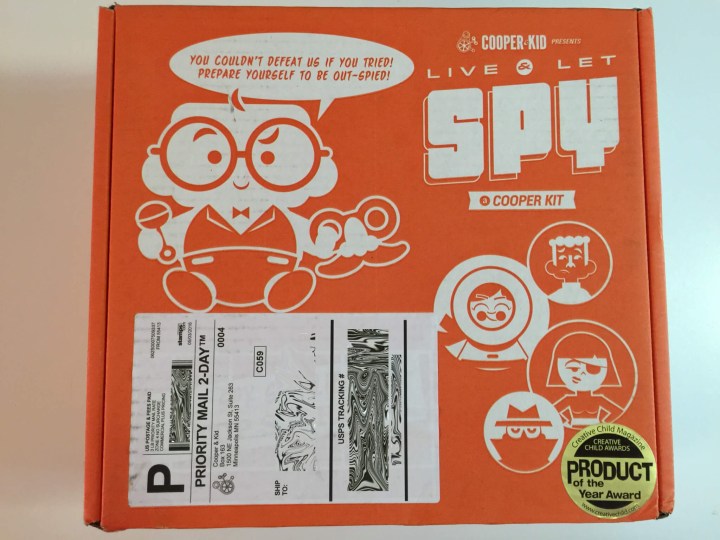 When I was a kid, a "box" to play with meant a discarded appliance box from the neighbor, that we had to draw on and cut up. Sure, lots of fun, but let me tell you, I would have rather had something like this when I was a kid.
The Cooper & Kid box is a subscription box designed for dads and kids. It's promoted for the "modern father" (Born after the 1950s.) with the promise of spending time with your kid doing "imaginative, inventive things that shape their character" and your relationship. You can opt for a number of different subscription types, from quarterly for $65 per box (one every quarter) to a yearly subscription that saves you $24.
The "Cooper Kit" is a box that contains 6-9 different themed activities for you to do with your kids. The box is also part of the kit–so don't throw it away! In addition to the activities in the kit, there's also a web portal that features some "Beyond the Box" link to additional articles and activities to add to what's in the kit. It's a nice touch to keep the activities going. There's also a "Just for Dad" section, with links to articles to help you, as a dad, along with some fun links to funny videos and cool topics related to the box.
I did the kit with my daughter, who is almost eight, with some help from her little brother, who is three. Hey, you can't have spy games if you don't have an enemy, right?
Inside, the kit was packed full of materials: a "Legacy Medallion", parts for a decoder wheel, a disguise kit, a book "The Secret Knowledge of Grown-ups", the "Secret Agent Dossier" (Activity Guide), a code cracking game, a cool "spy pen", some "lazer" ribbon and a spy microphone kit.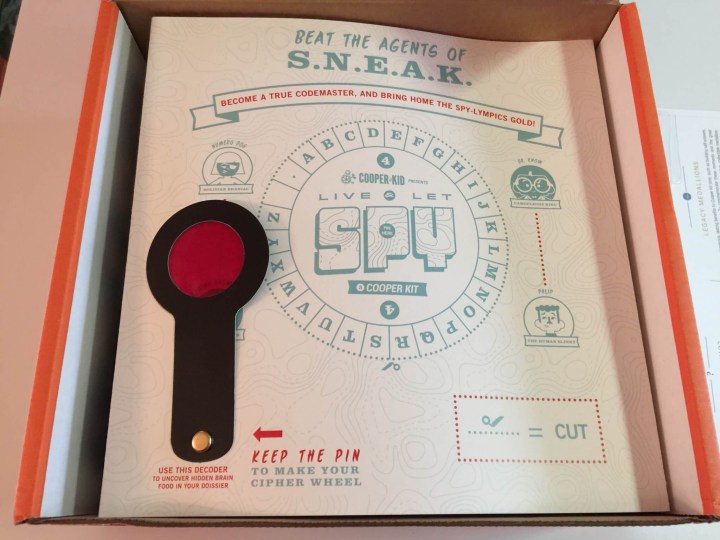 Personally, I'm not all that into the "Legacy Medallion" which is meant to be a keepsake for the experience. It is a well-crafted coin, and my daughter loved it, so that's cool. But I'm not really a "collector" type, so I just let her have it.
The Secret Knowledge of Grown-ups is a wonderful book, which purports to let kids in on all the secrets we grown-ups keep amongst ourselves. It's really funny and the kids love it.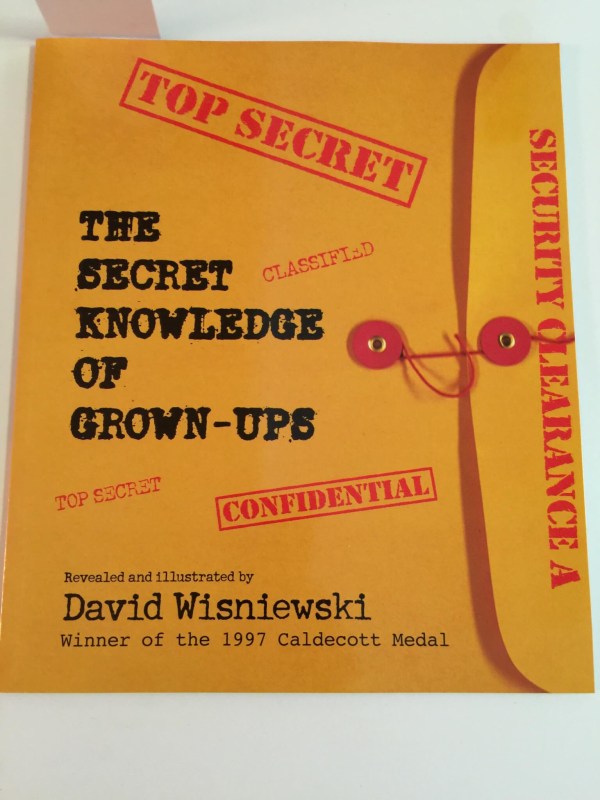 The kit also includes a "Secret Agent Dossier" with instructions for the various activities as well as profiles of spies, etc.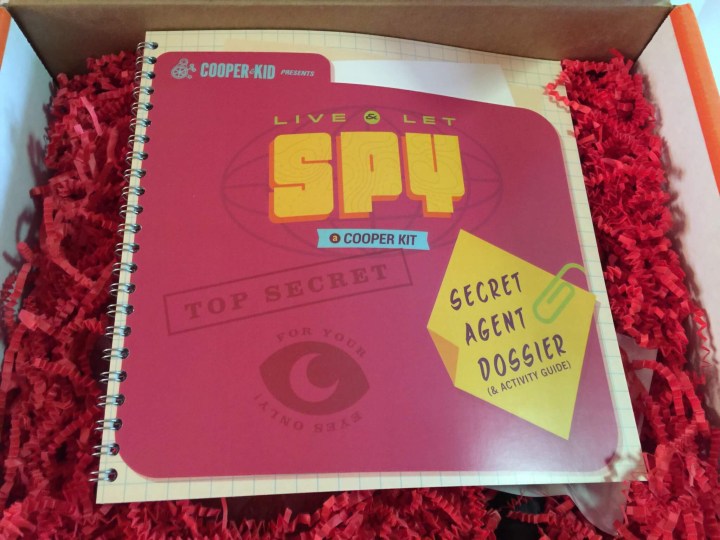 All in all there is a ton of stuff in this kit! It really feels well planned out, with a variety of different activities (some way better than others) so there's going to be something in here your kids (and you) love.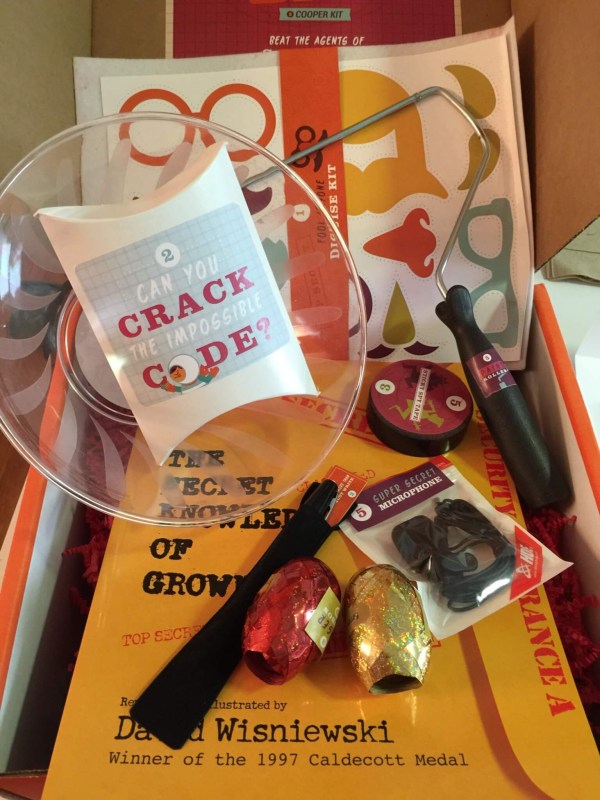 First up was the disguise kit. This included a number of templates you could cut out, and trace onto sticky-backed felt and then, presumably, adhere to your face–thus, a disguise! My daughter showed zero interest in that. Zero. So we skipped it. That's actually one of the really nice things about the Cooper & Kid box: there's a ton of stuff to do in it. So if there's one your kid (or you) aren't into, you will not feel bad just skipping it. You won't feel like you're not getting your money's worth, because there are just so many other things to do, and I guarantee your kid will like at least one of them. Probably nearly all of them!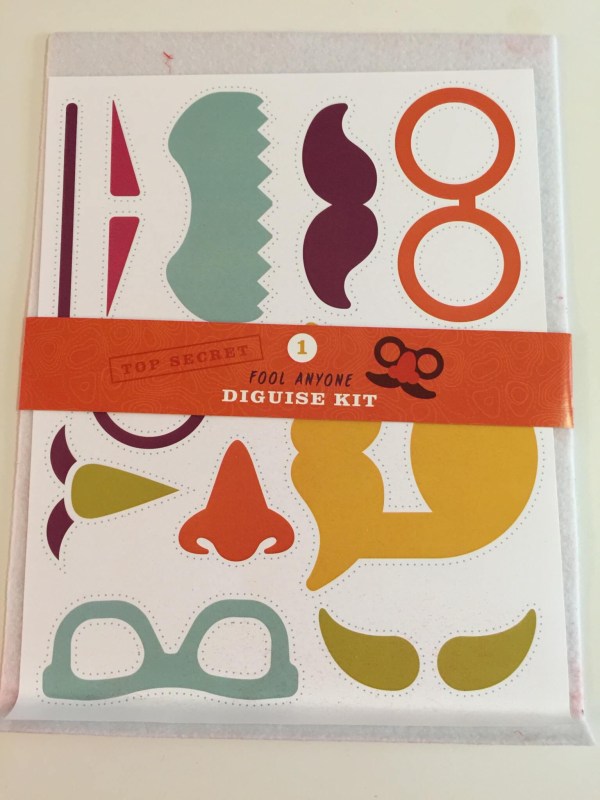 Next, we tried our hand at the the cipher wheel. It was pretty easy to put together and get code cracking! This one used part of the box as one of the parts of the wheel.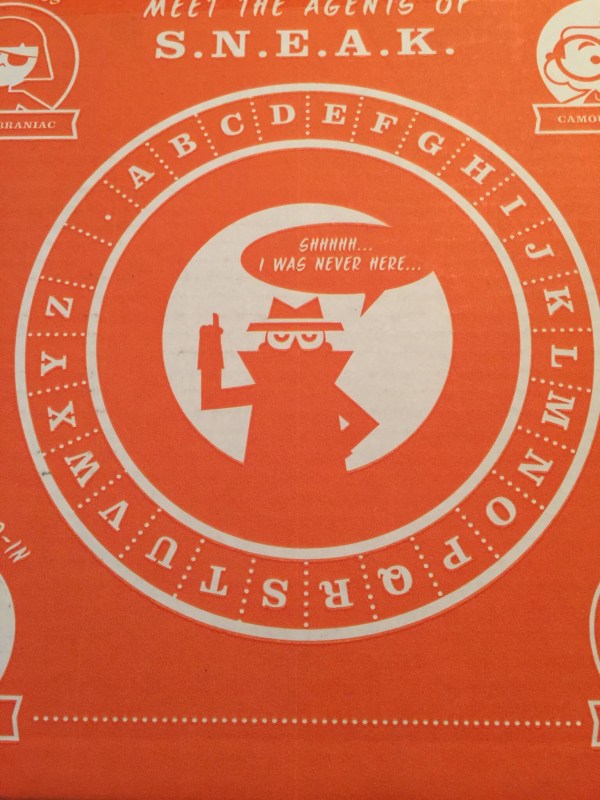 It was pretty easy to get together and figure out the code. About half-way through my daughter lost interest in solving the code (which, to my supreme disappointment was not "Be sure to drink your Ovaltine") but she had some fun making up her own codes.
Since she was still in a code mood, we decided to try the "Crack the Impossible Code" game, which consisted of a notebook, a little piece of corner moulding and some number tiles.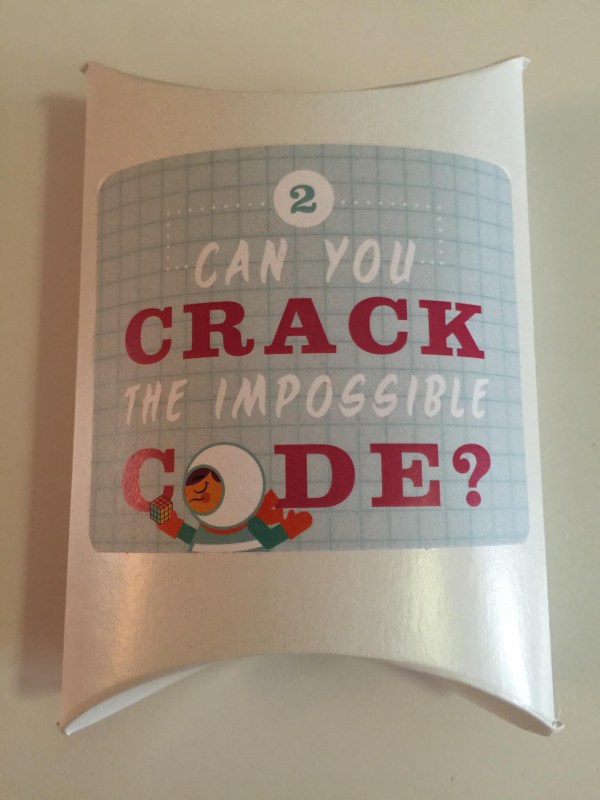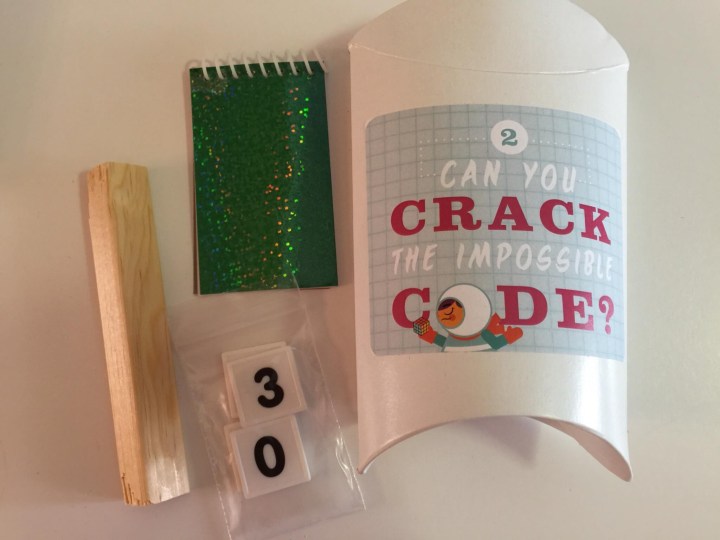 The idea here is that you set a code, then the kid guesses it. You tell them how many numbers they got correct and then, through process of elimination they "crack" the code.
This is the only one that I  was disappointed in. The corner moulding did not do a very good job of keeping the tiles up, as you can see. And the tiles were thin and so my daughter kept guessing the code on the first try because she could see through the back of the tiles. When we finally did get it set up and going, with me hiding the number further, it was just OK.
Next, was the Spy Pen, which was just a pen with a USB drive hidden in it. On the USB drive was a cute little "secrets" file that you could fill out and save back to the pen. This one was a big hit! Hey, kids love pens. And when you give them their own, Top Secret pen that can also be using on the computer? Win.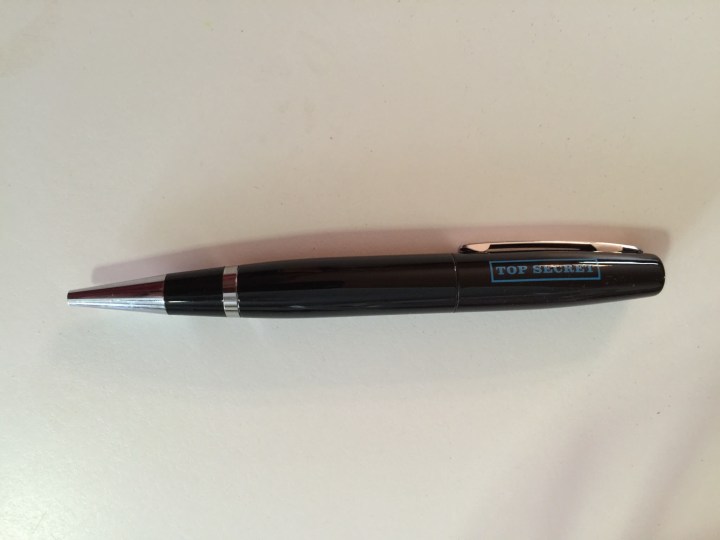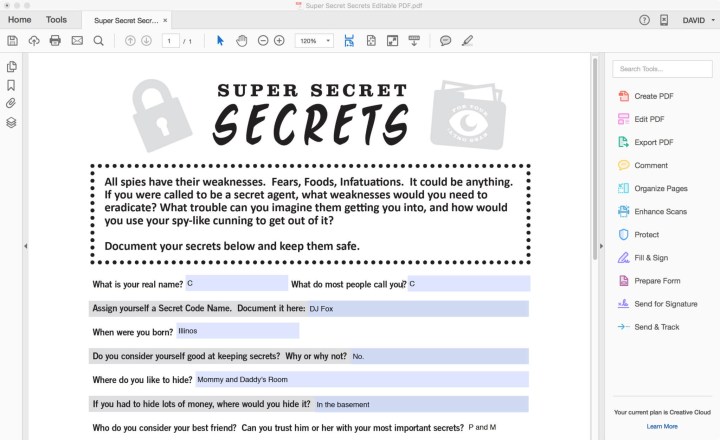 Another big hit was the "Laser Maze" which consisted of two spools of ribbon which you could use, in conjunction with the electrical tape, to set up your own criss-cross maze of "lasers" to try to navigate.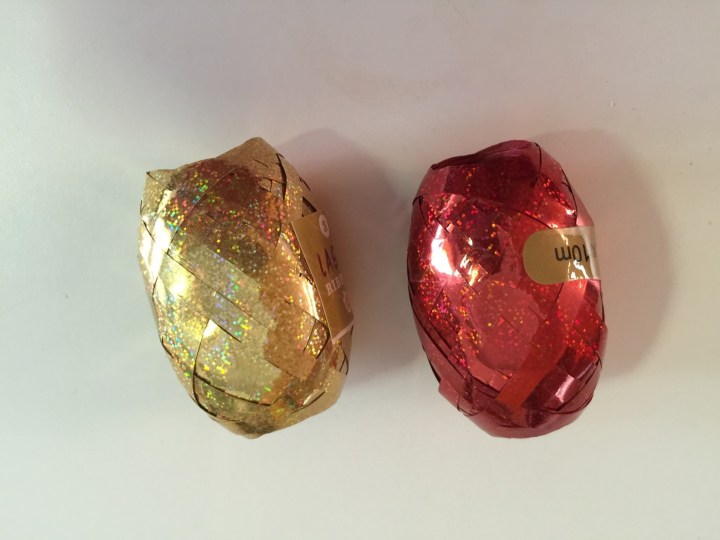 My daughter decided it would best be put to use as a trap by our front door to keep out brothers. Here she is seen carefully laying out her trap, while her arch nemesis carefully observes construction, with a laser pointer of his own.
Having completed the trap, she realized she'd trapped herself, and have to navigate her way out without setting off the alarms. It was great fun getting tangled up in this stuff. Definitely a very enjoyable activity!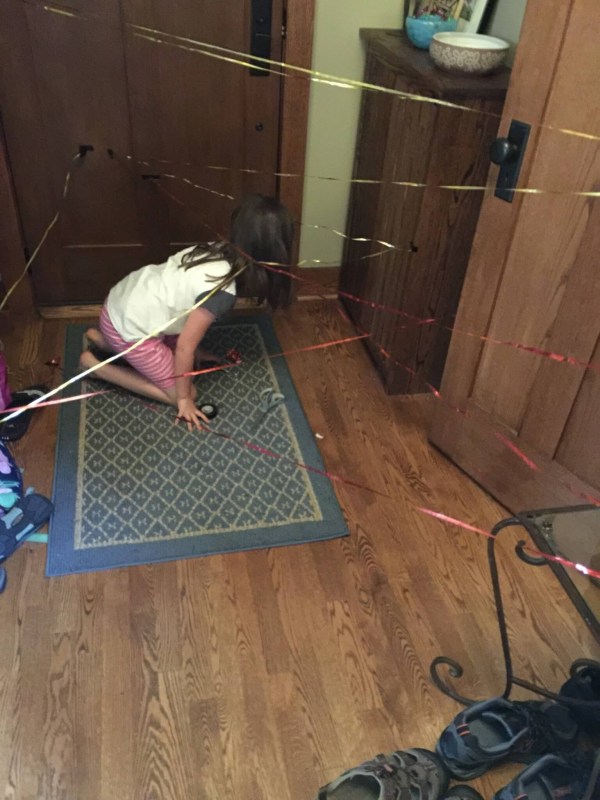 Finally, the grand finale was the "Super Secret" microphone. Whoa. It was definitely the activity of the box. If you've ever wondered what you can make with a paint roller,
some electrical tape,
a plastic bowl,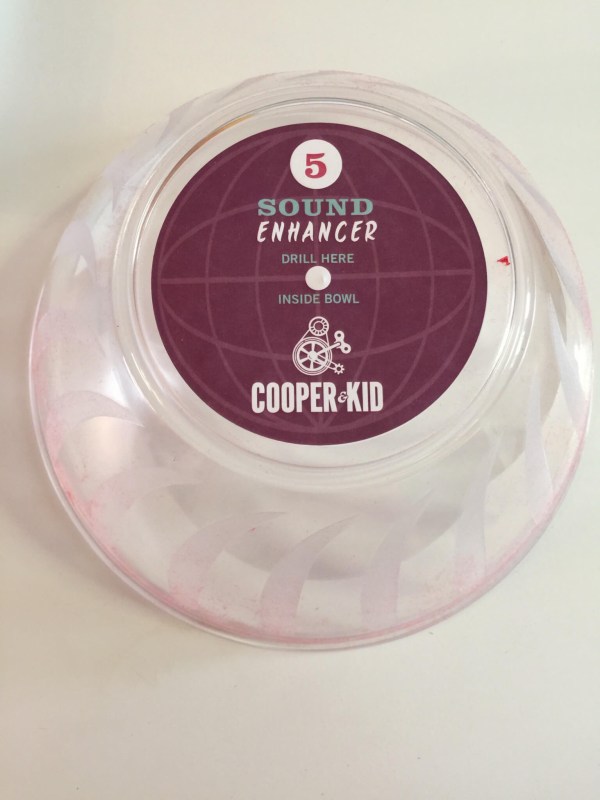 and a microphone, well, look no further.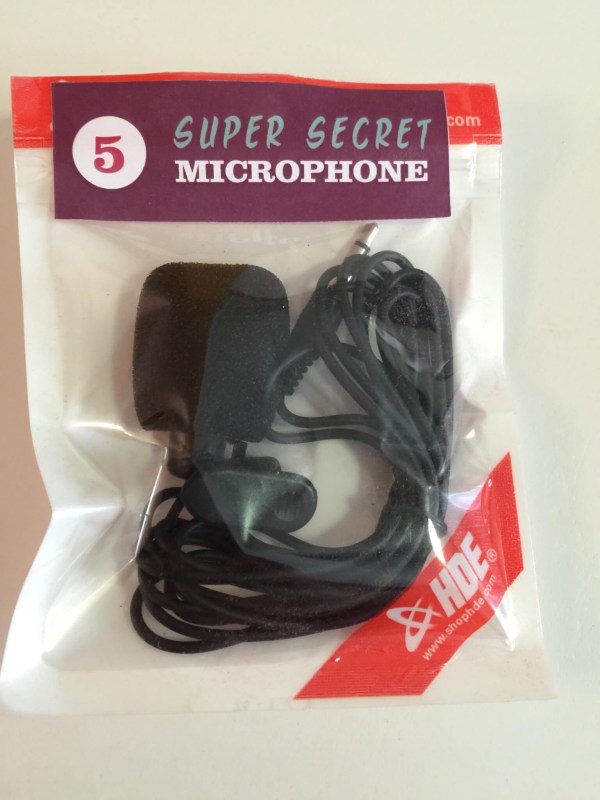 It was pretty simple to put together: you do need to drill a hole in the bottom of the plastic bowl, so you can put the paint roller through and tape it into place. Then you attached the microphone, and voila! a super secret spy microphone. I plugged it into my iPhone and let her use it with a simple recording app. It was absolutely her favorite activity in the entire box, and we are still having our conversations around her surreptitiously recorded.
When I first got this box, I wasn't sure about the whole "Dad box" concept, but it really won me over. Nearly all of the activities are well done, well thought out, and executed well. There were a couple of stumbles–not all kids will like all things, and some of the activities had flaws. But there are so many different activities to choose from, one or two misses won't matter. You'll still be left with 5-7 really great activities that you and your kids will enjoy.
I think the Cooper & Kid Kit was a really great box for any parent and kid–and my daughter said, "It's pretty cool" which is high praise on the kid scale!
What did you think of Cooper & Kid?