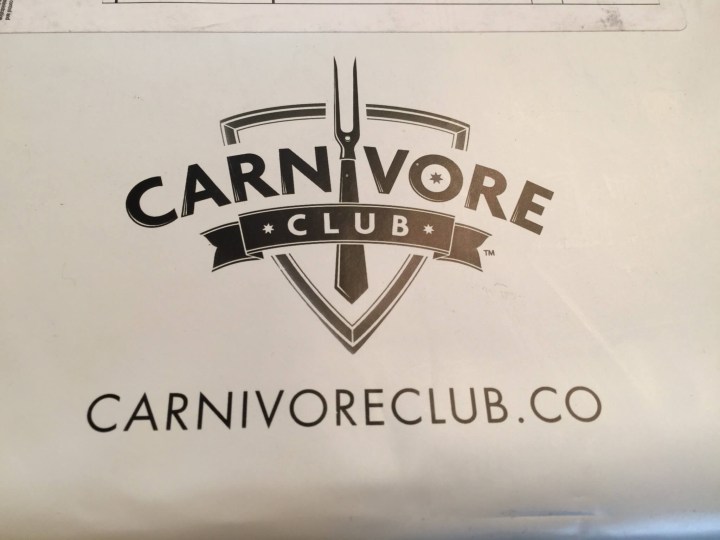 I have to say, I'm getting trained like Pavlov's dog… when I see this package arrive, I'm beginning to salivate, knowing that inside, there's delicious meat to eat!
The Carnivore Club is exactly what you would expect: high-quality meat selections, delivered to your door. The last box was artisan cured meat, this month, it's jerky!
This month's box came packed with selections from Savage Jerky Co. which started off with a Kickstarter campaign, and now deliver "a natural, flavorful, spicy snack that didn't contain ingredients that belong in a lab instead of a kitchen."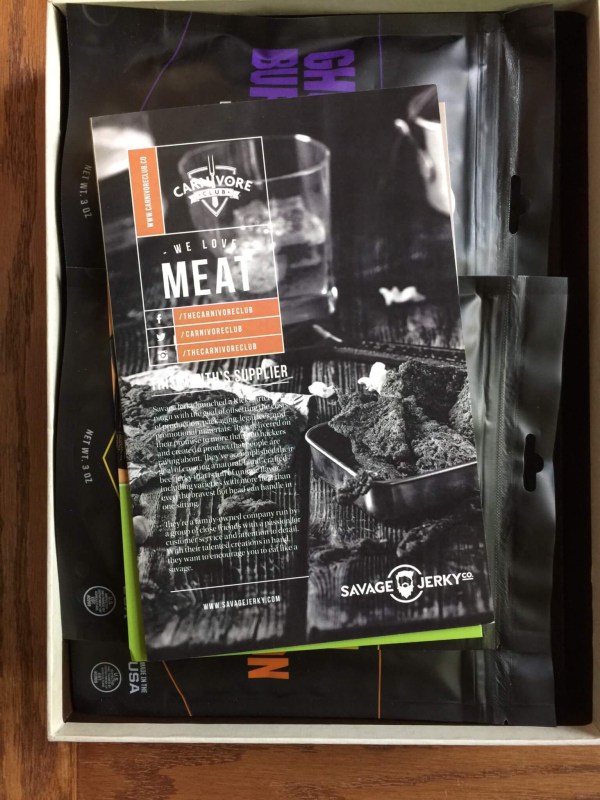 As always, the folks at Carnivore Club includes a handy card with some history about Jerky and descriptions of the samples included in this months box.
For July, it's a real bounty of jerky from Savage Jerky. There are five different selections: Sriracha Bacon, Maple Buffalo Bacon, Sweet Sriracha BBQ, Ghost Pepper Beef Jerky, and Traditional Mojo Beef Jerky.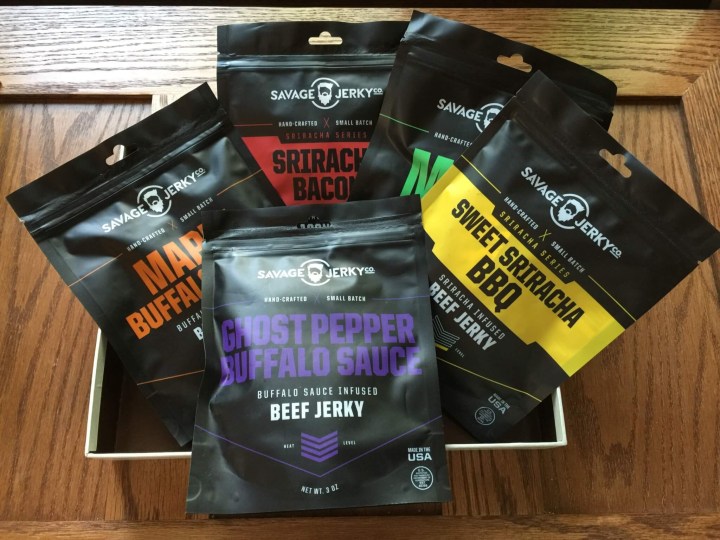 Up first was the Sriracha Bacon which sounds pretty darn good… I mean, bacon? And Sriracha? How could that go wrong?
What They Said: All-natural bacon is marinated in an incredible sriracha glaze and then cooked in their jerky ovens to create one of the best snacks you'll probably ever have. Amazing flavors come together in one delicious strip of meat. Low heat.
What I Say: I had never had bacon jerky before sampling the Savage Sriracha Bacon. When I opened it and pulled out a piece, I though, "I wonder if this needs to be refrigerated after it's opened" because it was quite wet with the sriracha. But the bacon was still surprisingly crisp. I was a bit surprised. So does it need to be refrigerated? I don't know; I ate the whole bag. Yes. It's that good. It's a really good balance of bacon and sauce–it's not just overwhelming sriracha. The sriracha is tangy, slightly sweet, everything you probably love about sriracha. It's not hot, but just a nice touch of spice. So if you like bacon and you like sriracha? You'll love this. And if you don't like bacon… What?! Who doesn't like bacon?!
I decided to stick with bacon for a bit, and give the Maple Buffalo Bacon a try.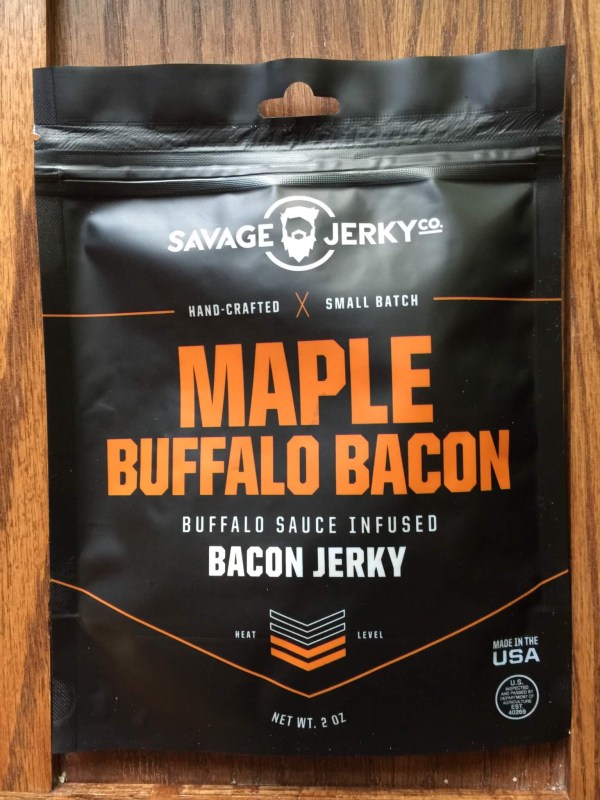 What They Said: All-natural, nitrate-free bacon meets scratch made buffalo wing sauce spiked with sweet maple syrup. You've never tasted anything like this before. Good luck not getting completely addicted. Medium Heat.
What I Say: Wow. Two for two. So, this is also wetter, but not quite as wet as the sriracha. And yes, I ate this entire bag, too. So, there you go. The bacon wasn't quite as crisp, but still held up to the sauce quite well. And the sauce is really good. It's a pretty classic buffalo sauce, you get the buttery, tangy cayenne with the bite of the vinegar, but here it's mellowed out with just a touch of the sweet maple syrup. It's a really outstanding combination. You'll eat a piece or two, put it away, then find yourself going back for another piece or two, and before you know it, it's gone! The one thing I think that Savage missed on this is the heat level. It builds a little but I don't think it was worthy of a "2" on their scale–I really didn't think it was hotter than the sriracha (which isn't really hot either). If you don't like hot, your milage may vary, but for me (and I do like the heat) I didn't find it hot–tasty, for sure, just not really very spicy.
Having exhausted bacon, I moved on to the Sweet Sriracha BBQ.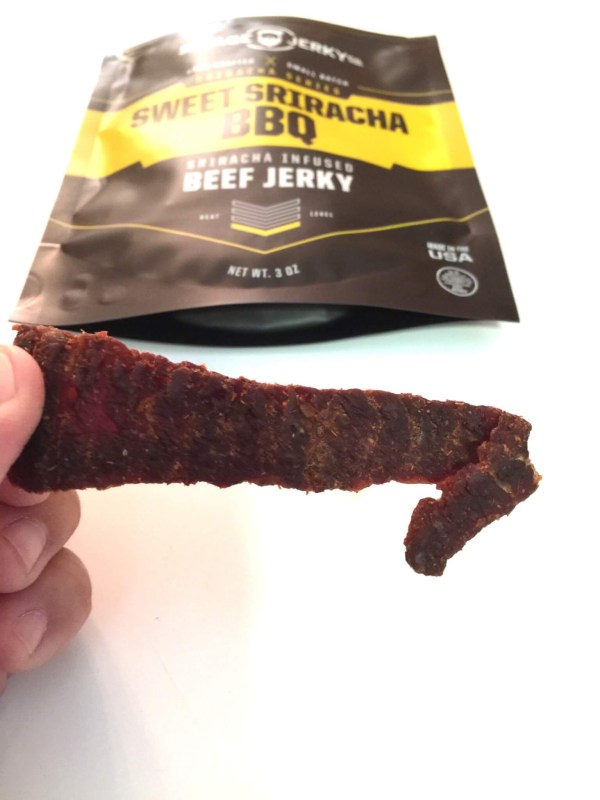 What They Said: They've created a completely homemade barbecue sauce that compliments the sweet side of sriracha incredibly well. With very little spice, this flavor is going to appeal to anyone that is a fan of jerky providing swaths of brown sugar, molasses cut by apple cider vinegar and a special blend of spices. Low heat.
What I Say: This is a solid BBQ jerky. There is not really much spice at all–but that doesn't mean a lack of flavor. The sriracha definitely takes a backseat to the barbecue flavors, but that's just fine, the homemade barbecue sauce is great. The brown sugar and molasses come through nicely to add a bit of sweetness, and the vinegar is almost unnoticeable, but is there ever so slightly. It's a great balance–and this is important–it doesn't overwhelm the meat. So often, jerky is made with a lower quality cut of mean, and the spices are amped up to hide that, but not the case here. You get a great balance of the sriracha and barbecue, but it compliments the flavor of the beef, which is spot on.
Up to now, everything's been very flavorful, but pretty mild on the heat. I expect that to change with the Ghost Pepper Beef Jerky, which promises some serious heat.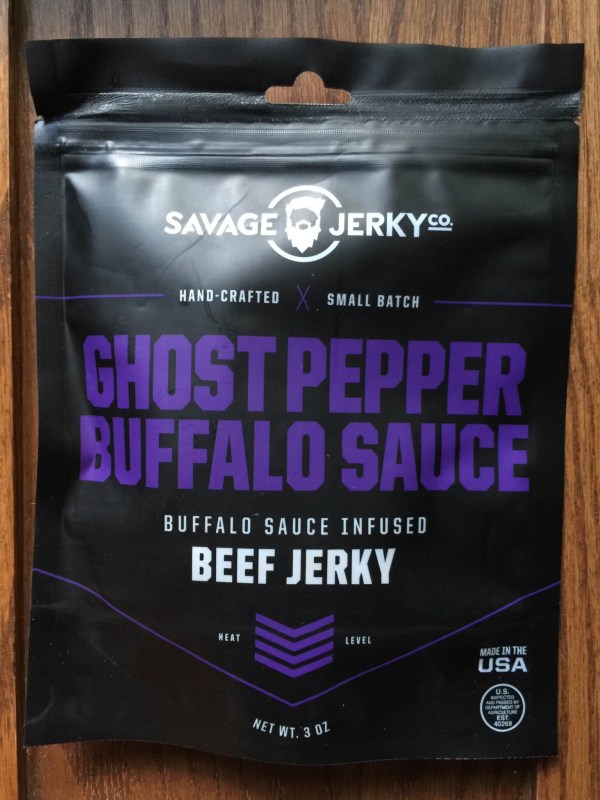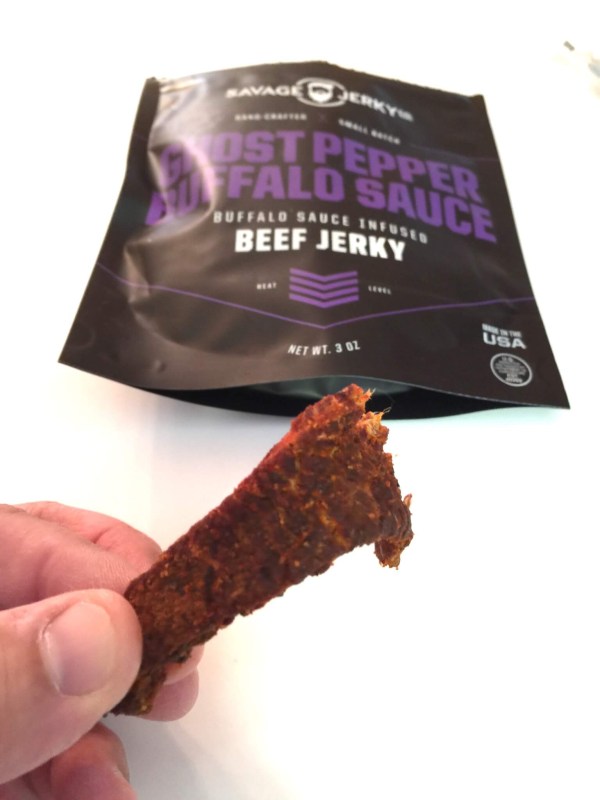 What They Said: For the truly daring, Savage Jerky has coupled their fresh cuts of beef with a ghost pepper buffalo sauce. The Bhut Jolokia is 400 times hotter than Tabasco sauce and offers a great, intense heat for this buffalo flavored jerky. They top it all off with crushed pepper flake. Good luck, brave Carnivore. Max heat!
What I Say: Uh, whoa. Look, I like hot. I really, really do. But man, this is not a jerky to be trifled with. You are not going to finish this bag in a sitting and I would highly recommend having a beer handy when you eat it. You're gonna feel the heat. In fact, the one thing I think Savage Jerky Co. needs to work on is their heat scale. While most of the jerky in this box was a "1" on the scale of 1-4, and this was rated a "4", I think the other jerky should have been a "1/2" and this should be "11". I will say this: this isn't a jerky that "hides" the heat and builds over time (well, I wouldn't know if it builds, I could only take one piece). The heat hits immediately. You can tell as you're tasting the buffalo that this is going to end hot. It has really nice flavor at first, but unfortunately it's very quickly overwhelmed by the heat. So I  can't say much more about the spices or the quality of the meat I suspect that with a slightly milder pepper this would be really good, but as is, it's a "heat contest" kinda jerky, not for snacking. I have to confess, though, it's a bit of an endorphin rush.
After the Ghost Pepper, I'm very glad I decided to cap it all off with the Traditional Mojo Beef Jerky.
What They Said: The tamest flavor of jerky featured in this box, the traditional Mojo offers hints of lime, cilantro, garlic and cumin while bringing out the great beef flavor of our handmade jerky. A perfect snack for the member of the family that might not like it on the spicy side. Low Heat.
What I Say: This was a great one to end with. It's actually my favorite of the bunch (although it's really close with the Bacon Sriracha). Of all the spices that I've had on jerky, I have to say that cumin is absolutely my favorite. I use it heavily when I make my own jerky, and they use it heavily here, too. It has a natural smokey dustiness that just really works with beef and helps bring out the natural beefy falvors. And the spice balance is right, too. Just like the Sweet Sriracha BBQ, they don't overwhelm the beef, they enhance it. It's a total win. Here, it's really well balanced with a nice, citrusy tang from the lime and garlic is always nice. I didn't notice too much cilantro–which is good, because I can't stand cilantro, but it's not problematic here. Overall, this is a great "traditional" jerky and I'd highly recommend it to anyone who likes jerky. Quite delicious!
The Wrap Up
This was a really outstanding box o' meat. Five different jerkies to choose from, and four out of five so delicious they didn't last long at all around here. (That Ghost Pepper is gonna last a while, it's good, but small, small doses!) The folks at Savage Jerky Co. understand what makes a jerky great and have produced some real winners–especially the bacon offerings. And the folks at Carnivore Club did a great job picking out a good sampling as well–there's pretty much something for every jerky lover in this box. It's another great exposure to an artisan producer that I wouldn't likely have found on my own, but now I will seek out to buy some more of their awesome jerky. To me, that's the best thing you can say about a box: it turned you one to a great source for delicious snacks.
Visit Carnivore Club to subscribe or find out more! Save 10% on your first month! Use coupon code 10OFF.
The Subscription
:
Carnivore Club
The Description
: The ultimate meat of the month club for discerning individuals. Every month they curate exceptional charcuterie created by artisan producers from around the world. Every installment features an artisan supplier with 4-6 of their most unique and best in class cured meats.
The Price
: $55.00 per month