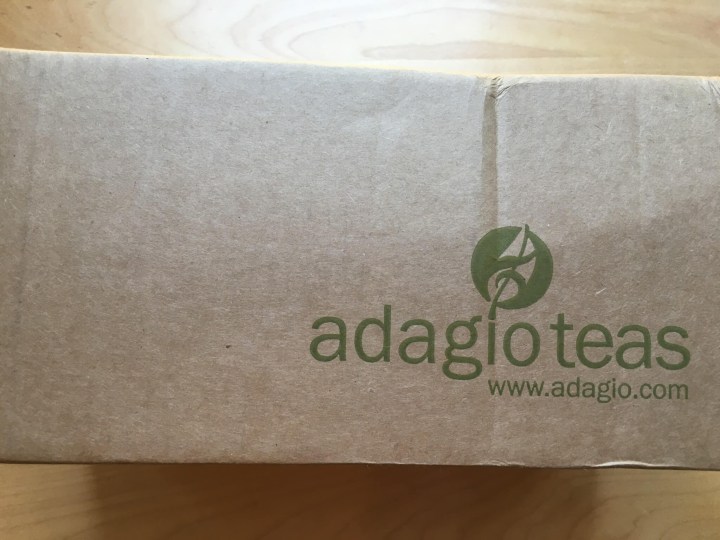 Adagio Teas Club is a bimonthly tea subscription service that sources its teas from the most delicious ingredients currently available. It allows you great flexibility in specifying what you would like for them to deliver: black, flavored, decaf, herbal or green/oolong teas. Once every two months, you will receive two bags of loose leaf teas that match the general type of tea that you select. I selected herbal teas.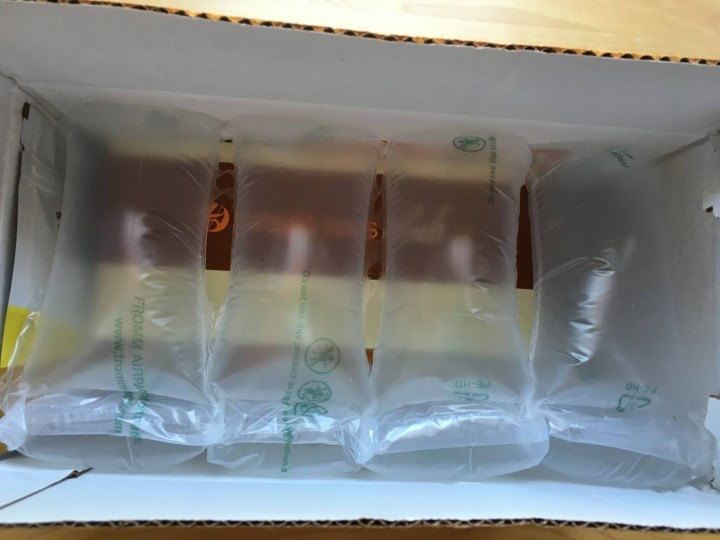 My two teas arrived in a lovely box inside another box. Clearly the people behind Adagio Teas put some thought into presentation.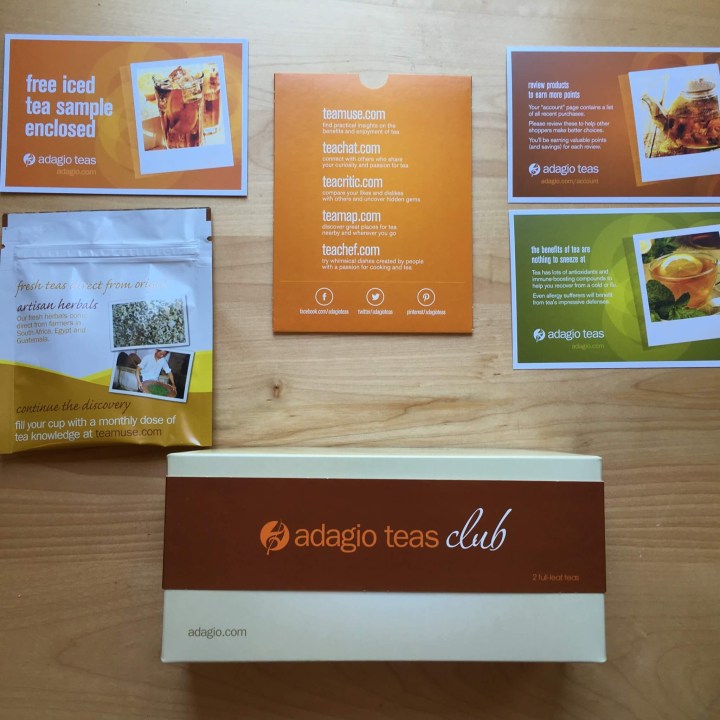 In addition to the box of teas itself, I was delighted to find cards encouraging me to share my experience with Adagio Teas and inviting me to boost my immune system by drinking tea.
These websites sound like fun to use! I'm especially interested in teamuse.com.
Given the high antioxidant content of tea, this batch couldn't have arrived at a better time! My husband and I have been sick on and off for weeks now, and we need something to help us get over these illnesses!
I was excited to try the three teas contained in this shipment: Green Rooibos Key West Herbal Tea, Foxtrot Herbal Tea and a sample of the Blood Orange Cold Brew Herbal Tea. Adagio's loose leaf teas usually arrive in 3 oz bags, each of which makes approximately 38 cups of tea. This month was an exception: Foxtrot arrived in a 1.5 ounce bag, which makes approximately 19 cups of tea. Since I drink roughly 4 cups of herbal tea each day, these two bags put together should last me about 14 days. In addition to the loose leaf teas, this month I received an added bonus: a sample of Blood Orange Cold Brew Herbal Tea. This one tea pouch makes an additional four cups of tea. So this month, I'm set for about 15 days worth of tea. If you take Adagio Tea's advice and drink four cups each day for cardiovascular health, you'll run out in about 15 days too!
Adagio Teas always taste and smell great, so I couldn't wait to open these up!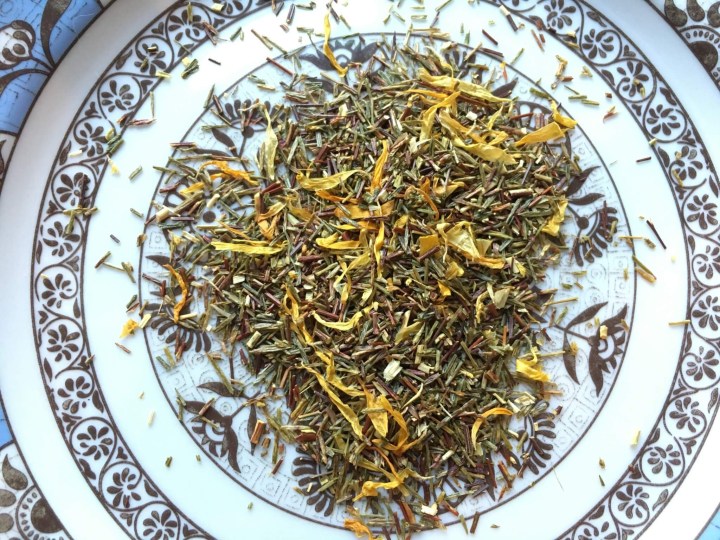 Adagio's Green Rooibos Key West Herbal Tea ($8) had an enticing , tropical aroma. By layering passionfruit, orange peels, mangos and apricot atop a relatively light, unoxidized green rooibos base, Adagio has created a compelling herbal tea that transports the drinker to a place where the earth is brimming with lush, ripe fruit.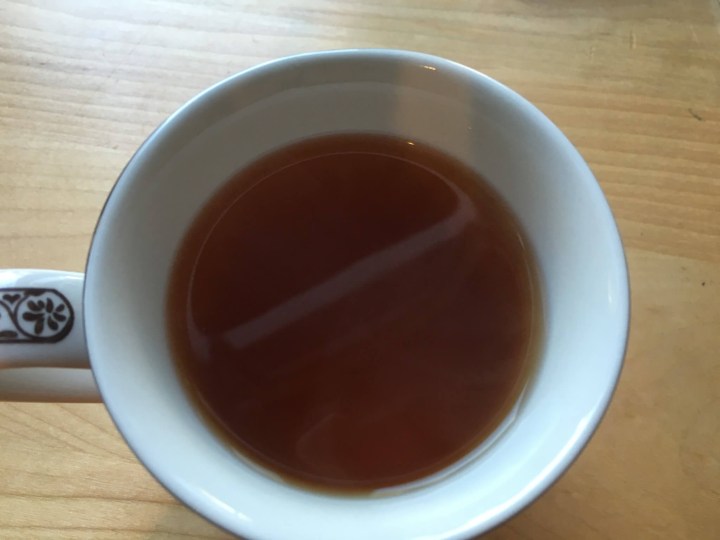 I enjoyed this very much with breakfast.
Adagio's FoxTrot Herbal Blend ($6) is an intoxicating blend of chamomile, rooibos, peppermint and vanilla. The chamomile and rooibos provide the perfect counterpoint to the peppermint. The result is a perfectly balanced, earthy tea whose flavor is enhanced even further by the addition of a hint of sweet vanilla.
I finished this pot of tea surprisingly fast! Unlike most of their teas, which come in 3 oz bags, Foxtrot comes in a 1.5 ounce bag.
This month, I was delighted to receive a sample of Adagio's Blood Orange Cold-Brewed Herbal Iced Tea ($1.33 based on the cost of 6).
This was my first experience with cold brew, and it couldn't have been easier! After breathing in the wonderful blood orange, hibiscus and rose hip aromas from the cold brew sachet, I got to work.
I placed the sachet in a pitcher of four cups of water, waited about 10 hours, and enjoyed a perfectly refreshing glass of herbal iced tea. Yum!
By prioritizing taste above all else, Adagio produces wonderful teas that I would be happy to enjoy daily. I look forward to exploring more of their herbal offerings as the year progresses. Adagio Teas Club is one of the least expensive tea subscriptions – $59 for 6 months of herbal tea or $99 for the entire year (the black, decaf, and green tea subscriptions cost a tad bit more). Still, as others have noted, you'd do just as well ordering their teas directly from them. The monthly subscription cost is roughly equivalent to the cost of their teas plus shipping and handling. Although I loved receiving the enclosed sample of Blood Orange Cold Brew this month, I wish it hadn't been at the expense of the loose leaf teas. Overall, I received less tea than usual this month, but more variety.
Visit Adagio Teas to subscribe or find out more!
The Subscription
:
Adagio Teas
The Description
: Twelve months of healthy living through tea is surprisingly affordable. Fresh loose teas will arrive at your doorstep like clockwork, inviting you on a journey of discovery with each shipment.
The Price
: $59 per half-year