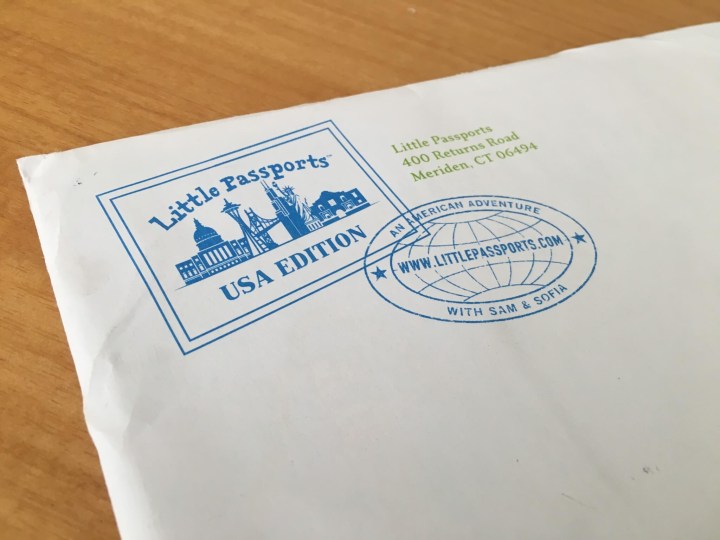 Little Passports (USA Edition) is a kids' educational subscription with crafts and fun activities about the fifty states.  This box is designed for children 7-12, but any bright kid 5+ would like it. Your kids will learn about the geography and culture of the United States with the USA Edition.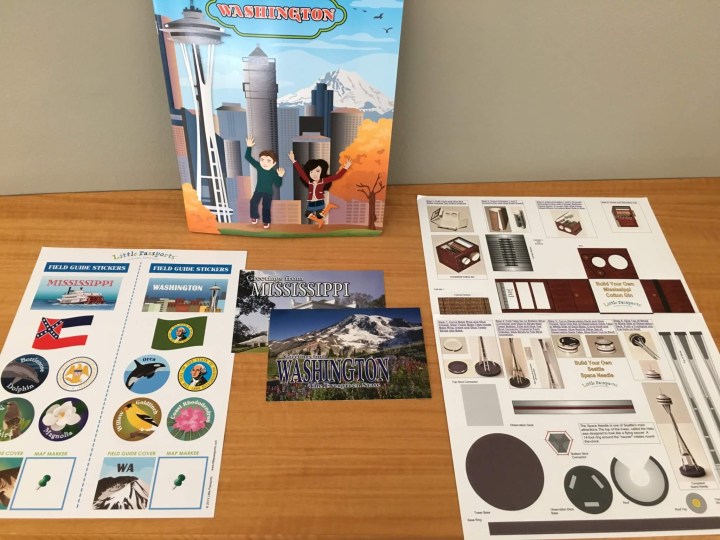 This month, Sofia and Sam visit Washington State and Mississippi.  Let's be honest about the fact that I have to spell M-I-SS-I-SS-I-PP-I in my head every. single. time. I spell it.  So that's fun this month.  The box contains a cute double-sided activity book, postcards from each state, stickers for your field guide, and two stand-up models.
The postcards, stickers, and models are brightly colored and fun.  If you found yourself without a stamp on the banks of the Mississippi River, you could fold your postcard into an origami raft and float it away to brighten the day of a lonely oil rig worker in the Gulf of Mexico.
The stickers are for the Field Guide (you DID save the Field Guide, right?) and cover the state bird and flower and so on.  There are even "pushpin" stickers to mark the map poster (which you also saved?).  Nice, quality stickers.  I don't think I knew that Washington's flag actually has a picture of George Washington on it.  No comment on the design of Mississippi's flag.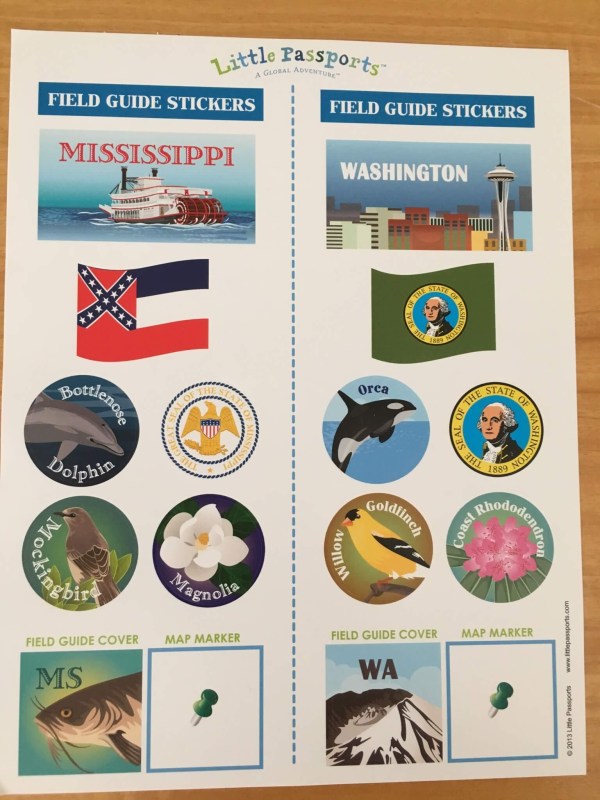 The models are punch-out coated paper and this month made a cotton gin and the Space Needle.  A bit complicated this month, but we taped instead of gluing and that worked fine.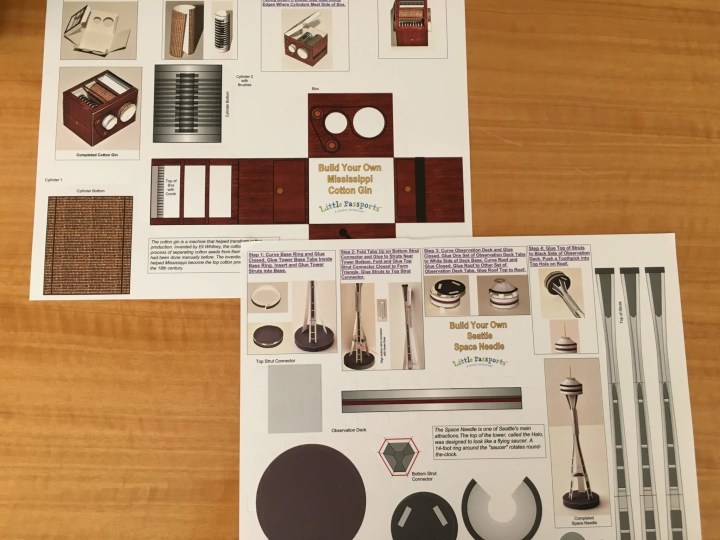 The activity book flips over and upside down to cover both Washington and Mississippi.  It's a glossy, colorful, 32-page activity book with fun facts and games about the states.  Good stuff in the book this month!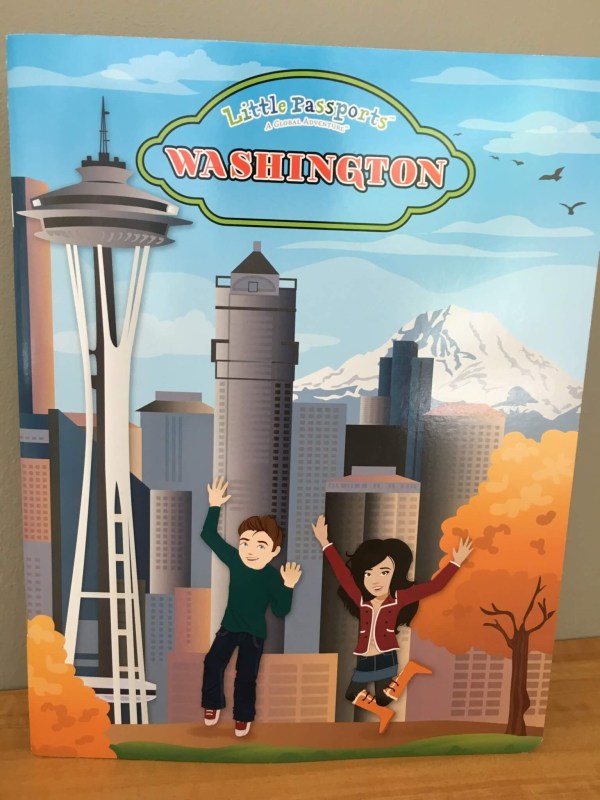 Some of the highlights of Washington include Sofia's note and map, a hilarious "don't actually do this in real life" mushroom seek-and-find, cool info on volcanoes, and a neat gridded dot-to-dot.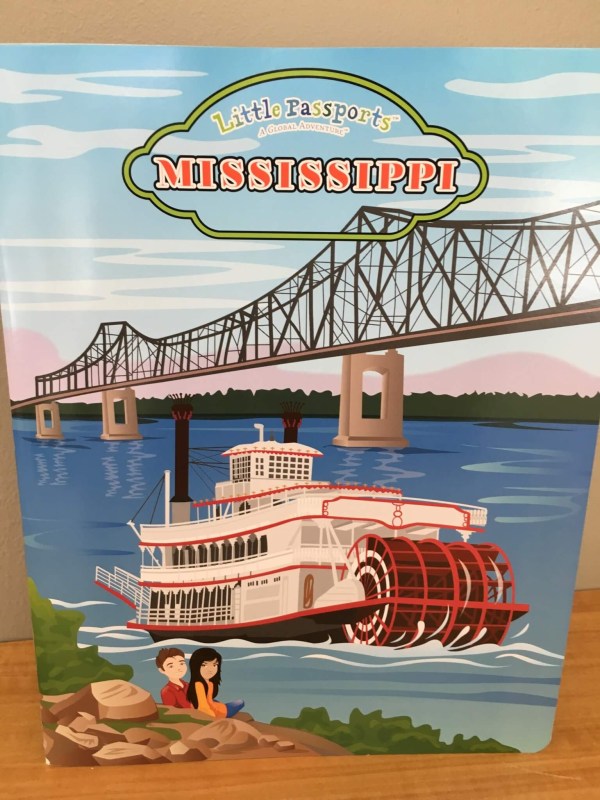 We seem to have interrupted Sam and Sofia for the cover of Mississippi.  Highlights of Mississippi include the letter and map, a weird fill-in-the-blank shout-out to the awesome food of Mississippi (no better fried pickles anywhere in the country!), and high-fives to sweet potato pie and the late great William Faulkner.  Lots of variety in the activities this month!
Another quality box!  The activities are fun and age-appropriate, and they do a good job highlighting some interesting aspects of the states.  Nonreaders will need help but older kids can do everything on their own.  We can't wait to see where they go next month!
This would be a great grandparent or aunt/uncle gift, or a supplement to a homeschool curriculum, especially ahead of a roadtrip or visit to another part of the country.
15% off ANY subscription plan. Use coupon code LEARN15. Best deal on annual subscriptions! Expires 06-30-2016