Sew Sampler Box is a new quilting subscription box from Fat Quarter Shop that brings quilting goodies!  Signing up is a bit odd for this subscription – you pay a 99¢ membership fee and then you'll be charged monthly when the subscription ships ($24.95 plus shipping – $4.95 US, $12 Canada, $16 everywhere else).
The items are wrapped in beautiful royal blue tissue. The box contains at least 5 curated items, like fabrics, threads, patterns, etc, which you'll need when quilting.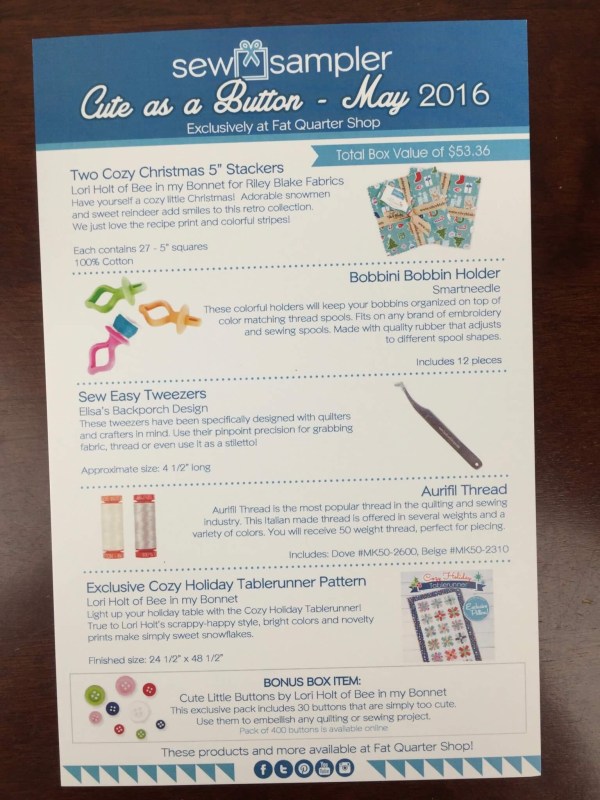 The information card provides more details about the items in the box. Since not all sewing subscriptions provide a great information card, I was happy to see this, but not surprised, given the fact that FQS is such a big op!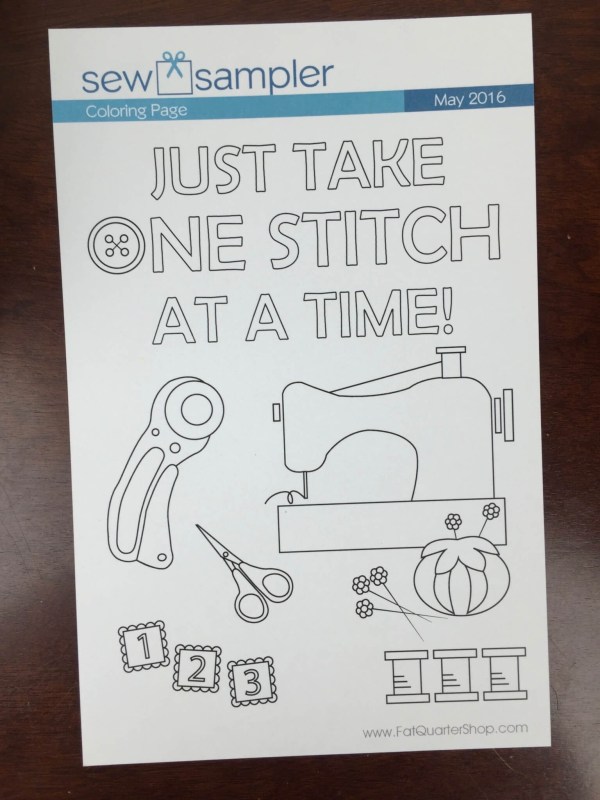 The back of the card features a coloring page!
Everything inside this box!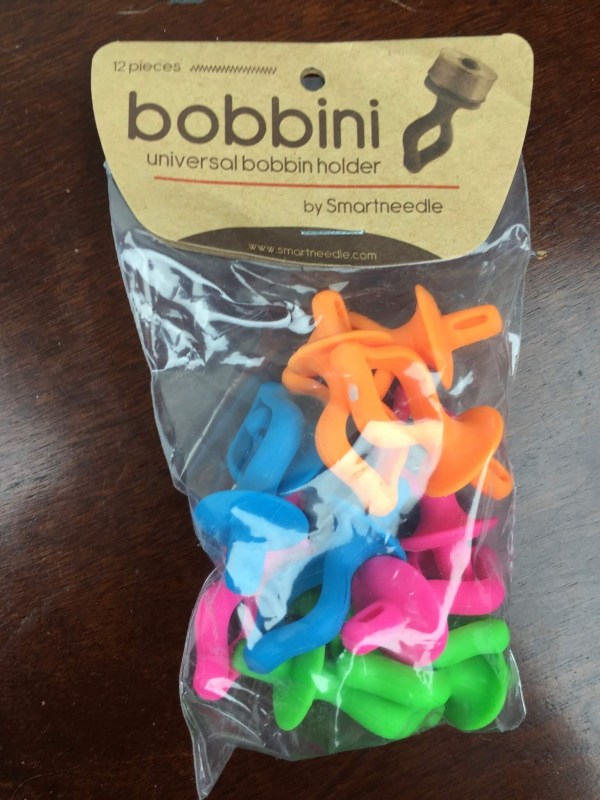 Smartneedle Bobbini Bobbin Holder ($9.99) These are really cool because you can use them to stick your bobbin right on the spool. We'll definitely be making use of them!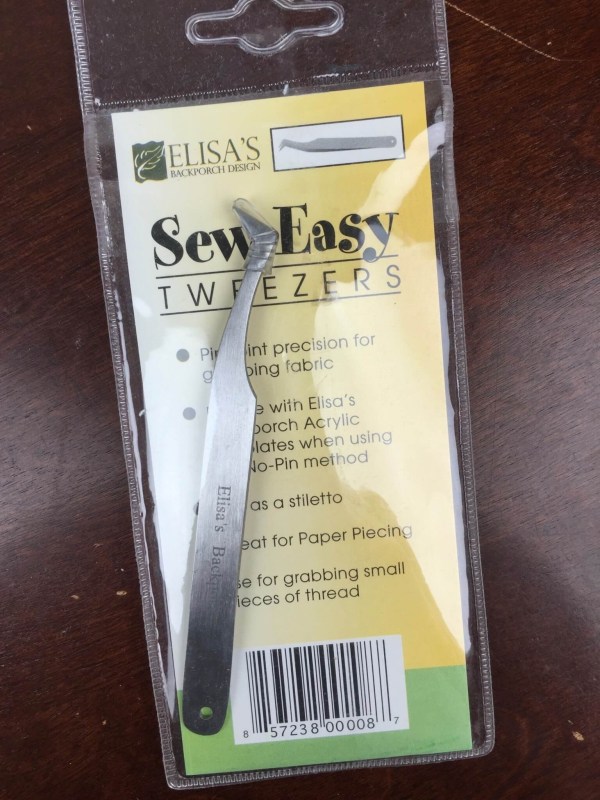 Elisa's Backporch Design Sew Easy Tweezers ($8.98) I just got a pit of seeing tweezers in another sewing subscription box  so I was a little bummed when I saw these until I realized how high quality these are. We will definitely be using them for delicate operations, like piecing!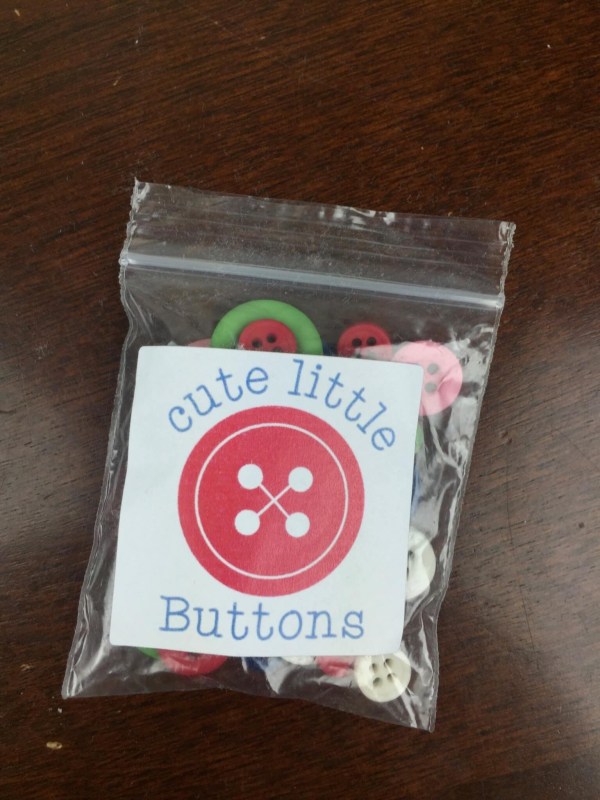 Lori Holt of Bee In My Bonnet Cute Little Buttons ($12.94 full size) These cute little buttons are super sweet!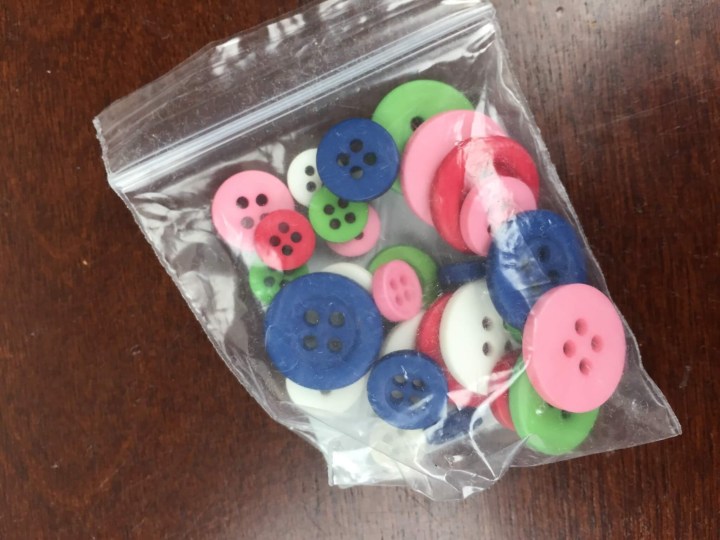 They're a bonus item and the information card notes that you can buy more online… in a pack of 400! They are perfect for embellishing a finished item.  They didn't even mention this on the card: will be used in Lori Holt's Cozy Christmas Sew Along starting August 15, 2016. Lori will be making the Cozy Christmas Quilt and several other projects along the way using these buttons.
Lori Holt of Bee In My Bonnet for Riley Blake Fabrics Cozy Christmas 5″ Stackers ($17.96) Look at this super darling fabric! I love that it's Christmas designs and the timing is perfect. Every crafter knows it's essential to start early.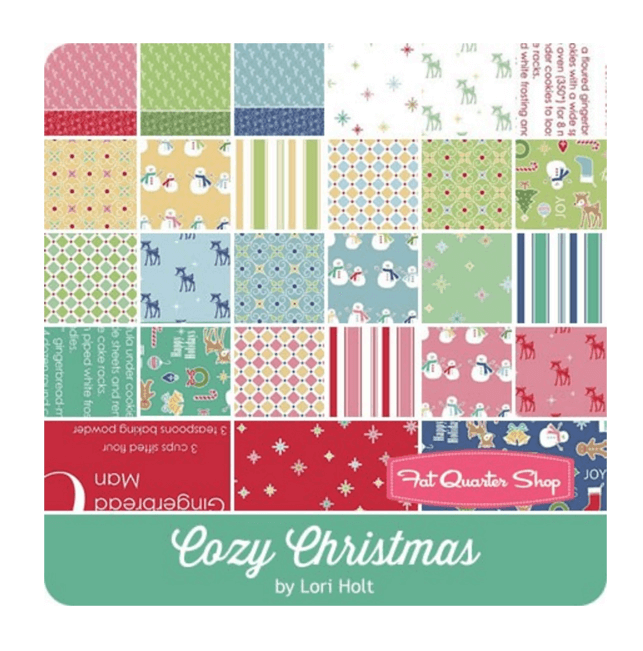 It's really a pain to unstick these so I present a stock photo of all the included designs.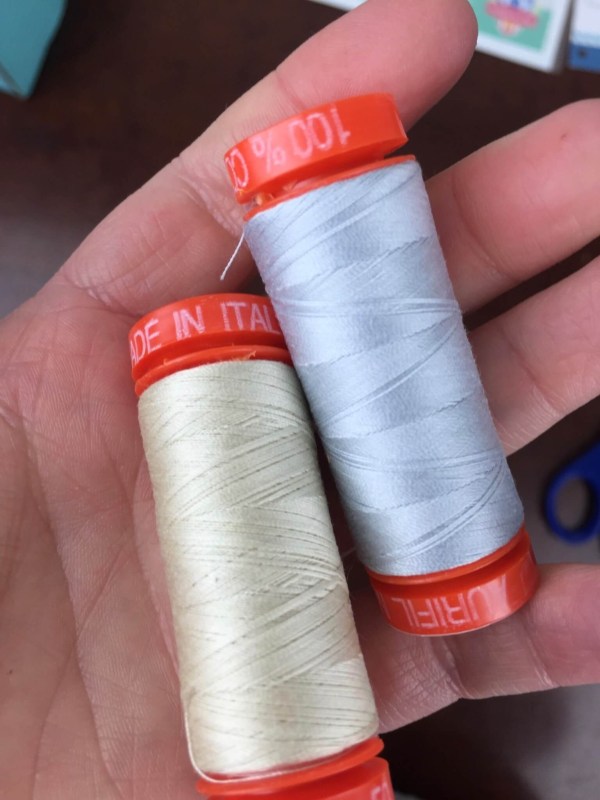 Aurifil Thread Dove & Light Beige ($1.62 each) These are both 50 weight (for piecing) and have 220 yards (200 meters). I was hoping the pattern might say how much you might need to make the blocks but it doesn't. (Sorry, I just use what I have with my daughter and we mostly just sew the squares together!).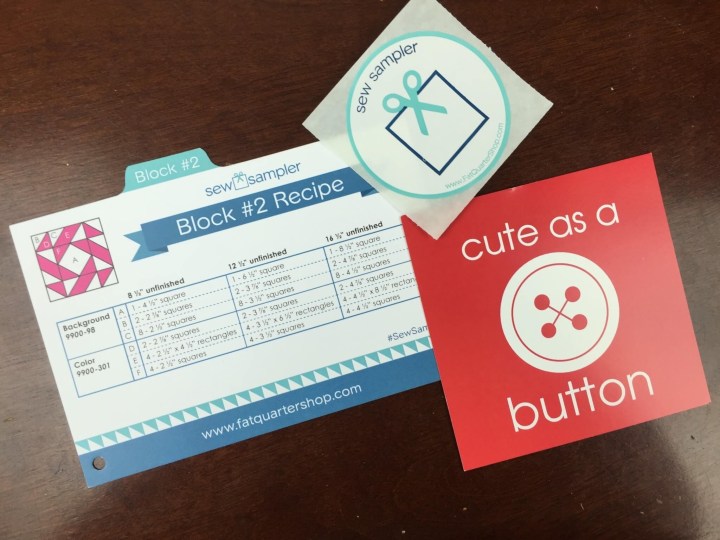 The subscription comes with a block of the month, a sticker, and this month there was a 20% off $100 coupon!
Lori Holt of Bee In My Bonnet Exclusive Cozy Holiday Tablerunner Pattern I think it's perfect to include a pattern designed for the fabric in the box. Unfortunately it's not my favorite and I'm going to have to think of something else to make with the 2 charm packs. I think this is totally the wrong dimensions for a tablerunner. But… Placemats maybe? The blocks aren't really the right dimensions for placemats. We'll think of something cute!
The pattern is really nicely printed!
Quilting patterns are usually a bit more, but I decided that the pattern was worth $6, which puts my valuation at around $46. I think that's excellent for a quilting subscription. As I've mentioned earlier, I'm not a quilter and neither is my 7 year old, but we have enjoyed this box so far – it's shaping up really nicely, with a lot of value! I can't wait to start seeing Halloween fabrics in here (I'm a serious Halloween crafter!). I saw this on FQS facebook page and I think I know what I'm using my coupon on!
Have you tried Fat Quarter Shop's Sew Sampler?
Visit Sew Sampler to subscribe or find out more!
The Subscription
:
Sew Sampler
The Description
: The Sew Sampler Box is a monthly subscription quilting box that automatically delivers surprise quilting goodies to your door every month! Each month will feature a specific theme sure to surprise and inspire you! At least 5 specially chosen items which may include fabric, notions, patterns, thread and anything in between. The retail value of your items will always be more than your monthly cost! Don't be surprised if you receive exclusive or first-look items. Plus, as a member you will receive special discounts, exclusive deals and BONUS GOODIES!
The Price
: $29.90 per month