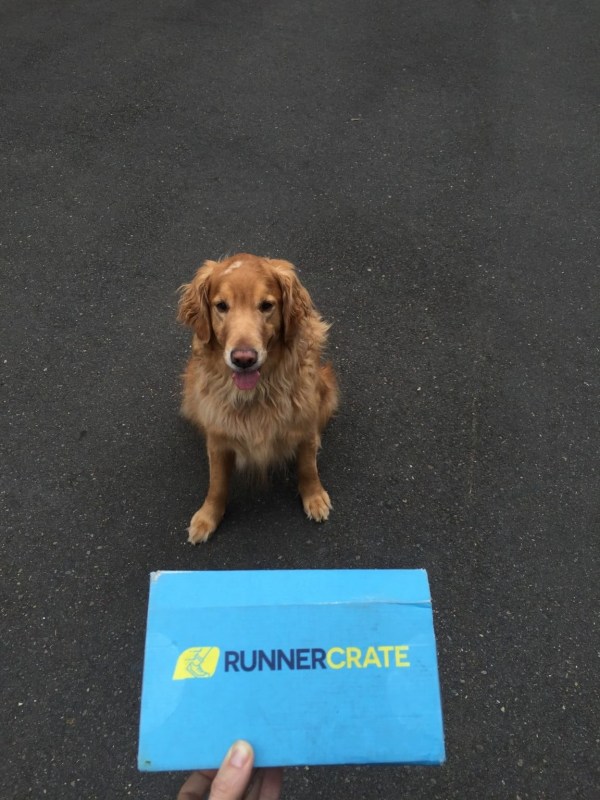 Did someone just put on their running shoes?  Runner Crate is a monthly subscription catering to the needs of runners.  Each month, you receive 6-8 curated items specifically selected to fuel your run and encourage your habit.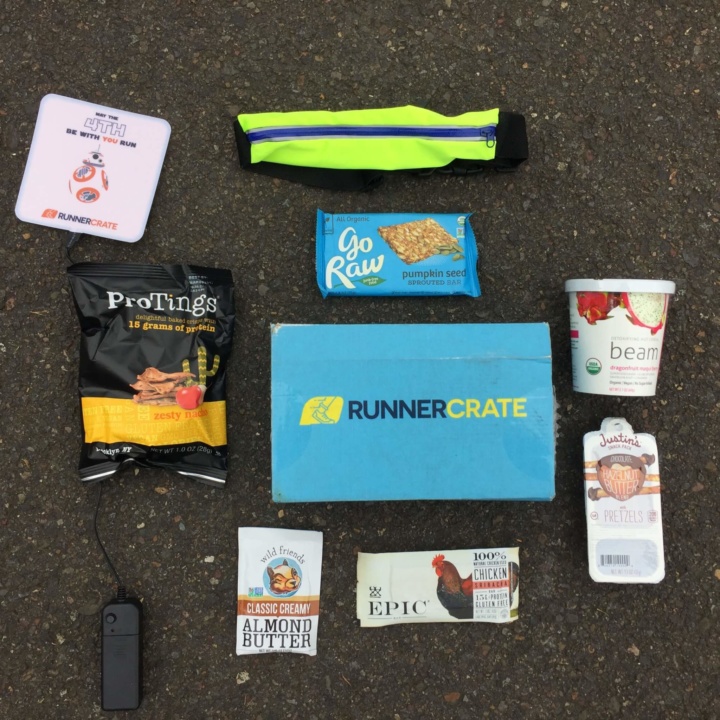 Everything in the box.  This month's bling was a May the 4th flashing plaque! When I originally received this box I was away for the weekend, and my wife ate the entire thing. Fortunately we got our hands on another box!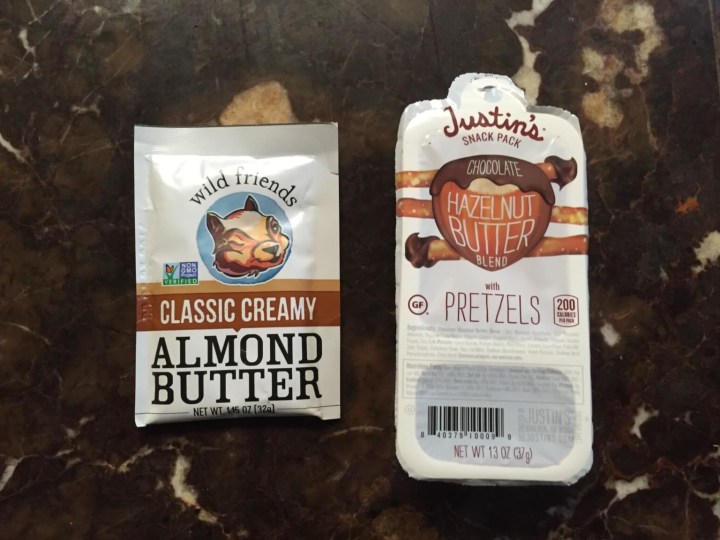 Wild Friends Creamy Almond Butter:  Made from only roasted almonds and sea salt, this stuff is a great PB substitute or put straight into your mouth.  The portable pouch makes this perfect for throwing in your runner belt!
Justin's Snack Pack – Chocolate Hazelnut Butter Blend with Pretzels:  a 1.3 oz snack pack of salted pretzel sticks sized for dipping in Justin's delicious chocolate hazelnut butter.  A really tasty source of carbs and sugar, but it also has 4 grams of protein per pack, so it's slightly filling, too.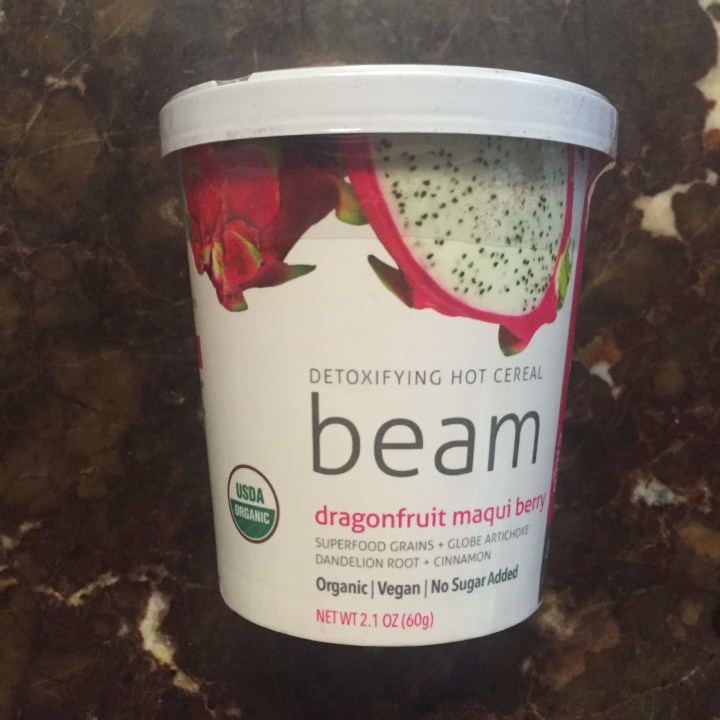 Earnest Eats Beam Detoxifying Hot Cereal – Dragonfruit Maqui Berry:  This hot cereal is loaded with stuff to clean you up and clean you out.  Artichoke, dandelion root, cinnamon, ginger, and green tea aid detoxification and liver function, a blast of fiber helps clear you out, and polyphenols condition blood vessels and tame free radicals.  Vegan, organic, and free of wheat, dairy, and soy.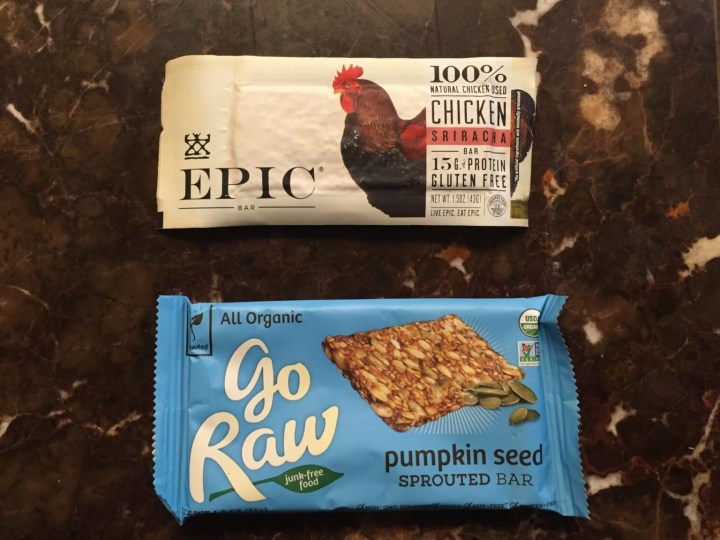 Epic Chicken Sriracha Bar:  Made with real meat, this bar packs 15 grams of protein.  It has simple ingredients, including chicken, organic chia, lactic acid, and several spices and aromatics – that's about it.  I'm not sure why a meat bar seems odd, since jerky seems perfectly natural.  This bar has a softer and juicier texture than jerky, and the sriracha and chicken tastes just like they should.
Go Raw Pumpkin Seed Sprouted Bar:  Sprouted organic pumpkin and flax seeds, plus organic dates and agave, and sea salt.  Chewy and hearty, these have 14 grams of protein from natural fruit and seeds.   These are awesome because they taste like, and are, real food, but they have the nutrition of a protein and energy bar.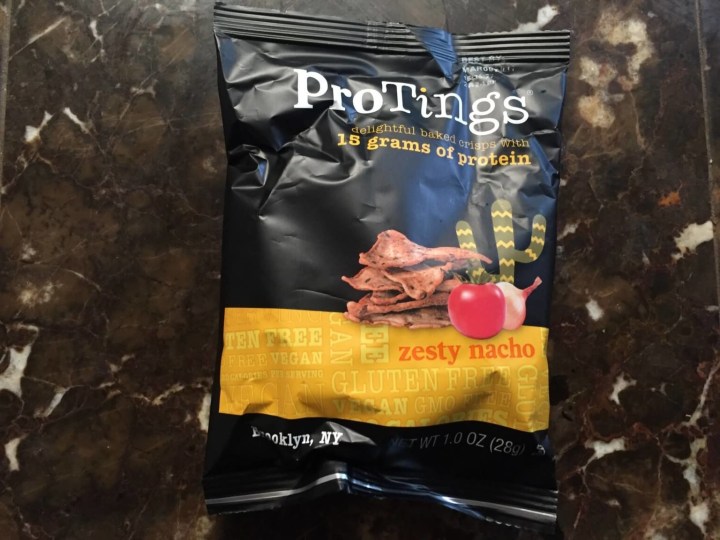 ProTings Zesty Nacho:  High protein chips with lots of flavor.  This flavoring is modeled after Nacho Cheese Doritos, but they are baked, and made using pea protein and potato flakes.  Substituting pea flour for corn results in a healthier chip, with all the crunch and 15 grams of protein per serving!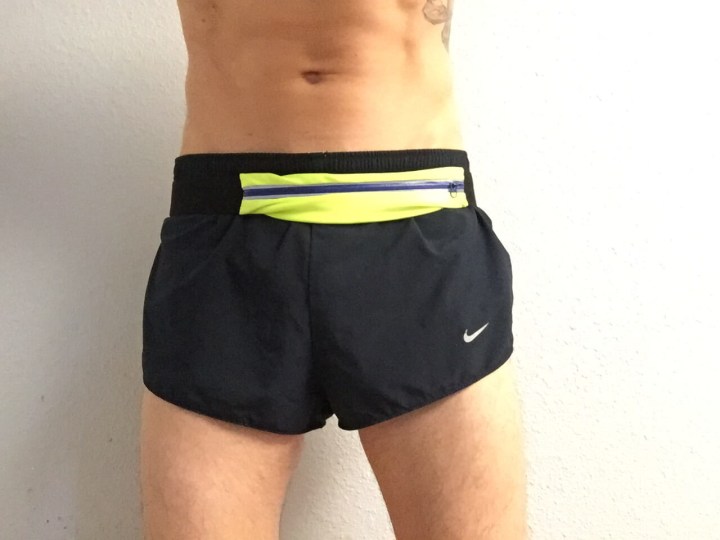 Runner Belt:  This month's wearable was a handy belt to hold your phone, snack, cash, or whatever.  It's shape is ideal for holding an energy bar.  It fits snugly along your waist and doesn't sag, so it has minimal affect on your stride.   Even if you don't typically run with a belt, this is handy for corralling your stuff.
RunnerCrate is a fun monthly surprise for anyone that can't let a day go by without their dose of endorphins.  Every box promises 6-8 curated items with total $60+ value in each crate.  Most of the selections are high-protein snacks for pre or post running, or for a sensible snack.  Every month has bling of one sort or another — this month had a wearable and a May the 4th flashing sign.  The price for a month to month is $35 a month – but it drops with longer prepaid subscriptions.  The 12 month prepay is the cheapest at $30 a month.
What do you think of Runner Crate? Save 10% on your entire subscription with coupon code HELLO.
Visit Runner Crate to subscribe or find out more!
The Subscription
:
Runner Crate
The Description
: You earn monthly bling with the challenges we send. When you sign up, every month you'll receive healthy snacks and running gear you didn't know about. Each snack is curated with health and clean eating in mind. We send running challenges and you EARN themed bling. Perfect for any runner who liked to try new things.
The Price
: $41.97 per month