Paper + Pen is a monthly subscription box for all paper goods and supplies collectors. Each month, you'll get 3-4 products like notebooks, notepads, pens, pencils, erasers, stickers, greeting cards, planners, calendars, and a lot more. The subscription costs $25.00 per month.
 Any pen or stationary addict knows that the only thing better than pens and stationary is MOAR pens and stationary!  Thus, the Paper and Pen monthly subscription- let's see what we got.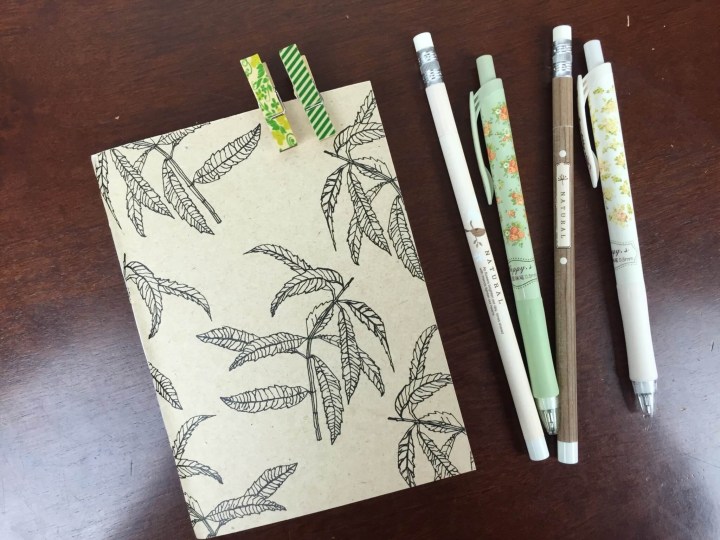 Everything in my May 2016 Paper and Pen box!
Small Wooden Clothespins
These little guys are pretty cute and would do well in corralling stray papers around your area that are too feisty for a regular paper clip.  Their hold isn't incredibly strong, so I wouldn't trust them to a back pack or purse, but for holding down some planner pages while you draw or just for keeping things organized while you work, they get the job done- cutely!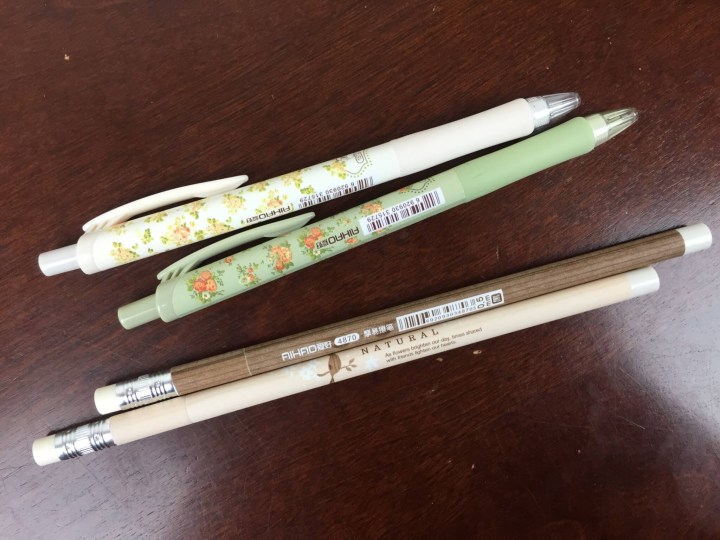 Aihao Pens
Aihao Your Happy Story Pen, 1752, 0.5mm
Two of these chic pens came tumbling out of the padded envelope and I have to say that it was love at first sight.  The pens have very cute floral print barrels and soft-colored furniture to match.  They fit well in the hand and the clicker at the end of the pen snaps the tip into use with a very satisfying and firm 'clunk' that would make any pen-clicking offender smile with glee.
The pen itself, however, is, in my opinion, below average in performance.  The tips of both pens were very scratchy, even on Tomoe River paper, and put me in mind of the dollar pens sometimes given out as party fares.  While writing with it, the line that it was putting down was pretty light and I kept fighting the urge to push harder in an attempt to produce a thicker one.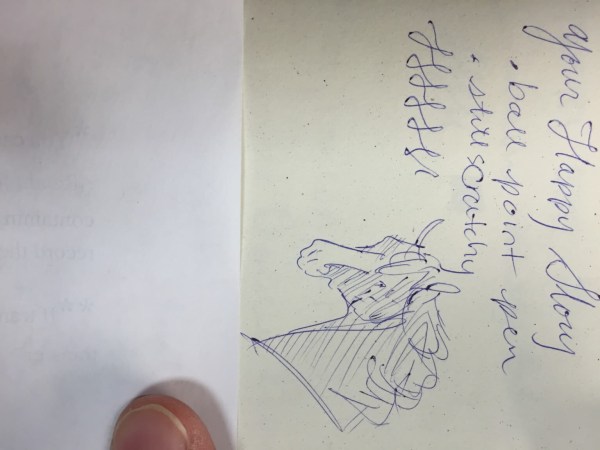 If you're not as picky as I am, though, this pen would do well for a journaling and planning pen.  The tip is small enough that it writes cleanly and allows for a good amount of precision in small areas.  In fact, had it been able to meet some of my more rigid expectations for pens, it probably would have become a journaling pen for me.  To sum it up, the pens are very pretty, but I believe that they run solidly within the lower end of the ballpoint spectrum of quality.
If that doesn't bother you, then you've got yourself a great pen!
Aihao Natural Pen, 4870, 0.5mm
Made by the same company as the ball points, this pen offered a more pleasing writing experience.  The body is made to look like a pencil and I spent an undisclosed amount of time trying to figure out how to get the pen to actually open (pull off the part that looks like the eraser-end of a pencil).

I'm not entirely sure if this is a felt tip pen or a rollerball.  I'm leaning towards a felt tip because of the nice dark line it put down and the feel of it as I wrote- it reminded me of a Sharpie Ultra Fine point.
This pen is more to my liking for journaling and drawing:  dark enough to be seen easily and yet fine enough for good control.  It makes a nice sketch marker too.
The eraser part of the pen isn't just for show- the ink is actually erasable and cleaned up nicely when I tried it.   The fact that it is also missing a clip still doesn't hinder performance.  It could be the erasers or the metal crimp at the end, but this pen doesn't roll too long before coming to a stop, so don't worry too much about it constantly racing for the edge of your desk.  The only thing that I ended up not liking about this pen is that you pretty much had to write with it face on if you wanted it to write at all as putting the tip at a slant produced broken lines.
The last item included in the envelope is a mini (A6 size) notebook made and sold by Etsy user, Hamutelet.  According to the listing, this compact book contains off-white organic paper made from seaweed and is partially assembled by a group of people with special needs from the Chimes foundation.   The cover is the user's own design and is produced in a printing house run by their family- truly a home grown operation!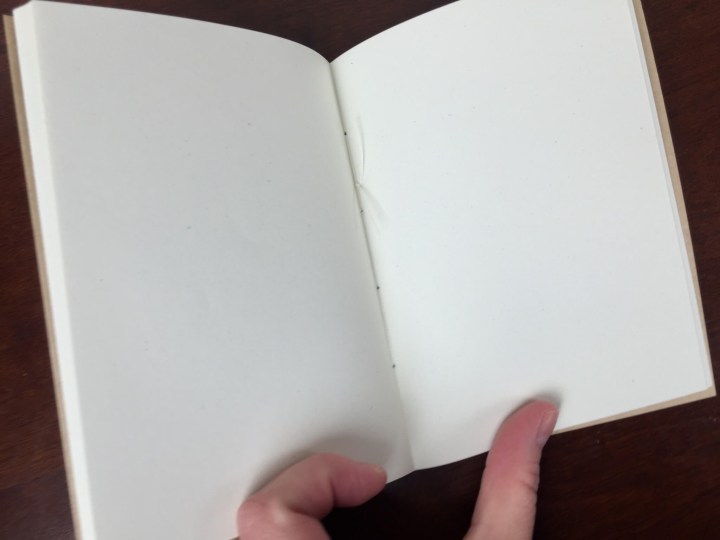 The paper is very smooth and held up nicely to almost every kind of writing instrument I threw at it, including fountain pens!  This is a very nice book to include in a purse or to stuff in the inside of a planner.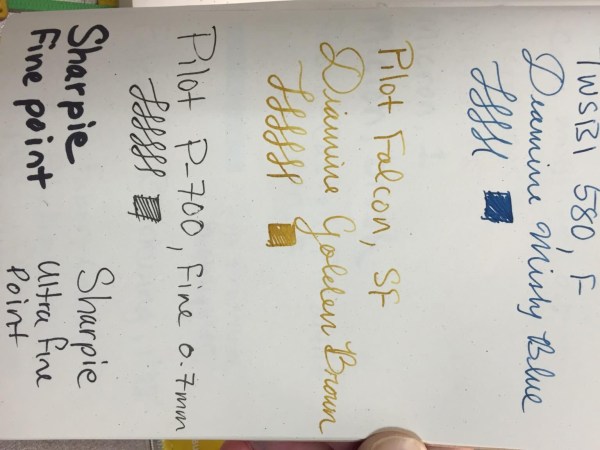 Here's how different inks, pen, marker looks on the notebook. In this page we got Diamine Misty Blue & Diamine Golden Brown inks, Pilot P-700, Sharpie Fine Point, and Sharpie Ultra Fine Point.
Only the Sharpie markers showed blots on the other side of the paper.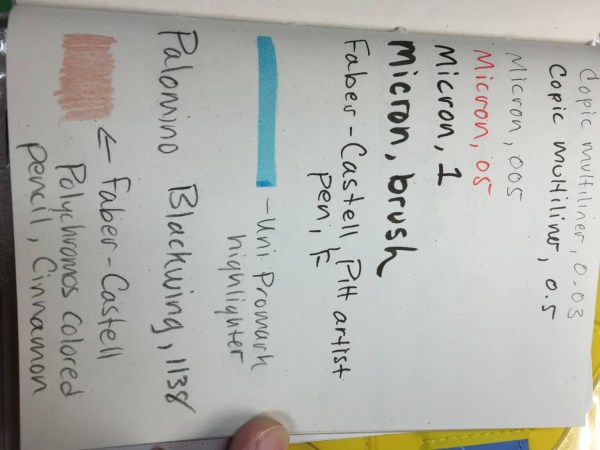 Here are other pens and pencils as well.
No blots this time.
Some gel/glitter ink pens.
You can see them slightly on the back.
What did you think of the Paper + Pen subscription? Save 15% on your entire order when you use coupon code  HELLOFRIENDS.
Visit Paper and Pen to subscribe or find out more!
The Subscription
:
Paper and Pen
The Description
: Paper and Pen is a monthly subscription box featuring a collection of 3 to 4 paper goods and supplies delivered to you. Products can include notebooks, notepads, pouches, pens, pencils, erasers, stickers, craft tape, greeting cards, calendars, planners, clips, art prints, desk accessories and more!
The Price
: $25.00 per month